Milan Derby Absolutely Vital to Inter's Season
Use your ← → (arrow) keys to browse more stories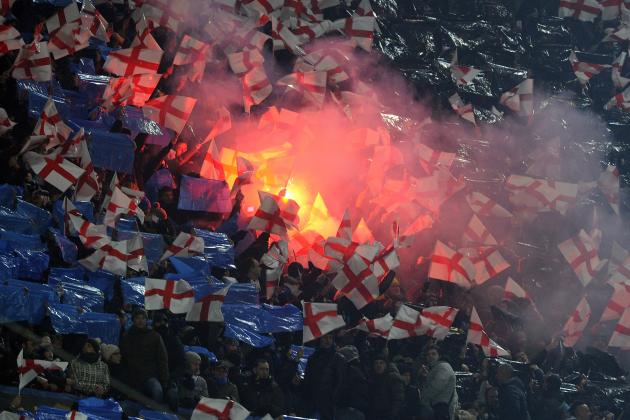 Claudio Villa/Getty Images
Milan Derby
When the whistle blows and the curtain falls on the first Derby della Madonnina of the season, Inter's fate will already have been dramatically shaped.
There are few times in a year when players and fans alike can so clearly see the magnitude of what one single game of football can mean. This is one of those times, and the game is simply a must-win for Inter.
The Nerazzurri's last five games have been all but disastrous. After drawing very winnable games against Bologna and then Sampdoria, they had the respite of the Coppa Italia. They were cruising at home to Trapani by three goals to nil, but surrendered two goals and won narrowly.
Then came a six-goal thriller against Parma, where individual and collective errors saw them leave the field with more questions than answers. Finally, last weekend they were well beaten by Napoli 4-2, a game which confounded defensive coaches throughout Europe. This weekend they face Milan in a game where they need to stop the rot.
If Inter win this crucial game, they will finish the year with a tally that will have seen them win eight, draw seven and lose twice. Admittedly, they have conceded 21 goals, but the fact they have scored 36 goes some way to equal this out.
A victory against their city rivals will breed mental strength and belief in Walter Mazzarri's project. This also may convince new owner Erick Thohir to invest in the squad, as it would suggest they were still in contention for the title.
If Inter fail to win, they will end the year with a record of winning seven, drawing seven and losing three times. This transmits a different image, one of mid-table mediocrity and of a team that has lost its way. This would only be compounded by the fixture list that the New Year brings, as the Nerazzurri face tough away ties at the Stadio Olimpico against Lazio and then a game against Udinese at the Stadio Friuli.
The Nerazzurri are already at a disadvantage for the game, as Serie A's Disciplinary Commission has closed the Curva Nord for the Derby due to discriminatory chants given to Napoli in the last game. The Ultras will no longer be able to show off the array of fireworks and choreography that is so associated with this fixture.
Even if the authorities have imposed their law on the Curva and as a result the atmosphere, there is no doubt that the game still holds huge importance. This is also for AC Milan, who are currently languishing in 10th, and defeat for them would mean catastrophe as they try desperately to rebuild their season.
With so much at stake, this derby is unquestionably season-defining, and the New Year will bring challenges that could be seen through different eyes on the back of this game. In years gone by, it may be accepted that the teams could play out for a draw; however, the problem with this is that it seems neither of them can defend well enough to do that.