With your fantasy championship and all the glory it entails on the line, now is not the time to trust a big name with a tough matchup and get little production in return.
If a guy on the waiver wire is in a better position to succeed than your first-round pick (and it's possible this week), you have to swallow your pride and go with the free agent. At this point in the season, you won't get a chance to make up for your mistakes.
That's a difficult thing to ask, of course, especially because those stars were the ones that carried you to this point in the postseason to begin with. Just take a look at the schedule, or take a look at their previous history, and you'll see they aren't the best plays in Week 16.
As long as we're making painful choices, let's start with a top-five quarterback.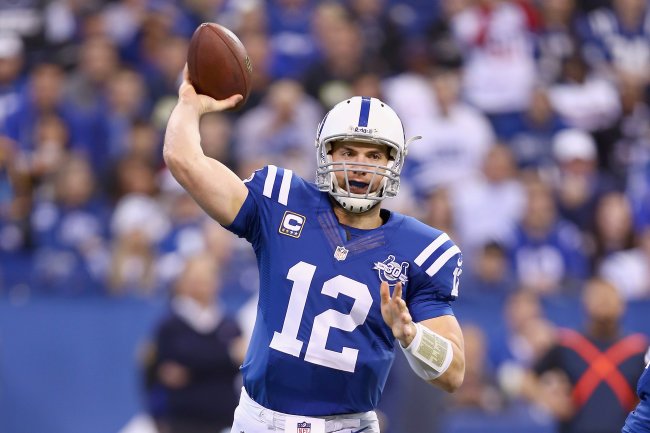 Andy Lyons/Getty Images
The Indianapolis Colts quarterback has thrown for 3,299 yards and scored 25 total touchdowns so far this season. His 251 fantasy points are good for fourth among QBs in ESPN standard leagues. But Luck would be better off on your bench in Week 16.
After laying an egg with 180 yards passing against the lowly Houston Texans last Sunday, it would be a wonder if many Luck owners are still alive in their fantasy playoffs. If you're one of the few, you should recognize that his subpar Week 15 play is looking disturbingly like part of a late-season trend.
Since the Colts' bye in Week 8, Luck has put up 15 or fewer fantasy points on four different occasions; he did so just once before that. He also lost Reggie Wayne to a season-ending injury in Week 7, so there is definite cause for the decline.
Luck has played well enough without Wayne to knock him out of the top tier of fantasy QBs, but he has been inconsistent enough to question his value. Facing the Kansas City Chiefs on the road in Week 16, you can't rely on him.
Chris Johnson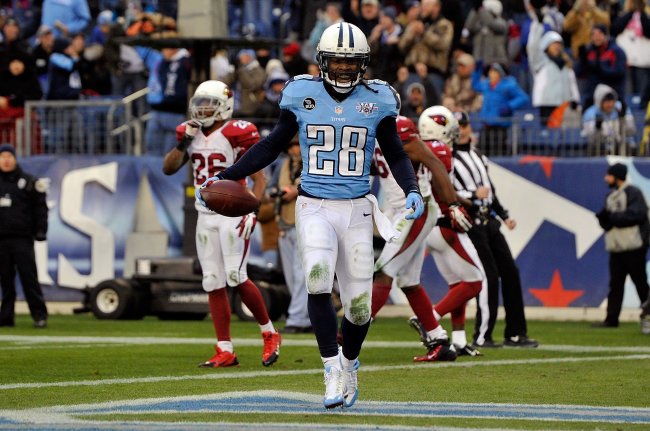 Frederick Breedon/Getty Images
Speaking of unreliable—Chris Johnson.
It's hard to say that the ninth-best running back in fantasy should be no better than a flex this week, but remember a couple of things:
If you're still playing, you have a good team, and you want to win.
CJ2K's gaudy point totals obscure his inconsistency.
Check out his point totals since his bye in Week 8:
| | |
| --- | --- |
| Week 7 (SF) | 16 |
| Week 9 (@STL) | 29 |
| Week 10 (JAC) | 5 |
| Week 11 (IND) | 20 |
| Week 12 (@OAK) | 7 |
| Week 13 (@IND) | 15 |
| Week 14 (@DEN) | 8 |
| Week 15 (@ARI) | 15 |
There's no rhyme or reason to that scoring. Giving him the benefit of including his performance against the San Francisco 49ers, he has had five games with 15-plus points. Two of them came against very staunch run defenses (Niners and Arizona Cardinals), a testament to Johnson's game-breaking ability.
Yet he still had three single-digit weeks in that span, giving him eight through 14 games. None of those recent eggs came against particularly strong opposition, and he travels to face those Jacksonville Jaguars again in Week 16.
If you're powering through the playoffs with depth at running back, fall back on it here. Johnson should only be played if you have other consistent points you can count on.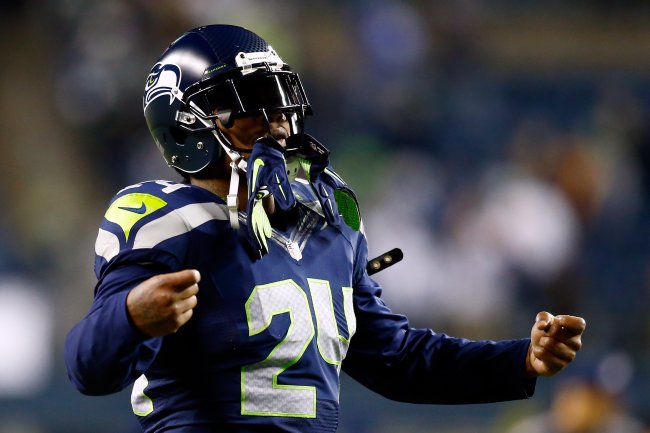 Jonathan Ferrey/Getty Images
Beast Mode is running into a nightmare matchup at the worst possible time.
He's one of only four running backs to top 200 fantasy points at this point in the season, and he's tied for the lead in rushing touchdowns with 11. In both real-life football and fantasy, it helps that Lynch can do things like this:
Unfortunately, he's now facing the Arizona Cardinals, the least forgiving defense against running backs in fantasy football. They're now without Tyrann Mathieu, who is on IR and lost for the season, but that actually makes matters worse for Lynch owners, as Seattle will have more confidence in the passing game.
Those factors make Lynch a glorified touchdown vulture in Week 16. He has 1,089 yards rushing this season, but the yardage won't be there for him this Sunday.
He also might not even be on the field the whole time. At 12-2, the Seahawks have the inside track to home-field advantage in the NFC playoffs. If they build a comfortable lead against Arizona, they could choose to rest Lynch at the worst possible time for fantasy owners.
Danny Amendola and Julian Edelman
Don't get too excited after their Week 15 outburst; Danny Amendola and Julian Edelman are still merely average options.
The top two New England Patriot wideouts exploded against the Miami Dolphins, each catching at least 10 passes for 130 yards. Edelman also tacked on a touchdown. In their first full game after losing Rob Gronkowski to a torn ACL, the Pats finally got credible receiver production without their field-stretching tight end.
Just don't expect Amendola and Edelman to do it again.
Nothing prior to Week 15 indicates New England can get any downfield production out of either receiver. They're both possession guys who can beat the defense over the top every few weeks, but neither has done so with any predictability.
Even when Gronk was healthy, playing either was a shot in the dark, and Shane Vereen ended up with the lion's share of targets after Gronkowski went down two weeks ago. Playing Tom Brady's receivers is not the safe bet it might seem, since there's no way to guess where Brady will be looking in Week 16.
It's possible either Amendola or Edelman or both will keep up their stellar play and win you a fantasy championship. Keeping them in your lineup will much more likely cost you, though.