Arsenal Transfer News: Olympiacos Right to Fear Kostas Mitroglou Exit
Use your ← → (arrow) keys to browse more stories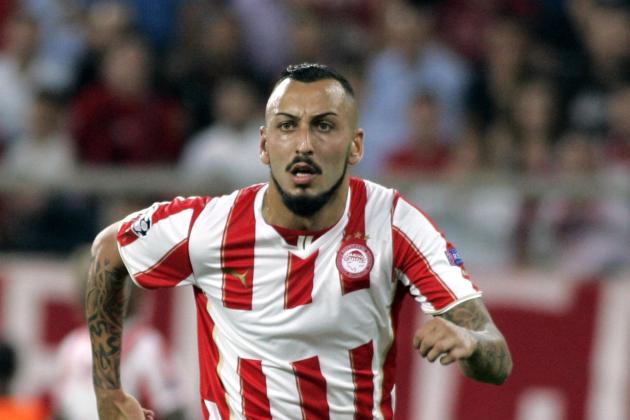 EuroFootball/Getty Images

Olympiacos' bright start to the 2013/14 campaign has come largely as a result of Kostas Mitroglou's ongoing prolific form in front of goal.
As is only natural should a player produce so frequently on the pitch, the 25-year-old's rising form has seen Arsenal come to the fore as one of the clubs seriously considering a move for Mitroglou, which is something Olympiacos ought to fear.
According to the Daily Star via Mirror Football's Alex Richards, the Gunners have joined Liverpool in the race for Mitroglou's services, with Arsene Wenger supposedly eyeing the forward as backup to Olivier Giroud.
Richards also quotes Olympiacos manager Jose Miguel Michel as admitting that top European attention will be difficult for the club to handle given the form that his star is in right now:
"If he keeps on doing well, it will be hard to keep him. We've known for some time that there has been interest from many clubs, but that's only logical considering how well he has been doing lately."
The BBC's Andy Brassell does, however, add that there's far more to Olympiacos than just Mitroglou:
Going back to Olympiacos, they played great football for a lot of their group. Not just Mitroglou, however hot he is. Quality and experience

— Andy Brassell (@andybrassell) December 16, 2013
Mitroglou has been suffering with injury of late and is yet to feature in the month of December, but he has hit 22 goals in just 17 starts for both club and country this season, per Transfermarkt.co.uk.
Granted, the level of opposition would be far greater were the former Borussia Monchengladbach trainee to move to the English top flight, but that kind of scoring record is respectable by any standards.
As OptaJean pointed out against Paris Saint-Germain, the striker has proven himself against big opposition, too.
4 - Konstantinos Mitroglou has mustered 4 shots in the 1st half against PSG, more than any other player. Restless.

— OptaJean (@OptaJean) November 27, 2013
It's that difference in divisional quality that feeds into Wenger's interest. Richards' report notes that the striker is valued at £7.5 million, which, while not being of Mesut Ozil's lofty standards, is still a significant investment—but affordable in the January market.
Giroud, on the other hand, is showing that a season is all that was needed for him to settle into the Premier League, but keeping the Frenchman fit will be key to the Gunners' campaign.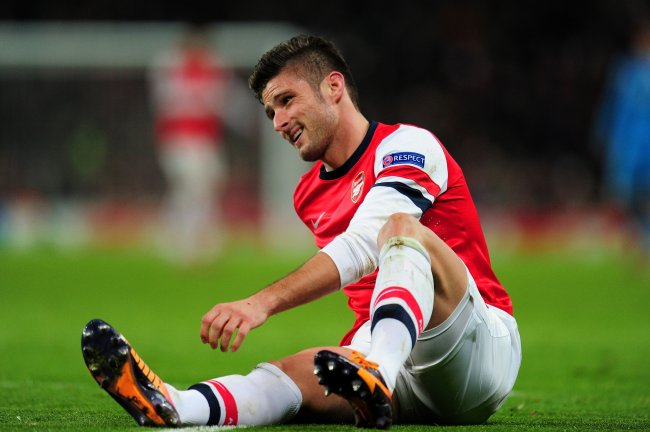 Shaun Botterill/Getty Images
With seven goals and four assists to his name in league competition, per Transfermarkt.co.uk, Giroud has provided a reliable presence up top that was at times lacking last season. Theo Walcott and Lukas Podolski have each tried their hand as strikers, too.
Mitroglou fits Arsenal's bill in that he's versatile and can support a formation promoting one or two striking figures. At Olympiacos, he's the main focus of any movements forward but has shown an ability to adapt in a support sense, holding up play when necessary and distributing among those around him.
Would Mitroglou be a savvy investment for Arsenal?
While successful in front of goal, the hitman isn't quite of the stature where a starting place would be demanded, either, but his form shows that rotation with Giroud could certainly be possible if he were to find the transition smooth.
Having lost Kevin Mirallas just last year to Everton, Olympiacos may now find another offensive star leaving their ranks in the near future, which could dent any good work that's been put toward the club retaining their Greek Super League title.
However, the allure of playing among Europe's elite ranks is a temptation too sweet for some, and Mitroglou would be but the latest asset to have benefited from the promotion gained in Athens only to move onto broader horizons.