Manchester United Fans Should Not Get Over-Excited by Danny Welbeck Brace
Use your ← → (arrow) keys to browse more stories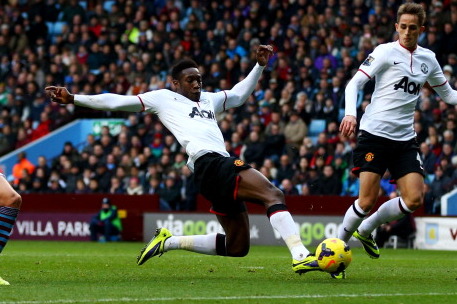 Matthew Lewis/Getty Images

Manchester United fans were probably incredibly relieved with their team's 3-0 "demolition" of Aston Villa this weekend.
The result—which came off the back of four consecutive winless Premier League games—propelled the champions ahead of Southampton in the table and just seven points away from the Champions League places, after what had been a horrendous start under new coach David Moyes.
What was perhaps more shocking than the scoreline itself however, was the source of the Red Devil's goals.
With only three goals to his name in the EPL over the last year-and-a-half, many fans would not have expected Danny Welbeck (who in truth only found himself with a place in the side due to a thigh injury to Robin van Persie) to pop up with two strikes in the space of three minutes.
This reporter was as shocked as anyone to see Welbeck suddenly find his touch in front of goal again—even remarking moments before Danny's first that United would do better to have Aston Villa striker, Christian Benteke, in their starting XI than the man from Lonsight.
Welbeck's performance this weekend promptly shut me up—at least for this week anyway.
Going forward however, United fans should treat this particular performance with trepidation. Yes, Welbeck was fantastic over the 90 minutes and well and truly deserved to be announced as the man of the match—but how likely is it that he will carry this form forward?
The 23-year-old has shown on a few occasions prior to the victory that games like this one are in his repertoire. Against Swansea on the opening day of the season Danny did a fantastic job filling in for the absent Wayne Rooney, even managing to find the net twice (the second goal showing a world-class finish as he lobbed Michel Vorm in the Swansea net).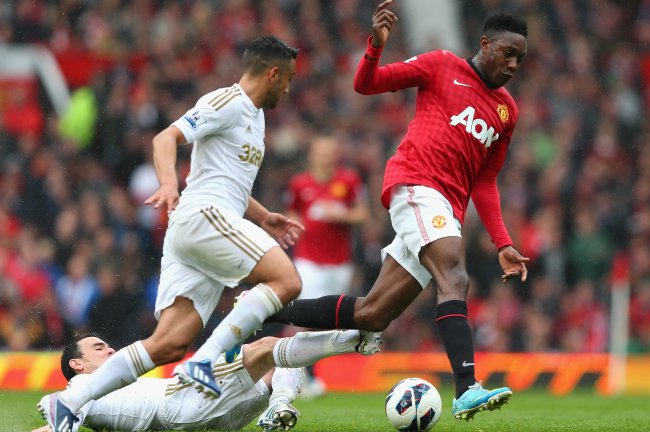 Alex Livesey/Getty Images
As the season progressed though it became more and more apparent that this sort of display was not something that United fans should come to regularly expect from the striker.
While Welbeck managed to add a couple more goals to his tally in the Capital One Cup and the UEFA Champions League, his general performances promptly returned to the lacklustre outings that we have sadly come to expect from the England man these days.
To clarify: I am not saying that Welbeck is a bad player, or even that he will now definitely go back to these mediocre outings every week. Rather just that United supporters should try their best to treat this particular showing with a strong sense of reserve.
This has already been an incredibly testing season for the Old Trafford faithful and as such it is natural when the side does play well to jump on the most positive aspect that came out of the successful match. In this case that was Danny.
Of course, at the same time there is always the possibility that this may be the start of Welbeck's United career in earnest. Perhaps he will continue this form on as the season progresses and eventually end up challenging for a more regular spot in the first team.
It's a possibility, but if the young man's career has shown us anything so far, it seems an incredibly unlikely one.
Danny Welbeck does possess the skill and raw talent to convert himself into the next Dwight Yorke or Teddy Sheringham figure at Old Trafford, but the real question is whether or not he can get over the inconsistent form that has plagued his thus far short stint at the top of the game?
That is something that the next season-and-a-half will answer for us.
We saw from his days at Sunderland that the potential is there for Danny to be a recognised and respected top Premier League striker. Now he just has to show it again while wearing the red of United.
A string of performances like the one he gave us against Aston Villa will soon silence the doubters like myself.