Chelsea are at the head of the pack forming around the services of Inter Milan's Fredy Guarin ahead of the winter transfer window, according to sources close to negotiations.
The West Londoners are joined by Manchester United in the hunt for the midfielder, with both clubs looking to add a ball-playing option to their squad in the near future. Paul Gorst of Mirror Football states that David Moyes is considering a bid for the anchor.
The Daily Mail Online's Simon Jones recently reported on the matter, saying Jose Mourinho had tried to sign the Colombian international while manager of Real Madrid but that a deal could not materialise between the two sides.
An excerpt from the report reads:
A deal has been discussed between the clubs and personal details have been outlined, but the deal will only be done if Chelsea match or move closer to the asking price of £15million.

[...]

The move could allow the likes of Kevin de Bruyne to leave the club on loan, and could seal the end of Michael Essien's time at the club.
It's intriguing that Jones should bring up Michael Essien's position at Stamford Bridge and the likelihood of it coming to an end, especially after the veteran had come upon renewed involvement whilst on loan with Real last season.
The hinting of Kevin De Bruyne's exit from the Blues is anything but groundbreaking, however. The Belgian has been linked with a myriad of transfers that would in some way facilitate his departure from West London, with Germany the expected destination.
Sky Sports' Kristof Terreur recently reported that Bayer Leverkusen and Wolfsburg led the chase for the Belgian's services.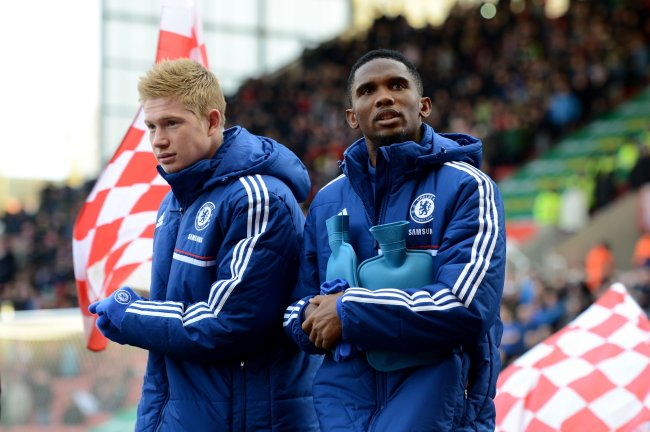 Michael Regan/Getty Images
Chelsea have found their main midfield core in Frank Lampard and Ramires this term, John Obi Mikel providing backup and Marco van Ginkel showing some signs of promise until picking up a serious knee injury.
Talk of Chelsea's interest in Guarin was supported by Al Jazeera's Matteo Bonetti:
Chelsea have made an offer to Inter for Fredy Guarin, all they need is his approval. Via @carlolaudisa

— Matteo Bonetti (@TheCalcioGuy) December 17, 2013
Inter's season has once again seen them challenging for a European place, with Guarin starting all 16 of their Serie A games, making six assists and contributing three goals, according to Transfermarkt.co.uk.
As one of Italy's plethora of capable box-to-box midfielders, one can see the appeal that both Chelsea and Manchester United would see in the 27-year-old.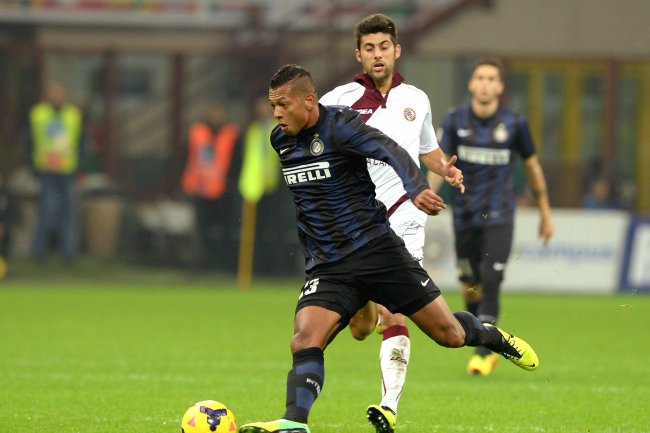 Claudio Villa/Getty Images
With Chelsea's Frank Lampard now 35 years of age, and Moyes still battling to solidify an engine room currently in need of some world-class quality, Guarin fits the bill for both teams.
However, the New York Times' Graham Ruthven disagrees, saying Guarin is anything but needed at Stamford Bridge:
If you had asked me yesterday which player Chelsea definitely don't need I probably would've said Fredy Guarin.

— Graham Ruthven (@grahamruthven) December 17, 2013
Crucially, the playmaker would be available to play in the Champions League courtesy of Inter's failure to qualify for European competition this season.
Given that both Chelsea and United have favourable Champions League round of 16 draws against Galatasaray and Olympiacos, respectively, they will both expect to reach the quarterfinals.
Squad depth and top-class quality is required if either club is to go all the way, which is why Guarin's availability for European competition makes him so attractive.
However, it appears Mourinho has made more movement toward ensuring Guarin is his come the end of January, with the Red Devils at risk of losing out on another central target.