Portland Trail Blazers: NBA Title Favorites or Overrated Team?
Use your ← → (arrow) keys to browse more stories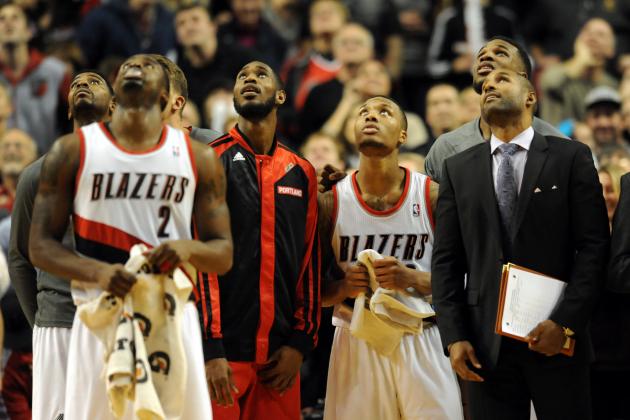 Steve Dykes-USA TODAY Sports
The Blazers are certainly setting their goals high this season. With a 21-4 record, they ought to.
The Portland Trail Blazers managed to stun NBA fans and experts with their strong start into the season. They are on top of the Western Conference with an impressive 21-4 record. Are they now suddenly favorites to win it all?
During the offseason, hardly anyone put Portland in a spot that would guarantee them home-court advantage in the first round of the playoffs. Many believed they would struggle throughout the season.
Yet here we are, just past the quarter mark of the season, with the Trail Blazers owning the best record in the NBA.
While statistics after just a few games are misleading by principle, 25 games can be viewed as a sample that lets us draw some first conclusions.
In order to understand why people are still uncertain about whether or not Portland deserves to be dubbed a title favorite or even a contender, we need to take a step back and look at the whole picture, starting with the general perception of the franchise before this season.
Why was Portland underestimated?
Let's take a short trip down memory lane.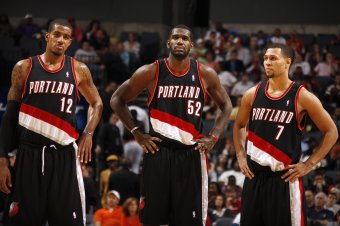 Kent Smith/Getty Images
After several years of insignificance, Portland reemerged thanks to the young tandem of LaMarcus Aldridge and Brandon Roy. The addition of Greg Oden was expected to push the Blazers over the edge.
Hopes were high, and rightfully so.
As we know, injuries destroyed that short-lived dream, and all that remained was a potent power forward who tried to do it all—but to no avail.
Enter Damian Lillard.
The point guard had an outstanding season and deservedly was named Rookie of the Year in 2013. He played beyond the level anyone could've hoped for, and fans got excited.
Sadly, the 33-49 team record didn't reflect that.
With the worst bench in the NBA in 2012-13, the starters had to carry the entire load.
The additions of Robin Lopez, Thomas Robinson and Mo Williams were believed to cover the loss of J.J. Hickson and Eric Maynor, but the improvement expected was marginal.
Why did Portland's record improve so significantly?
First and foremost, Robin Lopez allows LaMarcus Aldridge to play power forward.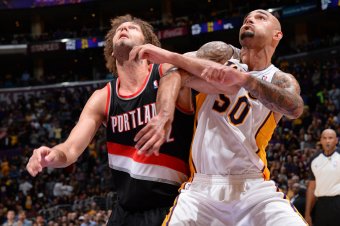 Andrew D. Bernstein/Getty Images
Last season, Hickson may have been the nominal center, but he is seriously undersized for this position. So, in effect, Portland played with two power forwards sharing the center duties.
Aldridge doesn't have the stature nor the playing style for a center. He relies on someone else doing the chores that come with the center position, including banging bodies with the likes of Dwight Howard and Marc Gasol.
Robin Lopez does.
He may not be able to play a big part in the offense, but he doesn't have to. As long as he defends and rebounds, he is doing his job. The Blazers already had many offensive weapons; what they lacked was a big defender.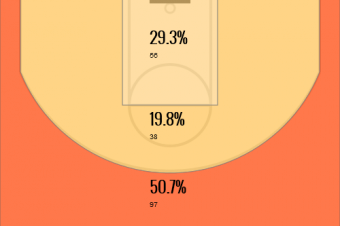 Vorped.com
Speaking of offensive weapons, Wesley Matthews is having a sensational season.
The 27-year-old has found his groove in his fourth year in the league. He hits 50.5 percent of his shots from the field, including a staggering 45.4 percent from downtown, where he launches most of his shot attempts. If he stays hot, Portland fans are going to have a lot of fun this season.
The Blazers now have the perfect backup guard in Mo Williams.
The veteran knows what he's doing and does it well. He doesn't need to perform highlight plays, he doesn't need to excel in any area—he just needs to be able to give Damian Lillard a rest without a huge drop-off for the team's offense.
Then there is the bench production.
No, the bench is nowhere close to leading the league, but at least it isn't ranked last. While still averaging only 13.8 minutes per game, it has clearly improved its numbers over last season.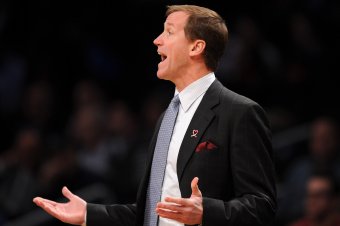 Maddie Meyer/Getty Images
For example, after sitting dead last in three-point percentage in 2012-13, the bench now ranks sixth in that category.
Terry Stotts should seriously consider giving his bench players more time on the court to give his starters more rest. If the substitutes get more playing time, they are also better prepared to take over for a starter in case of an injury.
And we are all aware of Portland and injuries.
So, is Portland a legitimate title contender?
Many are still not buying into the Trail Blazers being a favorite for the title. And why should they, with Miami, Oklahoma City, Indiana and San Antonio going strong? These teams are coming off impressive seasons and are historically tough to beat in the playoffs.
Nonetheless, you have to give credit to the Blazers and at least put them in the extended contingent of title aspirants.
They will never be favorites until they manage to actually win a title with their offense-oriented, jump-shooting game style.
We all know the old adage: offense wins games, defense wins championships.
Experience also tells us that the playoffs are won inside the paint. Unless a team can defend the interior as well as score inside when it needs to, it stands a bad chance of winning it all.
A dunk or layup will go in even on bad days. A jump shot can be a fickle mistress.
Just look at the narrow win over the Detroit Pistons last Sunday. It took the Blazers an overtime buzzer-beater by Lillard (fittingly, a short jumper) after their threes simply wouldn't fall. They ended the game shooting a dismal 20 percent from downtown.
Mind you, this came after a record-setting 21 three-pointers at a rate of 56.8 percent the previous night.
Where do you see Portland?
With this style of game, the Portland Trail Blazers are virtually unpredictable.
If they get their shots to fall, they can put a game away in a hurry. And with their current confidence, they don't mind putting up bricks for two quarters. They know that eventually they will connect on their shots.
The question remains: In a seven-game series against a tough defense, will they be able to adjust if need be? Do they have another option next to throwing the ball up from three-point land?
If they don't, leading the league in three-pointers made per game won't mean a thing.
So, as long as the Blazers live and die by the three, they may indeed be a contender for the title—but they certainly will not be a favorite by any stretch.
All statistics were obtained from nba.com or basketball-reference.com unless stated otherwise.