Tottenham Hotspur News: Why the Next Month Is Critical for Daniel Levy and Spurs
Use your ← → (arrow) keys to browse more stories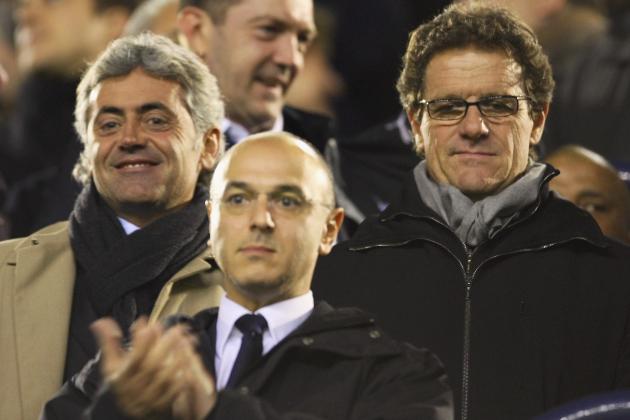 Richard Heathcote/Getty Images
This is a critical time for Levy at Spurs.
Following yet another cry of "Man Down!" at White Hart Lane, Daniel Levy and Tottenham Hotspur both have a hugely important month ahead of them.
Six months ago, Andre Villas-Boas had reasons to be cheerful. Although Gareth Bale's heroics did not result in a coveted Champions League berth, the Portuguese had accumulated a reasonable number of gold stars to slap on the fridge at home—culminating with Spurs' record Premier League points haul (72).
By the end of the summer, cracks surfaced as Bale left to join Real Madrid in a £85 million transfer. Yet despite Spurs' spending over £100 million on a vast array of European talent, Jason Burt of The Telegraph reported that frustration crept in as Villas-Boas' rumoured principle targets, such Hulk, Joao Moutinho and David Villa, were not acquired.
The squad needed time to gel, but the Lillywhites' third humiliation of the season last Sunday (5-0 vs. Liverpool)—was the straw which finally broke the camel's back. Which camel is unclear, since the BBC reported that the termination of Villas-Boas' services was by "mutual consent."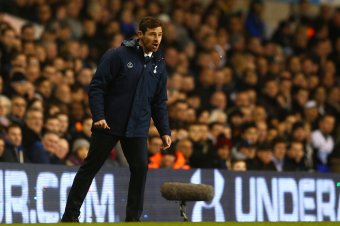 Paul Gilham/Getty Images
Villas-Boas became the seventh Spurs manager to be sacked in the 12 years of ENIC (Levy) ownership, proving that the job is something of a poisoned chalice.
Was his sacking harsh? The media seems to think so. After all, Neil Ashton and the Daily Mail Online effectively became spin doctors, stating Villas-Boas had the highest Premier League winning percentage of all of Spurs' managers in Premier League history.
Whilst this is true, the statistics are skewed by two crucial factors.
Firstly, Villas-Boas managed 90 fewer games (almost equating to two and a half seasons) than Harry Redknapp, who ended up being approximately four percent behind the Portuguese.
Secondly, he inherited a vastly greater playing roster than any of his predecessors.
Despite Luka Modric being on the way out, Gareth Bale, Rafael van der Vaart and Emmanuel Adebayor were present.
Although Ledley King's retirement was a blow, Spurs recruited the Eredivisie Player of the Year in Ajax's Jan Vertonghen, who a year later was named in the Premier League team of the season.
Add France's No. 1 stopper Hugo Lloris and Belgium's Mousa Dembele to the list, and it was clear that Spurs were already a reasonably strong outfit.
This season's clean sheets masked the fact that Villas-Boas' favoured high defensive tactic was proving to be a liability, particularly in a defence which is not blessed with pace. The losses to Manchester City and Liverpool exposed Villas-Boas' inability to tweak his tactics during adverse situations.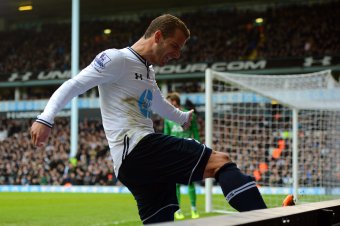 Michael Regan/Getty Images
The White Hart Lane faithful notoriously expect their team to play with a swagger, but the polar opposite materialised with home performances, chiefly lacking in goals (seven goals in eight league games at White Hart Lane), which became wholly unacceptable.
On numerous occasions, Spurs scraped by, winning league matches via disputable penalties (Hull and Swansea), but when they lost, they lost in style. So much so, the team displayed similarities to their "rudderless" stewardship under Juande Ramos.
As per ex-defender Jonathan Woodgate's comments in 2008 when Redknapp took over, Spurs need a fresh face at the helm to boost their confidence, which could prove to be a turning point for the season.
If Levy took a calculated risk in appointing Villas-Boas in the first instance, the same can be said of his exit. Although the club remain five points off the Champions League placings and have another three competitions to play for, the change was a necessity before the season was lost.
What now for Spurs?
In an interim capacity, Tim Sherwood is in charge.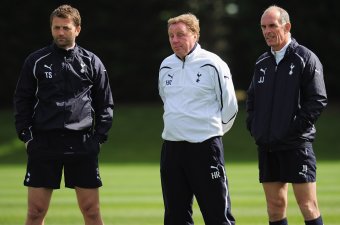 Shaun Botterill/Getty Images
According to Ashton, Sherwood is highly regarded within football circles. This makes him an enigmatic commodity at White Hart Lane since he has never been a direct coach (until now) and does not even hold a UEFA Pro Licence—a prerequisite for coaching in the Premier League as a manager.
Could the attraction be that Sherwood was known during his playing career as "the grafter?" A no-nonsense central midfielder, mostly remembered for leading Blackburn Rovers to title-winning glory in 1995 before he played and captained Spurs during the early 2000s.
Sherwood returned to Spurs in 2008 and will almost certainly simplify things on the training ground—in stark contrast to AVB's methods. The ex-England midfielder's methodology is likely to be more similar to Redknapp's, which reaped mostly dividends during his three and a half year tenure at Spurs.
With Wednesday night's Capital One quarter-final being a must-win game, Sherwood is likely to take charge of Spurs' four league games from now until New Year's Day, when they visit Old Trafford. The following weekend, Sherwood has a third-round FA Cup tie to look forward to—away to bitter-rivals Arsenal.
A month is a long time in football—either Sherwood will be smelling of roses or Levy could have egg on his face.