This year's Champions League promises to be one of the most entertaining in recent years, with the round of 16 featuring plenty of fantastic fixtures that follow what was an enthralling group stage.
Many people criticize the Champions League and argue that it doesn't get good until the knockout stages, but don't forget that Manchester City couldn't win Group D this year despite having 15 points, Napoli went out even though they had 12 points, and Galatasaray and AC Milan went down to the wire to determine whether they'd progress.
Now, the knockout stages can begin, and UEFA is starting things off with a bang.
In the round of 16 alone, you've got Barcelona vs. Manchester City, Arsenal vs. Bayern Munich and Didier Drogba's return to Chelsea. All make for compelling storylines and give fans plenty of reasons to tune in come February.
Here's a look at the full list of fixtures and predictions for the eight matches in the round of 16.
Champions League Round of 16

| | | | | |
| --- | --- | --- | --- | --- |
| Clubs | | 1st Leg | 2nd Leg | Prediction |
| Bayer Leverkusen | Paris Saint-Germain | Feb. 18 | March 11 | PSG |
| Manchester City | Barcelona | Feb. 18 | March 11 | MC |
| AC Milan | Atletico Madrid | Feb. 19 | March 12 | ATL |
| Arsenal | Bayern Munich | Feb. 19 | March 12 | FCB |
| Zenit St. Petersburg | Borussia Dortmund | Feb. 25 | March 18 | BVB |
| Olympiacos | Manchester United | Feb. 25 | March 18 | MANU |
| Galatasaray | Chelsea | Feb. 26 | March 19 | CHE |
| Schalke | Real Madrid | Feb. 26 | March 19 | MAD |
ESPN FC
Matches to Watch
Barcelona vs. Manchester City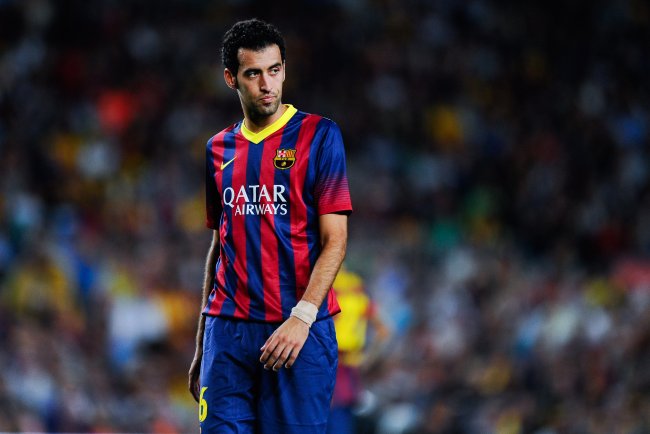 David Ramos/Getty Images
Manchester City are the ultimate Jekyll and Hyde team at the moment. They can beat Manchester United, Tottenham Hotspur and Arsenal by a combined 16-4 at home, but they lose to Cardiff City, Aston Villa and Sunderland and then draw with Southampton and Stoke City away from the Etihad.
Playing at home in the first leg should be an advantage for City. It will allow them to build a nice lead on Barcelona heading into the Nou Camp, putting all the pressure on the Catalans.
Considering both Barcelona and Manchester City's foibles at the back, this tie could well be decided in the midfield.
Yaya Toure is one of the best midfielders in the world. Playing against his former club, he should be up for this one. As long as he and Fernandinho don't get caught too far forward, City won't be ripped apart on the counter.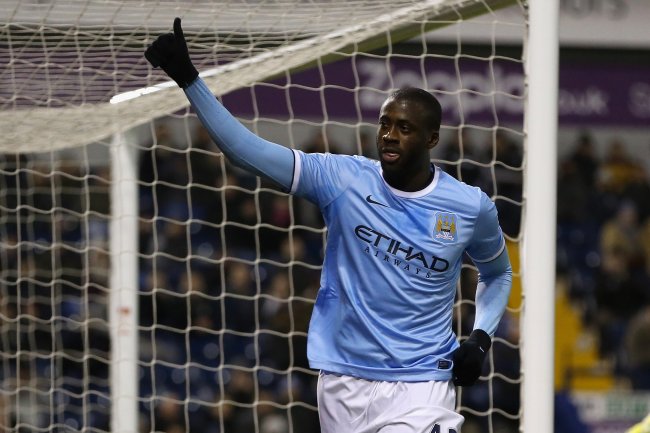 David Rogers/Getty Images
However, you could see where Sergio Busquets is the difference. Since watching Nigel de Jong leave, City have lacked the kind of player who adds that necessary toughness in midfield and is willing to play a strictly defensive role. Although Busquets has become a more rounded player, he's still well-versed in the defensive midfield position.
Only one or two goals will decide this matchup. With the first leg at home, I'm giving the slight edge to City. They should build a lead at the Etihad that will allow them to play a little more defensively in the second and hold off Barcelona.
Prediction: Manchester City
Arsenal vs. Bayern Munich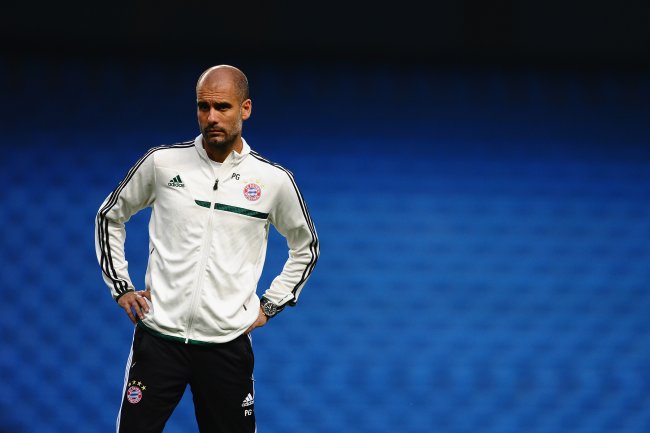 Laurence Griffiths/Getty Images
What is it about Arsenal that makes them a magnet for ridiculously difficult fixtures in the round of 16? The Gunners have failed to advance past this stage in each of the last three seasons, in large part because they get drawn against Barcelona, AC Milan and Bayern Munich.
It's the Bavarians again this year, so there's a great chance Arsene Wenger's men will make it four in a row.
Wenger is welcoming the challenge that comes with playing the reigning European champions (via the Daily Star's Gary Jones):
We have to be one goal better this time instead of being one goal worse and I believe it's an interesting challenge because we have an opportunity to show we have learned from it. We have all to win and nothing to lose. We can show that we have moved forward since last season.
Will it be four seasons in a row Arsenal have exited the Champions League in the Round of 16?
Arsenal's frailties were laid bare in that 6-3 loss to Manchester City. The Gunners have looked great in the league, but they can leave themselves exposed at the back when chasing the game against top sides. They know one style of play, and, while they know it very well, it's not conducive to beating sides such as Bayern in the event they face a deficit.
Bayern Munich have the midfield strength to counter Mesut Ozil and Aaron Ramsey. Up top, Mario Mandzukic can occupy the defense's attention while Franck Ribery and Arjen Robben burst down the flanks.
If Arsenal can keep a clean sheet in the first leg at the Emirates, they've got a chance in this tie. But Bayern should be able to advance.
Prediction: Bayern Munich
AC Milan vs. Atletico Madrid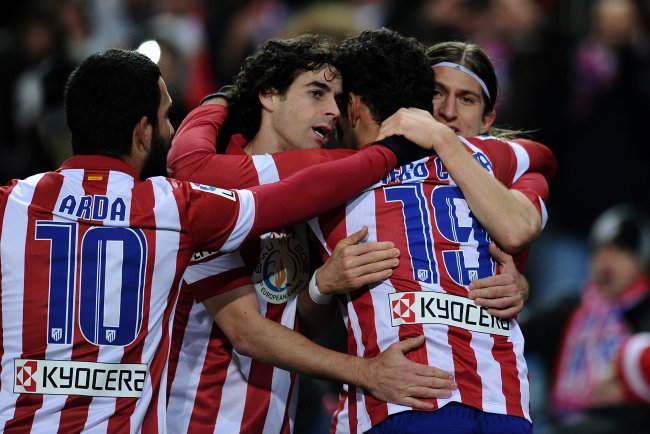 Denis Doyle/Getty Images
This is a great test for Atletico Madrid to prove themselves as contenders to make a finals run. AC Milan are foundering in Serie A, but given their reputation and squad, they're dangerous nonetheless. Beating the Rossoneri comfortably in the round of 16 would affirm Atletico's Champions League chances after winning Group G by 10 points.
Few would've predicted Borussia Dortmund's runner-up finish last season, and now Atletico are in much the same boat. Dortmund had Shakhtar Donetsk in the round of 16 and Malaga in the quarterfinals. While neither was a gimme, both ties could've been worse for the German side, and with those matches, they built that necessary belief that would lead them to Wembley.
Are Atletico Madrid Champions League title contenders?
Should they continue their performance into 2014, Atletico should coast in this fixture.
Milan have been a mess this year, due in large part to the fact that they have no idea what kind of team they are. They possess the ball for long stretches but don't do anything with it. Then there's the defense that has let in 25 goals in 16 league matches.
Atletico's high-pressing, physical style should frustrate Mario Balotelli and cut off his supply lines. Meanwhile, on the other side of the pitch, David Villa and Diego Costa will feast on the weak Milan back line.
Prediction: Atletico Madrid