Following days of speculation regarding what would come of Jack Wilshere's middle finger salute on Saturday afternoon, the midfielder has been charged for making an offensive and/or insulting and/or abusive gesture, confirmed by the FA's website.
During the second half of Arsenal's 6-3 loss at the Etihad Stadium, Wilshere was picked up by cameras and appeared to have sworn in the direction of the Manchester City support.
Warning: The video below contains language and visuals NSFW.
Warning: Contains some audio and visuals NSFW
An FA statement read:
Wilshere has been charged retrospectively by The FA under a new pilot project for potential 'not seen' incidents in Premier League matches.

Under the new process, if an incident has not been seen by the match officials, a three-man panel will be asked by The FA to review it and advise what, if any action, they believe the match referee should have taken had it been witnessed at the time.

For an FA charge to follow, all three panel members must agree it is a sending-off offence. In this instance, the panel were unanimous.
On Dec. 24, Wilshere tweeted:
Gutted not to be Involved last night! Shouldn't of reacted the way I did but I know all you dads out there love your kids the way I do....

— Jack Wilshere (@JackWilshere) December 24, 2013
Suppose I will just have to take the abuse about my kids in future......anyway, one more game to go! Can't wait to be back! #AFC

— Jack Wilshere (@JackWilshere) December 24, 2013
The 21-year-old could now face a ban as well as having to pay a fine as a result of his actions, although Arsenal have until 6pm on Wednesday to appeal.
At the time of the incident, The Football Front thought the reality of the situation was clear, and that a ban would be the result:
I wonder if Wilshere will be banned for the middle finger incident? Looked rather clear..

— The Football Front (@ReviewFootball) December 14, 2013
CNN's Tancredi Palmeri suggested that Wilshere's action could have been made in the direction of stewards:
Pic of Wilshere showing middle finger to City fans (or maybe to stewards) pic.twitter.com/EV4xaQItLA (via @mikekeeganmen )

— Tancredi Palmeri (@tancredipalmeri) December 14, 2013
In Dec. 2011, Luis Suarez was given a one-match ban and a fine of £20,000 for giving an identical middle finger gesture to the opposition's support in the wake of Liverpool's 1-0 loss to Fulham.
Irrespective of whether one agrees with the FA's decision, Wilshere's alleged action shows bad sportsmanship above all else, and it's undoubtedly true that instances such as these are setting a terrible example for today's youth.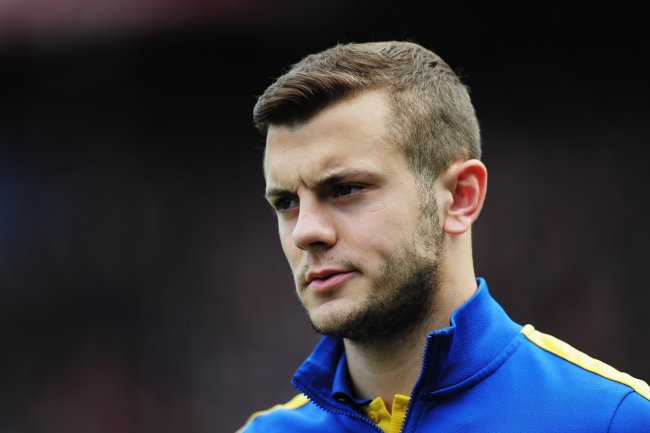 Shaun Botterill/Getty Images
With more ways of accessing visual content than ever before, there's no quantifying how many youngsters will see the Arsenal and England star taking his most recent loss in particularly bad fashion.
Before making its decision over Wilshere's fate, the FA, per Sky Sports, had considered observations from referee Martin Atkinson and the other officials present at the match.
Is the FA correct in its judgement?
After consideration, the governing body then came to its conclusion on Tuesday afternoon ahead of the 6 p.m. deadline.
Wilshere will now likely miss next Monday's crucial clash against Chelsea, per the Mirror's David McDonnell, a game which promises to have a massive impact on the title race. The sides are currently just two points apart in the table.
Arsene Wenger, known for being a strict mentor at the Emirates Stadium in terms of how his players represent the club, will be as displeased as any by the whole affair.
The Frenchman must now consider whether Wilshere has harmed his own first-team chances in an Arsenal squad that is bursting with midfield talent.