How Is 2014 Shaping Up for the UFC?
Use your ← → (arrow) keys to browse more stories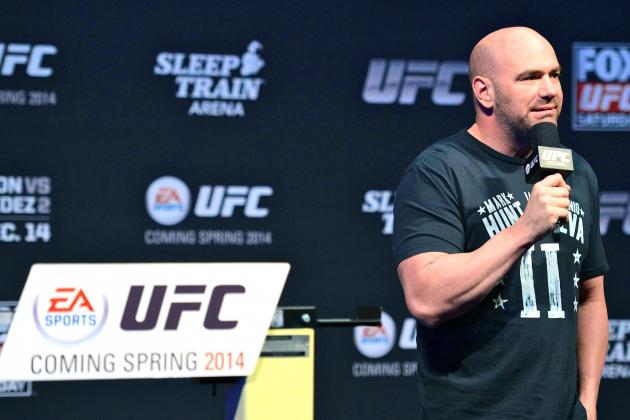 USA Today

It would be a slight understatement to say the UFC's 2013 has been an improvement over the organisation's disastrous 2012.
Injuries and withdrawals were so common last year that one could have been forgiven for thinking the Culinary Union had been sticking pins in a roster's worth of voodoo dolls.
In particular, the last few months of 2013 have delivered some of the most memorable fights one could ever hope to witness: Jon Jones vs. Alexander Gustafsson, Gilbert Melendez vs. Diego Sanchez, Mark Hunt vs. Antonio Silva and more.
Could 2014 possibly improve on what has arguably been the most successful single year in the UFC's 20-year history?
Only a charlatan would dare make such a prediction with any degree of certainty. However, recent developments at the top of the roster have provided cause for pessimism
With Georges St-Pierre taking his leave of the sport, per MMA Weekly's Jeff Cain, the UFC has lost its biggest pay-per-view draw. This doesn't just hurt the organisation's bottom line; the GSP-shaped hole also leaves the welterweight division without a bankable star for the first time in almost a decade.
Additionally, lightweight champion Anthony Pettis likely won't be back in action until the summer, heavyweight champ Cain Velasquez looks set to miss most of 2014 while he rehabs his left shoulder, and light heavyweight king Jon Jones won't make his first competitive appearance until April.
Bearing in mind the spate of lower-profile withdrawals, the UFC's charmed 2013 is increasingly looking like an anomaly.
At the risk of piling on the misery, recent noises made by Ronda Rousey suggest she may not be long for the sport. Back in August, the women's bantamweight champ claimed she may have only a couple of years left in MMA.
One wonders whether the former Olympic judoka's flourishing movie career might expedite her exit from the sport, though. Since her much-lamented stint on The Ultimate Fighter, the retirement talk has only increased.
Rousey's recent MMA-related appearances have been the very definition of car-crash TV, but she was charm personified in her interview with Jimmy Kimmel.
These days, it seems as though she has little time for the sport or those involved with it, expressing disdain whenever she is confronted with anything less than a mainstream audience. I honestly wonder how much we will see of WMMA's most visible star in 2014.
"Do you actually have anything positive to say, James?" I hear you ask.
Since you asked so nicely, there are some promising developments.
The addition of a women's strawweight division is a terrific move by the UFC. Invicta's 115-pounders routinely dazzled us throughout 2013. One could even argue that the weight class boasts more talent than the women's bantamweight division.
Using the TUF format to introduce the strawweights and crown a new champion is a touch of genius. It's fair to say we've all grown a little weary of the show's slightly misleading promise of a six-figure contract to the winner.
The announcement of the UFC's new subscription-based digital network—set to debut in January—is a potentially game-changing development for the sport.
Events exclusive to the subscription-based service will largely showcase lesser-known fighters and local talent not quite ready for the big show.
With almost 50 events scheduled for next year and close to 20 airing on the new network, the UFC seems to be taking fighter development into its own hands instead of relying on regional promotions.
As of writing, there are still too many variables and unknowns to be able to predict the success of this venture. The monthly subscription fee hasn't been established, and we don't know what content will air on the network or who will have access to it.
There is also the question of how consumers will react to the UFC diluting its brand by allowing lower-level fighters to compete under its banner.
Our conception of a UFC-level fighter has changed drastically over the past three or four years. No longer is the organisation a destination exclusively for the sport's elite. Whether this is a change for the better remains to be seen.
With injuries starting to pile up and some high-profile stars on the sidelines, it seems counterintuitive to say that the success of UFC's 2014 may depend on the organisation's ambition.
But the key to the UFC's success has been its willingness to take risks. Dana White and the Fertitta brothers have never been content to remain in stasis. Their desire for growth, even when circumstance seems to dictate caution, has served the sport well.
Only a fool would bet against them.