The Brooklyn Nets have been one of the NBA's biggest disappointments this season, but despite their early struggles, we should still see them in the playoffs come April.
Make no mistake, they have started the year in awful fashion, but thanks to a weak Eastern Conference, they are still only two games out of a top-four seed.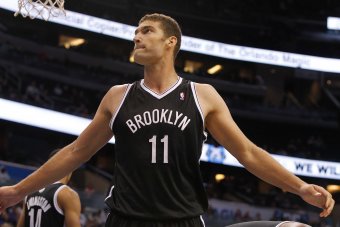 Kim Klement-USA TODAY Sports
After starting the season slow, the Nets are beginning to get things together, going 5-5 in their last 10 games. Injuries have held them back, but with almost everyone besides Brook Lopez—who's nursing a minor ankle sprain—back in the lineup, they finally have a chance to build chemistry.
Star point guard Deron Williams recently accused fans of jumping "off the bandwagon" prematurely and, frankly, he's right. Considering all the hype the team got going into the season, it's amazing how quick fans and media, alike, jumped ship at the first sign of trouble.
It's still only December, and considering the role injuries have played in early struggles, Brooklyn shouldn't be particularly worried about falling behind in the East. They're still one of the five most talented teams in the conference and, with Derrick Rose out and the cross-town Knicks failing to get it together, that should guarantee a high seed.
The trade that brought Paul Pierce and Kevin Garnett was probably a mistake in hindsight, but they can both still contribute. The original trio of Williams, Lopez and Joe Johnson was enough to earn the fourth seed last season, anyway.
Admittedly, the coaching situation is still a concern with Jason Kidd looking lost at times, but this roster has more than enough veteran leadership to get by. Pierce and KG both have rings, while Williams and Johnson are no strangers to the postseason.
The real question for the Nets isn't whether or not they'll make the playoffs, but whether or not they'll earn home-court advantage in the first round. To do so, they'd have to either win the Atlantic Division or find a way to overtake the likes of the Atlanta Hawks and Detroit Pistons.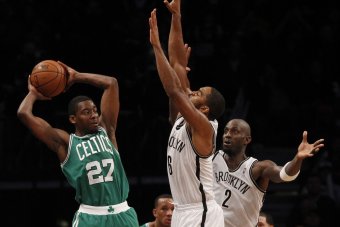 Noah K. Murray-USA TODAY Sports
Strangely, winning the division might be the most likely outcome out of the two. Brad Stevens deserves major credit for what he's done with the Boston Celtics, but his team is punching above its weight, and it would be a surprise to see their division lead last for much longer.
Meanwhile, the Knicks have been even worse than the Nets and with only Tyson Chandler missing extended time, it appears there are some much deeper, fundamental problems they need to sort out in order to defend their division crown.
With games coming up against the Washington Wizards, Philadelphia 76ers, Chicago Bulls and Milwaukee Bucks in their next five, Brooklyn has a genuine chance to build some momentum and climb up the conference heading into the new year.
There's no doubt that they've been a disappointment so far and, in hindsight, their blockbuster trade was certainly questionable, but this is still a team we'll see in the postseason.