Win-Win Prospect Packages for Top MLB Trade Targets on the Market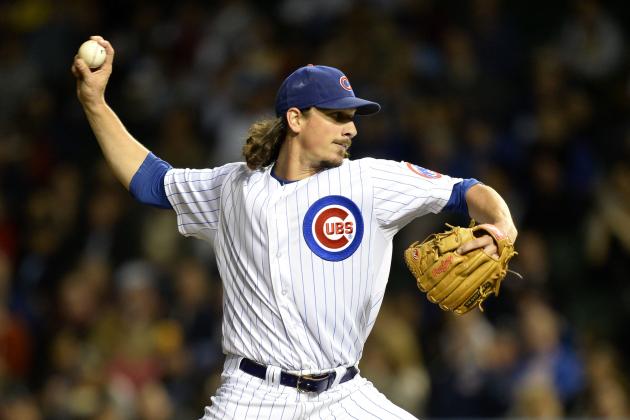 Brian Kersey/Getty Images
Several teams have the prospect depth to land Jeff Samardzija this offseason.
Trades went down left and right last week during Major League Baseball's annual winter meetings.
Unfortunately, none of those deals involved notable prospects.
Well, that changed on Monday when the Chicago White Sox acquired third baseman Matt Davidson from the Arizona Diamondbacks in exchange for closer Addison Reed.
In short, landing the 22-year-old Davidson is a huge victory for the White Sox, who haven't received consistent production from a third baseman since Joe Crede a half decade ago. If he continues to develop as expected, Davidson should be an everyday regular at the position with 20- to 25-home run potential and a solid on-base percentage.
Reed is a proven closer with 69 saves over the last two seasons. However, with a 4.17 career ERA (103 ERA+) and 0.9 HR/9 (home runs per nine innings), he doesn't rank among the game's best in the role.
While a few smaller prospect trades should transpire before the end of the offseason, it's doubtful that any top-ranked prospects will be moved unless there's a blockbuster trade involving a star-caliber player.
So here's a look at five different prospects-for-star trade scenarios that would make sense for both teams.
*All contract information courtesy of Cot's Baseball Contracts.
*All stats courtesy of Baseball-Reference.com.
Begin Slideshow

»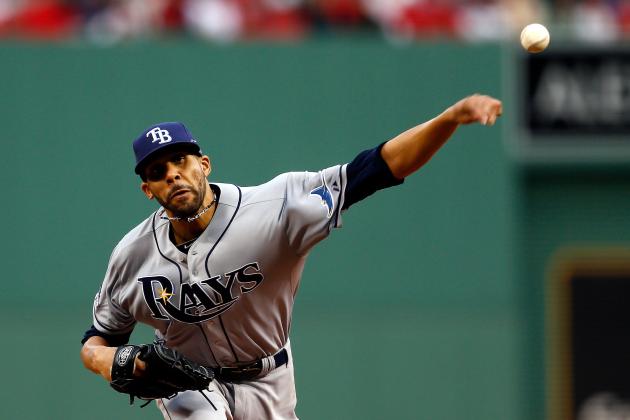 Jim Rogash/Getty Images

The Trade
Mariners acquire LHP David Price
Rays acquire RHP Taijuan Walker, 2B/SS Nick Franklin, RHP Dominic Leone
While Cano's contract will likely prevent Seattle from signing another big-name free agent this offseason, the popular belief is that the organization is going to deal for Tampa Bay Rays ace David Price.
Despite graduating Nick Franklin, Brandon Maurer, Brad Miller and Mike Zunino to the major leagues in 2013, the Mariners have both the talent and depth on the farm to execute a potential blockbuster trade.
Even though top prospect Taijuan Walker's name previously appeared in trade rumors last week, the Mariners are reluctant to include him in a trade.
At least that's what they want everyone to believe.
The organization's decision to sign free agent Robinson Cano to a 10-year, $240 million suggests means it isn't messing around and plans on contending during the back end of the 31-year-old's prime seasons.
So if the Mariners go big and make a move for Price, it's simply a reality that Walker will be included.
Selected by the Mariners in the supplemental first round of the 2010 draft, Walker has everything you want in a future ace. At 6'4" and 210 pounds, the right-hander is an outstanding athlete with a fluid delivery, quick arm and exceptional stuff.
After dealing at Double-A Jackson and Triple-A Tacoma during the regular season, Walker, 21, was called up the major leagues in September, where he registered a 3.60 ERA and 12-to-4 strikeout-to-walk ratio in 15 innings spanning three impressive starts.
Walker boasts a plus-plus fastball that reaches the upper-90s, and he has also developed a high-80s/low-90s cutter that should be at least above-average at maturity. Although his command of both pitches was vastly improved this past season, he still tends to leave too many up in the zone—something that will need to improve moving forward.
Both of Walker's secondary offerings are also in need of refinement. The right-hander induces whiffs with a curveball that has big-time depth and heavy downer action, though his lack of control makes it an inconsistent offering. Meanwhile, he's still developing a feel for a changeup that's average at the moment but plays up when he's working the corners with the fastball and cutter.
A 2009 first-round draft pick, Nick Franklin opened the 2013 season on fire at Triple-A Tacoma, batting .324/.440/.472 with 13 extra-base hits and more walks (30) than strikeouts (20) in 39 games.
Franklin's red-hot start to the minor league season ultimately earned the 22-year-old an ahead-of-schedule promotion to the major leagues in late May.
It didn't take long for Franklin to carve out his role as the team's everyday second baseman for the offense-starved Mariners. At the All-Star break in July, Franklin was considered a legitimate Rookie of the Year candidate in the AL after batting .268/.337/.451 with 16 extra-base hits (six home runs), five stolen bases and a 36-to-16 strikeout-to-walk ratio in 169 plate appearances.
However, his second half of the season was essentially a two-and-a-half month slump during which he pressed at the plate and swung through everything. As a result, Franklin batted .194/.280/.333 with a 77-to-26 strikeout-to-walk ratio in 243 plate appearances during that span.
While Franklin's overall body of work as a rookie was impressive, it's difficult to look past the severity of his struggles following the All-Star break. And with Cano now in the equation and presumably taking over at second base next season, the 22-year-old now represents the Mariners' most expendable young player.
Meanwhile, Tampa Bay has been attempting to solidify its middle-infield situation for the last several years with minimal success. So expect Franklin to be included in a potential trade should the Mariners pursue Price.
Dominic Leone may not look like much at 5'11" and 185 pounds, but don't let his size fool you.
Selected in the 16th round of the 2012 draft out of Clemson, Leone hopped on the fast track to the major leagues this past season (also his full-season debut).
The 22-year-old—in his age-21 season—amassed 16 saves and posted a 2.25 ERA with a 64-to-18 strikeout-to-walk ratio in 64 innings between Low-A Clinton, High-A High Desert and Double-A Jackson.
Concern about Leone's size and lack of downhill plane will continue to follow him through his career. However, that should never detract from the overall nastiness of his stuff.
The right-hander boasts a mid-90s fastball that will play up due to his quick arm and release point. Leone will also attack hitters with a cutter that comes in a few ticks below his regular fastball velocity and features late slicing action to the glove side. Leone's out-pitch is a nasty slider that dives out of the zone at the last minute to generate a favorable number of strikeouts and weak-hit outs.
While he'll presumably open the 2014 season in the minor leagues—either at Double- or Triple-A—it shouldn't take long for Leone to pitch his way to the major leagues. Once he gets the call, Leone's combination of plus, swing-and-miss stuff and an above-average command profile should allow him to carve out a role as a solid seventh- or eighth-inning arm.
With a host of young, hard-throwing relievers ahead of him on Seattle's depth chart, Leone represents intriguing trade bait given his proximity to the major leagues and could serve as a solid third player in a deal for Price.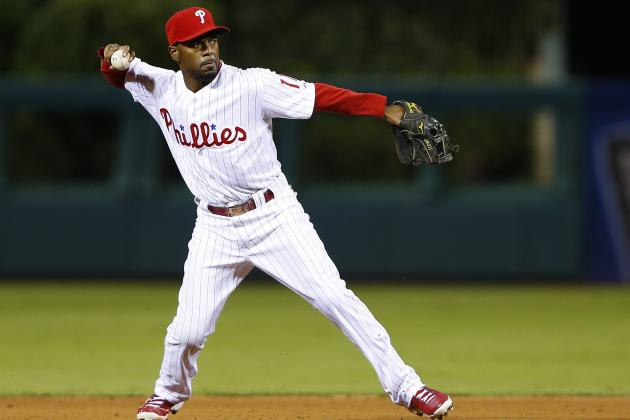 Rich Schultz/Getty Images

The Trade
Jimmy Rollins obviously wouldn't be a long-term solution at shortstop for the Mets entering his age-35 season, but he's still likely to offer better production than Ruben Tejada.
Rollins re-signed with the Phillies prior to the 2012 season, agreeing to a three-year, $33 million deal with a 2015 vesting option. He's set to earn $11 million in 2014.
In return for Rollins, Philadelphia could target Cesar Puello and address the severe lack of outfield depth in the upper levels of its farm system.
Puello, 22, enjoyed a long-overdue breakout campaign last season, his sixth in the Mets system, at Double-A Binghamton, batting .326/.403/.547 with 39 extra-base hits (16 home runs), 73 RBI and 24 stolen bases in 377 plate appearances.
However, Puello's season ended in early August when he accepted a 50-game suspension for PED use as part of the Biogenesis investigation.
Despite the disappointing end to his season, Puello was still very impressive overall, showcasing his usual loud tools but also a feel for the game that was absent in previous seasons.
Puello has the potential to be an everyday outfielder in the major leagues provided he can stay healthy—and also provided that his 2013 production wasn't a total fluke.
For the Phillies, acquiring him in exchange for Jimmy Rollins would be a solid, low-risk/high-reward gamble.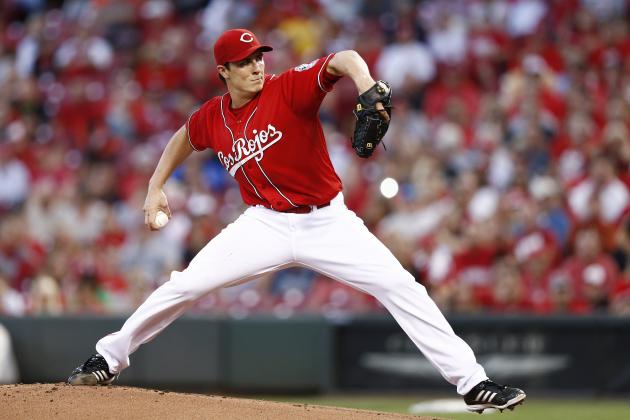 Joe Robbins/Getty Images

The Trade
Dodgers acquire RHP Homer Bailey
Reds acquire SS Corey Seager
Homer Bailey and the Dodgers haven't been linked, at least not to my knowledge, but how good would he look as their fourth starter next season behind Clayton Kershaw, Zack Greinke and Hyun-jin Ryu?
The Reds haven't decided what they're going to do with Bailey, 27, who will become a free agent after the 2014 season. Signing him to a long-term extension could be costly for the organization given the current market for starting pitching. However, given the ongoing interest this offseason in Jeff Samardzija, it's conceivable that the Reds would get a strong return for Bailey.
Beyond Robert Stephenson and Billy Hamilton, the Reds' farm system lacks a potential impact talent and lacks depth at basically each non-outfield position.
Therefore, in a hypothetical deal sending Bailey to the Dodgers, it would make sense for the Reds to target infielder Corey Seager in return.
Seager was selected by the Dodgers with the 18th overall pick in the 2012 draft and is regarded as one of the more promising young hitters in the lower minor leagues. The 19-year-old impressed during his full-season debut this year, batting .309/.389/.529 with 18 doubles and 12 home runs in 74 games at Low-A Great Lakes. However, he did struggle following a late-season promotion to High-A Rancho Cucamonga, where he batted .160/.246/.320 over 27 games.
The left-handed hitter has some kinks to work out in his swing, but his bat-to-ball skills are excellent and cater to his future projection as an above-average hitter in the major leagues. Meanwhile, Seager's power should continue to develop as he gains physical strength and experience against better pitching.
While he's currently a shortstop and holds his own at the position, Seager's likely to lose a step as he continues to grow into his 6'4", 215-pound frame. That's not to say he won't reach the major leagues at the position; rather, it's a far more likely scenario that he shifts over to third base to account for his size or in deference to a better player.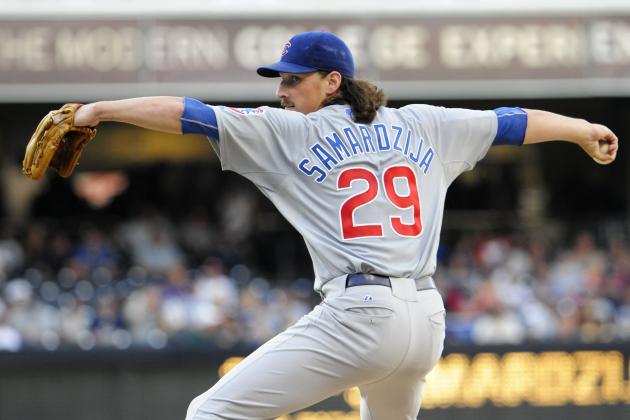 Denis Poroy/Getty Images

The Trade:
Braves acquire RHP Jeff Samardzija
Cubs acquire RHPs Lucas Sims and David Hale
The Cubs continue to ponder their course of action with right-hander Jeff Samardzija, who undoubtedly is the team's top trade chip this offseason.
Samardzija is entering his second year of arbitration and will become a free agent after the 2015 season. However, it's doubtful that the 28-year-old will ever hit the open market, as the Cubs are expected to either extend his contract or move him in a trade in the coming year.
While numerous teams have expressed interest in Samardzija, Dave O'Brien of the Atlanta Journal-Constitution still believes that the Braves are the quiet favorites to land the right-hander.
The Cubs' asking price for Samardzija is understandably lofty, with Theo Epstein, Jed Hoyer and Co. continuing to build for the future.
If Atlanta were to trade for Samardzija, it would presumably cost them top prospect Lucas Sims, the team's first-round draft pick in 2012.
After Sims pitched at a pair of rookie levels during his professional debut, the Braves confidently promoted him to Low-A Rome for the 2013 season. The 19-year-old dazzled during his full-season debut, posting a 2.62 ERA and 134-to-46 strikeout-to-walk ratio in 116.2 innings.
Expected to begin the 2014 season at High-A Lynchburg, Sims has the stuff and pitchability to start moving quickly up the minor league ladder. Overall, the right-hander projects as a mid-rotation starter at the highest level and should be ready to debut during the 2015 season.
The Braves likely will also have to part with one of their young(er) starters with experience in the major leagues. Since Julio Teheran and Alex Wood are off-limits, right-hander David Hale will probably be on the move.
A third-round draft pick in 2009 out of Princeton University, Hale moved at a steady level-per-year pace through the Braves' system and boosted his stock with back-to-back solid seasons at Double-A Mississippi and Triple-A Gwinnett in 2012 and 2013, respectively.
Specifically, his performance at Gwinnett this past season ultimately earned the 26-year-old a late-season appearance in the major leagues. Making a pair of starts for the Braves, Hale posted a 0.82 ERA with 14 strikeouts in 11 innings. In his major league debut on Sept. 13 against San Diego, he struck out nine batters and scattered four hits over five scoreless innings.
Hale won't pile up the strikeouts as he did in those two starts, but he does a good job of keeping hitters off-balance and generating weak contact by pitching off a heavy fastball in the low-90s. He has a high floor as a back-end starter in the major leagues, especially if the command of his secondary offerings continues to improve.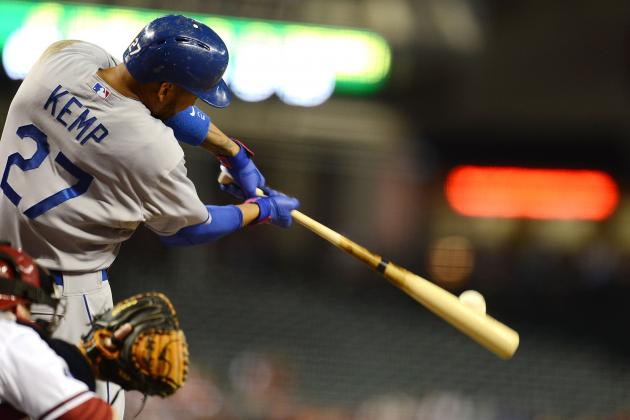 Norm Hall/Getty Images

The Trade:
Red Sox acquire CF Matt Kemp (and take on a significant portion of his current contract)
Dodgers acquire OF Jackie Bradley Jr., 3B Will Middlebrooks
This trade is 99.9 percent unlikely to happen, but the Red Sox definitely have the pieces to acquire Matt Kemp.
Kemp has only played in 179 games since agreeing to an eight-year, $160 million contract extension following the 2011 season, largely due to five separate stints on the disabled list and a pair of surgeries.
The Dodgers would likely receive Jackie Bradley Jr. from the Red Sox in a deal for Kemp, as the young outfielder would become expendable with Kemp taking over in center field.
Bradley made Boston's Opening Day roster this past season thanks to an impressive showing during spring training and the fact that several of the team's outfielders were banged up.
However, the 23-year-old outfielder struggled to find his groove at the plate and posted a dismal .392 OPS through 12 games in April. After that, he spent the season bouncing between Triple-A Pawtucket and the major leagues.
Bradley would ultimately appear in 37 games with the Red Sox, though he batted just .189/.280/.337 with eight extra-base hits in 107 plate appearances.
Bradley's approach and plate discipline will give him a chance to hit at the highest level, as he's a patient hitter who has a plan each time he steps up to the dish. Furthermore, he's a smart hitter who understands how to make adjustments against advanced pitching. For all those reasons, Bradley has the makings of a .280-plus hitter in the major leagues with a top-of-the-order-worthy on-base percentage.
While he stands out for his plate discipline and on-base skills, Bradley's greatest strength is his defense in center field. The 23-year-old makes it look easy out there with above-average speed and tremendous instincts that result in plus range. He gets excellent jumps and consistently takes a direct route to the ball while showcasing closing speed in all directions.
Bradley will never wow with his tools, but he's a consistent, well-rounded player who projects as an above-average center fielder with a hit tool and on-base skills that profile ideally at the top of a lineup. While he's performed poorly in the major leagues this season, Bradley should settle in nicely once he's given the chance to play on an everyday basis.
The Dodgers could also be interested in Will Middlebrooks as a second player in the deal, viewing him a potential long-term option at third base despite the team's recent signing of Juan Uribe to a two-year deal.
Boston promoted Middlebrooks to the major leagues early in the 2012 season after Kevin Youkilis landed on the disabled list. While there were questions whether his plate discipline and hit tool would translate at the highest level, Middlebrooks silenced his doubters by batting .288/.325/.509 with 15 home runs and 54 RBI in 286 plate appearances. Unfortunately, his rookie campaign ended prematurely in August when an errant pitch resulted in a broken wrist.
Opening the 2013 season as the everyday third baseman, the 25-year-old failed to show the consistency he did in 2012. And after batting .192/.228/.389 with nine home runs and 60 strikeouts in 216 plate appearances (53 games) to begin the year, the team demoted him to Triple-A.
Middlebrooks fared significantly better after he rejoined the Red Sox in early August, batting .276/.329/.476 with eight home runs in 158 plate appearances. However, his struggles in the postseason ultimately opened the door for top prospect Xander Bogaerts, who emerged as the team's starting third baseman during the American League Championship Series.
Bogaerts also gives the Red Sox several lineup options for the 2014 season.
While they could open the year with Bogaerts at shortstop and Middlebrooks at third base, the Red Sox may consider re-signing Stephen Drew or another free-agent shortstop willing to sign a one-year deal, which in turn would shift Bogaerts to third and Middlebrooks to the bench.
Middlebrooks has value in a platoon role with a career .838 OPS in 210 plate appearances against left-handed pitching. However, Boston is more likely to cash in on his trade value rather than use him in a limited role for the duration of a season.