The Detroit Lions had one last chance to establish themselves at the top of the NFC North. They had one last chance to "control their own destiny," as the saying goes, on the road to their first division championship in two decades.
All they had to do was stop the defending Super Bowl champions on Monday Night Football. As imposing of a task as that sounds, most of the Lions were up to it.
The controversial Lions defense, without their top two cornerbacks, managed to hold Joe Flacco and the Baltimore Ravens without a touchdown. Flacco threw 38 times for just 222 yards, averaging just 5.8 yards per attempt. Ray Rice led the Ravens with just 56 rushing yards, and the Ravens committed seven penalties for 60 yards.
So how did the Lions lose?
The same way they've lost all season long: Matthew Stafford threw three interceptions, Calvin Johnson dropped two wide-open passes, the offensive play-calling was bizarre and ineffective and the Lions just weren't good enough.
Incredibly, six Justin Tucker field goals—including a 61-yarder in the final minute—sealed the win for the Ravens. Despite 148 all-purpose yards from tailbacks Reggie Bush and Joique Bell, and a six-catch, 98-yard performance from Calvin Johnson, the mercurially inconsistent Lions offense could only muster 16 points.
Matthew Stafford: Not Good Enough (Yet)
There's no question that the man wearing the No. 9 jersey for the Detroit Lions has enough physical talent to take the Lions all the way. The question is, can he cut the mistakes out of his game? If he can't, the Lions won't ever go anywhere in the playoffs.
"You can't trust the Detroit Lions because of games like this. It was all there for them, and they threw up on themselves." - Trent Dilfer

— SportsCenter (@SportsCenter) December 17, 2013
Stafford's three interceptions against the Ravens will put him at 17 on the season, per Pro-Football-Reference. That ties him with Flacco and Carson Palmer for third-most in the NFL.
That might not be so bad, except Stafford's completion rate (58.3 percent) was 30th in the NFL coming into the game; his 18-of-34 performance Monday will actually lower that rate.
As I've written before, Stafford and Johnson's potential is incredible, nearly unlimited, but they routinely shoot themselves (or each other) in the foot three or four times per game. As the two superstars the offense (and team) is built around, they're supposed to be elevating their teammates. They're supposed to overcome the inadequacies of their teammates, not the other way around.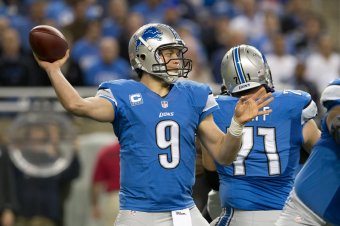 Jason Miller/Getty Images
Stafford's cavalier attitude toward mechanics, arm angles and pass selection has been getting him in trouble all season long, costing the Lions opportunities, wins and games. With a must-win prime-time matchup, it was crucial that Stafford bring his very best; instead he threw three picks, each one uglier than the last.
Even if the Lions find a way to back into the playoffs, there'll be no point if Stafford's just going to turn it over to the San Francisco 49ers, New Orleans Saints or Seattle Seahawks three, four, five times or more.
He has to straighten up his game, place the ball more accurately and quit forcing throws that aren't there, if the Lions are ever going to reach their potential.
Jim Schwartz: Not Good Enough (Yet)
Besides "losing," it's hard to find a specific thing to blame Jim Schwartz for.
His Lions had the NFL's sixth-best scoring offense coming into the game, per Pro-Football-Reference, and the defense—his specialty—was ranked 16th this season, a franchise best since 2000 B.M. Yes, that's B.M.: "Before Millen."
Yes, his Lions are distinctively undisciplined and perennially pugnacious—like the egregiously ill-timed unnecessary roughness penalty safety Louis Delmas incurred at the end of the second quarter, which set up Tucker's third field goal.
Yes, the high-flying (and crash-landing) offense is being piloted by Schwartz's quarterback, under his offensive coordinator. But it's hard to say, "Here's what Jim Schwartz does that makes his team commit awful penalties," or "here's who the Lions can hire that will make Stafford stop throwing terrible picks."
General manager Martin Mayhew has crafted this roster specifically to suit what Schwartz wants, and for the most part it's been successful. From 0-16 to perennially pushing for the playoffs in just a few years, the Lions are far, far better than might have seemed possible a decade ago.
Yet, "better than the worst ever" isn't where the bar is set. The Lions are talented enough to challenge for NFC supremacy. Not only are they a clear step below the real title contenders like the 49ers, Seahawks and Saints, they're playing like an also-ran, and trending toward mediocrity.
As several other analysts have said, if the Lions can't win their division in a season where all of the other teams imploded under the pressure of quarterback failures and injuries, when will they ever?
Some Other Coach or Quarterback: Not the Answer (Yet)
If the Lions fail to make the playoffs, it's a crushing failure of Schwartz and his staff to capitalize on a wealth of talent and rare opportunity. Yet, the Detroit Lions shouldn't blow up everything they've built and start over.
Stafford, for all his flaws, is already rewriting the Lions' record books at age 25, Johnson is the best receiver on the planet, Bush and Bell are rolling behind a surprisingly strong offensive line, and the defense is stocked with young playmakers in the front seven.
Plenty of Lions fans and media (and non-Lions fans and media) will be calling for Schwartz's head. Yet, the Lions' talent is primed to make a run right now. Fire Schwartz and install an offensive guru—much like the Bears did when they fired Lovie Smith and hired Marc Trestman—would be no guarantee the Lions improve.
Instead, the Lions need to address the systemic problems of the offense: design, play-calling, turnovers and poor quarterback decision-making. Normally, changing out the offensive coordinator would be considered risky for a young quarterback's development, but Stafford's "development" is going backwards, so there's no real case for continuity.
Unless the Ford family is feeling uncharacteristically hasty, Schwartz has two weeks to prove he and his crew deserve one more season to grow together as a unit and try to reach their elusive potential—and finally, step up to the next level of the NFL.