Ravens' Justin Tucker Sneaks 61-Yard Field Goal Inside Uprights for the Win
December 17, 2013

Bleacher Report
Baltimore Ravens coach John Harbaugh decided to send kicker Justin Tucker out for a 61-yard field goal with a chance to take the lead late against the Detroit Lions. Tucker rewarded his coach for having faith in him.
Tucker snuck the ball through the uprights, which gave the Ravens an 18-16 lead with 38 seconds remaining.
Just how close was this kick to hitting the upright?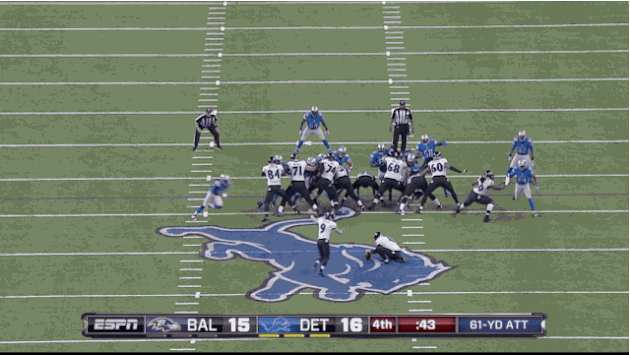 Bleacher Report
The 61-yard field goal was the longest of his career. His previous best was a 56-yard field goal in 2012. 
Tucker made all six of his field-goal attempts on the night and accounted for all of Baltimore's points. The 24-year-old also made history with his kicks, according to the Elias Sports Bureau via SportsCenter:
Justin Tucker is the first player in history to kick FGs in the 20s, 30s, 40s, 50s and 60s, in terms of yardage. (via @EliasSports)

— SportsCenter (@SportsCenter) December 17, 2013
On the first play of Detroit's ensuing drive, Lions quarterback Matthew Stafford was picked off, sealing Baltimore's victory:
Had Tucker missed the kick, Harbaugh may have been questioned for not going for it on 4th-and-8. Luckily for him, he has a kicker with a great leg.
In his postgame interview, Tucker took the time to let fantasy owners know that he is the man:
Justin Tucker, "My fantasy team is benefiting from [me] as well. Fantasy owners around the world, I hope you guys appreciate the points."

— John Breech (@johnbreech) December 17, 2013