5 Montreal Canadiens Storylines That Won't Go Away During 2013-14 Season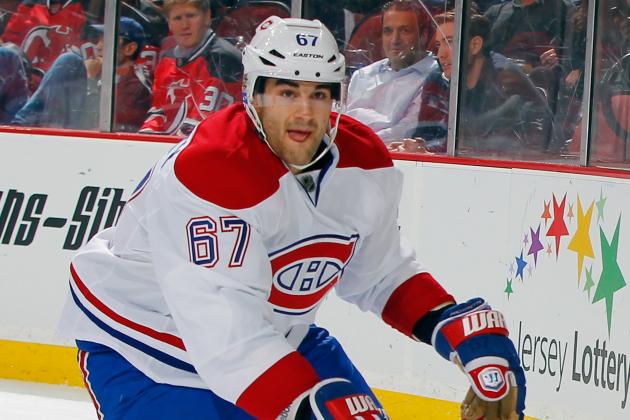 Andy Marlin/Getty Images
Max Pacioretty
The Montreal Canadiens' 2013-14 season has had some interesting storylines to go along with it.
Some of these stories come and go. There was the rash of injuries that plagued the team earlier in the season. And then there was Michel Therrien's treatment of P.K. Subban back in November.
Other storylines have been recurring. Some have been positive, some not. Regardless, they don't seem to be going away.
Here are five Montreal Canadiens storylines that won't go away during the 2013-14 season.
Begin Slideshow

»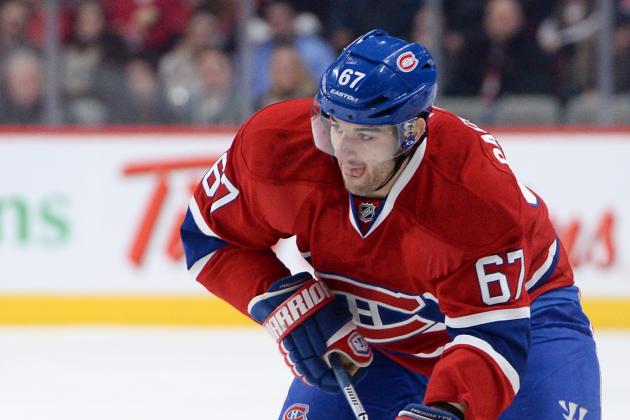 Francois Lacasse/Getty Images
Max Pacioretty
Max Pacioretty is in the NHL because he can score goals, and over the past two seasons, he has put his fair share of pucks into the net.
In 2011-12, he scored 33 in 79 games. In last year's abbreviated season, he netted 15 in 44 contests. This year, he has 12 in 26 games.
When looked at as a whole, Pacioretty's stats look pretty good. But, as any Canadiens fan would tell you, he remains one of the most frustratingly inconsistent scorers in the league today.
Pacioretty has a terrible habit of simply disappearing on the ice for games at a time. To prove this, here's a look at his streaks so far in 2013-14 (he has missed nine games due to injury):
Games 1-4: two goals.
Games 5-12: zero goals.
Games 13-21: nine goals.
Games 22-26: one goal.
All NHL players, even the stars, go through slumps. Evgeni Malkin went 15 games without a goal this season.
But the best players battle through their slumps by doing other things right (Malkin had 14 assists over those 15 games). When Pacioretty isn't scoring, he's barely noticeable on the ice.
After his incredible hot streak through the end November and beginning of December, Pacioretty seems to have fallen back into one of his patented slumps. Over the past five games he has just one point (a goal) and has averaged just 2.4 shots per game. Not nearly enough for Montreal's best offensive option up front.
Pacioretty keeps showing Montreal flashes of what he's capable of but can't seem to find a way to sustain his production. Until he does, he'll remain simply a good goal scorer instead of a great one.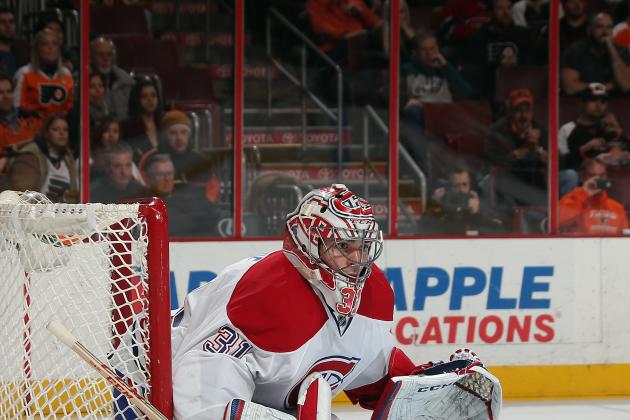 Bruce Bennett/Getty Images
Carey Price
Carey Price and Peter Budaj have both been phenomenal thus far in 2013-14. Their play has given Montreal a chance to win almost every game it's played in this season.
As a team, the Canadiens sit second in the NHL in goals against at 2.06 (Los Angeles is first at 1.94).
Yes, this is the result of increased shot-blocking and a commitment to team defense, but it all starts with the men minding the net.
Price is on his way to a career year and currently sports a 2.00 goals-against average and a .935 save percentage. Budaj's same statistics sit at 1.94 and .928, respectively. Goaltending coach Stephane Waite has worked his magic once again and has given the Canadiens one of the hottest goalie tandems in the NHL.
Montreal is a team that doesn't score many goals and therefore can't afford to give up many if it hopes to succeed. It's going to need its goals-against average to hover near two for the remainder of the season if it hopes to stay near the top of the Atlantic Division.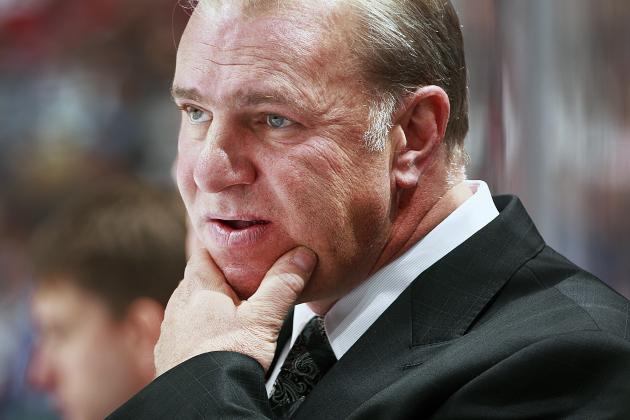 Jeff Vinnick/Getty Images
Michel Therrien
Coach Michel Therrien has not been patient with his forward lines in 2013-14.
Earlier in the season, his hand was forced as injuries took their toll up front. The Canadiens' depth players and some Hamilton call-ups were forced to step into roles they probably weren't expecting when training camp broke in late September.
Recently, Therrien has been tinkering with his lines on a nightly basis because of offensive struggles. The Canadiens are struggling to score goals, and their coach is trying every combination he can think of to light a spark.
Even on the occasion that he does find a trio that clicks (Lars Eller, Brendan Gallagher and Alex Galchenyuk earlier in the season; David Desharnais, Pacioretty and Gallagher recently), the rest of the forwards cannot supply secondary scoring. Therrien is then forced to break up the scoring line in hopes of a more balanced squad.
Coach Therrien would surely love to find four combinations that work well together and roll with them on a nightly basis. But that would mean that the Canadiens need to start scoring. And until that happens, don't be surprised to see different forward lines every game or two.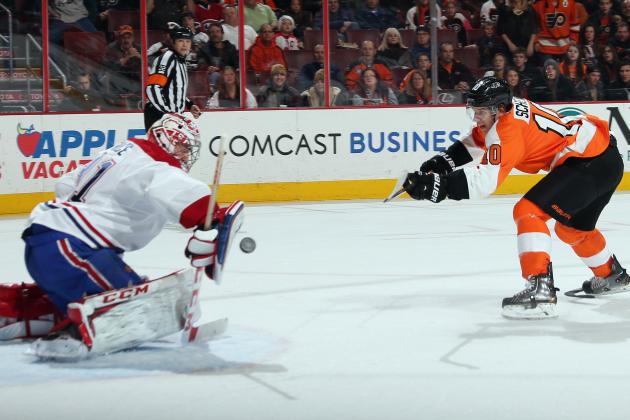 Bruce Bennett/Getty Images
Carey Price makes a save.
The numbers aren't pretty when you look at the shot statistics of the Montreal Canadiens.
On the season, the Habs fire an average of 29.1 shots at the opponent per game. That ranks them an ugly 20th in the NHL.
At the other end of the rink, they give up 30.1 shots per game, ranking them 17th overall.
Giving up more shots than you take is never a recipe for winning. Sure, the Canadiens only give up one more shot than they take per game, but that stat alone doesn't tell the whole story.
Montreal has played 35 games and has been outshot in 20 of those. The Habs have had more shots than their opponents on 14 occasions and have been tied in shots once.
Not the numbers one comes to expect from a team with a winning record.
What's more surprising about these shot statistics is that Montreal leads the league in shot-blocking by a wide margin. The Canadiens have already blocked 393 shots this year. That's 92 more blocked shots than second-place Toronto.
Montreal is turning away 11.2 shots per game before they even reach the goaltender. If half of those shot attempts by opponents start finding their way to the net, the Canadiens will be giving up more shots against than any other team in the league.
The Canadiens are being outshot more often than not yet still lead the league in blocked shots. That's an alarming trend, and one that doesn't support a winning record over the long run.
If the Canadiens hope to keep their spot near the top of the Eastern Conference, they're going to have to start doing a better job in getting pucks to the net while limiting their opponents' opportunities.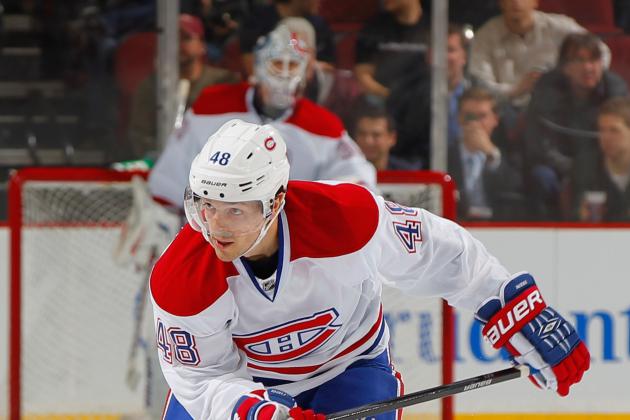 Andy Marlin/Getty Images
Daniel Briere
Daniel Briere's homecoming to the Montreal Canadiens hasn't exactly gone as planned.
The 34-year-old, who was bought out by the Philadelphia Flyers in the offseason, signed in Montreal, hoping to revive his career. He thought he still had what it takes to play at a high level in the NHL, and general manager Marc Bergevin apparently did, too.
Unfortunately for the Canadiens, it appears that both were wrong.
Briere has been a major disappointment for the Habs in 2013-14. In 25 games, he has just 10 points, and only three of those have come on the power play, an area in which he is supposed to excel.
To make matters worse, Briere is a defensive liability. He has fallen to a minus-two rating on the year, second worst on the team among regular forwards.
Michel Therrien has no trust in Briere's defensive game. The Habs coach regularly demotes Briere to the fourth line when clinging to a lead, choosing to let Travis Moen take his shift among the top-nine forwards instead.
Briere has had a rough start to what was supposed to be the twilight of his career. He does have a no-trade clause in his contract, meaning he'll likely have a lot of opportunities to get his season on track in Montreal.
The Canadiens are currently a team in desperate need of more offense. There is no better time for Daniel Briere to prove to the hockey world that he can still produce in the NHL.