The New York Jets' (distant) playoff dreams are all but over following another disappointing loss at the hands of the Carolina Panthers.
While quarterback Geno Smith was not the root cause of New York's failures, he was unable to overcome some shoddy protection, receiver play and breakdowns in the secondary and on special teams. A final pick-six in the fourth quarter sealed the team's fate and put the ceiling on the season at 8-8.
Now, the Jets are playing for pride, roster spots on next year's roster and the future of their head coach, Rex Ryan. Headed into the bye week, Ryan was a Coach of the Year candidate—now, his fate may be decided by how well the Jets finish in these final two weeks.
Based on how well he has been received by veterans such as Willie Colon, keeping Ryan around is a high priority for at least a significant portion of the locker room.
Willie Colon on Rex: "I think if he doesn't come back it would be a step back for us as a team." #nyj

— Seth Walder (@SethWalderNYDN) December 16, 2013
While their schedule does get easier from here on out, that does not mean the Jets can cruise through these next two weeks. After taking on a Cleveland Browns team that was seconds away from beating the New England Patriots a couple of weeks ago, the Jets have a chance to spoil the Miami Dolphins' season as they make a push for the playoffs.
Here is everything you need to know about the Jets as they close out the season.
Division Standings
Division Standings

| | | | | |
| --- | --- | --- | --- | --- |
| Team | Wins | Losses | Points For | Points Against |
| New England Patriots | 10 | 4 | 369 | 311 |
| Miami Dolphins | 8 | 6 | 310 | 296 |
| New York Jets | 6 | 8 | 246 | 367 |
| Buffalo Bills | 5 | 9 | 300 | 354 |
nfl.com/standings
The Jets can forget about the playoffs, now mathematically eliminated in Week 15 for the second year in a row following the Baltimore Ravens' win over the Detroit Lions.
Now, the Jets are playing to stay out of the AFC East basement. With five wins to their name, the Buffalo Bills have a chance to overtake the Jets for third place. If the Jets collapse over the next two games, the Jets could find themselves finishing in last place in the division for the first time in the Rex Ryan era.
What is more interesting is that the Dolphins have a somewhat-realistic chance of overtaking the Patriots for the No. 2 seed in the AFC. While it seems unlikely that the Patriots lose out (and the Dolphins go undefeated to close the season), the sheer fact that it is remotely possible is extraordinary given the state of the Dolphins during the peak of the Incognito/Martin saga.
Injury Report
Jets Injury Report

| | | |
| --- | --- | --- |
| Player | Injury | Status |
| Antonio Cromartie | Head | Finished Game |
| Ellis Lankster | Jaw | Did Not Finish |
| Austin Howard | Leg | Finished Game |
| Muhammad Wilkerson | Leg | Finished Game |
Rich Cimini of ESPN
One of the few positives to come out of Sunday's game is that no one was seriously injured. They did, however, get a scare form Muhammad Wilkerson, who went down in the first half and looked to be in a significant amount of pain.
Fortunately for the Jets, he was able to return to action and continue to play reasonably well. It would have been disastrous for the Jets if their best player were forced to undergo a serious rehab procedure for some type of ACL tear.
The Jets are also fortunate that right tackle Austin Howard missed just a handful of snaps after going down with a scary injury of his own. Howard is in a contract year, and to suffer an injury at this juncture (especially in a lost season) would be devastating for his financial future.
It is also worth nothing that Antonio Cromartie played nearly every snap, despite coming off of concussion symptoms and dealing with a nagging hip injury.
What Must Improve: Ed Reed Must be Benched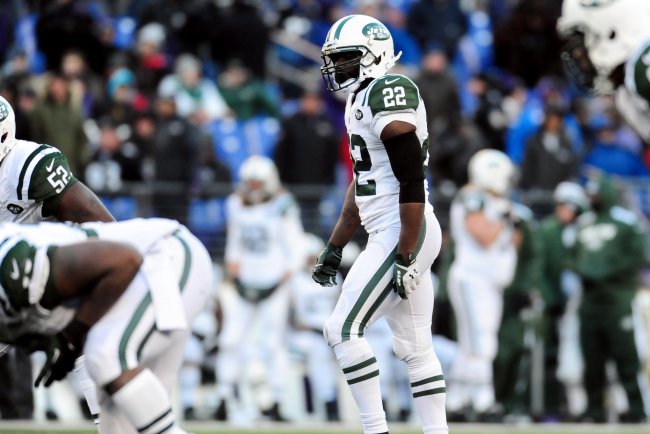 Evan Habeeb-USA TODAY Sports
Last week, it appeared as if Ryan had finally started to accept the fact that Ed Reed was not the same player he coached back in Baltimore. Against the Oakland Raiders, Reed's role was limited to third downs while Antonio Allen assumed his former starting role.
The result: Reed got his first interception (and win) of the season, and Reed did not have the ball thrown over his head.
However, for some inexplicable reason, Ryan decided to give Reed his old job back at the cost of Allen's playing time.
Ed Reed was back to playing majority of snaps (52 of 64 -- 81%) again vs Panthers. Antonio Allen had only 10 snaps. Jarrett had 12. #nyj

— Manish Mehta (@MMehtaNYDN) December 16, 2013
The results were predictable.
Ed Reed is back to playing a lot and the Panthers are exploiting it. #nyj

— Brian Costello (@BrianCoz) December 15, 2013
Reed's lack of speed was evident when he was too late to get over to make a play on this long screen pass to DeAngelo Williams that went for a touchdown:
With the season lost, there is zero benefit to playing Reed at all, never mind in a starting role. Not only is Allen the better player, but he is a developing player who figures to be a part of the Jets' future. Playing him gives the Jets a better chance to win, and it helps the Jets prepare for the future.
Something tells me that this makes too much sense for Rex to sign up for, but the Jets need to all but eliminate Reed from their defensive game plan over the next two weeks.
Battling the Blitz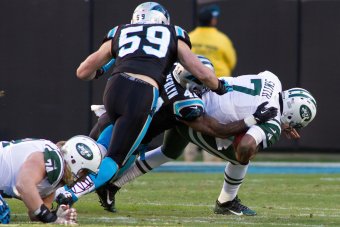 Jeremy Brevard-USA TODAY Sports
A lingering problem for the Jets in their losing second half of the season has been their inability to handle the blitz. Not only are they having trouble picking up the blitz with their blockers, but Geno Smith is not adjusting to get rid of the ball to his hot receiver on time.
Last week, the blitz pickup was far from perfect (Smith was sacked four times), but there were several instances in which he had enough time to go through his progressions to hit his receivers for big plays.
Now, the Jets are having issues with the blitz more because of Smith's inability to recognize it than the offensive line's ability to pick it up.
Generally, quarterbacks are taught to throw in the direction of the oncoming blitz. After all, the blitzing players are leaving open spots in coverage.
Smith, however, is having a difficult time adjusting to this on the fly. Here, he does not even notice the corner blitz from the backside:
#Jets Geno Smith had no clue this Nickel/Mike scrape was coming.. Zone blitzes doom rookie QBs with half field reads pic.twitter.com/vwBRQnLO2Y

— Ben Fennell (@TheXOsOfLife) December 17, 2013
Smith is looking into the only side of the field that is covered, not taking advantage of the aggressive play call by the defense.
Of course, it would be ideal if the Jets always had enough blockers in to execute a perfect blitz pickup, but more often than not, the quarterback needs to get rid of the ball in a hurry to avoid a sack. These are the types of areas that Smith needs to make a lot of strides in if he wants to be the starter eight months from now.
What Must Improve: Wide Receiver Production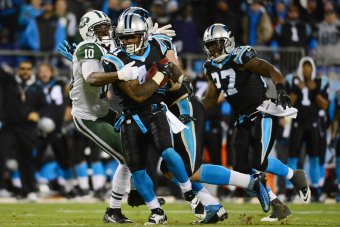 Bob Donnan-USA TODAY Sports
Even with Santonio Holmes and Jeremy Kerley back in the lineup, the Jets have been as bad at the wide receiver position as any other team in the league.
The Jets receivers have struggled all season long, but they have always had injuries or poor quarterback play to at least particularly blame for their inefficiency. However, against the Panthers last week, there was no excuse for their lack of production.
On Sunday, the Jets' leading receiver was David Nelson, who caught three passes for 45 yards (he was outdone by tight end Jeff Cumberland, who had three catches for 50 yards).
This trend of poor production from the wide receiver position is hardly a new phenomenon. The Jets leading pass-catcher is a slot receiver who has missed a good month of football recovering from an elbow injury.
I can't find that stat I'm looking for myself, but the Jets have to be close. I'm pretty sure Jeremy Kerley has 37 receptions (team leader)

— Mike O'C (@OConnor_Jets) December 16, 2013
It is true that the receivers have not been put in the best situation, working with a rookie quarterback in a new offensive system. Still, the output from the wide receiver position this year has been nothing short of pathetic and must be addressed in the offseason.
What Must Improve: Brian Winters
While it may not show up on the stat sheet, Brian Winters is costing the Jets more chances to make plays on offense than any other player.
The rookie left guard was forced into the starting lineup in Week 5, with disappointing results. He has struggled in just about every game he has played in, giving up pressures and sacks on a weekly basis.
Brian Winters in 2013

| | | | |
| --- | --- | --- | --- |
| | Pressures | Hits | Sacks |
| Last Week vs. Panthers | 1 | 0 | 1 |
| Rest of Season (Since Week 5) | 14 | 6 | 10 |
Pro Football Focus
Last week against the Panthers, Winters was not just beat—he was beat quickly and handily against the likes of Greg Hardy and Co. He turned promising plays into disasters because of his inability to hold up in one-on-one situations for an acceptable length of time.
By now, it is too late to bench the rookie. They have endured his mistakes this long for the sake of his development, and with the season all but over, there is no sense in removing him from the lineup now.
However, if the Jets want to start sustaining offense without being so reliant on a handful of isolated big plays, Winters needs to play much better—particularly in pass protection.
The season may be all but over in terms of playoffs, but they still have plenty to play for—especially if Ryan is as popular among his players as he seems to be. If the Jets can show improvement in these areas over the span of the next two games (while pulling off a pair of wins), Ryan stands a very good chance to remain at his post for one more season.
Advanced statistics provided by ProFootballFocus.com (subscription required).