With the 2014 FIFA World Cup just six months away and United States manager Jurgen Klinsmann insisting his top players based in Major League Soccer play in Europe during the offseason, rumors have sprung up everywhere about U.S. midfielder, Clint Dempsey.
Dempsey, who left Tottenham for the Seattle Sounders in August, has been linked with a move to his first English Premier League club, Fulham, by David Hytner at The Guardian.
Clint Dempsey set to return to Fulham on two-month loan http://t.co/Q3TrmmTah3 via @guardian

— Guardian sport (@guardian_sport) December 15, 2013
If this potential move does come to fruition, it would not only help Dempsey, but also the struggling Cottagers and the United States men's national team as well.
Ever since Dempsey made his debut in Seattle's rave green back in August, he has been searching for the pleasant form he was in during his time across the pond.
The 30-year-old exchanged preseason festivities with Tottenham for the Western Conference playoff race in MLS, a switch that gave him no chance to discover any glimpse of his old self.
In 12 total games with the Sounders in 2013, Dempsey recorded just one goal and a single assist for a club that was knocked out at the conference semifinal stage of the MLS Cup playoffs at the hands of Cascadia Cup rival, Portland.
Now, with Dempsey in the midst of yet another league offseason, he has a chance to move to England for two months to regain his form and enter the 2014 MLS season with a vengeance for a Seattle team that is in need of a fast start.
Something to keep in mind about Dempsey's loan: He's played like 20 competitive matches in the past seven months.

— Jeremiah Oshan (@JeremiahOshan) December 16, 2013
If the American star were to head back to Craven Cottage, where he spent six seasons previously, he would be able to help a team mired in the relegation battle.
The Cottagers are far from the talented squad that made a miracle run to the UEFA Europa League Final back in 2010, and they just recently sacked Martin Jol.
With Rene Meulensteen now in charge of the club, Fulham need to catapult out of 19th place in the English top flight during the busy holiday fixture period.
Although Dempsey would be unable to join the club until January 1, he could arrive early and train with the club, which could presumably boost the morale of the camp.
Once he arrives on the pitch for Fulham, Dempsey could be teamed with CONCACAF rival, Bryan Ruiz, who has one goal and a team-high three assists in 11 matches.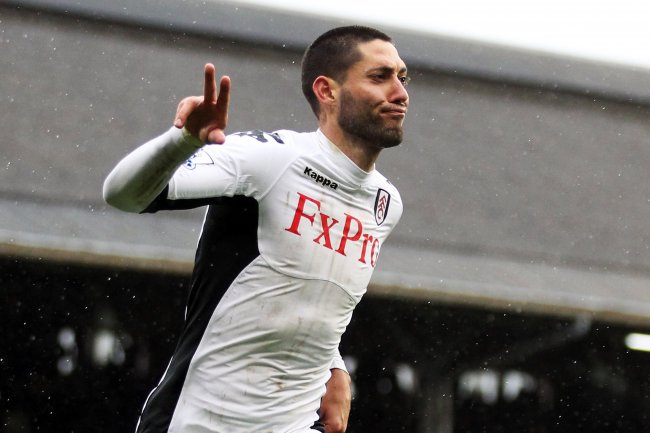 Scott Heavey/Getty Images
The American would also be paired with one of the most dynamic, and temperamental, forwards in the EPL in Dimitar Berbatov, who is tied for the team lead in goals with three.
Fulham's fixture list in January is a favorable one that could see the club recover a strong tally of points as West Ham, Norwich, Sunderland and Swansea await them.
Who Would Benefit the Most from a Clint Dempsey Loan to Fulham?
The only massive test in January for the Cottagers would come on January 18 at the Emirates Stadium against Arsenal.
Meuelensteen's men could stand a chance with Dempsey in the lineup because of his knack for giant-killing, just ask Manchester United how much they love the talented American midfielder.
Helping Fulham escape the deep depths of the relegation battle would be a goal on the back burner of the mind of Klinsmann, who just wants one of his best players to thrive at a high level before the trip to Brazil.
The United States will face three quality opponents in Germany, Portugal and Ghana, and Dempsey needs to be in the best form of his life to help the Yanks contend in South America.
Having an out of form Dempsey will do no good for the United States, and Klinsmann is very aware of that fact, which is why he has strongly suggested that the player go overseas during the first two months of 2014.
While revitalizing his former club during a time of need is nice, Dempsey has higher goals to achieve in 2014, but they can only be attained if he begins his journey in the new year with the Cottagers.
Follow me on Twitter, @JTansey90.