Dez Bryant's Passion Should Be Appreciated, Not Disparaged
Use your ← → (arrow) keys to browse more stories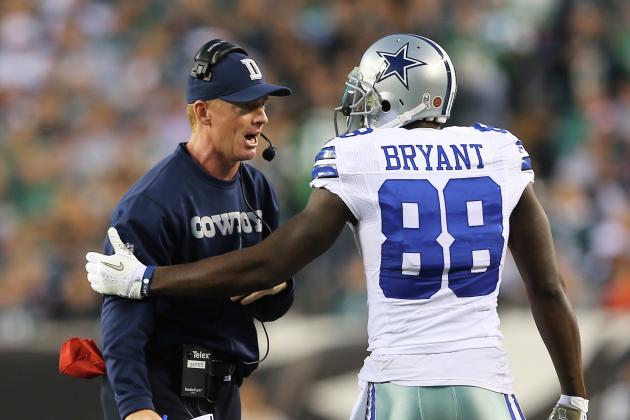 Elsa/Getty Images

Dez Bryant has been in the news quite frequently as of late, and for many of the wrong reasons. His sideline exploits have caused media frenzies and created some memorable highlights.
In Sunday's game against the Green Bay Packers, Bryant had enough. With 1:21 left in the fourth quarter and the Dallas Cowboys set to blow a 23-point halftime lead, he headed for the locker room.
Coach Jason Garrett has since voiced his opinion on the matter. Speaking on 105.3 The Fan on Monday morning after the game (h/t Calvin Watkins of ESPNDallas.com), Garrett said, "You have to understand how to handle yourself in those situations. He'll learn from this situation."
Bryant has since apologized for his actions. "I was wrong," he said, via Watkins of ESPNDallas.com. "It didn't have anything to do with my teammates. I just … I couldn't watch Green Bay kneel the ball down on the field after a tough loss like that."
Bryant further explained his reasoning for the premature exit. "I was very emotional," he said. "I cried when I got into the locker room. I didn't want to show that stuff on the sideline."
Bryant even took to Twitter to explain his frustration:
I walked back to the locker room because I was emotional...it had nothing to do with my teammates we had it... We fought and didn't finish

— Dez Bryant (@DezBryant) December 16, 2013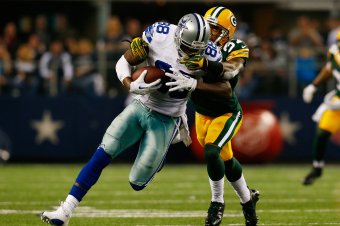 Tom Pennington/Getty Images
Bryant could have quietly walked away from Sunday's game satisfied with his strong performance, but his concern for the Cowboys' well-being came first. This is not to encourage such a performance, but rather to acknowledge that it is not all bad.
Granted, Bryant must learn to control his emotions. It is unacceptable for a player in the NFL to throw tantrums on a regular basis. However, the Cowboys could learn a thing or two from Bryant's intensity and passion. They continue to find new ways to lose, and one has to wonder if a lack of drive is part of the problem.
How do you feel about Bryant's early exit?
It is certainly encouraging to see Bryant showing so much emotion for his team, even if he is expressing it in the wrong way at times. Perhaps Garrett should spend more time worrying about his play-calling and why his team continues to lose disappointing games, as opposed to commenting about Bryant's actions.
This situation could have been avoided entirely if the entire Cowboys team had the will to win like Bryant. With the way the Cowboys have played for the past two weeks, if anything, they should learn from Bryant's passion for winning. It seems as though the rest of the team often doesn't feel the same way.
If they really do, they must show it in their final two games of the season, must-win games against the Washington Redskins and the Philadelphia Eagles.