Which NBA Western Conference Elite Is the Actual Team to Beat?
Use your ← → (arrow) keys to browse more stories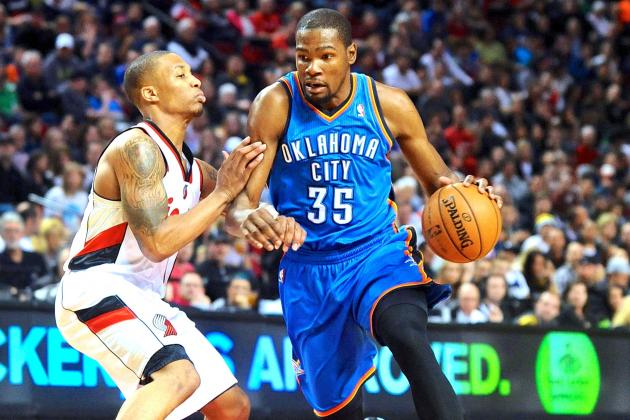 USA Today

The Western Conference isn't the Eastern Conference.
Remember that, because it matters. Where the East struggles to consist of more than two teams hovering above .500, the West is rife with championship contenders and fringe powerhouses.
Dirk Nowitzki actually put it best when he spoke with Yahoo! Sports' Marc J. Spears:
If you look at the Western Conference, the quality so high. The teams are bunched up right there. We can beat each other every given night. It's not like the Eastern Conference, where you just roll through.

...

We got to compete every night [in the West], especially if you want to win on the road. You're going to be in a lot of close ones.
Elite teams are the Western Conference's standard. They're common. Grow on trees.
West continues to dominate top of @NBAcom's Power Rankings with @TrailBlazers holding down #1: http://t.co/Ov5TpDEgEk pic.twitter.com/rr8kjocueL

— NBA (@NBA) December 16, 2013
Sitting atop this almighty conference are the surprising Portland Trail Blazers, resilient San Antonio Spurs and cogent Oklahoma City Thunder. Together, they stand alone.
But only one stands above the rest.
Portland Trail Blazers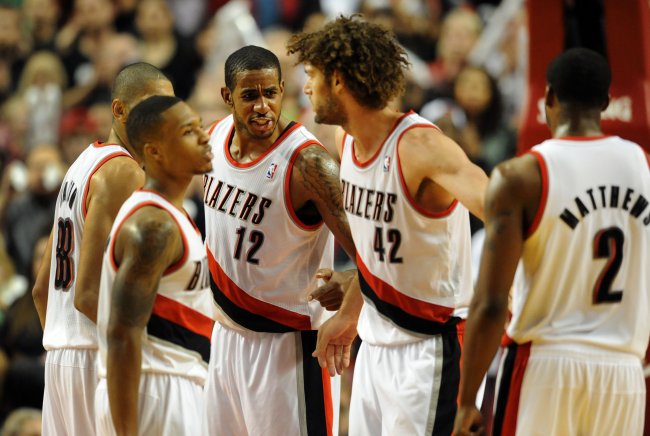 Steve Dykes-USA TODAY Sports
Record (Western Conference rank): 21-4 (first)
Conference Record (Western Conference rank): 11-4 (third)
Offensive Rating (league rank): 113.8 (first)
Defensive Rating (league rank): 106.2 (20th)
Point Differential Per-100 Possessions (league rank): 7.24 (third)
Raise your hand if you saw the Blazers coming. Those with their hands down, your honesty is appreciated. Those with their hands up, your pants look like an ignited birthday candle.
No one saw the Blazers coming. Even if you thought they were a playoff team, you couldn't have predicted this.
More than a quarter of the way through the 2013-14 season, they have the league's best record. Not the Western Conference's best record or the Northwest Division's best record—the NBA's best record.
Led by two scorers who average more than 20 points per game in Damian Lillard and LaMarcus Aldridge, Portland is the NBA's biggest surprise. The Blazers boast a top-ranked offense and are creaming opponents in every way imaginable. Blowouts, come-from-behind victories, last-second buzzer-beaters—you name it, they've won it.
This is from a team that won all of 33 games last season. Through 25 games this year, it's on pace to win around 69, doubling its total from 2012-13 and then some. Will it actually break 68 or 69? Probably not, but we're at the point where 60 isn't out of the question. Portland has been that good.
Any way you can think of, the Blazers have won.
Surrounding concerns include the bench, which ranks 25th in points scored per game, per hoopsstats.com. Four players are averaging in double figures and only six total players are cracking 24 minutes a night. Trends like these can be difficult to ride into the postseason.
Defense is an issue as well. Opponents have topped 90 points in 22 of 25 games, and in some cases, had their way with Portland's defense. Two-way dominance isn't necessary when you're scoring at will like the Blazers are doing, but when the postseason rolls around, it's a different game. A slower game. Those who cannot defend won't survive.
Still, it's impossible not to remain optimistic when Portland is sporting a 3-1 record against top-five conference teams.
San Antonio Spurs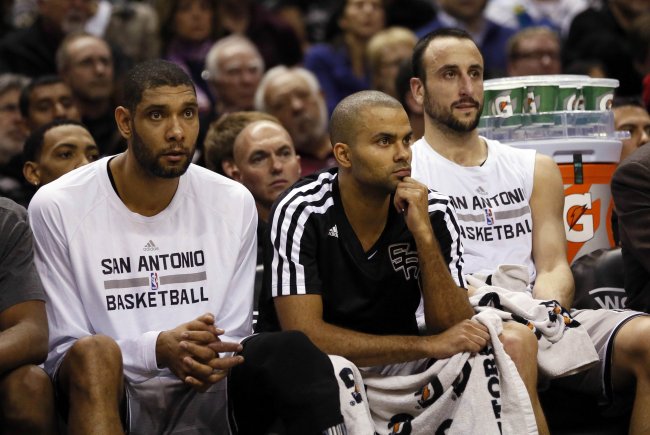 Soobum Im-USA TODAY Sports
Record: 19-4 (tied for second)
Conference Record: 10-4 (fourth)
Offensive Rating: 108.8 (fourth)
Defensive Rating: 98.1 (second)
Point Differential Per-100 Possessions: 10.17 (first)
You say "old," the Spurs say "refined." And "dominant." And "bite me."
Coach Gregg Popovich and his ageless band of veterans have done it again. Well into another crusade, the Spurs still sit near the top of their conference, dismantling teams one by one, until whispers of their demise cease and desist. So, never.
The Spurs are the only team in the top five of both offensive and defensive efficiency. Their brand of double-sided basketball is almost extinct. Plenty of powerhouses have a specialty. Offense or defense; one or the other, that's it.
San Antonio plays both ends of the floor at a high level. What's more, it's taking Western Conference foes by storm while only one player (Tony Parker) averages more than 30 minutes a night, and while just one player (also Parker) puts in more than 15 points per game.
For most teams, this is absurd. For the Spurs, it's basketball.
Their bench ranks second in points per game, which is interesting. Contenders don't always have shallow benches, but this season, it goes against what we're seeing. Five of the top eight scoring benches come from teams that wouldn't make the postseason if it started today. Make of that what you will.
Our greatest qualms about these Spurs haven't changed, though: Age, age and age. And they're also 0-4 against top-five conference teams, having suffered losses to the Blazers, Oklahoma City Thunder, Los Angeles Clippers and Houston Rockets.
Can they make it through a whole season? Will Coach Pop's rest-and-relaxation program keep his team healthy enough to contend deep into the spring?
Doubt these Spurs if you must, but I've learned to never question the reigning Western Conference champions. When they win, it's not a facade.
It's the Spurs, playing like the Spurs.
Oklahoma City Thunder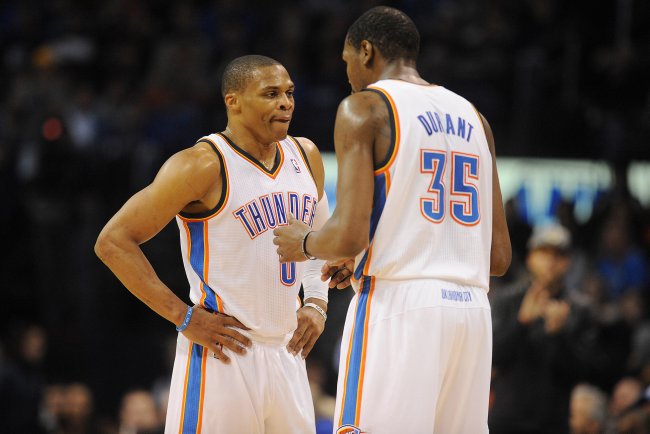 Mark D. Smith-USA TODAY Sports
Record: 19-4 (tied for second)
Conference Record: 13-4 (second)
Offensive Rating: 108.1 (eighth)
Defensive Rating: 101.0 (fifth)
Point Differential Per-100 Possessions: 6.96 (fifth)
Someone call the fire department, because Oklahoma City is on fire. Tell it to bring extra hoses, because the Thunder inferno won't go down easily.
Aided by Russell Westbrook's early return, the Thunder won't lose. Or can't lose. They're winners of six straight and have lost just once in the last month.
And they've achieved such a standing with Kendrick Perkins appearing in almost every game (21), no small feat when you consider Perk is one of the NBA's biggest liabilities.
Obstacles like this are minor when you're built around two top-10 superstars. Westbrook and Kevin Durant continue to head an offensive firestorm, combining for nearly 50 points every night. Their exploits have allowed the Thunder to continue winning after incurring another offseason's worth of losses.
That's not even the best part of their dominant form this season. Offense has always been their most potent weapon. Give the ball to Westbrook or KD and watch them go. Watch these Thunder score.
This season, their offense hasn't changed (much), but their defense has been elite. Yes, elite. The Thunder rank fifth in defensive efficiency, becoming more of a staunch outfit on that end of the floor.
Before last season, Oklahoma City traded away James Harden. This past summer, it lost Kevin Martin to free agency. Most teams cannot constantly account for such crucial subtractions. Then again, most teams aren't the Thunder.
Jeremy Lamb and Reggie Jackson have continued their development, while Serge Ibaka still does what he does best—block shots, grab rebounds and approach 15 points per game.
OKC is just 2-2 against top-five conference teams, but life is still sweet for the Thunder. Westbrook's absence, however short, could've crippled them. His return, as he sought to regain his form, could've done the same. But it didn't.
This team entered the season with numerous question marks, and it's answered almost all of them—in convincing fashion.
The Rest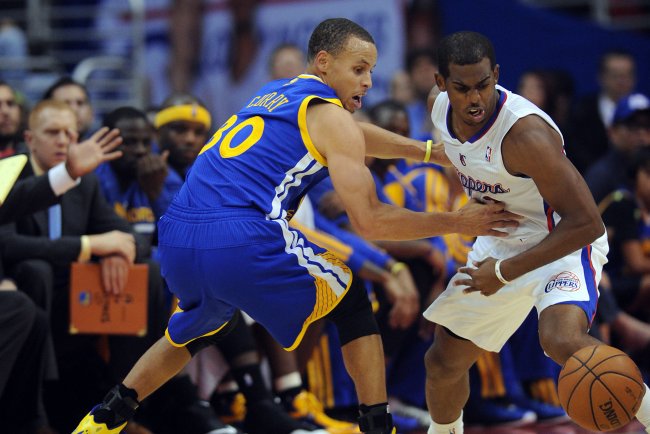 Jayne Kamin-Oncea-USA TODAY Spor
Other Western Conference teams are having successful campaigns.
Doc Rivers' Clippers can take you down on any given night. There are times when Houston looks like the real deal. And pleasant surprises, such as the Phoenix Suns and odd-looking Denver Nuggets, are making postseason cases for themselves as well. At full strength, the Golden State Warriors have even played the part of conference powerhouse.
But none of those teams are on par with the Thunder, Blazers or Spurs.
This field has been narrowed down for good reason. Only three teams belong in our conversation. The closest outsider is the Clippers, who while fantastic in their own right, are downright inconsistent and only beginning to discover their identity.
The rest, well, they're just not good enough.
Who Ya Gotta Beat?
Derick E. Hingle-USA TODAY Sport
I'm going out on a rather thick limb here and saying the Thunder.
Oklahoma City doesn't have the best record, nor is it obliterating stat lines like San Antonio, but it's in the best position to succeed.
The Blazers are too shallow, imbalanced and, frankly, inexperienced to earn this title. Their record is astounding, don't get me wrong. But can they keep this up? Can they keep breaking down defenses at a historic pace?
They would be just the 22nd team in NBA history to close the season out with an offensive rating of 113.8 or higher. While that seems unlikely, it's what they must do to remain atop the conference.
Which Western Conference team is the team to beat?
As for those Spurs, it's the same old story—but not because they're old. Well, partly because they're old. Struggles against other top teams suggest they aren't built to withstand another year of this. It doesn't help that Tim Duncan has been more 2010-11 Tim Duncan than 2012-13 Timmy D, either.
Which leaves the Thunder, who are only just hitting their stride while maintaining a perfect 12-0 record at home. Westbrook is almost in midseason form, Durant continues to slaughter defenses and they're perhaps the most balanced team in the NBA, equal parts young, experienced, selfless and star-driven.
"We got to be a lot better," Durant demanded of the Thunder, per The Oklahoman's Darnell Mayberry. "You know, we gave up almost 30 points in (some) first quarters, and I think we have to be better."
Scared? You should be. Even the Western Conference won't be able to handle Oklahoma City if it's able to improve on its current stellar form.
*All stats used courtesy of Basketball-Reference unless otherwise attributed.