Arsenal have been given one of the toughest draws possible after FC Bayern Munich were pulled out as their opponents for the Round of 16 of the UEFA Champions League.
The Gunners will meet the team who knocked them out at the same stage last season before going on to win the "trophy with big ears" for the fifth time.
The opening game of the last 16 tie will be at the Emirates Stadium on February 18, before the second leg at the Allianz Arena on March 11.
Arsene Wenger and his team were always going to have a tough draw in the Round of 16 following their abject loss to Napoli in the final game of Group F. That defeat, combined with Borussia Dortmund's win over Olympique Marseille, meant that Dortmund scraped through in first place.
Jurgen Klopp's team received a very favorable draw for being seeded first when they were handed a plum tie against Zenit St Petersburg.
Before the draw, Wenger told BBC Sport:
Scott Heavey/Getty Images

To finish second makes the potential draw more difficult. In the last four or five years we had a difficult draw. Maybe this time we will be a bit luckier.
Unfortunately, luck seems to have deserted them. There are no two ways around it: Arsenal are going to have to do things the hard way if they are to get to the final in Lisbon and triumph next May.
Following the draw, the Gunners' odds have been cut by bookmakers from 16-1 to a best priced 40-1 to win the Champions League while Bayern's price has been pushed out from 12-5 to 9-4.
Along with the Arsenal-Bayern tie, the draw has also thrown up a few more potential classics with the latest football darlings on the block, Atletico Madrid, facing AC Milan. Barcelona will play out a fascinating tie against Manchester City, while Galatasaray and Didier Drogba will entertain Chelsea and Jose Mourinho in another heavyweight clash of the last 16.
Bayern Munich's team need little introduction nor does their inspirational manager Pep Guardiola.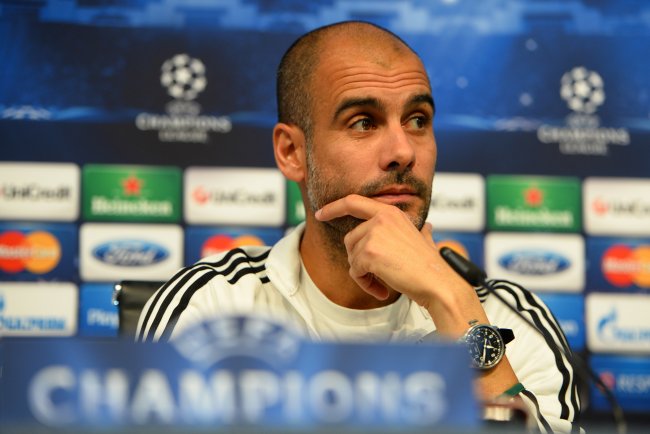 Laurence Griffiths/Getty Images
Manuel Neuer is the undisputed German No. 1 and easily one of the top goalkeepers in the world. Philipp Lahm has been the best full-back in the world for the last five years and has become one of the best defensive midfielders in the world under Guardiola.
Jerome Boateng has developed into an accomplished center- and left-back, and Dante has exploded on to the defensive scene over the last 24 months as one of the best central defenders in the world. David Alaba is developing into a phenom at left-back and central midfield, while Rafinha is an incredibly versatile asset at right-back, central midfield and right midfield.
Bastian Schweinsteiger is the lynchpin of both the German and Bayern team and controls central midfield with a vise-like grip. His evolution from a right-sided midfielder to screening midfielder has been one of the key elements of both his national team and club team's success in recent years.
Toni Kroos and Mario Goetze are the most creative players in the team, combining athleticism and design in equal measure. Thomas Muller has become ultra-important in his role as a right-sided midfielder-cum-forward, Arjen Robben fulfills the same role on the right or left and, lest we forget, Franck Ribery is rivalling Lionel Messi and Cristiano Ronaldo in terms of skill, consistency and importance.
The Frenchman will compete against Messi and Ronaldo for the 2013 Ballon d'Or.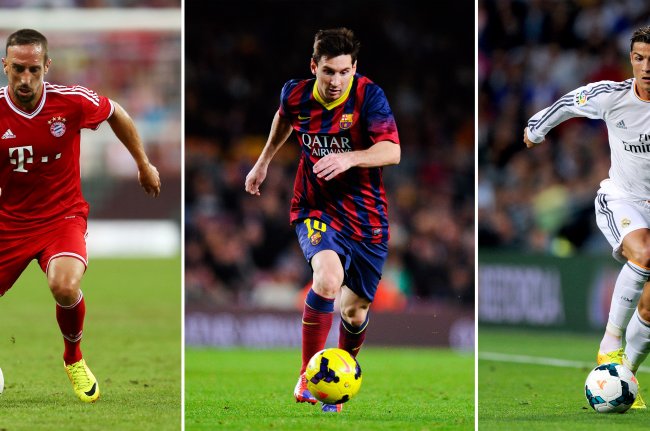 Getty Images/Getty Images
The only real weak point of the Bayern team can be found up front where Mario Mandzukic is basically the only center-forward available to Guardiola.
Under the ex-Barcelona boss, Munich have moved away from the 4-2-3-1 formation that was so effective under Jupp Heynckes in their famous treble-winning season last term.
Guardiola favors a 4-1-4-1 type formation where the holding midfielder drops between the central defenders as the two full-backs push on to support midfield. This simple move allows Bayern two defensive lines in front of the 18-yard box.
Goetze and Kroos maintain their disciplined roles in the center as the wider players push on slightly. This, in effect, gives Bayern six clear lines of penetration across the pitch.
This formation, when combined with slick passing and the kind of pressing and hunting one would normally associate with hyenas on the Serengeti, gives Munich an almost impossible team to break through. It also means that when they retain possession, they are immediately set up to attack at pace and with ferocity.
They can, however, be caught out by swift counter-attacking teams, and this season they have given up a number of chances to the opposition that would, perhaps, have been punished at a higher level. They are also weak aerially in central positions with neither Dante nor Boateng excelling in the air.
Bayern have played 26 matches in all competitions this season and have lost just twice. They were beaten in their opening game of the season, the German Super Cup, by Borussia Dortmund and recently they were beaten 3-2 by Manchester City in the final Champions League qualification game of Group D.
On November 9, they set a new German record when they went 37 domestic games unbeaten. The 3-0 win over Augsburg broke Hamburg's 30-year-old record. Since then they have added four more wins to that total, including the 3-0 demolition of Borussia Dortmund at the Westfalen Stadion and the 7-0 humiliation of Werder Bremen in the Weserstadion.
They are the in-form team in world football with the most storied young manager in the game and possess an incredibly strong squad in all areas of the pitch.
Arsenal will be looking forward to facing Bayern with baited breath. It must be remembered, though, the Gunners' shock 2-0 win in the Allianz Arena last March was the game that kickstarted their phenomenal run of form. Wenger will be keen to point this out and make his team realize that Munich are, after all, only men and not footballing gods.
To emphasize this point, Jerome Boateng acknowledged that Arsenal were the one team that Bayern wanted to avoid. He told UEFA.com:
Shaun Botterill/Getty Images

Arsenal are the toughest team we could have drawn. They will be highly motivated after we knocked them out last season. We are expecting two very intense games.
Philipp Lahm, the club's captain, echoed those sentiments:
Handout/Getty Images

It's a good omen, but tough opponents.

They are the strongest team we could have drawn and it's certainly not what we were hoping for.

Arsenal have made some quality new signings and will prove a real challenge for us. However, our goal is obviously to reach the next round.
There is little doubt that Bayern are heavy favorites to beat Arsenal and progress to the quarterfinals. They destroyed the Gunners in the opening Round of 16 tie last season and will be keen to do the same again. That allowed them to rest players in the second leg where Arsenal ran out surprise winners.

Wenger used that result to galvanize his team to greater things. Now he must use the draw to do the same.
Full Round of 16 draw from

UEFA

.com
AC Milan (

ITA

) v Club

Atletico

Madrid (ESP)

FC

Zenit

St

Petersburg

(

RUS

) v

Borussia

Dortmund (GER)

Arsenal FC (ENG) v FC

Bayern

Munich (GER)
First legs will be played on February 18-19 & February 25-26. Second

legs

March 11-12 & March 18-19.
Statistics courtesy of UEFA.com, WhoScored.com, www.Soccerbase.com
You can find me on Twitter, @WillieGannon.