Trying to figure out the market for relief pitching in Major League Baseball is impossible. Some teams will overpay for anyone, thinking they've found the missing piece for a championship. Others hope to find a cheap diamond in the rough who won't implode in April.
To the surprise of no one, the Cleveland Indians shop in the second group. That's why they have reportedly signed John Axford to fill their void in the ninth inning, according to Jon Heyman of CBS Sports.
While Axford's deal alone won't reshape the market for closers, it does narrow the field for the top players still out there. Players like Joaquin Benoit and Grant Balfour, both of whom reportedly had discussions with Cleveland during the winter meetings.
The domino effect now comes into play, though the Balfour situation seemed like a long shot since the Indians hadn't been linked to him in seven days. In baseball negotiations, that's an eternity.
What should we expect from the rest of the market for closers? Will there be any last-minute surprises?
The Benoit Market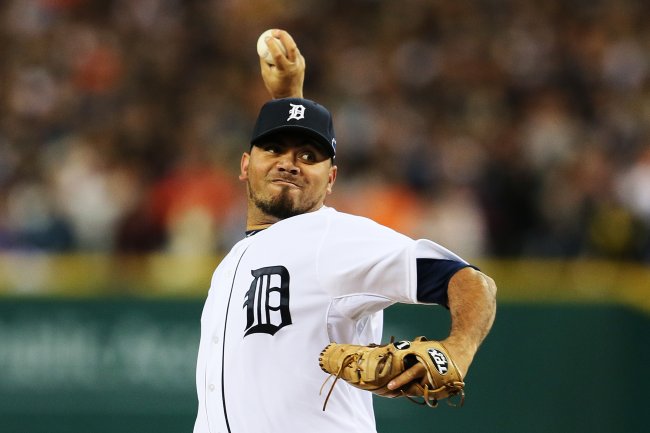 Rob Carr/Getty Images
Even though the Indians are, in all likelihood, out of the Joaquin Benoit sweepstakes, Jon Morosi's report about the Padres being interested, and potentially including a third year, would seem to be a huge weapon in their quest to get him.
However, the fact Benoit hasn't taken San Diego's deal yet leads me to believe he's waiting for a deal close to what the Padres are offering from a team with legitimate playoff aspirations in 2014.
ESPN's Buster Olney tweeted on December 12 that the Padres were in the lead for Benoit. Four days doesn't pass unless a player has reservations about the team, especially a reliever for whom three years is a great deal.
An official with knowledge of Benoit contract talks believes SD is the front runner over Cleveland.

— Buster Olney (@Buster_ESPN) December 12, 2013
Just going over the list of teams with playoff potential next year still looking for a closer, it doesn't look good for Benoit. The Orioles are still out there, but they may be focused on Balfour and, based on a report from MASN's Roch Kubatko, trying to land A.J. Burnett to boost the starting rotation.
Another team that had an opening in the bullpen with money to spend, the Arizona Diamondbacks, solved some of their late-inning issues by striking a deal with the Chicago White Sox for Addison Reed. (h/t MLB Roster Moves)
The @Dbacks acquire RHP Addison Reed from @WhiteSox for INF Matt Davidson.

— MLBRosterMoves (@MLBRosterMoves) December 16, 2013
Other teams with money to spend, like Texas and New York, either have in-house options to use at the back of the bullpen, or don't seem likely to invest multiple years and $15-20 million in a reliever.
The 36-year-old Benoit was fantastic for Detroit in 2013, posting a 2.01 ERA and striking out 73 in 67 innings, He also saved 24 games after taking over for the volatile and entertaining Jose Valverde last season.
Benoit's best course of action might be to wait as long as possible to see if another vacancy opens, or someone gets hurt, to find a deal with a team he wants.
If not, I've learned from Ron Burgundy that San Diego is the greatest city in the world.
Prediction: San Diego
The Balfour Market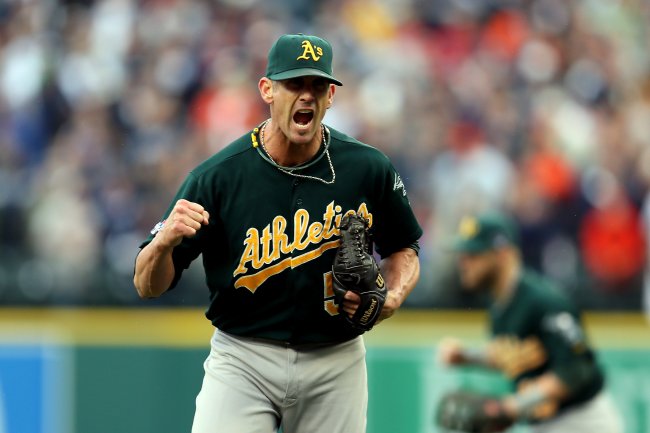 Rob Carr/Getty Images
Like Benoit, Balfour has been waiting around for days after reports of negotiations taking place with the Orioles.
Jen Royle of the Boston Herald reported the Orioles were willing to go three years on a deal for Balfour, but at a lower average annual salary than the 36-year-old is looking for.
Despite those differences, once a negotiation gets this in-depth, it's unusual for the two sides not to find a middle ground that works for both parties. (Benoit being an exception, because of San Diego's standing in the NL West.)
The Orioles have put a lot of stock into finding a bargain on the market this winter. They traded Jim Johnson to Oakland because his salary was going to spike after making $6.5 million in his third year of arbitration.
Balfour is a risky proposition because he benefited from playing in Oakland's spacious park. He gave up seven home runs in 62.2 innings and is a fly-ball pitcher. Putting him in Camden Yards might be a mistake, but a relatively cheap one considering what Johnson would have made.
I still think that A.J. Burnett's decision, whatever it is, will play a role in deciding what the Orioles do about their closer. If they think there is a real chance to sign the starter, they will explore other reliever options.
But for now, Balfour seems too deep into negotiations with Baltimore to end up somewhere else.
Prediction: Baltimore
Best of the Rest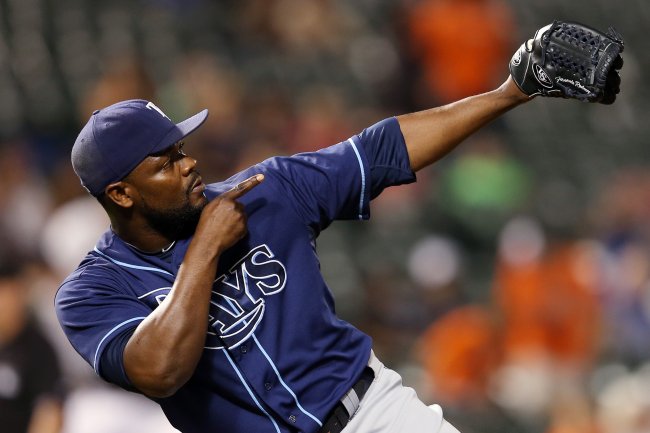 Rob Carr/Getty Images
The trickiest reliever to figure out this winter is Fernando Rodney, whose reported asking price will have to drop substantially if he wants to play for an MLB team in 2014.
Jon Heyman of CBS Sports reports that Rodney, who struck out 158 hitters in 141.1 innings with Tampa Bay between 2012-13, is looking for a multi-year deal worth at least $10 million per season.
Erratic control and an inconsistent 2013 performance are going to destroy Rodney's negotiating leverage, though if we are getting the Mariners into the talks, he gets what he wants.
Which RP will be the biggest bargain this winter?
Jose Veras doesn't fit the closer's mold. He doesn't have an overpowering fastball and will rely on the breaking ball too often, as we saw when Shane Victorino tattooed a hanging curveball for a grand slam that sent Boston to the World Series.
However, given the rest of the relief market, Veras might be a valuable commodity as a low-risk addition.
The Houston Astros, who have been surprisingly active in free agency this offseason, are reportedly interested in bringing Veras back after trading him last July (via Brian McTaggart of MLB.com).
Leverage isn't exactly Veras' friend, so Houston seems about as safe a place for him to land as any if he wants to pitch in 2014. Besides, if he wants to pitch for a contender, it's plausible the Astros trade him at the deadline again.
A lot of things have to be decided before we get a clear picture of what the relief market looks like, but once one domino drops, things tend to come in waves. Don't be surprised if we see two or three more big signings for bullpen arms this week.
Note: All stats courtesy of Baseball Reference unless otherwise noted.
If you want to talk baseball, feel free to hit me up on Twitter.