The Ashes: Key Points from Day 4 in Perth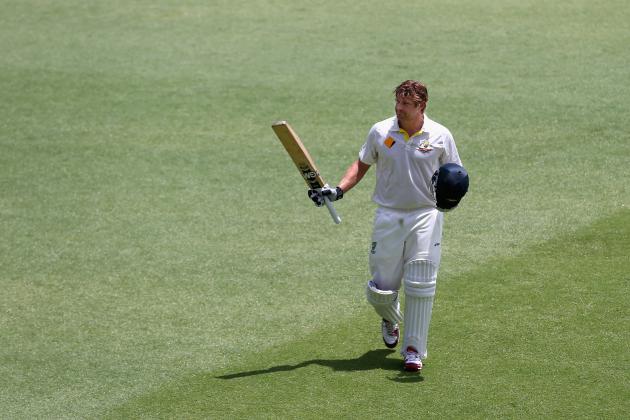 Ryan Pierse/Getty Images

England 251 (Cook 72) and 251-5 (Stokes 72*) require 253 runs with 5 wickets in hand to beat Australia (385 (Smith 111) and 369-9 (Warner 112)
Australia stand on the brink of Ashes glory following a topsy-turvy day in Perth.
Click Begin Slideshow to discover the key points from a fascinating day's play.
Begin Slideshow

»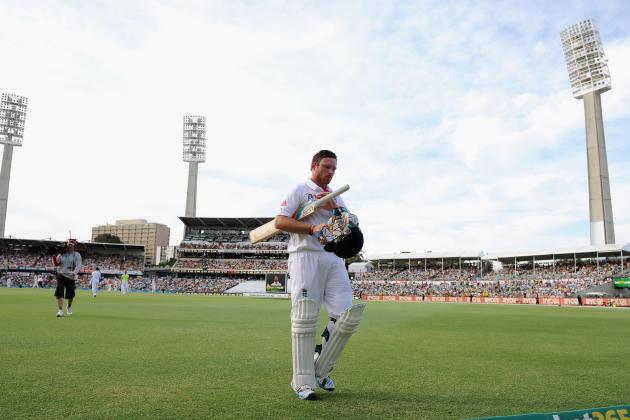 Gareth Copley/Getty Images

Suggestions of resistance and fight from England with the bat on Day 4 were belated and meagre in their materialisation, and—barring a miracle of unheard-of proportions—England will relinquish the urn to an excellent and deserving Australia on Day 5.
The morning session was always going to be a messy one for England considering the state of the match, and it was just that with Australia hurtling to 369-6, scoring 134 runs in just 17 overs before lunch.
It was then over to the batsmen to begin the momentous task of batting five-and-a-bit sessions to save the Test, and the urn, for at least a little while longer.
Alastair Cook aside, who fell to the first ball of the innings—a jaffa from Ryan Harris—it was yet again a case of batsmen getting in before getting out, and again, as in the first innings, the death of England's hopes were slow and painful but very real nonetheless.
However, Ian Bell, before his dismissal, and Ben Stokes finally showed the stomach for the fight that had appeared so lacking in the field for the previous 24 hours. Stokes in particular was enormously impressive, and his 72 not out has gone a long way to silencing the doubters of his Test match credentials.
That a highly improbable England victory is more likely than a draw, and is even being discussed in fanciful terms, is testament to the innings of Stokes, who rekindled the optimistic flame of hope even when Pietersen had been dismissed.
Yet the fight shown only appears impressive in the light of what has come before. Bell's inability to convert his good starts into hundreds in this series continues to frustrate and he will be disappointed with the manner of his dismissal: a loose upper cut caught behind and given out on review.
Pietersen also got a start before a mistimed shot off Nathan Lyon led to his dismissal. While such opportunities continue to be burnt, England will only ever give hints of being competitive before fading away. It would not be surprising to see the lower order succumb in similarly hasty fashion on Day 5.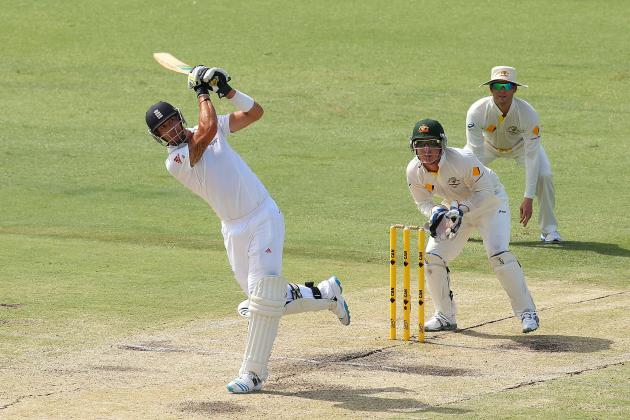 Paul Kane/Getty Images

Today Pietersen got out to a shot that superficially appeared brainless and, as such, became the target of a insurmountable tidal wave of vitriol, so much so that it made you wonder whether this was a team sport at all such was the weight of importance being lent to the shot in relation to England's impending defeat.
While the shot he played, a lofted drive off Lyon caught well on the boundary, was poorly executed, it was a shot that in the previous over, off the same bowler, off a similar ball with the same field setting, yielded Pietersen six runs.
Rather than being cautious and careful, as he was in the first innings, Pietersen was taking the attack to Australia and was commended for doing so.
Perhaps the most frustrating thing, therefore, about the dismissal—other than it denting England's hopes of victory—was the manner in which it was received.
Contrary to preconceived popular opinion, Pietersen, perhaps more than any cricketer in the world let alone in the England team, thinks about his batting in enormous detail.
You need only watch one of the various and superb interviews conducted with Ian Ward during the English summer to be aware of the attention to detail and cricketing calculations that are put into each and every shot he plays.
A thought process therefore will have driven his decision to attempt to hit Lyon for a second six.
This thought process is based on a number of things: 1. His confidence in his ability to play the shot successfully (reinforced by him doing so moments before); 2. The match situation (he perhaps deemed attack was the best form of defence—and would not have been wrong in assuming so); 3. His career-long success playing shots of such manner (8000 Test runs into a career, why change a method?)
What went wrong for Pietersen was one, or perhaps both of two things. 1. The execution was poor; this much we can be sure of—he didn't time it well. 2. He chose the wrong ball to attack; considering the execution was poor, we cannot be sure of this, but perhaps he did.
While no player is above criticism, to berate Pietersen for playing a shot that was played in the manner that has helped him play some of the greatest innings ever seen on a cricket field makes little sense. It would, in fact, make more sense to criticise Alastair Cook for getting out to such a shot as it would've seen Cook adopting a method with which he has had little success.
It is the nature of Pietersen's genius that you must accept the bad shots, the ugly innings and the frustrating patches if you are to enjoy the breathtaking, match-winning, virtuoso performances for which he is so acclaimed.
The road to being dismissed in cricket is paved with good intentions. For Pietersen, his good intentions don't often lead to dismissal. Today they did.
By all means, criticise Pietersen for his shot execution, for it was poor. Prove if you can that it was the wrong ball to attack because it may have been. But do not—do not—call him brainless. Because nothing could be further from the truth.
Mark Kolbe/Getty Images

Shane Watson scored 100 today. But many people had forgotten that by the time play was over, such was the action-packed nature of the day and the tornado of boundaries that engulfed him reaching the landmark.
Indeed, his century was a mere statistical inevitability by the time it was achieved, such was the dominance of Australia over England in 17 overs of unadulterated destruction before lunch.
George Bailey struck 28 off one James Anderson over—equalling the record for the most expensive Test over.
England were not so much an attack as an arbitrary collection of individuals from whom Australia could plunder runs. The bowlers looked tired, weary and thoroughly fed up.
If Day 3 was the worst day of England's tour so far, the morning session on Day 4 was the most harrowing. And that was before Cook was bowled first ball.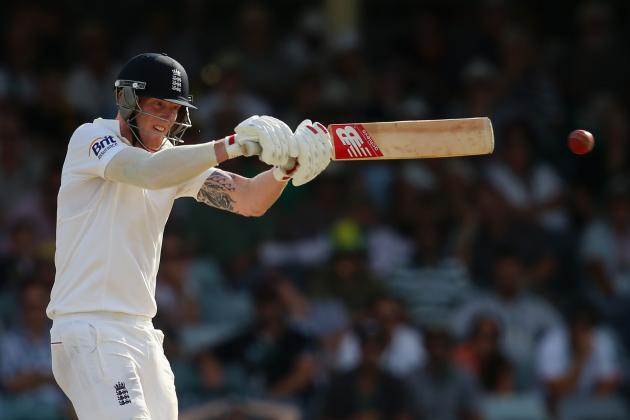 Mark Kolbe/Getty Images

It has been a difficult tour for Cook, to use the cliche of "taking the positives," but one of them arrived unequivocally today, if it hadn't already, in the form of Ben Stokes.
Stokes proved with his battling—and punchy 72 not out—that he is a player with the potential to be a successful and important Test cricketer for many years to come.
Just 22 years old, and in the cauldron that was the WACA with Australia on the brink of regaining the urn after five years, he displayed maturity and level-headedness beyond his years. He appeared unburdened by the worries that plague the faces of many of his team-mates, and so he should at such a young age.
His quick and wholehearted bowling, especially on the third evening in the absence of Stuart Broad and in the temporary role of third seamer, was enormously encouraging.
Many people were surprised to see Stokes in the squad at all, let alone the team, but he's proved the doubters wrong and notably the selectors (for the first time in a while, if I may add) right.
Perhaps after years of searching fruitlessly for Paul Collingwood's successor at No. 6, the eventual heir to his throne will ironically be a ginger-haired, batting all-rounder from Durham.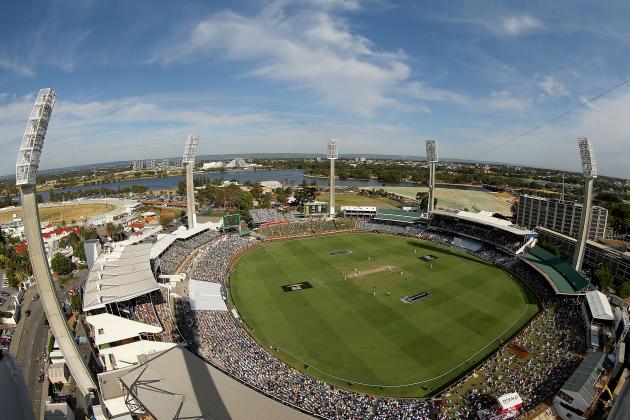 Paul Kane/Getty Images

This was an awesome day of Test cricket that had it all.
Sixes, hundreds, dropped catches, run outs, controversies, talking points, great shots, bad shots and, best of all, an element of competition for the first time in quite a while.
But if you're English, don't be too hopeful of a miraculous result tomorrow. England haven't scored 400 in more than 20 innings—they're unlikely to end that record tomorrow, let alone reach 504 on a pitch bearing cracks so large they may well swallow Cook and Andy Flower along with all their Ashes dreams some time tomorrow.