Week 15 in the NFL brought heartbreak to top teams in the AFC as the Denver Broncos, Cincinnati Bengals and New England Patriots all tripped and fell. They'll have a week to think about what they've done, but Week 16 grants two of those teams pillow-soft matchups in a relatively easy week for the conference. The team chasing the Pats draw a should-win game as well.
By contrast, the NFC's best will be locked in bitter brawls with major postseason implications. All four division leaders will have their hands full as the wild-card hopefuls have their backs against the wall. Let's delve into Week 16, which sees three lopsided AFC matches in stark contrast to a triumvirate of NFC melees.
Miami Dolphins (8-6) at Buffalo Bills (5-9)
The Fins are riding a three-game winning streak into Buffalo and just knocked off the potent Pats. The Bills went on the road and nipped Miami 23-21 back in Week 7, but they lost five of their next six games following that. Meanwhile, the Dolphins have won five of seven, and they're in the driver's seat for a playoff spot with an outside shot at the division.
Though it tends to be quite cold during December games in Upstate New York—as in "watch out for frostbite on your face" levels of cold—the boys from South Beach don't seem to mind wintry weather. They outlasted the Pittsburgh Steelers in Week 14's snowy clash and looked much more like the cold-weather team in that game, out-gaining Pittsburgh on the ground 181-84.
Buffalo ranks sixth against the pass, but here are Ryan Tannehill's stats during the three-game win streak: 73-of-113, 843 yards, eight TDs and two INTs. He also added a 48-yard run against the Steelers.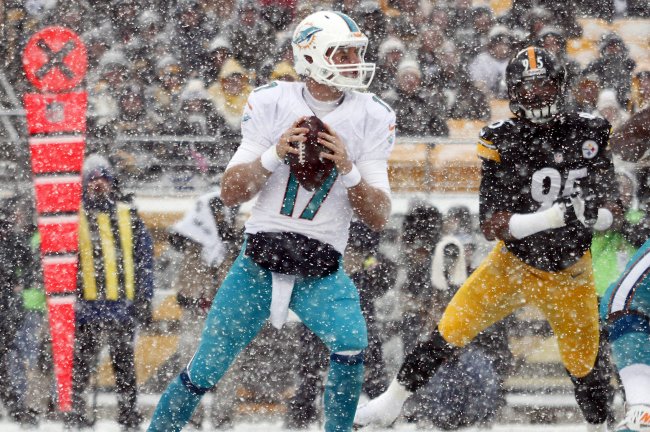 Justin K. Aller/Getty Images
Miami can key on the Bills' potent ground attack and rely on its secondary to capitalize on E.J. Manuel's mistakes. The Dolphins are one of only four teams to have at least as many interceptions (17) as passing TDs allowed (17), and they will leave frigid Buffalo with a W.
Minnesota Vikings (4-9-1) at Cincinnati Bengals (9-5)
The Bengals have a shot at a first-round bye, but the cookie needs to crumble in just the right way. The Vikes are winless on the road this year, though they do have a tie to their credit.
Cincy looked brutal in a loss on Sunday night to the Pittsburgh Steelers in which special teams was its undoing. That was the Bengals' first loss in regulation since Week 4.
It's a special teams nightmare as Brown returns punt for 67-yard TD. Huber injured on play. #CINvsPIT

— Cincinnati Bengals (@Bengals) December 16, 2013
Some people fear taking a trip to Cincinnati, but that is for their own personal reasons. Anyone going there to play the Bengals, however, should be legitimately worried since they're 6-0 at Paul Brown Stadium. In a match of undefeated-at-home vs. winless-on-the-road, the Bengals will keep on rolling right over the visitors from Minneapolis.
Denver Broncos (11-3) at Houston Texans (2-12)
You'll want to take small children out of the room during this game. With 47 passing touchdowns, Peyton Manning needs just four more in his next two games to break Tom Brady's record.
He'll at least tie that record down in Houston against a team that has dropped 12 straight games in a nightmare season. With 4,811 passing yards, he's got a lengthy journey to beat Drew Brees' single-season mark (5,476), but 666 yards in two games is possible for Peyton, if not slightly worrying for occult reasons.
Houston's pass defense is like an ancient riddle from the Orient. It ranks second in yards allowed per game (183.3), but has also allowed 25 passing TDs and collected a league-worst six interceptions. Manning will toss at least three scores in this rout of Houston, and he may even pass Brady's 50 scores before Week 17 arrives.
New Orleans Saints (10-4) at Carolina Panthers (10-4)
The Panthers got spanked 31-13 in NOLA in Week 14, but this meeting takes place in Charlotte, where the Cats are a formidable 6-1. Carolina has also allowed 208 points this year, just three more than the league-best Seattle Seahawks.
Just how bad are the Saints on the road? Well, they were losing 27-3 when the fourth quarter started against the St. Louis Rams in Week 15, so the answer is sometimes "pretty bad." New Orleans has a vastly improved pass defense, but the Saints still struggle against the run, ranking 21st.
Running back DeAngelo Williams racked up 168 total yards in his last game, and everyone knows that Cam Newton can terrify defenses when he tucks it and runs. After a Week 14 letdown on the Bayou, the Panthers will make good on their home turf and wrest control of the NFC South from the Saints.
Arizona Cardinals (9-5) at Seattle Seahawks (12-2)
The Seahawks are nearly unbeatable in Seattle, and this week they play at home, but they looked decidedly mortal in Week 9 when they needed overtime to dispatch of the Tampa Bay Buccaneers 27-24. In a matchup of elite defenses, the surprising Cards could sneak a win and keep their playoff aspirations within the realm of possibility.
A victory would tie Arizona with the loser of the NFC South clash and nudge them closer to the postseason. Unfortunately, the Cards just do not have the quality on offense to hang with Seattle. They lost in Week 13 to the Eagles and then needed overtime to edge past the Tennessee Titans on the road.
This is the week Arizona's impressive season hits a brick wall against the indomitable Seahawks.
Philadelphia Eagles (8-6) vs. Chicago Bears (8-6)
The Bears came away with a valiant win over the Cleveland Browns in Week 15, while the Philadelphia Eagles (8-6) did just the opposite. The Iggles held on to first place in the NFC East by virtue of the Dallas Cowboys snatching defeat from the jaws of victory, but Philly looked awful in the process.
The Eagles defense is a dumpster, and the Minnesota Vikings lit it on fire in Week 15. Playing without Adrian Peterson, Matt Cassel and none other than Matt Asiata hung 48 points on the Eagles, who lead a dreadful division.
The Bears got Jay Cutler back on Sunday, though backup Josh McCown had proved very capable. This week's tussle will be a match of Philadelphia's rotten pass defense (31st in the league) against Chicago's atrocious run defense (32nd), and the whole country gets to watch on Sunday night.
The Bears have a two-game win streak going plus a tidy 5-2 record at home. Somehow, they are also second in the NFL in points scored with 406. Look for plenty of scoring in this one, but the Bears will pluck the Eagles, whose defense has been stunningly bad and made a fantasy stud out of practice-squad RB Asiata.