Ashes 2013/14: Player Ratings for Australia After 3rd Test in Perth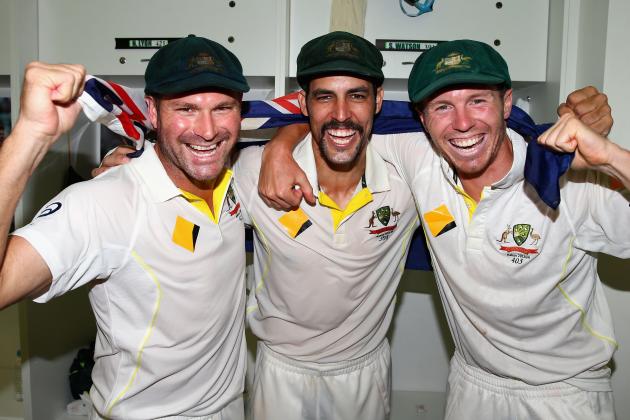 Ryan Pierse/Getty Images

By completing another vastly impressive performance in Perth, Australia have regained the Ashes for the first time since 2006/07, requiring just 14 days of Test cricket to do so.
Again, the home side's batsmen were able to overcome England's previously fabled bowling attack before using the lethal edge inherent within their own bowlers to effectively end the contest after the first innings.
With individual performances in mind, Steven Smith's hundred won't be forgotten in a hurry by those who saw it, while the image of Ryan Harris removing Alastair Cook for a first-ball duck will remain one of the enduring images of this Test.
After another comprehensive performance in this series, here are the individual ratings for each Ashes-winning Australian player for the third Test in Perth.
Begin Slideshow

»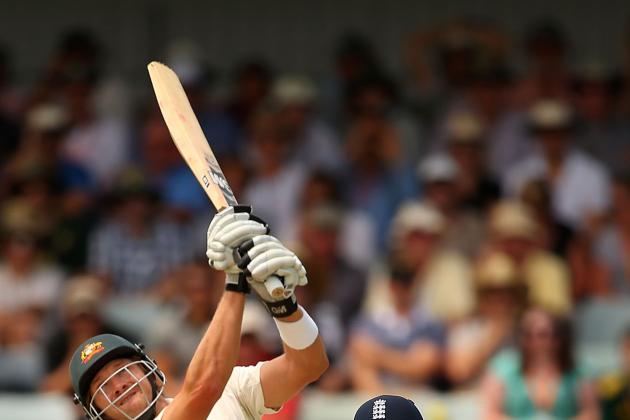 Paul Kane/Getty Images

Before employing a rating system, it's important to outline the key criteria used to award those ratings.
Of course, sheer weight of runs and wickets will largely determine a player's match rating. However, the following factors also have a significant bearing on the rating of each player.
1. First-innings runs carry more weight than those scored in the second innings.
2. Runs scored in difficult situations are valued more highly than runs compiled when a team is well in front.
3. The captain will be judged on his performance in the field in addition to his other contributions with bat or ball.
4. Moments of brilliance or game-defining acts are looked upon favourably.
5. Performing to a high standard in conditions that don't suit a player's skill set boost a player's rating.
6. Acts of poor judgement, rather than poor execution, significantly hurt a player's rating.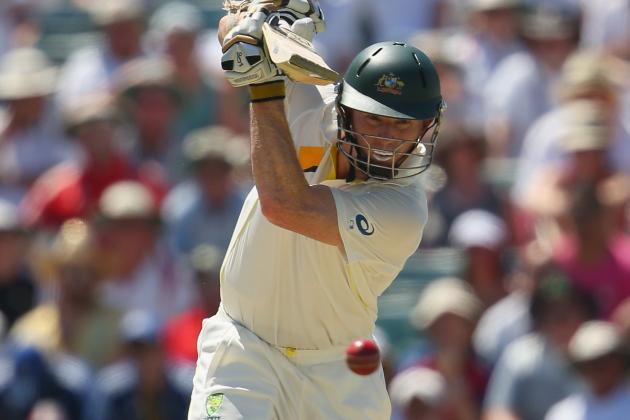 Mark Kolbe/Getty Images

With the bat: 11, 54
Rating: 4.5/10
Chris Rogers' dismissal on the opening morning of the third Test in Perth was indicative of the fast-forward cricket often witnessed at the WACA Ground.
Off to an uncharacteristic flyer with 11 from just nine deliveries, the veteran left-hander needlessly ran himself out attempting a quick single in just the second over of the match.
The 36-year-old made up for the error in his side's second effort with a more customary 54, helping to compile a 157-run opening stand with David Warner to bury a miserable-looking England.
However, second-innings runs when one's team is well on top count for less than those made in the first innings, hence Rogers' relatively low rating.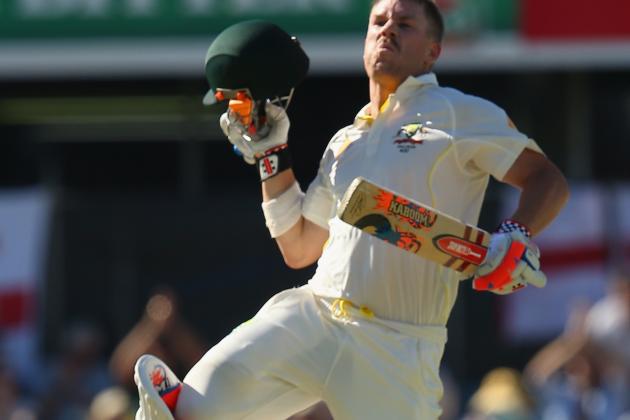 Mark Kolbe/Getty Images

With the bat: 60, 112
Rating: 8/10
Much like his previous two Tests, David Warner enjoyed considerable success in Perth despite scoring the bulk of his runs during Australia's second innings.
Of course, he was his usual combative self on the opening day of the match, racing to 60 from only 77 balls. But Warner once again found himself dismissed rather forgettably when he slapped a cut shot straight to Michael Carberry at point.
Had the aggressive left-hander cashed in on a promising first-innings platform, he may well have captured top marks in this match, given his brutal hundred in the second innings.
While his mauling of England for 112 was spectacular, Warner's cheap dismissal on Day 1, which temporarily landed his team in trouble at 129-4, fractionally pegs back his still-impressive rating here.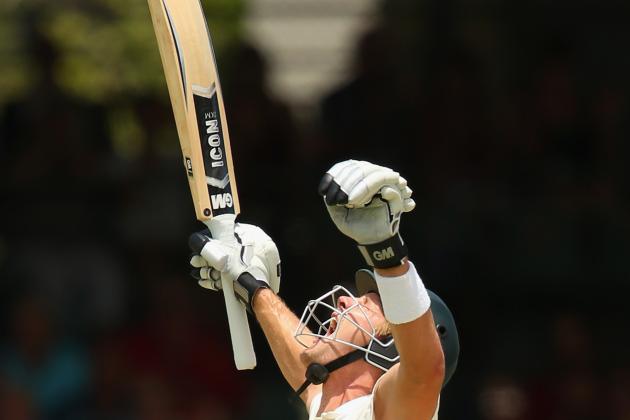 Mark Kolbe/Getty Images

With the bat: 18, 103
With the ball: 1/48, 1/39
Rating: 7/10
Shane Watson enjoyed his best game of the series in Perth, bullying Graeme Swann during a second-innings romp that contained 11 fours and five towering sixes to disintegrate the minds of England.
However, in the first innings, Watson showed exactly how not to bat on the WACA Ground wicket by attempting to cover drive a rising back-of-a-length delivery from Stuart Broad, which was caught by Swann at second slip.
Although he did claim two important wickets in the match, Watson's rating is affected in the same way as those of Rogers and Warner, as Watson failed to score heavily during Australia's first effort with the bat.
But that doesn't mean the under-fire all-rounder won't take with him a confidence boost from his first hundred of the series.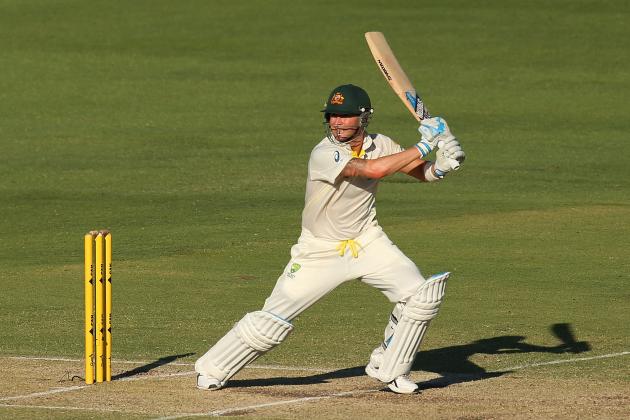 Paul Kane/Getty Images

With the bat: 24, 23
Rating: 5.5/10
Michael Clarke experienced his quietest match of the series in Perth after consecutive hundreds in Brisbane and Adelaide.
The Australian captain made a brisk start on the first day before being fooled by a nice piece of drift and spin from Swann, inside-edging a drive to Alastair Cook at short mid-wicket.
In the second innings, Clarke was undone by a superb delivery from Ben Stokes, which left the right-hander's stumps in a mess.
But like it has been throughout this series, Clarke's captaincy on the field was fantastic. The confident leader used a combination of shrewd bowling rotations and innovative field settings to steer his team to victory.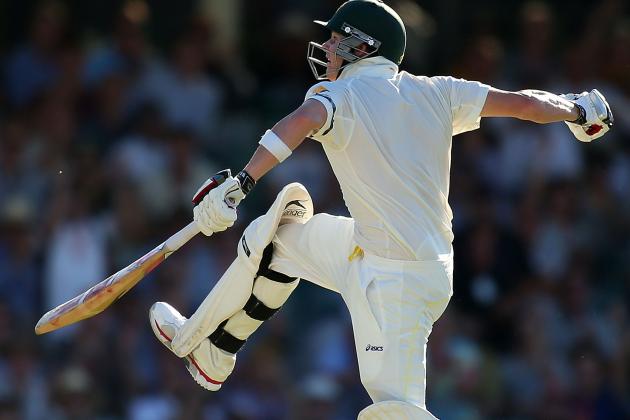 Paul Kane/Getty Images

With the bat: 111, 15
Rating: 9/10
Steven Smith arrived in Perth with doubts surrounding his ability to hold down a middle-order spot for Australia after underwhelming showings in the first two Tests of the series.
Now, it's clear Smith is set for an extended stay in this team.
When George Bailey was dismissed with the score at 143-5 on the opening day, England could see a small opening back into the series.
But Smith slammed that door shut with a composed hundred under pressure that contained a sumptuous collection of perfectly executed back-foot shots on a bouncy Perth wicket.
Refusing to be tempted into the boundary-a-minute mode that brought about the downfall of his teammates, Smith's innings restored Australia's advantage in this series and was the driving factor behind Australia's win at the WACA Ground.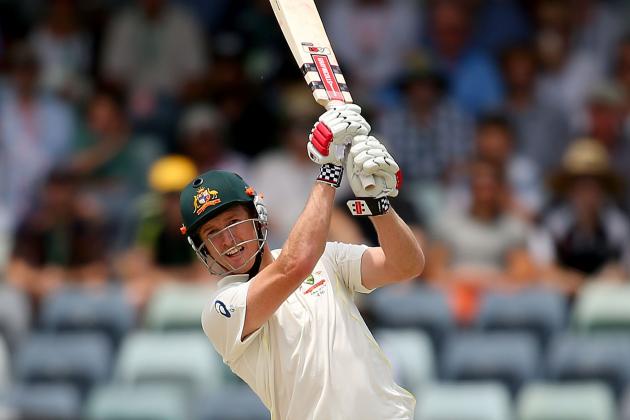 Paul Kane/Getty Images

With the bat: 7, 39*
Rating: 4/10
George Bailey's rash dismissal on Day 1 was another illustration of the concerns that still exist regarding his ability to transfer limited overs form into the Test arena.
Needing to show a cool head with his team in a spot of bother, Bailey wildly thrashed at a Stuart Broad bouncer to be caught easily by Kevin Pietersen for just seven.
Of course, his pummelling of 28 runs from just six James Anderson deliveries—which equals the Test record for runs in an over—needs a mention. However, that six-ball spell won't have quelled the doubts about Bailey's long-term future in the side.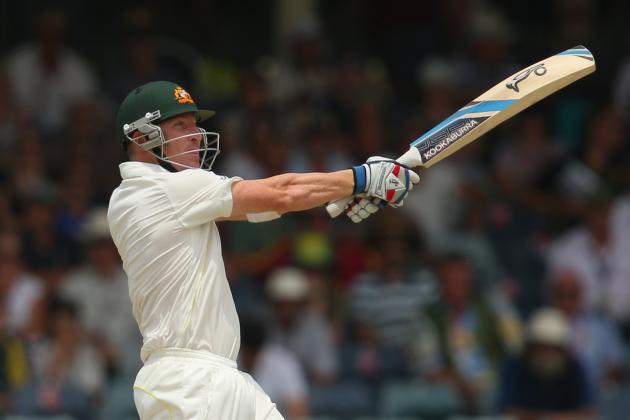 Mark Kolbe/Getty Images

With the bat: 55, 5
With the gloves: 8 dismissals
Rating: 6.5/10
Every time Australia have needed a rearguard action in this series, Brad Haddin has provided it. This time, he scored a defiant 55 to wrestle the game away from England on the Test's opening afternoon.
Alongside the impressive Smith, Haddin compiled another gritty innings to bring England's temporary wave of momentum to a grinding halt.
In fact, after Australia's first innings, the wicketkeeper had completed four consecutive fifties in the series, which started with a superb 94 in Brisbane.
The 36-year-old was also tidy with the gloves, claiming eight dismissals on a pitch that became less predictable by the hour, significantly outplaying his opposite number in the process.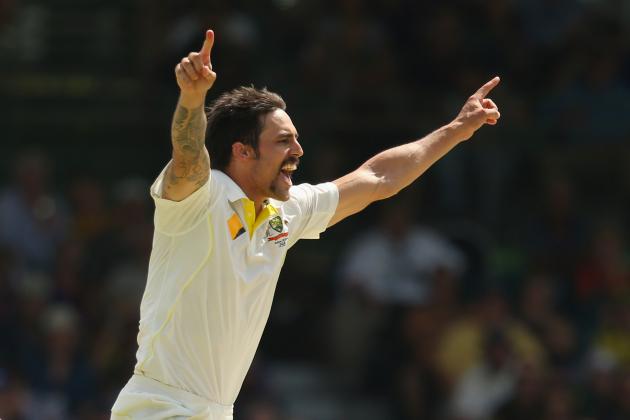 Mark Kolbe/Getty Images

With the ball: 2/62, 4/78
With the bat: 39, 0*
Rating: 6.5/10
Mitchell Johnson endured his most subdued performance of the series in Perth after being the catalyst for Australia's victories in Queensland and South Australia.
Through a combination of slight waywardness and more organised English batsmen, Johnson wasn't able to tear through the visitors' lineup in the manner he did during the first two matches of these Ashes.
However, the rapid left-armer still managed to claim six wickets for the match, which included the capture of three scalps on the game's final day to ensure Australia reclaimed the Urn.
Also memorable was Johnson's incredibly athletic catch at mid-on to remove Pietersen, which saw the 32-year-old leap high off the ground to claim a ball rapidly travelling over his head.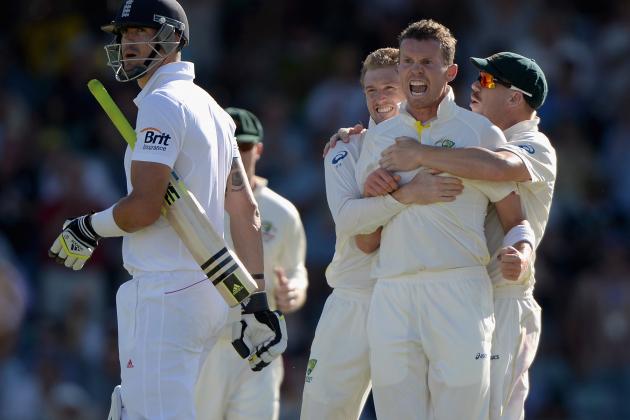 Gareth Copley/Getty Images

With the ball: 3/36, 1/67
With the bat: 21, DNB
Rating: 6.5/10
Peter Siddle's importance to this Australian team often goes unrecognised, but his performance in Perth was more impressive than his wicket tally suggests.
Time and time again, Siddle's unrelenting accuracy backed England into a corner from which they were unable to escape, reflected in his economy rate of 2.45 across both innings on a ground known for quick scoring.
When his captain needed to build some pressure, Siddle obliged, and the fiery right-armer bogged down England before claiming prized scalps such as Pietersen and Ian Bell.
Without Siddle, the likes of Johnson and Ryan Harris wouldn't be afforded the luxury of being able to continually attack.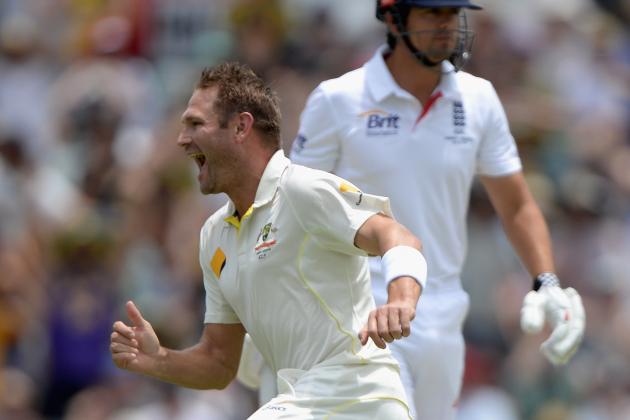 Gareth Copley/Getty Images

With the ball: 3/48, 1/73
With the bat: 12, DNB
Rating: 7/10
Ryan Harris' somewhat impatient display with the ball on Day 4 can be forgiven after his feats earlier in the match.
Although the bustling right-armer became more wayward in the second innings, his impeccable length on a fast Perth wicket was impressive during England's first innings, allowing him to claim three critically important wickets.
Yet it was his ball to dismiss Alastair Cook from the very first delivery of England's second effort with the bat that was most unforgettable.
With the seam aligned perfectly, Harris shaped a quick delivery back into the left-hander, seeing it nip away off the pitch the claim the top of Cook's off-stump.
As demoralising moments go for England, that was one of the most dramatic.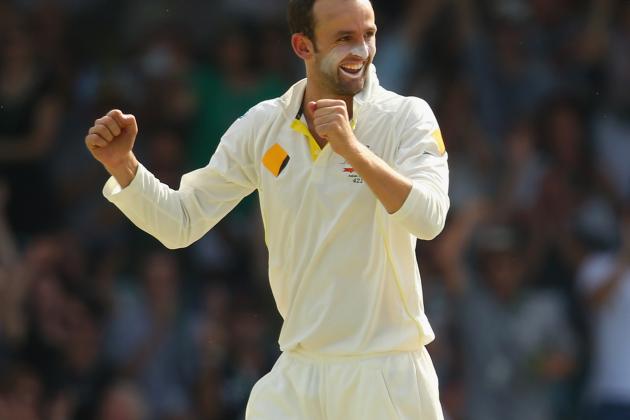 Mark Kolbe/Getty Images

With the ball: 1/39, 3/70
With the bat: 17*, DNB
Rating: 7/10
Awarding such a high rating to Nathan Lyon for a match in which he only claimed four wickets might seem unreasonable.
However, you only need to look at the records of spin bowlers in Perth to understand how well Australia's developing spinner played in this match.
With a wicket offering very little turn, Lyon used variations in pace and drift to not only tie down England but also claim important wickets.
On a surface where Swann was treated with contempt, Lyon remained accurate and incisive, proving his worth to this Australian team by showing that he's dangerous even when conditions aren't to his liking.