The 2013 NFL season is nearing Week 16 with plenty still at stake. Some teams are unfortunately relegated to jockeying for draft position, but many others are still seeking a spot in the postseason.
While it's typically in the best interest of the underdogs to lose at this point in the year, these are all professionals playing with pride. That should lead to all sorts of unpredictability, as has become commonplace in pro football.
If outsiders want to wager a little bit of coin, there are some surer bets than others to cover spreads in Week 16.
Below is a look at teams that are being underestimated by their spread margins as of Monday, Dec. 16, and will cover them come next Sunday.
NFL Week 16 Lines and Predictions

| | | |
| --- | --- | --- |
| Away Team | Home Team | Pick (Spread) |
| Miami Dolphins | Buffalo Bills | Bills (+3) |
| New Orleans Saints | Carolina Panthers | Panthers (-3) |
| Dallas Cowboys | Washington Redskins | Redskins (+2.5) |
| Tampa Bay Buccaneers | St. Louis Rams | Rams (-5.5) |
| Cleveland Browns | New York Jets | Jets (-2) |
| Indianapolis Colts | Kansas City Chiefs | Chiefs (-6.5) |
| Minnesota Vikings | Cincinnati Bengals | Bengals (-8) |
| Denver Broncos | Houston Texans | Broncos (-10) |
| Tennessee Titans | Jacksonville Jaguars | Titans (-5.5) |
| Arizona Cardinals | Seattle Seahawks | Seahawks (-10) |
| New York Giants | Detroit Lions | Lions (-9.5) |
| Oakland Raiders | San Diego Chargers | Chargers (-10) |
| Pittsburgh Steelers | Green Bay Packers | N/A |
| New England Patriots | Baltimore Ravens | Ravens (-1.5) |
| Chicago Bears | Philadelphia Eagles | Bears (+3) |
| Atlanta Falcons | San Francisco 49ers | 49ers (-10) |
Source: VegasInsider.com
Buffalo Bills (+3) over Miami Dolphins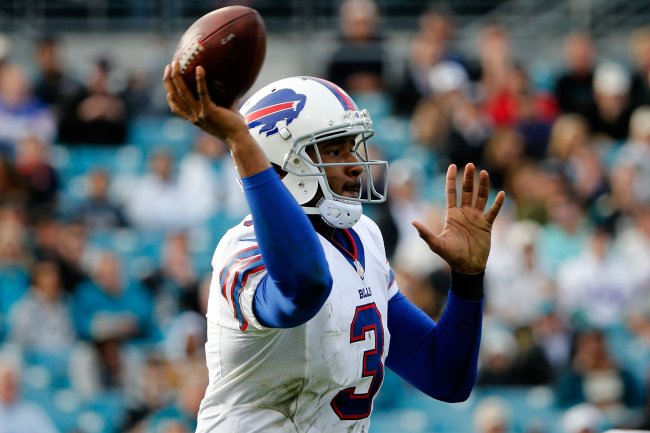 Sam Greenwood/Getty Images
The Bills may be bottom-dwellers of the AFC East, but they are better than their 5-9 record would indicate. This is a very young team that is making constant strides toward improvement, and when they put it all together in a year or two, they will be a force to be reckoned with.
For now, the picture may not look so pretty, but there is enough talent on Buffalo's roster to give the Dolphins all they can handle in Ralph Wilson Stadium.
Miami is coming off a landmark win over New England in Week 15 and is likely to have difficulty matching that type of intensity in this one despite its current No. 6 seed status in the AFC playoff race.
Video Credit: NFL Network
Here's the big problem: Athletic Dolphins QB Ryan Tannehill doesn't utilize his mobility to his advantage enough, and that along with shoddy protection has led to him being sacked a league-high 51 times.
No team has more sacks than the Bills (49), which is bad news for Tannehill and Co. Buffalo is always a difficult place to play no matter how the Bills are faring in that particular season.
That makes his stellar sophomore campaign all the more impressive. As Peter King points out, too, this team has overcome all sorts of adversity—most notably the Jonathan Martin bullying saga—and has remained in the postseason hunt in spite of it:
Miami 5-2 since Jonathan Martin slammed his tray of pasta to the Dolphins cafeteria floor.

— Peter King (@SI_PeterKing) December 16, 2013
But look for the Bills defense to rattle Tannehill in a pressure-packed game. Buffalo's young nucleus, led by 2013 first-round quarterback EJ Manuel, will continue building momentum for the future in establishing a more winning culture by knocking off an AFC East foe.
Prediction: Bills 27, Dolphins 17
Washington Redskins (+2.5) over Dallas Cowboys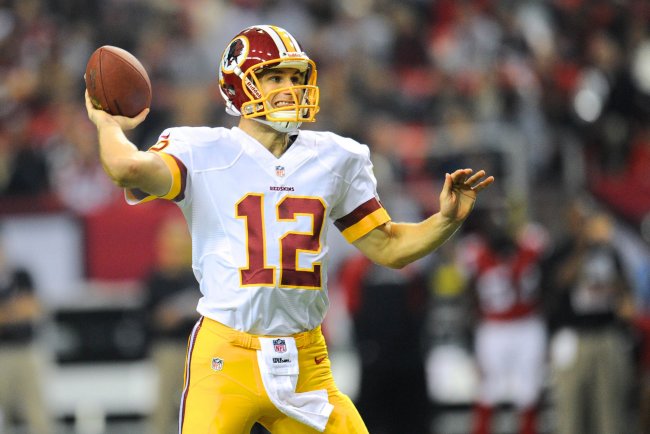 Dale Zanine-USA TODAY Sports
Pride is just about all there is left for Washington, which lost a heartbreaker to the Atlanta Falcons in Week 15 after failing a two-point conversion and losing 27-26.
There is hope, though, because Dallas is coming off blowing a 23-point halftime lead at home to fall to 7-7 when it had a golden opportunity to take the lead in the NFC East. Tony Romo's two interceptions in the final three minutes hurt the cause, while the incompetent defense yet again revealed its ugly colors.
Video Credit: NFL Network
Mike Greenberg of ESPN perhaps summarized it best, speaking of the defense that is ranked last against the pass and 28th against the run:
Yes #Cowboys playcalling was awful. Yes, Romo can't throw that pick. But the defense gave up 5 TDs in the second half. That's why they lost.

— Mike Greenberg (@Espngreeny) December 16, 2013
However, Romo is going to take some heat for the late mistakes in light of this statistic from the NFL on ESPN:
Tony Romo has 7 INT in losses w/team tied or up by 1 possession in 4th quarter/OT, nearly twice as many as any QB since '06.

— NFL on ESPN (@ESPNNFL) December 16, 2013
Incompetence has been an unfortunate theme for America's Team. The Cowboys seem to find a way to blow it no matter what, and this game will be no different.
In spite of how bad things seemed, cornerback Brandon Carr didn't see the need to fret about the horrendous performance in the aftermath, per DallasCowboys.com's Kurt Daniels.
"Definitely not a time to panic. Confidence will still be there. We still have a chance to get to the big dance, and that's what you play for," said Carr.
Washington QB Kirk Cousins made his first start of the year in Atlanta and threw for 381 yards and three touchdowns. Now he faces an even more favorable matchup in Week 16 at FedEx Field.
The second-year signal-caller did throw two picks and fumbled the ball away, but star running back Alfred Morris and veteran receiver Santana Moss also lost two fumbles, giving Washington seven turnovers.
It's hard to imagine something that extreme happening again, especially against Dallas. Combining Cousins' continued brilliance with a strong rushing attack led by Morris, there is no reason Washington shouldn't cover this spread' and even win outright.
Prediction: Redskins 41, Cowboys 34
Chicago Bears (+3) over Philadelphia Eagles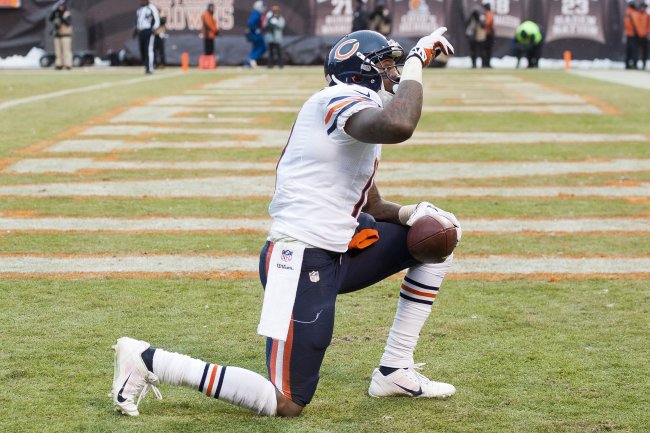 Jason Miller/Getty Images
Defense shouldn't be much of a theme in this game, either. Both teams are rather thin on talent, with the Bears missing cornerstones in cornerback Charles Tillman and Lance Briggs due to injury. At least Briggs is optimistic about returning in Week 16, per the Chicago Tribune's Rich Campbell.
Which underdog is likeliest not to cover?
On offense, though, Chicago has a cannon-armed QB in
Jay Cutler
, two massive receiving targets in
Brandon Marshall
and Alshon Jeffery, an all-purpose running back in
Matt Forte
and a genius play-caller in head coach Marc Trestman.
Yet the Bears are still not favored on the road in Philadelphia despite reigning atop the NFC North—a far superior division to the putrid NFC East, which the Eagles lead.
Not to be prisoner of the moment or anything, but Matt Cassel threw for 382 yards without a consistent running game complementing him in the Minnesota Vikings' 48-30 victory over Philly in Week 15. Yes, that was sans Adrian Peterson.
Cassel isn't regarded as one who can stretch the field, but he dismantled the Eagles with his deep ball, per ESPN Stats & Info:
Vikings QB Matt Cassel had a lot of success with deep throws in Sunday's win. Take a look pic.twitter.com/xAuYuCVaMJ

— ESPN Stats & Info (@ESPNStatsInfo) December 16, 2013
The Bears, meanwhile, overcame two early Cutler interceptions and still won 38-31 in Cleveland, despite yielding two defensive touchdowns and facing an underrated Browns defense.
Although the uptempo attack of the Eagles is no slouch, Cutler has more of an array of weapons at his disposal and a more favorable opposing defensive matchup than his impressive counterpart, Nick Foles.
Even after missing multiple games due to injury, there was no doubt Cutler proved himself in Week 15 after a rocky start:
Jay Cutler on 3rd down for Bears in win today: 11-for-12, 151 yards, 2 TD passes

— ESPN Stats & Info (@ESPNStatsInfo) December 15, 2013
Chicago is in great position to take command of the division, and an outright win in this epic edition of Sunday Night Football will help.
Prediction: Bears 37, Eagles 31