When the Sacramento Kings added Rudy Gay to their team via trade, they got the type of proven wing player not seen since the days of Ron Artest (now Metta World Peace). But while Gay is a proven scorer in this league, there are also questions about how he'll fit in with the Kings.
Gay's averaged 18.0 points per game during his eight-year career, but he hasn't been incredibly efficient doing it. It's taken him an average of 15.4 field-goal attempts to attain those 18 points.
It's become a more compounded issue since he was jettisoned from the Memphis Grizzlies to the Toronto Raptors last season. The Raptors viewed Gay as the type of go-to scorer they desperately needed. As such, the forward was given carte blanche to take as many field-goal attempts as he wanted. This led to 19.5 points per game, but it also saw his field-goal attempts spike from 15.2 with Memphis to 17.6 with Toronto.
Rudy Gay: Memphis vs. Toronto

| | | | | |
| --- | --- | --- | --- | --- |
| | Years | Points/Game | FG attempts/Game | FG% |
| Memphis | 2006-07 to 2012-13 | 17.9 | 15.2 | .452 |
| Toronto | 2012-13 to 2013-14 | 19.5 | 17.6 | .411 |
basketball-reference
On top of that, his field-goal percentage plummeted. Gay went from a respectable 44.8 field-goal percentage with Memphis to an underwhelming 41.1 percent with the Raptors.
Now with the Kings, an intriguing storyline will be how the volume-shooting forward fits in with the team. But it's not just Gay—Sacramento also acquired center Aaron Gray and forward Quincy Acy in the deal. How the three of them—most importantly Gay—acquiesce to the franchise's system will be paramount in determining its success going forward.
A Talent Upgrade
The first thing to understand from this swap, regardless of how it ends up turning out, is that it's a deal that needed to be made. Based on the talent Sacramento gave up compared to the players it received—the Kings gave up Chuck Hayes, Greivis Vasquez, John Salmons and Patrick Patterson for Gay, Gray and Acy—consummating the trade was a no-brainer.
The Kings essentially dealt 3 reserves and a starter that played less than his backup most nights for a starter and 2 reserves.

— Jason Jones (@mr_jasonjones) December 9, 2013
Jonathan Santiago of Cowbell Kingdom essentially said as much.
"I know there's a lot of people out there who are not too high on the trade for the Kings, but based on how many years are left on Rudy Gay's contract—he has this year and next if he decides to opt-in—the talent they traded in the deal to get him, I think, does not compare to what they got for him," Santiago said. "I think it's a pretty good deal for the Kings. They got the most talent in return."
As Steven Covella of Baller Mind Frame pointed out, Sacramento general manager Pete D'Alessandro is in a situation where the team doesn't have much to lose. Even though the Kings have already made two fairly sizable deals—they also traded for Derrick Williams a few weeks back—the moves haven't come with much of a risk.
"I think one of the things [D'Alessandro] said is, if you're on a 57-win team like the Nuggets, that you just do little things to tinker with it because they're already pretty good," Covella said. "But then if you're the Kings, you have a lot of room to work with because they have a long way to go to get better. I think it's a good move, and the moves he's made so far are pretty low risk to have decent upside."
At the time of the Gay trade, the Kings were sitting at 6-14. In a Western Conference that figures to have all eight playoff teams with a record over .500, the odds of Sacramento making the playoffs as currently constructed were slim.
Pete D'Alessandro on being aggressive to improve the Kings: "I got the mandate from my owner to make it happen."

— Jason Jones (@mr_jasonjones) December 10, 2013
The odds of the Kings making the playoffs even with the acquisition of Gay aren't very good. Even then, they're still in essentially the same standing they were before the trade. The biggest difference is that Sacramento has now upgraded its talent. At least now there's a chance the team could be something more, however slim that probability is.
This Is Still DeMarcus Cousins' Team
When the Kings signed DeMarcus Cousins to a max contract extension prior to the season, it was about more than a simple financial commitment. It was also a signal that Cousins is the franchise cornerstone. He's the player Sacramento will be building around. This trade does nothing to change that.
With his newly expanded responsibilities on the team, Cousins has responded well in the early part of the season. Through his first 21 games, the center is averaging 22 points, 10.7 rebounds, 2.9 assists, 1.8 steals and 1.1 blocks. As it currently stands, DMC is the only player in the NBA boasting those averages.
With the financial commitment to Cousins, his youth (he's still only 23) and his standing within the game, he's clearly the franchise's best player now and into the future. With that being the case, the Kings don't want Gay to come in thinking he's the focal point of the offense. Coach Mike Malone doesn't want him playing one-on-one. He wants Gay to fit within the confines of the team.
"We don't want it the ball to be just dribble, dribble, dribble, no ball movement, easy to guard and shoot," Malone said, per Jason Jones of The Sacramento Bee. "Rudy's going to buy in. He's a high character kid. We're happy to have him and he'll buy in."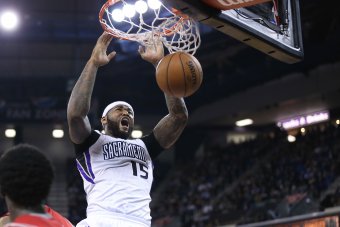 Kelley L Cox-USA TODAY Sports
For Gay, being paired with a dominant big man should be nothing new. It's something he dealt with in Memphis, with Marc Gasol and Zach Randolph as two legitimate options. Perhaps not surprisingly, it was his period of most success. With Cousins in the fold, that dynamic is essentially the same. When asked how he thought Gay would fit in with Cousins, here's what Steven Covella had to say:
"It's hard to say," Covella said. "But something that Malone and D'Alessandro have been saying is that he did it in Memphis with Rudy Gay and Zach Randolph. I don't know how much that's going to transfer or not, but I think it helps here that there's no question DeMarcus Cousins is the No. 1 option between the coaching staff, front office or DeMarcus Cousins. Whereas in Toronto, they looked to Rudy Gay over the last year, whether that was smart or not, as the No. 1 guy. Here there's no question."
And as Jonathan Santiago points out, the trade can work out to the Kings' benefit as long as Gay accepts a complementary role with the Kings.
"I think he'll be fine," Santiago said. "I think if he's playing like he did in Toronto, and like he did in the latter stages of his career in Memphis as a go-to guy trying to make plays for himself, it might not be that successful. But if he learns to fit in and be a secondary, complementary piece to DeMarcus Cousins, then I think it can work."
The Fit Within the Team
It's not just DeMarcus Cousins that Gay needs to find a way to coexist with. Furthermore, it's not just Gay who needs to find his way. With Aaron Gray and Quincy Acy also coming over, both of them will also need to find a way to fit with the team.
Their ability to coexist isn't something DeMarcus Cousins is worried about. Although, the big man did point out that there may be an adjustment period as they're coming over from a completely different system.
"They'll fit in fine," Cousins said. "Rudy's a proven guy, Aaron and Quincy as well. And I believe they'll fit in fine. It's just a matter of time. It's a new system, so it's not going to be perfect because of course they've got to get adjusted to it, but they'll be fine. I think coach will put us all in the right position [to succeed]."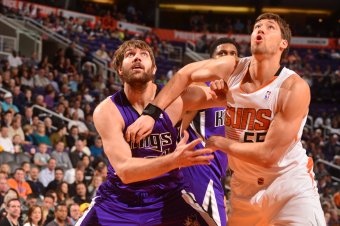 Barry Gossage/Getty Images
Part of what needs to be figured out is the way Coach Malone will handle his rotation in the frontcourt. DeMarcus Cousins and Rudy Gay figure to play a lot of minutes. In fact, Malone recently said that he'd like to have at least one of the two on the court through the duration of games.
"I want to have DeMarcus Cousins or Rudy Gay on the floor at all times," said Kings coach Michael Malone, per Jason Jones of The Sacramento Bee. "I don't think that we can afford to have both of them on the bench at the same time."
How Gay and Cousins would be handled is pretty much a formality, though. Everyone knew they were two of the Kings' best players. The bigger questions surround how the rest of the frontcourt will shake out.
If the first two games since the trade are any indication, it looks like Jason Thompson and Derrick Williams will be sharing minutes at the 4. Thompson started both of the games since the new acquisitions first suited up, but the minutes between him and Williams have been pretty evenly distributed.
Thompson played 22:57 against the Houston Rockets compared to 23:34 for Williams. Against the Suns, despite JT starting, the minutes were more heavily skewed toward Williams, who played 30:29 versus 13:57 for Thompson.
The rest of the frontcourt rotation will be determined by matchups. Opposing Phoenix, who uses a lot of size in its frontcourt, Aaron Gray saw 13:11 of action and hauled in nine rebounds and scored seven points. In his limited playing time, he already looked like an upgrade over Chuck Hayes as a backup center.
Aaron Gray looks like a definite upgrade over Chuck Hayes as a backup center so far. Not saying much, but it's something.

— Sim Risso (@SimRisso) December 14, 2013
When the Kings played the Rockets, who have a tendency to roll with small lineups, Gray didn't see any action, but Acy played 12:48. The forward scored four points, had three rebounds and blocked one shot.
Beyond Gray and Acy, it's also safe to assume Travis Outlaw and Hamady Ndiaye will stick with their previous roles. Outlaw plays both forward positions for the Kings. With Gray in the fold, Ndiaye is the third center, but that was also his role when Hayes was on the team.
So Far, So Good
The Kings have only played two games with their new players since the trade. The early indications have been positive for Sacramento.
After averaging 19.5 points on 18.6 field-goal attempts and hitting 39.8 percent of his shots with Toronto, Gay has averaged 25 points on 16 field-goal attempts and made 56.25 percent of them for Sacramento.
In two games with Kings, Rudy Gay is averaging 25 points on 56.2% from field. Good start to change public perception: http://t.co/vchuBaTct5

— Alex Kennedy (@AlexKennedyNBA) December 16, 2013
He's played within the confines of the offense, and he hasn't stepped on DeMarcus Cousins' toes. The center attempted 16 field goals against Phoenix and had 14 attempts against Houston. Combined, those may be less than the 32 shots Gay put up in the same two games, but it's not that far removed from DMC's seasonal average of 16.9 field-goal attempts.
Two games are obviously not enough of a sample size to draw too many conclusions about the long-term prognosis of the trade. But the Kings can't complain about what they've received from Gay during that time. His field-goal percentage is up, his attempts are down and Cousins is still a focal point of the offense. Those three aspects will likely be the determining factor in how this trade ends up panning out for Sacramento.
So far, so good.
Unless noted otherwise, all quotes obtained firsthand.
All stats accurate through games played on Dec. 15
Stats courtesy of NBA.com and Basketball-Reference
Follow me on Twitter: @SimRisso