Notre Dame Football: Return to Yankee Stadium Brings Back Good Memories
Use your ← → (arrow) keys to browse more stories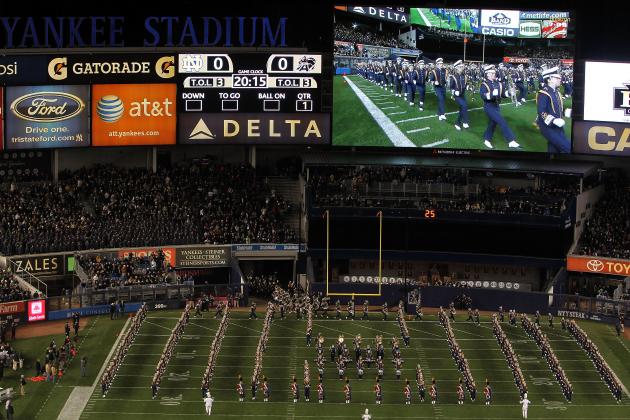 Nick Laham/Getty Images

When Irish fans look at Brian Kelly's tenure at Notre Dame, few will think back to the head coach's win over Army as a victory of note. The late November 2010 game, a one-sided 27-3 win in front of a decidedly pro-Notre Dame crowd in Yankee Stadium, looks like a typical game against an overmatched service academy.
But time and perspective cloud the memory. So before the Irish head to Yankee Stadium again, it's worth taking a look back at the last time the Irish played in "The House That Steinbrenner Built," one of the more important early wins in Kelly's Irish career.
It's only fitting that Tommy Rees will play his final game in Yankee Stadium. The last time Rees played there, he was a scrawny freshman with an offense unexpectedly hoisted on his shoulders.
As I watched warm-ups that evening from the sidelines, Rees, Nate Montana and Andrew Hendrix tossed patterns with the Irish receiving corps. Two quarterbacks threw spirals that cut through the Bronx wind. Rees looked better suited to be throwing a frisbee on North Quad than asked to lead the team to victory.
Offensive Player of the Year goes to QB Tommy Rees -- made his 2nd career start in 2010 at Yankee Stadium and will finish his career there.

— John Heisler (@NDHeisler) December 14, 2013
Yet the young quarterback had just done that. His first start was one of the more surprising victories in recent Notre Dame memory. Rees had thrown three touchdowns in the Irish's shocking upset of No. 14 Utah, a Senior Day surprise that was Notre Dame's first win over a ranked opponent in five years.
How grim were things at Notre Dame?
The student body had planned on storming the field even in a loss, if only to celebrate the historic ineptitude of a senior class that lost more games than any other in the school's history.
But after the Irish's tone-setting 28-3 victory over Utah, the first-year head coach had this to say after the game, a fitting comment considering where this team had been and the struggles Kelly had had with changing the team's culture.
"You saw today a football team that didn't have on their shoulders the traditions and reputations and all the things that you have to worry about sometimes being a football player at Notre Dame, and they just flat out played," Kelly said.
That win only brought the Irish back to .500, reclaiming a chance at the Irish's meagerly reassessed goals of making it to a postseason bowl. But before Notre Dame could earn bowl eligibility, Kelly and his staff needed to conquer the option, an offense that completely embarrassed Bob Diaco and the defensive coaching staff just a few short weeks earlier.
If there was indifference for the Irish, it didn't show. Notre Dame fans flooded New York. Midtown might as well have been South Bend on a football Saturday. You couldn't get a seat at St. Patrick's Cathedral. And Time Square looked like this.
While it wasn't the Yankee Stadium that hosted some historic battles, Irish fans saw what Notre Dame brass could do with a Jumbotron, and well—it was pretty great. The videoboard kept Irish fans engaged all night, and the cold weather did nothing to stop the stands from filling up quickly, with 54,251 fans jammed inside.
The game didn't start well for the Irish. Rees threw an interception at the Black Knights' goal line. Army rumbled down the field for a clock-milking, 17-play, 78-yard drive that put the first three points on the board. But as we had a chance to see over the past four seasons, Diaco's defense stiffened. That early field goal was the only score the Irish gave up.
Take a look back at that Irish team, and you see the building blocks that served this team well.
Zack Martin protected Rees' blind side. Tyler Eifert had the biggest game of his young career, establishing a rapport with Rees early and letting Irish fans know things would be okay without Kyle Rudolph, whose Irish career was over early because of a hamstring injury.
Freshman wide receiver TJ Jones played but didn't make a catch. Fellow receivers Bennett Jackson and Austin Collinsworth were taking some of their last snaps at receiver before being switched to defense. Carlo Calabrese and Dan Fox took snaps next to Manti Te'o, who led the defense with nine stops.
Harry Hiestand offering Notre Dame LT Zack Martin high praise: "He's the best offensive tackle in college football."

— Keith Arnold (@KeithArnold) December 15, 2013
Next weekend's Pinstripe Bowl doesn't have the appearance of a game that'll go down in the books as one of vital importance. While winning nine games sounds a lot better than another 8-5 season, this game will be important for the groundwork it lays for the future of the program.
When we look back at this game, we will talk about the reps Steve Elmer, Ronnie Stanley, Matt Hegarty and Conor Hanratty got playing next to each other—the link to the future as Zack Martin plays his final game for the Irish.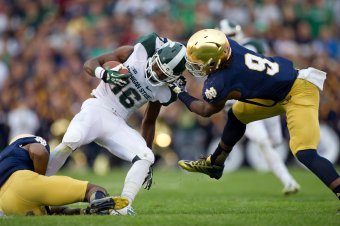 Matt Cashore-USA TODAY Sports
While TJ Jones is the team's MVP, the freshman trio of receivers, Corey Robinson, Will Fuller and James Onwualu, will all benefit from an extra 10 practices of preparation (not to mention Torii Hunter Jr., who is earning rave reviews on the scout team). The passing game, the last led by Rees, will get a chance to do some downfield damage against a Rutgers defense that is woeful against the pass.
Offensive Newcomer of the Year Tarean Folston will also get the first chance at carrying the Irish ground game, sprinting out in front of a depth chart that'll chase him come spring.
Jaylon Smith will be given an opportunity to end his freshman season with a bang before entering next year as the Irish's next defensive All-American candidate (Perhaps as the Irish's other defensive All-American candidate, with Stephon Tuitt 50-50 on coming back to school).
We'll see if blue-chip recruit Max Redfield can use December to gain ground on Collinsworth and Matthias Farley, too.
The Irish will be saying goodbye to an impactful senior class and two coaches that were Kelly's most trusted confidants. If the Pinstripe Bowl will be remembered for anything, it very well could be for bridging the gap between the Irish's successful past and their promising future.