Cardinals vs. Titans: Takeaways from Arizona's Thrilling OT Win Over Tennessee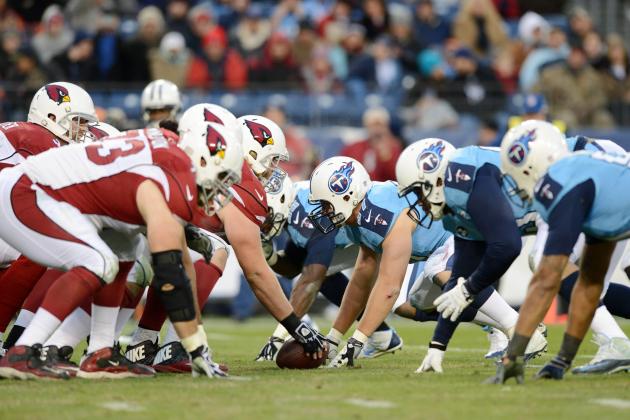 Don McPeak-USA TODAY Sports

It was pure elation, then pure horror, then pure relief from the fourth quarter on as the Arizona Cardinals defeated the Tennessee Titans in overtime on Sunday, 37-34.
Quarterback Carson Palmer played a clean game once again, though he was a bit erratic at times—the cold weather might have played a role in that. He went without throwing an interception for the fourth game out of the past five and eclipsed a 100.0 passer rating for the fifth time in seven games.
The Cardinals (9-5) are now 5-0 this season when Palmer's passer rating is north of 100.0.
Arizona's defense was good at times but also very bad at times—namely during Tennessee's fourth-quarter comeback. When Ryan Fitzpatrick and Co. succeeded, it was because defensive coordinator Todd Bowles sent pressure. It was highlighted before the game that Fitzpatrick plays very well when blitzed, and he lived up to that again on Sunday.
Here are some takeaways from Arizona's 37-34 overtime victory over the Titans.
Begin Slideshow

»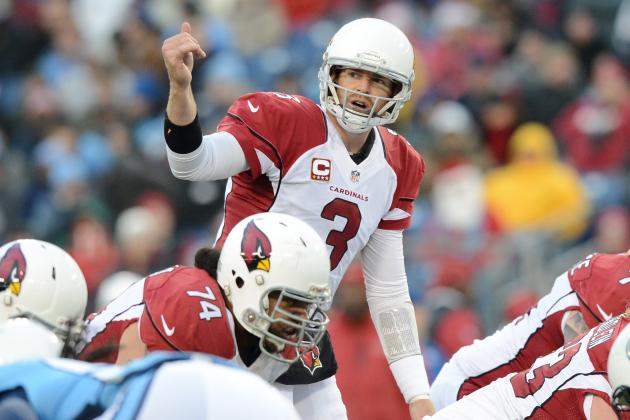 Don McPeak-USA TODAY Sports

Multiple times throughout the game, Palmer made throws that only the best quarterbacks in the league make successfully. Skinny posts, curls between two defenders—even incomplete go-routes were perfectly thrown.
He did miss badly on a few throws, but as speculated at the outset, the colder temperature may have had something to do with that.
Palmer completed 20 of 30 passes (66.7 percent) for 231 yards, a touchdown and no interceptions for a 100.8 passer rating. He was sacked only twice but was under heavy pressure at times (more on that in a minute).
Early in the game, Palmer was rolled up on by Titans defensive end Kamerion Wimbley, drawing a personal foul for a low hit to the quarterback. It looked as though he injured his leg on the hit, but it did not affect his play after the drive.
It may be something to watch throughout the week, however. His elbow injury limited him in practice the past two weeks, so don't be shocked if he's limited again this week with the elbow and the leg.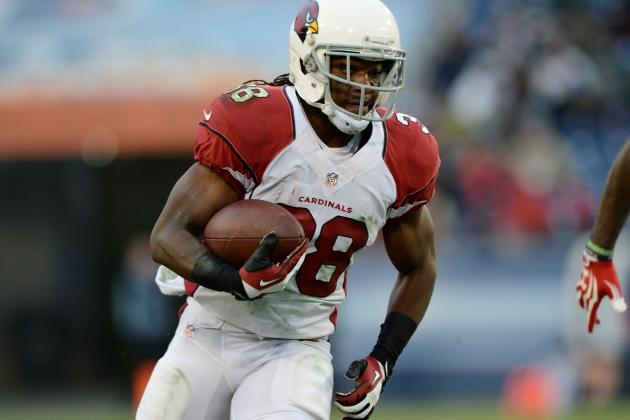 Don McPeak-USA TODAY Sports

The two stars of the offense were running backs Andre Ellington and Rashard Mendenhall. Ellington led the team in both rushing and receiving, recording 158 yards from scrimmage. Mendenhall provided a couple big runs, but his two most important covered a total of two yards and put 12 points on the scoreboard.
Before Andre Ellington today last Cardinal to lead tm in rushing & rec yds same gm: Marcel Shipp 12/15/02 vs STL (79 & 79)

— MarkDalton (@CardsMarkD) December 16, 2013
Running back play has been inconsistent this season for the Cardinals, but the domination they showed today—especially from the rookie, Ellington—is a sign that not all is lost in the Arizona backfield in 2013.
Ellington made a bit of history on Sunday, in fact. He is just the ninth player since 1960 to record at least 10 carries and gain at least 7.0 yards per carry while having at least four receptions and gain at least 20.0 yards per catch.
As for Mendenhall, it's the first time he's scored two rushing touchdowns in a game since December 4, 2011 against the Cincinnati Bengals. Both his scores that day also came from five yards or fewer.
That's not for nothing.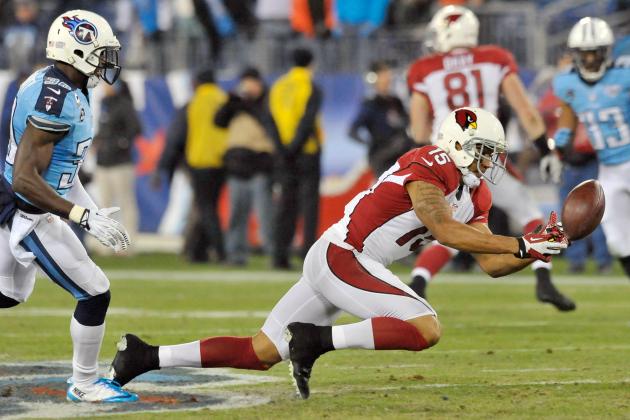 Jim Brown-USA TODAY Sports

For three straight games, receiver Michael Floyd was nearly unstoppable. Over a stretch between Weeks 11 and 13, he caught 18 passes for 396 yards and two touchdowns.
In two games since then, he has four receptions for 59 yards and no touchdowns.
What has gone wrong over the past two games? He has been open, but the connection between he and Palmer seems to have been lost. It doesn't help that Floyd dropped a pass against the Titans.
Perhaps his shoulder and ankle injuries have affected Palmer's confidence in him. Floyd was open for a touchdown early in the contest, but Palmer unsuccessfully targeted a double-covered Larry Fitzgerald near the goal line instead.
There could be more to this story we're not hearing right now. Keep an open ear in the coming days for reasons why Floyd is struggling.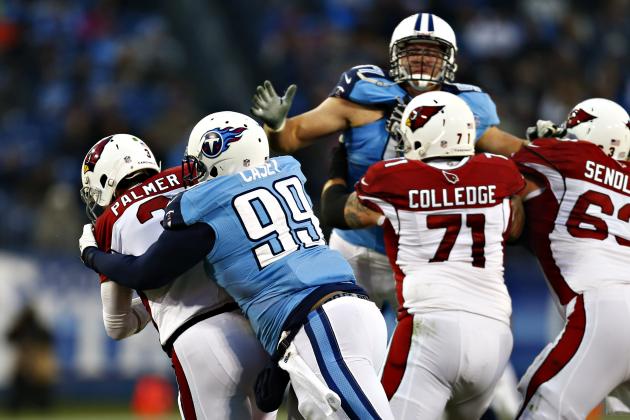 Wesley Hitt/Getty Images

I pointed it out in my weekly "3 keys" column over at Revenge of the Birds. I mentioned it in the live blog before kickoff on Sunday. And it happened just as I expected: Titans defensive tackle Jurrell Casey destroyed Cardinals right guard Paul Fanaika all day.
Casey exploded for nine tackles, 1.5 sacks, two tackles for loss and two quarterback hits—most of that work came against Fanaika.
The tackles, Bradley Sowell and Eric Winston, were handled by defensive ends Wimbley and Derrick Morgan. Though neither defender recorded a sack of Palmer, both were regular members of the Cardinals backfield. With how quickly they beat their respective enemy at times, they may as well have just lined up next to Palmer before each snap.
Tennessee did not send a blitz very often, but pressure got to Palmer in a hurry on more than a few occasions.
It's a step back for an offensive line that had played very well of late. Despite allowing just two sacks, the unit as a whole did not perform well on Sunday. With a date in Seattle coming up next, that must be worked out in a hurry; otherwise, Palmer is going to have a very bad day against the Seahawks.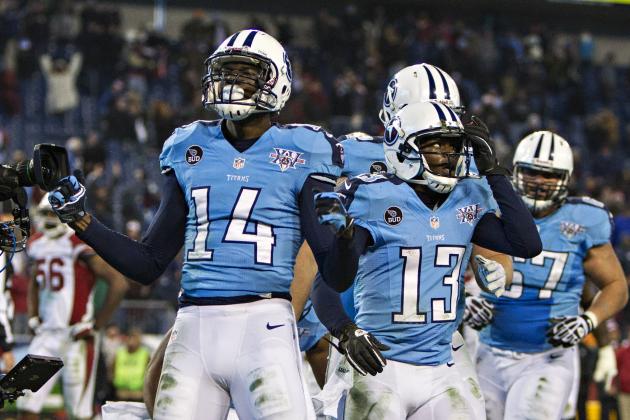 Wesley Hitt/Getty Images

Boy, does the loss of rookie defensive back Tyrann Mathieu hurt. Who would have guessed before he was drafted that losing him to a knee injury would nearly cripple a defense?
No one, that's who.
Everything he does has an impact on the game. From hurrying a quarterback's throw on a blitz to perfectly covering the crossing receiver and taking away the QB's dump-off option to blowing up screen passes, Mathieu may turn out to be the most important piece to the Cardinals defense.
Cornerback Jerraud Powers has assumed the role Mathieu left void as the team's nickel corner, and the drop-off in talent is obvious (no offense to Powers).
But Powers in the slot is not the only way the loss of Mathieu hurts the secondary. Yes, Antoine Cason picked off two Fitzpatrick passes on Sunday—including one in overtime that helped set up the game-winning field goal. But Cason was not good in coverage most of the afternoon.
He was beaten repeatedly by receivers Nate Washington and Michael Preston, including on a touchdown pass from Fitzpatrick to Preston just minutes after what should have been a game-clinching pick-six.
Bowles suddenly has a lot of work to do to fix the secondary, and it doesn't look promising.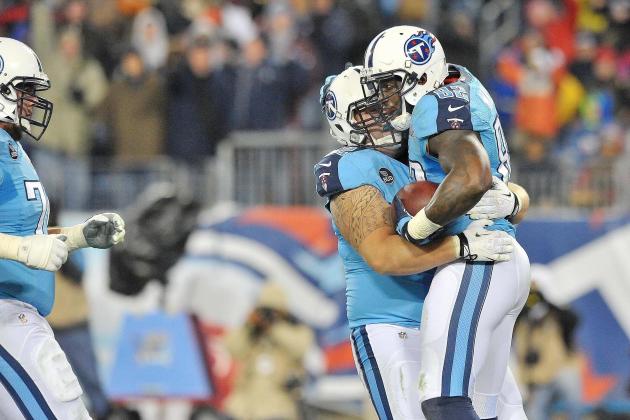 Jim Brown-USA TODAY Sports

Part of being one of the best defenses in the NFL is being a disciplined unit that doesn't shoot themselves in the foot at key moments of the game. Arizona's defense had not done that this season until recently, when in Philadelphia they cost themselves one last chance at a comeback.
Then, on Tennessee's first drive of the second half, the penalty bug bit them again. They were called for four penalties on that drive alone, ultimately leading to a go-ahead touchdown pass from Fitzpatrick to tight end Delanie Walker.
In all, the Cardinals defense was called for seven penalties. Six resulted in a first down for Tennessee.
How legitimate some of the calls were remains to be determined, as it appeared at times the referees were calling penalties simply to make the game interesting. Head coach Bruce Arians sent in 15 plays from the Eagles game to be reviewed; there will be more than a few this week for sure.
The Cardinals are fortunate the questionable calls did not impact the outcome of the game.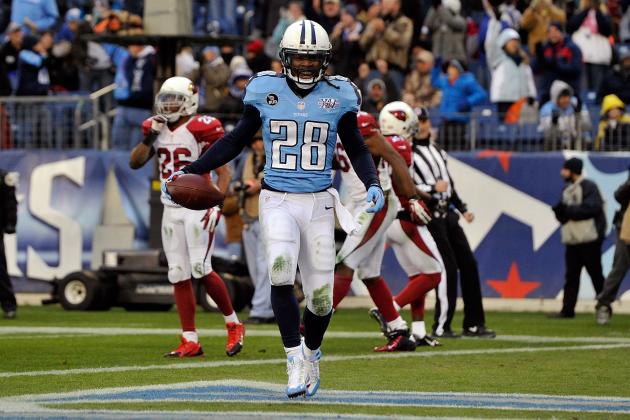 Frederick Breedon/Getty Images

There were times throughout the game that Tennessee's offensive line opened gaping holes for Chris Johnson to run through, but for the most part, the Pro Bowler was ineffective.
Johnson carried 13 times for 40 yards (3.1 YPC) with a long of 15. He also had three receptions for 51 yards (17.0 YPC) and a 25-yard touchdown.
But Johnson is an all-or-nothing type of back. He had seven carries of two yards or fewer, including five that gained zero or negative yards.
The Cardinals did a great job not allowing him to beat them for a big gain despite it looking at times as though one was right around the corner.
Arizona came in ranked No. 3 in the NFL, allowing 3.6 yards per carry this season. At 19 carries for 66 yards (3.5 YPC), that average will drop ever so slightly.
Jim Brown-USA TODAY Sports

Fans can be tough on NFL kickers at times. After kicking brilliantly all season, Jay Feely struggled last week against the St. Louis Rams, missing two field goals.
But on Sunday at chilly LP Field in Nashville, Tenn., Feely was back to his brilliant ways. He connected on all three of his field-goal attempts, including the game-winning 41-yarder in overtime. His 13 points scored were the second most of the season for him, behind only his 16-point performance against the Indianapolis Colts.
Feely has made 25-of-29 kicks (86.2 percent) this season after his perfect Week 15 showing and now has 110 points. Depending on what other kickers did this week, he could be vaulted way up the rankings. He entered play Sunday 18th with 97 points.
*****
All stats provided by Pro-Football-Reference.com