Bears vs. Browns: Full Roster Report Card Grades for Cleveland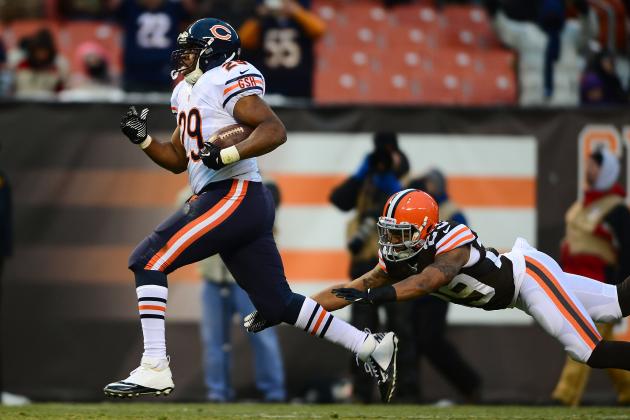 Andrew Weber-USA TODAY Sports

The Cleveland Browns currently have a bunch of streaks going in the wrong direction. After their 38-31 loss to the Chicago Bears Sunday, their third straight game in which they blew a fourth-quarter lead, they have now lost five straight games
They have also lost eight of their past nine games dating back to when they were 3-2 and playing some of the best football in the AFC North.
The season has been an up-and-down roller coaster for many of the players on the roster. At this point, guys are playing for pride and to put good plays on film. That's about it.
It's time to hand out the grades for this week's loss, and one major positive is that guys are not mailing it in. There is still maximum effort across the board. Unfortunately, that effort does not always translate into productivity.
As always, weekly grades are handed out based on how much a player impacted the game, if he won his individual battle, whether he was a positive contributor and if he could have performed better.
Let's see how they did.
Begin Slideshow

»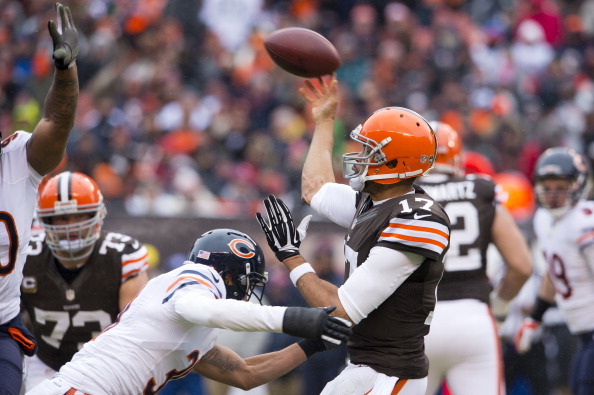 Jason Miller/Getty Images

Jason Campbell: D+
Jason Campbell followed up his best game of the season with one of his worst. This is the paradox that is Mr. Campbell.
He was 23-of-39 for 273 yards with one touchdown and two interceptions. His lone touchdown and 81 of his passing yards came on a garbage-time drive with the Bears in a prevent defense.
He seems rattled by pressure that wasn't necessarily there all day. The protection wasn't perfect, but he was also not sacked at all.
Previous position grades: D+, C+, C+, A, B, D+, F, A, A, D, D, F, A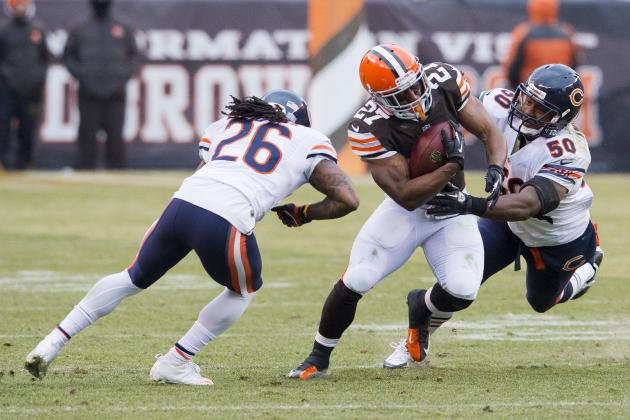 Jason Miller/Getty Images

Chris Ogbonnaya, Edwin Baker, Marqueis Gray and Fozzy Whittaker: B
It is not the running backs fault that offensive coordinator Norv Turner refused to run the ball despite having success on the ground.
Newcomer Edwin Baker carried the ball eight times for 38 yards and looked like he had a burst that the Browns have lacked all season.
Marqueis Gray also ran twice for 30 yards, which included an 18-yard Wildcat rush.
Previous position grades: C-, C-, D+, B-, B+, B+, D, C-, D, C-, D-, F, D-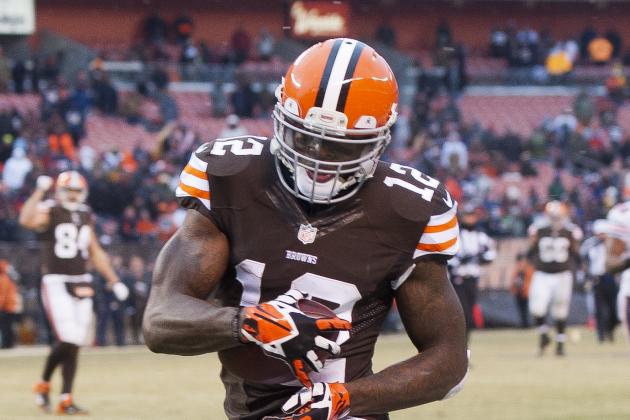 Jason Miller/Getty Images

Josh Gordon, Davone Bess and Greg Little: C-
Paging Josh Gordon, paging Josh Gordon. Where did the record-breaking wide receiver go on Sunday?
He finished with three catches for 67 yards and a touchdown, but most of that came on a 43-yard touchdown bomb during a meaningless drive against prevent defense.
He also seemed to give a half-hearted effort on passes across the middle of the field.
Greg Little actually had a pretty good game, catching four passes for 68 yards.
Previous position grades: D, D, A-, B+, A-, C+, D, C, B+, C-, C+, F, A+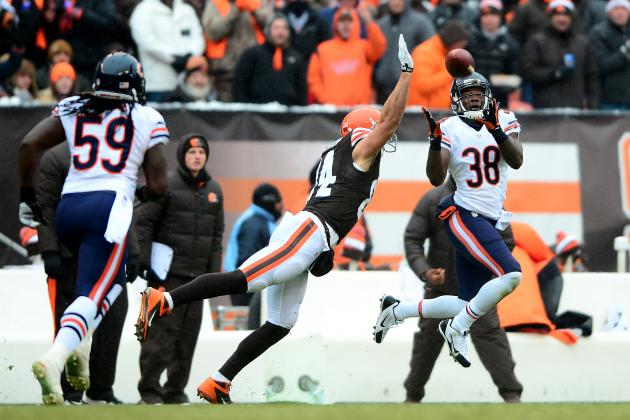 Andrew Weber-USA TODAY Sports

Jordan Cameron and Gary Barnidge: D+
Jordan Cameron was also missing in action on Sunday against the Bears. He finished with three catches for 23 yards.
That would be bad enough, but two of his catches for 17 yards came on the Browns' final irrelevant drive. With Gordon struggling, Campbell desperately needed another option.
Gary Barnidge pitched in one catch for 17 yards.
Previous position grades: A-, A-, A, A, C+, B, B+, B+, B, C-, D-, F, A+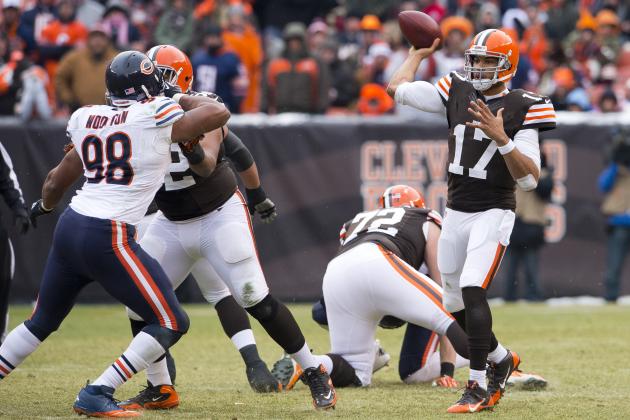 Jason Miller/Getty Images

Joe Thomas, John Greco, Alex Mack, Shawn Lauvao and Mitchell Schwartz: B+
This was another solid effort by the offensive line. Chicago came into the game ranked 30th in the NFL in sacks with just 26.
They were able to create a little pressure and move Campbell around the pocket but never actually got him to the ground. Anytime you shut out your opponent in the sack category, it's a good day.
The offensive line also did a good job in run blocking. Obviously, Chicago is terrible at stopping the run so the Browns should have done a good job, but it's still better than they usually perform.
Previous position grades: F, D+, D+, C+, C-, A-, B, A+, A, D, D+, F, B+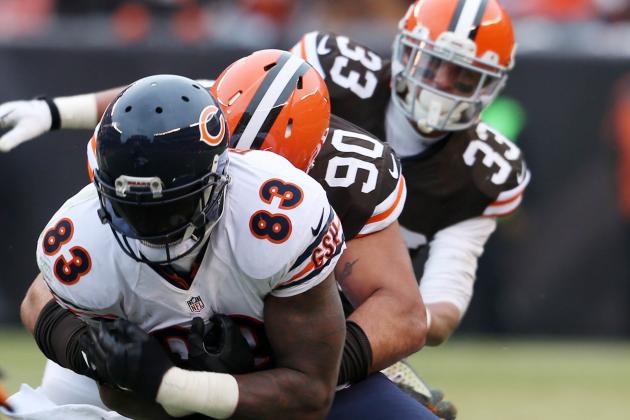 Ron Schwane-USA TODAY Sports

Phil Taylor, Ahtyba Rubin, John Hughes, Desmond Bryant, Armonty Bryant and Billy Winn: C+
The defensive line played very well for most of the game but collapsed down the stretch. For three quarters, the line was able to penetrate the pocket and stop the run game in its tracks.
The entire fourth quarter was a different story. It was like Chicago flipped a switch and all of a sudden the defensive line couldn't stop anything.
The defensive line accounted for two tackles for loss and three quarterback hits.
Previous position grades: A+, B-, B-, A-, C+, C+, C+, B+, A, C+, D-, F, B-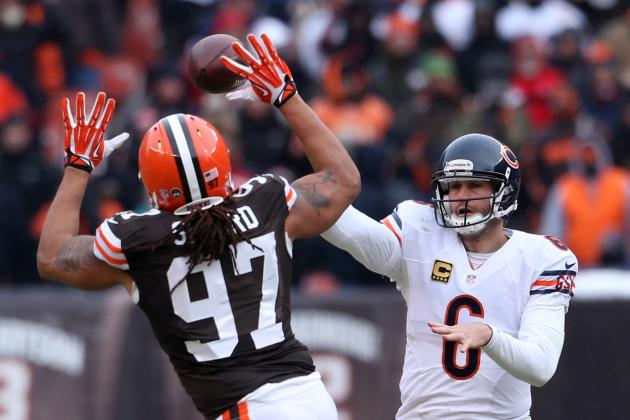 Ron Schwane-USA TODAY Sports

Paul Kruger, Jabaal Sheard and Barkevious Mingo: B
This unit played pretty well for the second straight week. It was able to create quite a bit of pressure from the outside.
Jabaal Sheard got home, sacked Jay Cutler and added a tackle for loss. Barkevious Mingo had three tackles and a tackle for loss as well.
Paul Kruger pitched in a deflected pass and quarterback hit to the mix. It's good to see this unit producing again.
Previous position grades: A-, A-, B, B-, C, C+, C+, B+, B, C-, D-, F, A+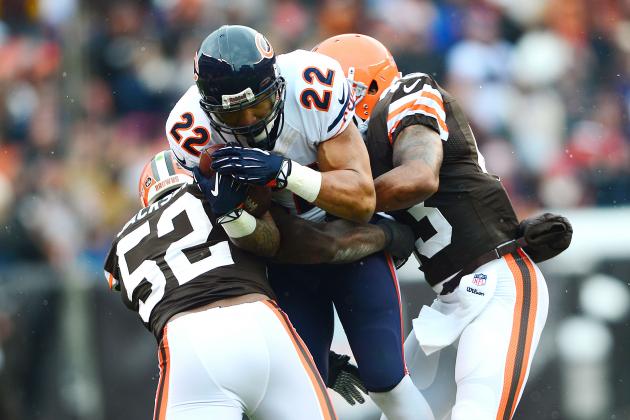 Andrew Weber-USA TODAY Sports

Craig Robertson and D'Qwell Jackson: D
Through the first three quarters Cutler could not find his rhythm through the air. The only place he had any success was over the center of the field against D'Qwell Jackson and Craig Robertson.
This unit was also gashed on the ground in the fourth quarter. Jackson was fairly solid on Sunday, but once again Robertson was one of the weak links in the defense.
Previous position grades: B, A-, B-, C+, C-, D-, D-, D, A+, B+, B-, C-, F, C-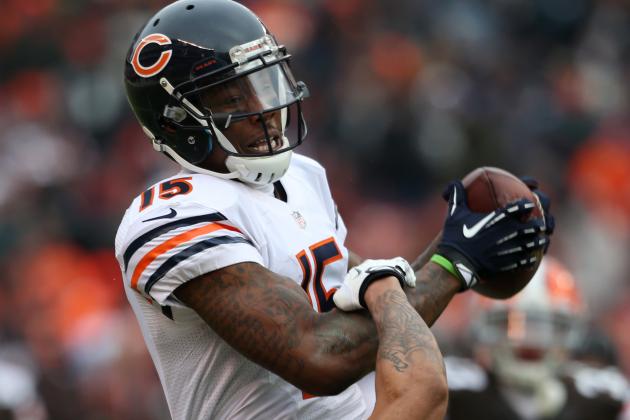 Ron Schwane-USA TODAY Sports

Buster Skrine, Leon McFadden, Jordan Poyer and Joe Haden: C-
It's tough to grade this group because the game completely changed when Joe Haden went down with a hip injury. Before he left, they were frustrating Cutler.
Brandon Marshall abused Haden on the final drive of the first half, however. He let up a 41-yard jump ball, which set up a five-yard touchdown pass.
Both plays were to Marshall and both plays were against Haden. It was the first touchdown that Haden allowed to a Pro Bowl wide receiver this season.
Previous position grades: C-, C, A, A, A, B-, D+, B, C+, A+, D+, F, C+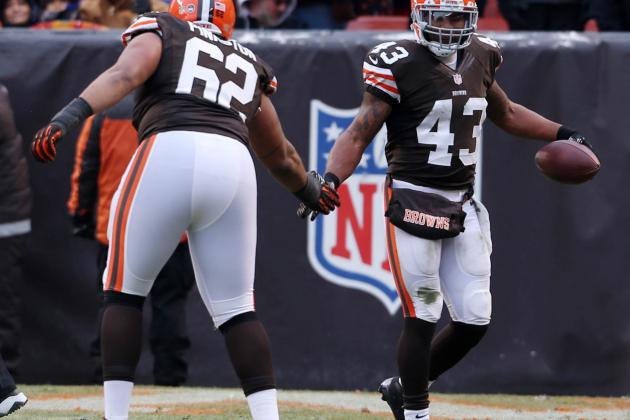 Ron Schwane-USA TODAY Sports

Tashaun Gipson and T.J. Ward: A-
T.J. Ward had himself one heck of a football game. He finished with nine tackles, one tackle for loss, one pass defended and returned a fumble for a touchdown.
This was one of Ward's best games as a pro.
Tashaun Gipson had a solid game except for the 45-yard touchdown pass to wide receiver Alshon Jeffery where he and Jordan Poyer completely misplayed the ball.
Previous position grades: C+, B, B-, C+, A, B+, B, B-, B, C, C+, F, C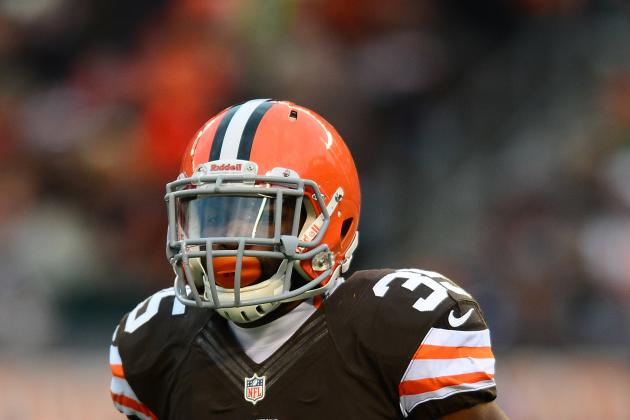 Andrew Weber-USA TODAY Sports

Billy Cundiff, Spencer Lanning, Fozzy Whittaker and coverage units: C
The special teams were not much of a factor on Sunday. Kicker Billy Cundiff hit his only field-goal attempt from 35 yards.
Fozzy Whittaker had a very pedestrian day returning kicks with his longest return being 23 yards. Devin Hester was able to break two decent returns for Chicago, but that's what he does.
Punter Spencer Lanning continued his strong season by landing two punts inside the 20-yard line and booming one 50 yards from inside his own end zone.
Previous position grades: C+, C+, A+, D+, A+, B-, B, C, B, D+, C, F, F