Packers vs. Cowboys: Takeaways from Dallas' 37-36 Loss to Green Bay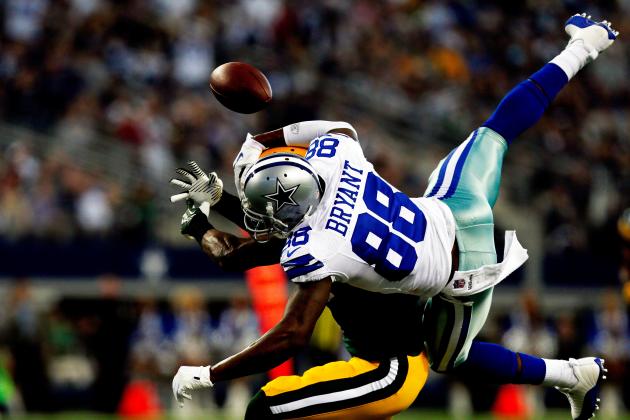 Tom Pennington/Getty Images

The Dallas Cowboys led 26-3 at halftime and still found a way to lose to the Green Bay Packers, 37-36.
Just when the Cowboys faithful started to believe their defense wasn't atrocious and the offense can live up to its potential, the team collapsed.
DeMarco Murray and Dez Bryant both had more than 100 yards in the game. Miles Austin was even getting involved in the offense. That didn't stop the Cowboys from ignoring Murray late in the game and stalling much of the second half.
Monte Kiffin's defense bumbled away a 23-point lead. The Cowboys' best-case scenario for a winning record at the end of the regular season is now 9-7.
Here are eight takeaways from Dallas' most recent letdown.
All statistics were retrieved from NFL.com unless otherwise noted.
Begin Slideshow

»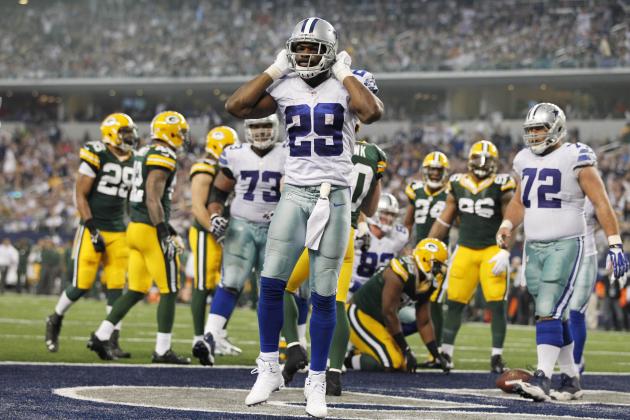 Tim Heitman-USA TODAY Sports

Murray was putting together quite the day on offense in the first half. He went into the tunnel at halftime with 93 yards on the ground and one of Dallas' two touchdowns.
Unfortunately for Murray, Dallas offensive coordinator Bill Callahan forgot about him in the second half. Murray had just seven touches in the final two quarters, finishing with 134 yards on 18 carries.
As Pro Football Writers of America member Andrew Garda points out rather emphatically, Murray also finished the game averaging 7.4 yards per carry:
Murray had a freaking 7.4 yards per carry average. SEVEN TIMES they ran it.

— Andrew Garda (@Andrew_Garda) December 16, 2013
Even when the game was four minutes away from being over and the Cowboys offense was on the field, Callahan insisted on passing plays.
When a team has the lead in the closing minutes, it's almost a no-brainer it will try to run the clock out. These 'Boys apparently don't believe in that philosophy.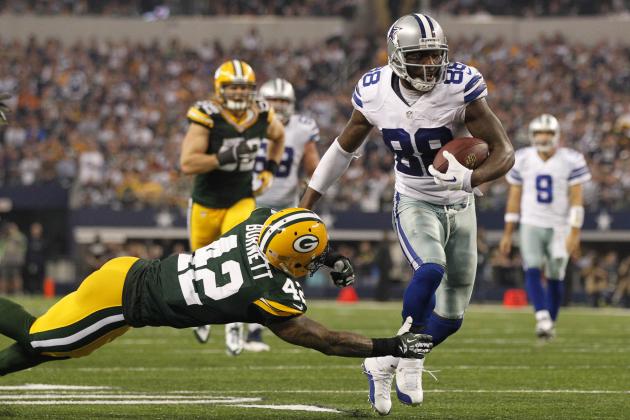 Tim Heitman-USA TODAY Sports

Bryant received 17 targets and caught 11 of them on the day. It's safe to say that quarterback Tony Romo wanted to make sure his No. 1 receiver was involved Sunday.
Bryant came up with a huge touchdown reception in the second half for his team and more than a few other crucial catches. He finished the day with 153 yards and the aforementioned touchdown.
He did leave the game a bit early, as Bleacher Report's own Ian Kenyon noted, but hey, who can blame the guy:
Dez Bryant leaves the field with 1:21 left https://t.co/m4SiqQAyIX

— Ian Kenyon (@IanKenyonNFL) December 16, 2013
If Callahan is going to insist on throwing the football 48 times a game, he best make sure No. 88 is getting a fair share of catches.
Keeping Bryant involved Sunday was one of the main reasons Dallas was able to hold onto its lead for much of the contest.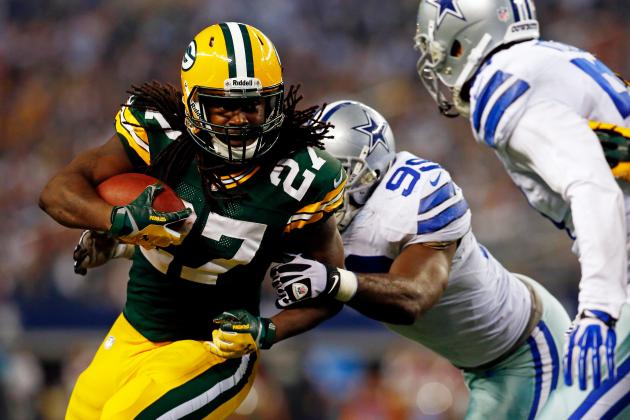 Tom Pennington/Getty Images

The Cowboys defense was getting pressure on Matt Flynn, containing Eddie Lacy and even caused a turnover during the first half.
If NFL games were only 30 minutes long, this would have been the best showing by Dallas' defense all year. NFL games are actually still 60 minutes long still, though, and Kiffin's defense reverted to its old self after halftime.
The defense gave up one of the biggest comebacks in Packers franchise history.
Flynn threw for four touchdowns and 299 yards. Lacy became the latest running back to hit up the Dallas D for more than 100 yards, finishing with 141 yards and the game-winning touchdown.
This defense is still on pace to be one of, if not the worst in NFL history, and Week 15 showcased why.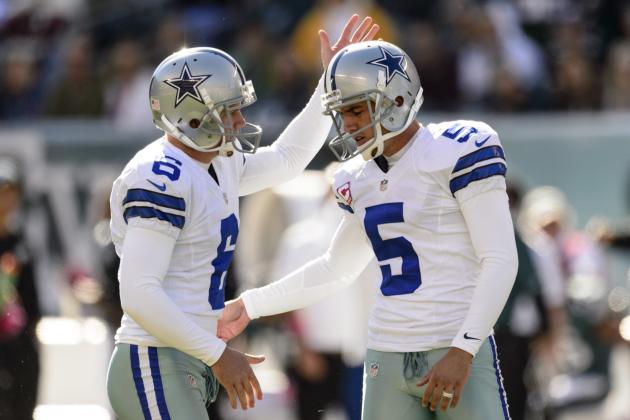 Howard Smith-USA TODAY Sports

He may be the kicker, but give some credit to Cowboys kicker Dan Bailey. He hit five field goals on the day. Whenever the offense stalled in Green Bay territory, Bailey answered the call.
He hit a game-long 50-yard field goal at one point and converted on all three of his extra-point attempts.
The Cowboys would have had way more problems than they already had in this contest if Bailey missed even one of his field-goal attempts. Dallas is lucky to have a kicker who has quickly become one of the league's most reliable.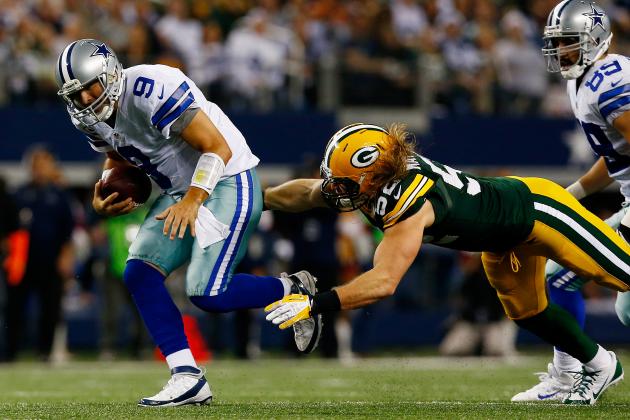 Tom Pennington/Getty Images

Despite leading for almost the entire contest, the Cowboys finished their Week 15 bout with just two third-down conversions. They failed on seven other attempts.
Ever since the New Orleans Saints loss when they didn't convert on any third-down attempt, this team has been flat-out inefficient on the game's most crucial down.
Ironically enough, both of the Cowboys' conversions against Green Bay came in the fourth quarter when they played pretty terrible.
It's hard to win a football game in the NFL when the team can't convert on third down. Head coach Jason Garrett learned that the hard way in Week 15.
If the Cowboys can't figure out how to fix this problem, their season is effectively over.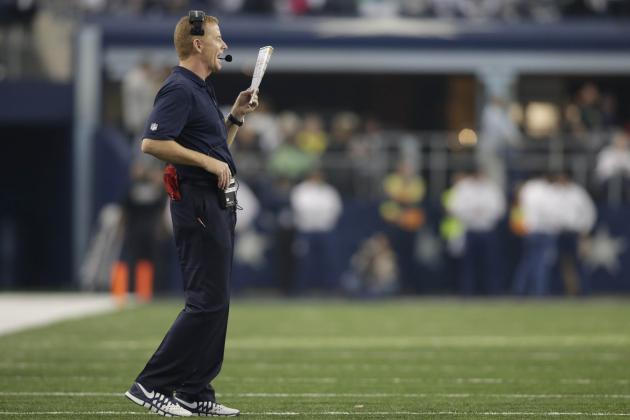 Tim Heitman-USA TODAY Sports

With four minutes left in the game, the Cowboys offense was leading the game and threw three straight passing plays to start one of its drives.
Throughout the final minutes of the game, the Dallas coaching staff refused to let Murray run out the clock on offense.
Defensively, Garrett admitted in the postseason press conference that the unit let Lacy score the game-winning touchdown, per Clarence Hill Jr. of the Fort Worth Star-Telegram:
Jason Garrett said they let the packers score at the end. My bad I thought they let them score the entire second half.

— Clarence Hill (@clarencehilljr) December 16, 2013
There were more than a few head-scratching calls made by Dallas in the second half that ultimately cost the team the game.
The Cowboys have had trouble committing to Murray and stopping opposing offenses all season. Those are the two biggest reasons they left AT&T Stadium with a loss on Dec. 15.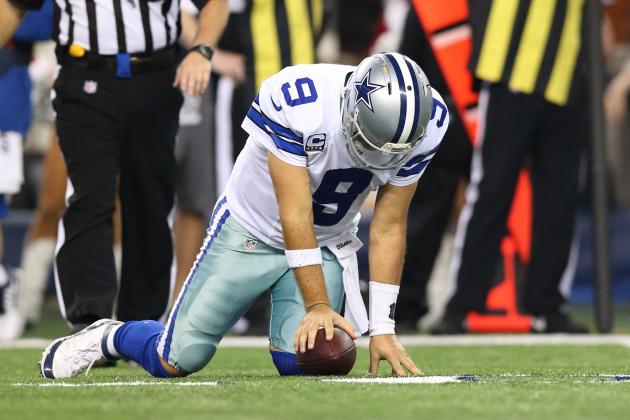 Matthew Emmons-USA TODAY Sports

Romo was not the sole reason Dallas lost to Green Bay, but he hurt his team more than a few times.
Yes, he threw two devastating interceptions. Those picks ended up allowing the Pack to score and run out the clock, respectively.
Looking past the turnovers, though, he constantly over or underthrew Bryant, Austin and other receivers. Romo just didn't look himself in Week 15.
Albeit, Dallas' No. 9 still threw for 358 yards and two touchdowns, but the point is he should have had more in both categories. If he had hit the mark on some throws where Bryant was wide open, the Cowboys wouldn't have settled for field goals on five occasions.
With a few more trips to the end zone in the first half, perhaps the Cowboys would have had too big a lead to give away in the second. Romo prevented some of those touchdowns with some bad throws.
Again, this loss is not strictly his fault like some other media members might say throughout this coming week. Romo certainly played a big part in this loss for his team, but he's not alone when placing the blame for this one.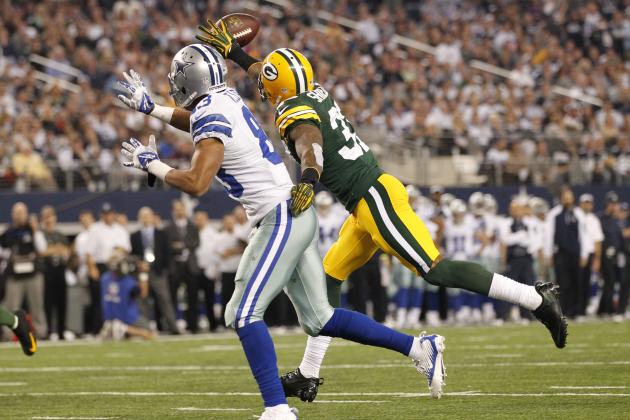 Tim Heitman-USA TODAY Sports

After the Vikings upset Philadelphia, all the Cowboys had to do was knock off a Packers team without Aaron Rodgers at home. They couldn't take care of business and are now sill a game behind the Eagles in the NFC East.
Through bad play-calling, issues on defense and offensive miscues, the Cowboys found a way to blow a 23-point lead in just two quarters. In other words, this team couldn't get out of its own way after a picture-perfect start.
Dallas' playoff chances are bleak as of now, but it can't afford another debacle against a down-and-out Washington squad in Week 16.
Alex Hall is a Dallas Cowboys Featured Columnist for Bleacher Report. Follow him on Twitter @AlexKHall.