Denver Broncos: Why the Sky Is Not Falling in Denver
Use your ← → (arrow) keys to browse more stories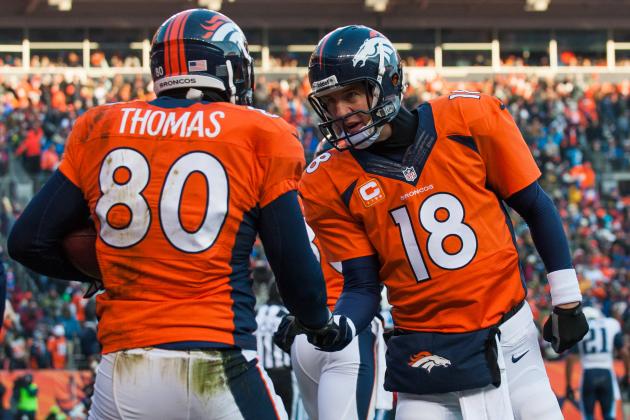 Dustin Bradford/Getty Images

A home loss to the San Diego Chargers is not something any team wants.
Unfortunately for the Denver Broncos, they ended up falling short against San Diego. They were supposed to crush the Chargers on Thursday Night Football, but they lost by seven. It was apparent that the previously 11-2 Broncos we're accustomed to seeing didn't show up to play Thursday.
Ryan Mathews gashed the run defense, Kayvon Webster was burned for 90 yards and a touchdown, and Peyton Manning threw a critical interception. The Broncos also had many costly penalties, essentially beating themselves.
If this Broncos team shows up in the playoffs, the season will end early. However, despite the display the Broncos showed on Thursday, the season isn't over.
First of all, four of the last six Super Bowl champions lost in Week 15. Week 15 performance isn't an indicator of playoff success, even if it may seem that way.
Many of those champions had faulty defenses, and the Broncos fit that description. However, right now, the defense is missing Kevin Vickerson, Rahim Moore, Derek Wolfe and Champ Bailey. Vickerson won't come back, but the others will. Moore can return from injured reserve in the divisional round of the playoffs, and Wolfe and Bailey could be back next week against Houston.
In addition, Wesley Woodyard will see more time. Woodyard hasn't started lately because of his neck, which has hampered him. His play has been atrocious, and even though his leadership helps the team, his play has been poor.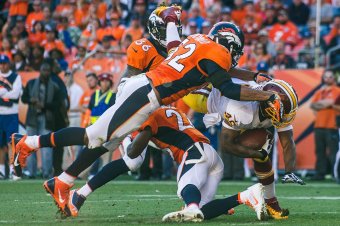 Dustin Bradford/Getty Images
However, when healthy, Woodyard is amazing. He was the only player in the entire league with 100 tackles, three interceptions and five sacks last year. In the playoffs, we will see that Woodyard. With his athleticism, he should be able to head the dominant run defense that's tied for seventh in opponent yards per carry (3.9 yards).
As for the secondary, Moore's return will make all the difference. He is a great, durable player, and his prowess against the run has been missed. Bailey hasn't been great in his limited action, but he also hasn't been too bad. Look for him to at least be an upgrade over Webster in play and leadership.
Bailey only gave up one touchdown last year, and while his foot won't be completely healthy, he should be at least able to play well and limit opponents' second-best receivers. That would stabilize the secondary and help the defense limit points.
The defense is still not exactly what it was last year, but it can be solid and can force turnovers. It will definitely be better than it was against the Chargers in the postseason, as Moore, Woodyard, Wolfe and Bailey are huge difference-makers.
It may seem like these are excuses, but in reality, it's evident the Broncos defense will play much better with these players. The Broncos finished second in total defense last year, and not much has changed in terms of personnel.
Can the Broncos offense keep putting up points in the playoffs?
There have been personnel changes on offense too, and they've been critical. Sure, the offense scored just 20 points on Thursday, but field position and time of possession worked against them. Manning and the run game struggled, but that doesn't mean the offense has lost its touch.
Wes Welker was out on Thursday, and while Andre Caldwell stepped up with two touchdowns, no one else did. Demaryius Thomas, Julius Thomas and Eric Decker were quiet, and the run game did absolutely nothing.
The result was, as expected, poor.
However, this isn't an indicator of future performance. The Broncos were stopped in their tracks by a more prepared team, one with its season on the line. San Diego had a sense of urgency, and Denver didn't.
But in the playoffs, that urgency will be there. The Broncos won't come in cocky and unprepared like they did last year, which served against them. This team has dealt with the Mount Everest of adversity, and it knows how to overcome it. With keen focus in the playoffs, the Broncos won't be easy to stop.
That's partly because of the weak AFC. New England is banged up and is missing Rob Gronkowski, who could have definitely beaten up on the Broncos. Cincinnati has the erratic Andy Dalton at quarterback, Indianapolis hasn't been the same since Reggie Wayne went down, and the Broncos swept the Kansas City Chiefs.
Oh, and unless Denver is stunned by the Houston Texans or Oakland Raiders, it will have home-field advantage. So, it's not as if the road to the Super Bowl will be too hard.
Is the sky falling in Denver?
Manning can carry the Broncos far, and he can trust his supporting cast to make plays. This offense is still on pace to break ample records, and the defense has many players doing well. All it needs is better health.
The Broncos slipped up mightily Thursday, but it might end up being for the best. The team is now focused and isn't overconfident, and it's ready to prove what it can do in the playoffs. It has the talent in all aspects. It just needs some players to play better and come back from injury strong.
And if that happens, the Broncos could end up being the last team standing when it's all said and done.