Of the men who didn't strap on wrestling boots, no one in WWE engaged, entertained and impacted others like Paul Heyman did in 2013.
Heyman transformed a Superstar's career and played key roles in some of the year's best feuds and matches, all while using facial expressions that made us laugh, feel and believe. Heyman has won the Best Non-Wrestler award from Wrestling Observer four times.
He deserves a fifth for a stellar 2013.
WWE's best offerings throughout the year have Heyman's name all over them. Summer Rae added depth to Fandango's character. Ricardo Rodriguez was at the center of Alberto Del Rio's highest level of wickedness. John "Bradshaw" Layfield was hilarious.
None of those folks were as irreplaceable as Heyman, though.
Combining the attention-grabbing skills of a carnival barker, the ability to irk that a weasel lawyer possesses and some of the best mic work in the company, Heyman maximized his time like no one else. The list of memorable moments he was a part of is long. The list of highly rated matches he was a part of is unparalleled.
Highly Rated 2013 Matches with Paul Heyman as Manager

| | | |
| --- | --- | --- |
| Superstars | Event | Wrestling Observer Rating Out of 5 |
| CM Punk vs. The Rock | Royal Rumble | 4 |
| CM Punk vs. The Rock | Elimination Chamber | 3.5 |
| CM Punk vs. The Undertaker | WrestleMania 29 | 4.5 |
| Brock Lesnar vs. Triple H | Extreme Rules | 4 |
| CM Punk vs. Chris Jericho | Payback | 4.5 |
| Brock Lesnar vs. CM Punk | SummerSlam | 4.5 |
Wrestling Observer via ProFightDB.com
He wasn't just the manager for these bouts but their emotional lightning rod. That was especially true for his two matches at WrestleMania 29.
Double Duty at WrestleMania
Heyman filled the holes in Brock Lesnar's feud with Triple H. With Lesnar only booked for limited dates, Heyman served as his client's mouthpiece and the recipient of Triple H's rage in his absence.
To get to Lesnar, Triple H had to first get through his manager's tricks. Heyman instructed Triple H to sign the contract for a WrestleMania bout, not knowing the stipulation.
Contract signing between Lesnar and Triple H
He later revealed that it would be a No Holds Barred match with Triple H's career on the line.
Not only did Heyman nail the dastardliness required of this role, but his banter before Triple H attacked him was highly entertaining. He added to Lesnar's character, as he has for so many years, playing the whiny, conniving puppet master who manages to control the beast.
When Lesnar and Triple H finally clashed at WrestleMania, Heyman stood at ringside, sneering, gasping and widening his eyes in shock. He was like a soundtrack to a movie, adding emotional depth to the action on screen.
The same night, he stood in CM Punk's corner for his client's attempt to break Undertaker's undefeated streak at WrestleMania.
Leading up to that feud, both Punk and Heyman disrespected Undertaker's mentor and former manager, the late Paul Bearer. Whether cackling at Punk's side or dressing up as Bearer, he elevated Punk's wickedness.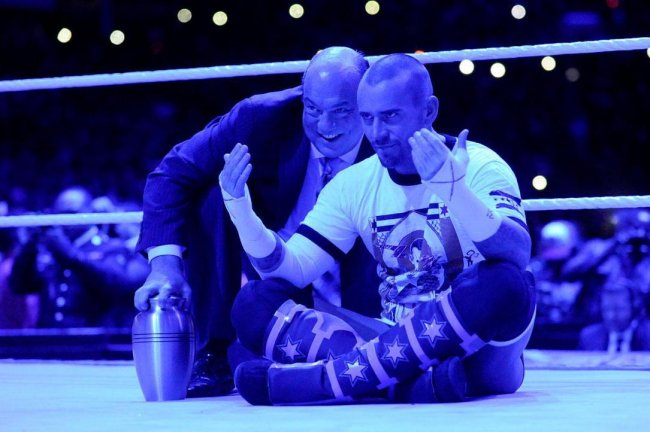 WWE.com
During the match, Heyman grinned as he held the urn they had stolen from Undertaker.
In addition to helping Punk cheat, he echoed the emotions in the ring. When Punk seemed near victory, excitement bubbled on his face. When Undertaker hit Punk with the final Tombstone, Heyman sank in disappointment.
Punk's failure in that match led to client and advocate colliding, a rivalry that in its early months was among the most compelling stories on WWE programming.
I Fathered You
The Heyman-Punk feud pitted mic master versus mic master. Each man ensnared the audience's attention with their insults and threats.
After betraying Punk at Money in the Bank, Heyman told his former best friend that he didn't exist. Here, he was a pouting child hiding in a villain's body. The story went beyond the typical animosity between wrestlers; this was disturbingly personal.
Heyman and Punk face off after Money in the Bank.
Heyman served as the distraction in the SummerSlam clash between Punk and Lesnar.
Even with a beastly opponent opposite him, Punk could only think of revenge against the man who turned on him. The match is memorable because of all its intensity and brutality, but it was ultimately WWE's version of a Greek tragedy.
Heyman was Punk's downfall, the temptation that led to his undoing.
Going after his former manager left Punk open for a final attack from Lesnar. This contest was the best in-ring portion of the rivalry, but the most emotional non-match element was still to come.
Punk won the right to face Heyman on Aug. 26, having defeated Curtis Axel. The two heels managed to overwhelm the hero, Axel holding him up so that Heyman could crack a kendo stick across his chest.
The beating was moving enough, but Heyman's strange words turned this moment into theater.
He cried "I loved you!" and "You broke my heart!" as he whipped Punk red. The scene rivaled Bray Wyatt in its ability to chill the audience.
Heyman was able to churn up pity for Punk, a man who had just a few months earlier made fun of a dead man and covered himself in ashes from an urn. That's a major accomplishment on its own.
His touch extended beyond being Punk's devilish partner and Lesnar's spokesperson. Another Superstar found himself pulled from the shadows of obscurity because of him.
Curtis Axel
It doesn't matter if Axel ever becomes world champ; Heyman's presence elevated him.
Before Heyman, Axel was Michael McGillicutty, a wrestler rarely on TV and mostly forgotten by the crowd. The manager attached his name to the third-generation Superstar on May 20 and changed everything.
Heyman introduces Axel as his new client.
He sold Axel to the audience from that first segment onward.
Heyman talked of Axel's greatness with such conviction that it was hard to dismiss. That led to opportunities Axel wouldn't have had without him.
Axel went from riding the bench to wrestling Triple H, Punk and Chris Jericho. He won his first singles title under Heyman's tutelage and pulled double duty at Night of Champions.
Before Heyman, Axel wasn't getting a single match on pay-per-view, much less two.
Even if Axel never reaches any rungs higher than those he clung to under Heyman, the shift in his airtime, position with the company and quality of opponents is a testament to the influence of "The Voice of the Voice of the Voiceless."
Moments and Images
The memories of 2013 are filled with Heyman's despicable behavior and unforgettable faces.
No one made a match feel more important. When his guy was in the ring, Heyman's mannerisms elevated the significance of victory and defeat.
Plus, it was pure fun watching him go nuts outside the ropes.
Whether he was shouting instructions to Lesnar or smirking at Punk hurting a foe, Heyman was entertaining to the point of distraction.
Add to that his many great performances in interviews, and the distance between Heyman and whoever one ranks as the second most-valuable non-wrestler widens.
When Renee Young asked him about Hell in a Cell, Heyman delivered insanity of the rewatchable variety.
Heyman goes nuts talking about Hell in a Cell.
Before he introduced Axel as a Heyman guy in May, he said something about that moment that relates to his entire year. He told the audience that they were about to witness a moment that they should record, one that would be looked on years later.
That was true again and again when Heyman was involved, without delivering a single bodyslam or leaping from the top rope once. 2013 was another year of his excellence on display, as he made the area just outside the ropes his personal stage.