So much for the NBA's silly season waiting until Dec. 15. With the Sacramento Kings and Toronto Raptors kicking off proceedings last week, we're about to enter one of the greatest states of in-season flux in recent memory.
The Houston Rockets will continue that player movement by trading Omer Asik sometime within the next week. General manager Daryl Morey has set an internal deadline of Dec. 19, at which point the disgruntled seven-footer will no longer be a Rocket. The chief reason Morey set that date is because players involved in any Asik deal could theoretically be flipped again at the NBA trade deadline.
If you're following: A general manager is trying to make a trade by a certain artificial date, so he could then be eligible to make more deals in a couple of months.
Welcome to the NBA as defined by chaos. There is an arms race in the Western Conference to finish in one of the top eight seeds, and out East teams seem to be throwing themselves under the bus to get into the lottery. There are numerous buyers and numerous sellers; only a select few neutral teams exist.
For those of us who get paid to analyze these things, that means a lot of nonsense is upcoming. False rumors will outnumber the ones with veracity tenfold. Every team will be pushing some sort of agenda, so taking a look at the mill and sifting through what makes sense and what is utter poppycock is critical.
With that in mind, here's a quick breakdown of the latest rumors across the Association.
Lakers, Knicks Talking Swap?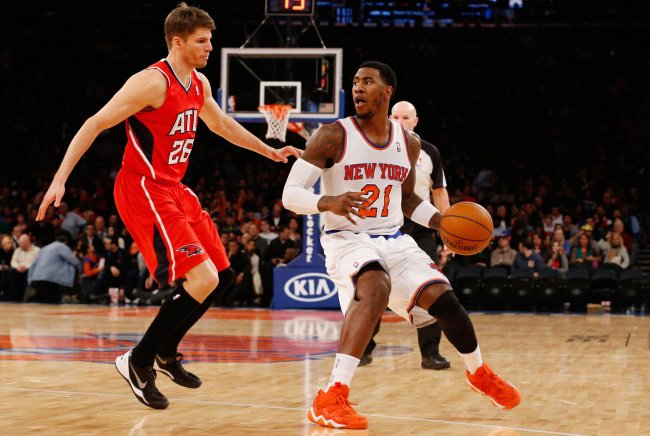 Anthony Gruppuso-USA TODAY Sport
Arguably the NBA's two most infamous franchises, the Lakers and the Knicks have a ton in common. They've both hamstrung their future to make short-term runs at championships that haven't paid off. They're both run by meddlesome owners who have slowly alienated the fanbase—though James Dolan is far more persona non grata in Manhattan than Jim Buss on Figueroa Street. And, despite both sitting under .500, the Lakers and Knicks are also making a concerted effort to make the playoffs.
Apparently, though, it seems the Lakers would like to start their push by poaching a couple of guys who currently call Madison Square Garden home. Sources close to the situation told ESPN's Chris Broussard that Los Angeles reached out to the Knicks to engage in discussions about guard Iman Shumpert and have been considering making a run at center Tyson Chandler.
The Shumpert discussions are going on leaguewide. New York has all but shaved "for sale" into the back of his (sadly cut) flat top. Shumpert is the Knicks' only young, tradeable asset on the roster—unless they want to start shipping away draft picks in 2018, 2019 or 2020. He is young, plays solid (though overrated) defense and is a better long-range shooter than his 32.8 percent clip for the season shows.
So, naturally, the Knicks would like to trade him for an asset that will help them win now. Adrian Wojnarowski of Yahoo! Sports noted that Toronto tried having Shumpert included in the dead-for-now Kyle Lowry talks, but Dolan understandably put the kibosh on that.
Of course, that makes one wonder what the Lakers could possibly offer to entice the Knicks. Lowry is a better player for what the Knicks are trying to do than anyone currently suiting up at Staples Center not named Kobe Bryant or Pau Gasol.
Wesley Johnson would give the Knicks a solid perimeter defender, but let us be reminded how dreadful he looked the last time he was in a non-Mike D'Antoni system. Xavier Henry would be a major step down. Nick Young is only feasible if you believe the Knicks are actively trying to kill their fans.
The Lakers just aren't a Shumpert match.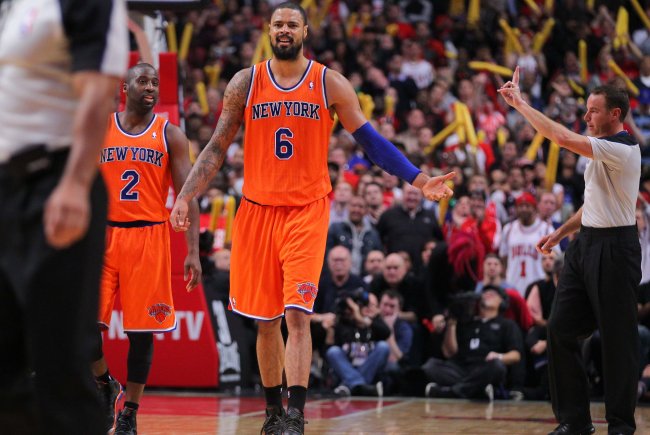 Dennis Wierzbicki-USA TODAY Spor
However, the possibility of a Chandler-Gasol swap could get both sides talking. Gasol has been miserable each of the past two seasons, but there's a school of thought that he'd return to All-Star form if D'Antoni would start using him the same way Phil Jackson did.
The person driving that bus happens to be Gasol, who told Bill Plaschke of the Los Angeles Times that he was being used incorrectly. The relationship between Gasol and D'Antoni has been the subject of speculation since the coach's arrival, and it sure doesn't sound like they're getting dinner anytime soon.
Again, the hesitation here would come from New York. In theory, the Lakers could sell Gasol's expiring contract, but it really doesn't matter. The Knicks are going to be over the cap heading into next offseason before even approaching Carmelo Anthony to re-sign; the one-year difference in contract length is totally irrelevant.
With a healthy Chandler largely being viewed as the only thing that holds together New York's tire fire or a defense, this also doesn't seem like a match. Sooo, thanks for nothing, rumor mill!
Suns Dangling Draft Picks, Hoping for Superstar Return?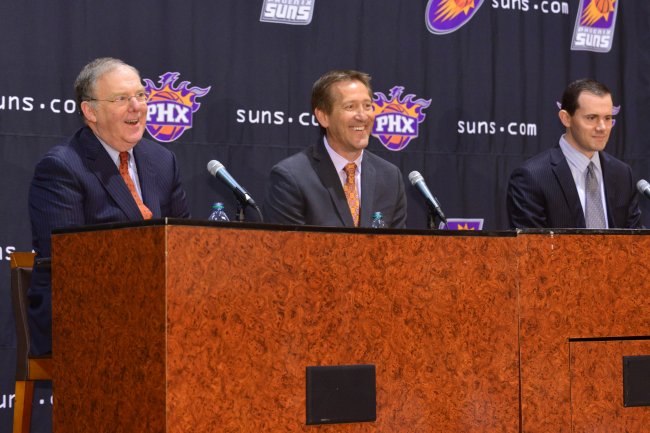 Barry Gossage/Getty Images
In October, one swashbuckling NBA writer pegged the Suns for 16 wins. It came after more than a month of research, statistical analysis and a seemingly clear look at the NBA landscape. Phoenix had just traded either its best or second-best player for a first-round pick and flotsam; this was a franchise on a one-way trip to Tanks Town.
Whoops. The Suns could wind up beating that number by Christmas. They're 13-9, and I'm starting to have fewer and fewer reasons to believe it's fool's gold. Phoenix is tied with the Clippers at 105.8 points per 100 possessions, and the team's defense is hanging right around the middle of the pack.
The offensive efficiency uptick comes in large part thanks to first-year coach Jeff Hornacek, who has the Suns playing right into their strengths. They rank fourth in corner three-pointers, rarely take the inefficient mid-range shot and have guys like Eric Bledsoe who can get to the rim.
Odds are Phoenix isn't going to make the playoffs this season; the West is just too tough. But there are plenty of reasons to be encouraged now and into the future.
In fact, the Suns are so encouraged by their own progress that they may be in the process of speeding up the win-now process. Scott Howard-Cooper of NBA.com reported Phoenix general manager Ryan McDonough has begun shopping draft picks in an effort to land an established star. Seemingly taking his cues from Houston general manager Daryl Morey, McDonough is hoping the war chest of assets he has is good enough to land his own version of James Harden.
The Suns could have as many four first-round picks in next year's draft, a class widely regarded as the best since at least 2003. Minnesota's pick only conveys if it falls outside the Top 13, and with Indiana being a playoff lock and Washington hanging around the picture, three of the Suns' four picks will likely fall outside the lottery.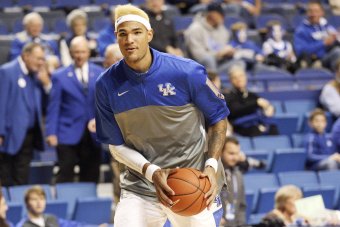 Mark Zerof-USA TODAY Sports
In this draft, though, that's just fine. Teams value those picks, and they'd likely be willing to part with some pretty good assets to acquire them.
Whether McDonough can land an established All-Star, however, is another question entirely. First, one has to come available. Second, the one who comes available has to make sense for Phoenix's roster construction—now and into the future.
Suns players average only 2.9 years of NBA experience, the second lowest in the league. Trading away the pick that could become Montrezl Harrell, Willie Cauley-Stein or some similar player a couple of picks beyond the lottery wouldn't make sense for some dude on the brink of 30.
I wouldn't necessarily hate Phoenix trading one or two of those choices. Four first-round picks is a lot of new blood. But if McDonough sacrifices the future for an ill-fated playoff push, well, then, that's just stupid.
Heat Considering Jordan Crawford?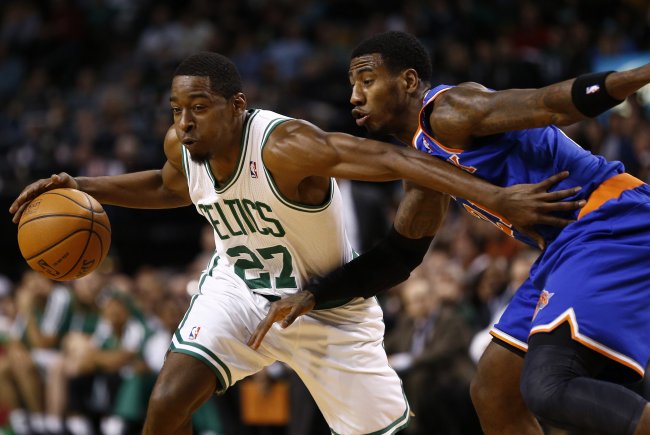 Mark L. Baer-USA TODAY Sports
I don't know Brad Stevens personally. From what I gather from folks who do, he's a smart, likable dude who is going to be a really, really good coach in this league. He's plugged in with the analytics movement and always exudes positivity in interviews, and players seem to gravitate in his direction.
I say this all because I am convinced he's a witch. There is no other possible explanation for the complete 180-degree turn he's pulled with Jordan Crawford's career. Before coming to Boston, Crawford was quite literally shooting himself out of the league. He didn't play a lick of defense, exuded personality traits that made enigma look like a compliment and shot like the X button was stuck on his controller.
Crawford was such a shameless gunner that you'd have to show folks DNA testing to prove he and Jamal Crawford weren't related. When the Celtics became Crawford's third team in as many seasons last year, it felt like the last rodeo.
Now, more than a quarter of the way into his fourth season, Crawford is 100 percent a usable rotation piece.
He's started at point guard for the injured Rajon Rondo and has played the best basketball of his career. Crawford's assist percentage is more than seven percent better than any other season, he's knocking down a very solid 37.5 percent of his three-pointers, and Boston scores nearly nine points more per 100 possessions with him on the floor.
Not everything is perfect. Crawford is still a pretty dreadful defender, and he'll still take plenty of shots that make you want to throw a shoe at his forehead. But he's usable, a very serviceable offensive guard who could help a contender.
Contender, you say? Hmm. Wonder if there are any contenders desperate for guard help who might want to engage the Celtics in trade talks. Well, luckily, there is. Mitch Lawrence of the New York Daily News dispatches the latest from the Miami Heat, who apparently have interest in bringing Crawford in as a third guard.
It's kind of an interesting match. Miami and Boston have such a history you wouldn't expect them be bedfellows in any deal, but Danny Ainge proved with the Kevin Garnett-Paul Pierce swap that he only cares about who gives him the best deal. Rondo will eventually be back at some point this season, at which point no one knows what becomes of Crawford in Stevens' rotation.

If the Celtics are going to trade him, it would behoove them to jettison Crawford sooner than later. But if Crawford keeps playing this way, Miami doesn't have enough assets to outbid anyone.
Follow Tyler Conway on Twitter: