At the beginning of the 2013-14 college basketball season, there was serious talk about Kentucky jumping from losing in the first round of the NIT to Robert Morris to winning the national title on the back of an incredible recruiting class.
John Calipari worked his magic on the trail again, and some even thought the Wildcats could finish with a 40-0 mark on the way to cutting down the nets. In hindsight, those projections look ridiculous and hyperbolic after North Carolina handed the young team its third loss in the early season.
The Tar Heels have performed admirably through the absence of P.J. Hairston, and Marcus Paige is emerging as a legitimate superstar. North Carolina has thrived in the exact type of marquee games that have given Kentucky problems thus far (the Tar Heels can already count victories over the Wildcats, Michigan State and Louisville to their resume).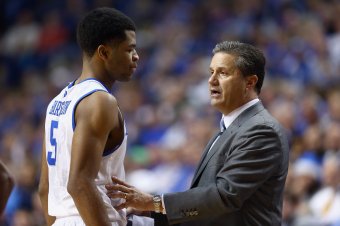 Andy Lyons/Getty Images
Calipari's squad has lost to the three opponents of note on the schedule (Michigan State, Baylor and North Carolina) and was almost stunned by Cleveland State in Lexington. It took a combination of timely whistles and a late run to escape complete embarrassment against the now 4-5 Vikings.
The good thing about college basketball as opposed to its football counterpart is that early-season losses don't cripple a team's national title hopes. The young Wildcats still have plenty of time to figure out their issues, but if they plan on playing deep into March, there are corrections to be made.
The Courier-Journal's Kyle Tucker provided some insight from Calipari after the loss, and it doesn't paint a pretty picture from the Wildcats' perspective:
Cal: "If you want to keep losing, keep acting that way. We're not a good team and players aren't looking real good."

— Kyle Tucker (@KyleTucker_CJ) December 15, 2013
Cal: "This is a team we're still trying to figure out. They took us out of stuff just by being physical."

— Kyle Tucker (@KyleTucker_CJ) December 15, 2013
The physicality may have been a concern against the Tar Heels, but in the long run, Kentucky's national title hopes likely won't be dashed by this facet of the game. Julius Randle, Willie Cauley-Stein, Dakari Johnson and Alex Poythress constitute a daunting frontline, and the Wildcats actually outrebounded Michigan State at the Champions Classic.
Kentucky won't face a team more physical than the Spartans all season, so if it was fine in that game, it's hard to imagine toughness being a long-term issue going forward. It ranks eighth in the country in rebounding, which is often the best tangible indicator of toughness on the stat sheet.
However, there are certainly some other concerns regarding Kentucky's long-term title hopes. CBS Sports' Jon Rothstein points out a couple of alarming trends in Lexington that reared their ugly heads against the Tar Heels:
Two alarming things continue to stand out for Kentucky: 1. No leader 2. No one on the floor makes anyone else any better

— Jon Rothstein (@JonRothstein) December 15, 2013
The fact that the Wildcats aren't making anyone around them better is evident in the assist numbers. Kentucky ranks an abysmal 207th in the nation in assists per game and has actually turned the ball over more times than it has assisted. That is not a winning formula at any level of basketball, let alone in games against North Carolina, Michigan State and Baylor.
Turnovers were crippling against the Heels and Spartans (17 in each game), and with so many freshmen, handling the ball could be a problem all season. In the one-and-done format of the NCAA tournament, one game with too many mistakes can spell doom.
Additionally, the loss to North Carolina was the first road game for the young Wildcats, and they appeared overwhelmed by the raucous atmosphere in Chapel Hill at times. That's not necessarily a criticism as much as it is an observation, considering senior-laden teams have been intimidated by North Carolina's crowd during marquee games, but a leader needs to emerge on this squad.
Will Kentucky make the Final Four?
The good news for the Wildcats is that the NCAA tournament is played entirely on neutral courts. In fact, the 2010-11 team lost at North Carolina, at Georgia, at Alabama, at Florida, at Mississippi, at Vanderbilt and at Arkansas and still went to the Final Four, so playing away from the friendly confines of Lexington isn't as much of a concern as the other factors if we are talking national title.
Ultimately, there is far too much talent on this Kentucky roster to disregard its national title hopes because of a few early-season losses. There are plenty of issues to correct, but these freshmen should gradually improve as the season wears on.
If not, Calipari will simply reload and try again next year with a new crop of 5-star studs.
Follow and interact with Bleacher Report writer Scott Polacek on Twitter @ScottPolacek.