Re-Ranking Top 10 MLB Free-Agent Pitchers Available Post-Winter Meetings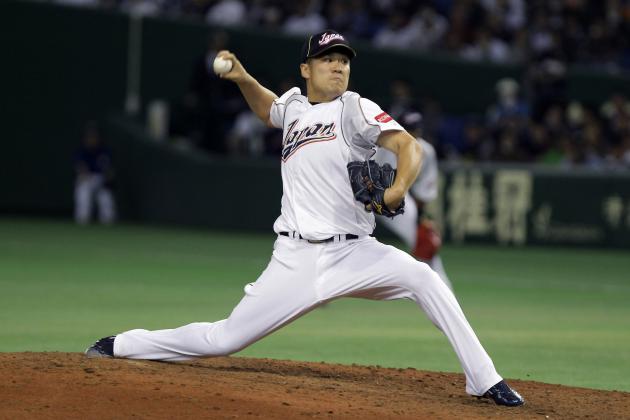 Chung Sung-Jun/Getty Images

The winter meetings, the unofficial midpoint of the offseason, have come and gone. While the markets for second- and third-tier pitching help have been quite active, the premium arms remain as available as they were on Nov. 1, with few reports of negotiations in between.
That's probably because many of the teams in the market for a pricey starter are waiting to make a bid on Japanese right-hander Masahiro Tanaka, whose posting was delayed by discussions between MLB and NPB about the system itself.
The sides have reportedly reached an agreement on a new system, which they were scheduled to ratify on Monday, according to Joel Sherman of the New York Post, meaning that Tanaka's posting may soon come to fruition.
That should have ramifications for the star pitchers at the top of this list, while the market for the guys at the back should remain warm now that many of the highly coveted second-tier guys have been snapped up.
Begin Slideshow

»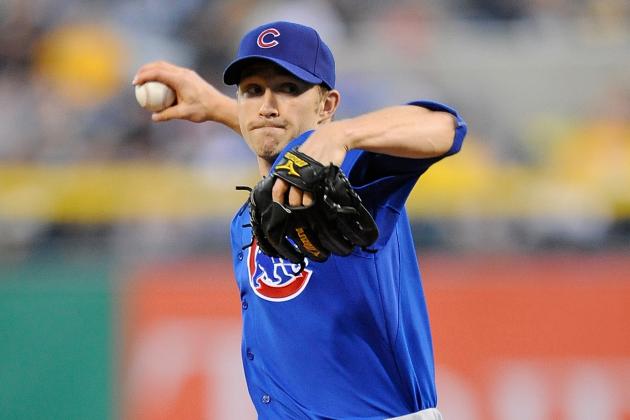 Joe Sargent/Getty Images

Never the flashiest pitcher out there, Scott Baker had nonetheless established himself as a solid No. 3 starter through several seasons with the Minnesota Twins before injuries set in. He missed almost all of the past two seasons after Tommy John surgery in 2012, though he made it back to the bigs in a late-season cameo with the Chicago Cubs last year.
The Cubs have had talks with Baker's agent about a return, Carrie Muskat of MLB.com recently reported. I think they seem like a good fit for each other, as the Cubs need another starter or two, and signing a stopgap type like Baker makes much more sense than investing heavily in a premium free agent, considering where they are in the rebuilding process.
We haven't seen the old Scott Baker since 2011, which doesn't bode well for his chances of regaining his old form, but he'll be two years removed from surgery by Opening Day, and at age 32, there's reason to believe he might have something left in the tank.
In any event, it won't cost much to sign him. He might even come on a minor league contract, which would end up being a huge bargain if he pitches well enough to make a big league roster.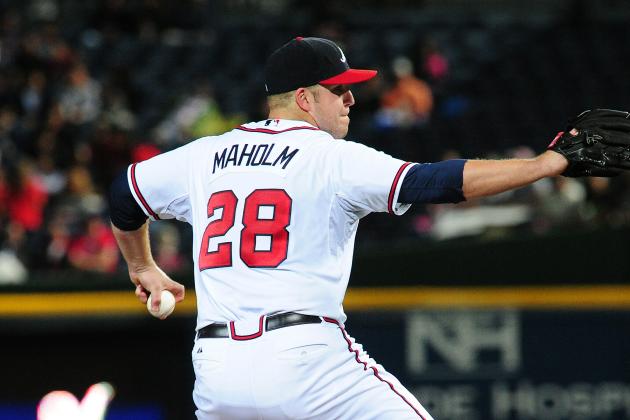 Scott Cunningham/Getty Images

Paul Maholm is not the kind of free agent fans clamor for, but he does a few things well enough that he can be of value to a team—albeit not to your fantasy team. The lefty doesn't miss many bats but keeps the ball on the ground and doesn't hurt himself with walks. He's also durable, having made no fewer than 26 starts since becoming a full-time major leaguer in 2006.
The market for Maholm seems to be shaping up slowly. With several premium starters and a handful of bargain types still out there, it stands to reason Maholm will have to wait for his turn. Last time he was a free agent, in 2011, Maholm settled for a one-year deal, and I'd be surprised if he got more than that now. The Cleveland Indians, Kansas City Royals, Cubs and Twins would make sense as potential landing spots.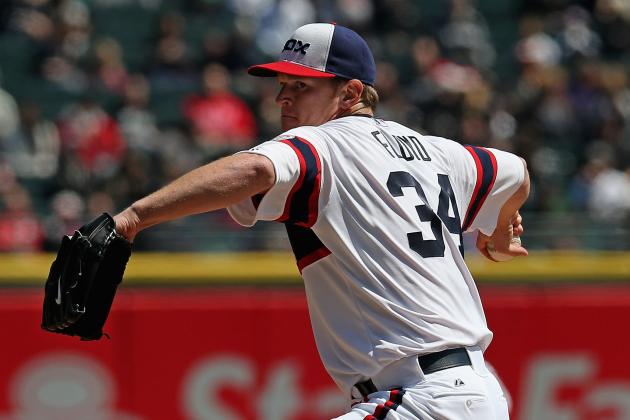 Jonathan Daniel/Getty Images

Like Baker, Gavin Floyd had established himself as a dependable No. 3-type starter in the AL Central before an injury put his future in doubt. Floyd's walk year was spoiled by an early-season elbow injury that ended in Tommy John surgery in May.
Interestingly, Floyd was reportedly closing in on a contract with the Atlanta Braves as of Saturday, according to David O'Brien of The Atlanta Journal Constitution. The right-hander won't even be a year removed from surgery by Opening Day, so my guess is the Braves are eyeing him as security in case of an injury elsewhere in their rotation, or perhaps as a potential midseason addition.
The Baltimore Orioles have also expressed interest in Floyd, as reported by Dan Connolly of The Baltimore Sun.
I'm guessing Floyd's deal is a one-year contract at a modest salary, which would allow the Braves to turn a nice profit if Floyd returns and is any good. It would also allow Floyd to re-establish his value before hitting the market again next year in search of a long-term deal.
Al Messerschmidt/Getty Images

As with many starting pitchers on this year's free-agent market, Jason Hammel would be a viable addition to just about any rotation when healthy, but he comes with injury concerns.
The right-hander was limited to 20 starts in 2012 and 23 starts last season, both with the Orioles. Hammel's track record isn't as alarming as Baker's, obviously, but it should give any suitor pause, especially since he had inflammation in his ulnar collateral ligament—the Tommy John ligament—in 2013.
The Pittsburgh Pirates, Cubs, Royals and Braves have expressed interest in Hammel, Jon Morosi of Fox Sports recently tweeted. And really, it would make sense that just about any team in search of modestly priced pitching help would look into him. The Colorado Rockies, Indians and Orioles also look like sensible fits.
The question is what kind of offers Hammel will receive, and what he wants. A one-year deal would minimize risk for the team and perhaps allow Hammel to re-establish his value if he can turn in another productive, healthy year. Multiple years would provide Hammel with more security, obviously, but it's hard to see him getting three years coming off two injury-truncated seasons.
Two years seems like a plausible compromise.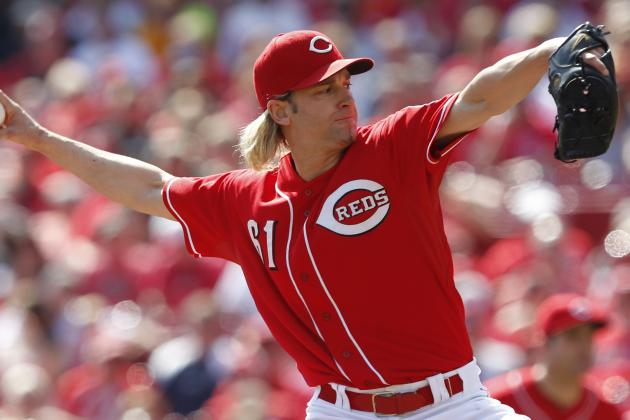 John Sommers II/Getty Images

The right-handed yin to Maholm's lefty yang, Bronson Arroyo is no one's idea of an ace, but he does one thing really well: Soak up innings. In the past 10 seasons, he's made no fewer than 29 starts, dipping below 30 only once, all the while pitching to a career 4.19 ERA. That's pretty much the definition of a No. 4 or 5 starter.
That's not to denigrate Arroyo, because there's value in what he does, and teams surely recognize that. If you consider that most teams have a revolving door at the No. 5 spot, 200 bulk innings of average production has its uses and can help keep the bullpen rested.
The Twins are strongly interested in Arroyo, Mike Berardino of the St. Paul Minnesota Press reported Saturday, while the Cincinnati Reds are also looking at re-signing him, Jon Heyman of CBS Sports tweeted. Arroyo could end up with a three-year, $36 million contract, Joel Sherman of the New York Post tweeted during the winter meetings.
That seems like a lot to me, but as we've seen throughout this slideshow, dependable starting pitching is not easy to come by.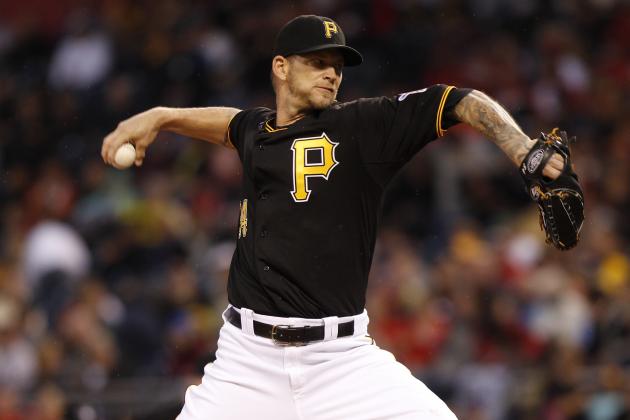 David Maxwell/Getty Images

Coming off a quietly great year in Pittsburgh, A.J. Burnett should be fielding sweet contract offers right now. But he said early in the offseason that he's mulling retirement and might only return if it's with the Pirates, clouding his future.
I don't doubt Burnett's intentions, but I do wonder whether he's really only considering the Pirates or retirement. Another team, the Orioles, could enter the mix, as the O's have said they want to talk to Burnett if he decides not to retire, according to Roch Kubatko of MASNsports.com. I'm sure the O's aren't the only team that would check in with Burnett if he wants to play in 2014.
Burnett will be 37 in January, and clearly his interest in continuing his career is in question, but coming off a successful stint in Pittsburgh, I would think he could land a two- and maybe even three-year deal if he wants it. It's just a matter of what he wants.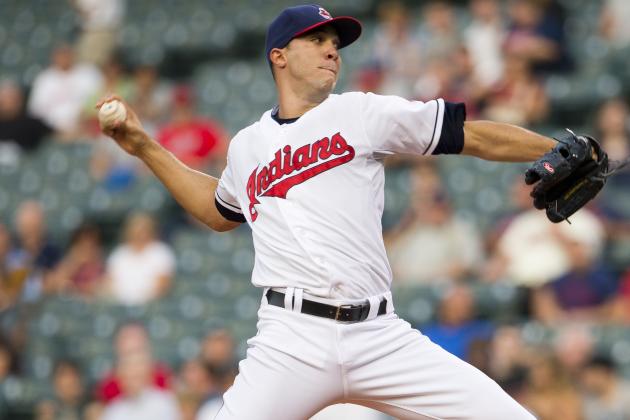 Jason Miller/Getty Images

The market for Ubaldo Jimenez—and Matt Garza and Ervin Santana—is developing slowly, as Buster Olney of ESPN.com (subscription required) wrote last month. Things have not picked up much for Jimenez since then.
As Olney explains, Jimenez, Garza and Santana may not get serious interest from teams until Tanaka is off the board, since Tanaka is in higher demand and teams will make a run at him before pivoting to any of the other three.
We knew this was a shaky class of free-agent starters at the outset of the offseason, and the limited interest in them so far indicates as much. Jimenez has a spotty track record and will cost the team that signs him not only a lot of money, but also a draft pick. It's a lot to give up for a guy whose career was at a crossroads early in 2013 before he put together a great second half.
The Indians have indicated that they'd like to bring back Jimenez, Jon Heyman of CBS Sports recently tweeted. I could see that, though I wonder if the Indians would only be in on Jimenez if his price drops due to a hollowed-out market. The Orioles seem to make some sense, too.
Ronald Martinez/Getty Images

The buzz around Matt Garza has picked up lately. Despite a big asking price, the lack of draft-pick compensation helps his market, Jerry Crasnick of ESPN.com reported.
Garza was linked to the Arizona Diamondbacks and Los Angeles Angels at the winters meetings, as Joel Sherman of the New York Post tweeted, and to the Twins, as La Velle E. Neal III of the Minneapolis Star Tribune reported.
Sherman's tweet includes a mention that many executives thought Garza would sign by the end of the week, although obviously nothing appears imminent now. I wonder if the signing of Mike Pelfrey takes the Twins out of the market for Garza.
I could still see the Diamondbacks making a play for Garza, and the New York Yankees and Orioles look like good fits, too. But again, it may come down to how the bidding plays out for Tanaka.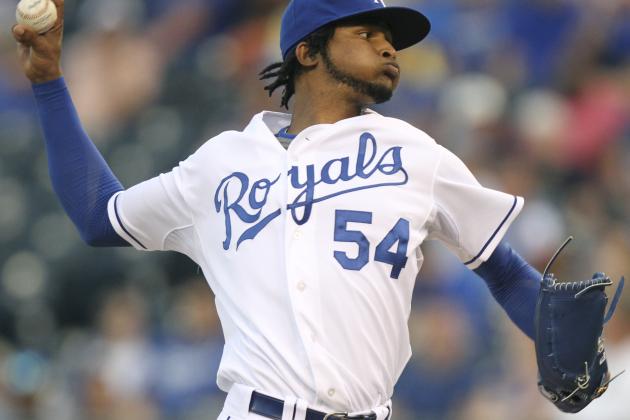 Ed Zurga/Getty Images

As the unofficial "best free-agent starting pitcher," Ervin Santana is perhaps most affected by the looming Tanaka situation. Santana restored his value with a great year in Kansas City in 2013, but it seems like he is still viewed as an inferior option to Tanaka.
How that will translate to the contract Santana eventually signs remains to be seen. I thought he'd get something comparable to the five-year, $75.5 million deal that C.J. Wilson signed with the Angels two offseasons ago. But I question now whether there will be enough teams that can go that high for him, especially considering he comes with draft-pick attachment.
The Detroit Tigers are in on Santana, Darren Wolfson of 1500 ESPN radio tweeted this week. I also wonder if the Los Angeles Dodgers will come to the table if they feel like they can't acquire David Price from the Tampa Bay Rays.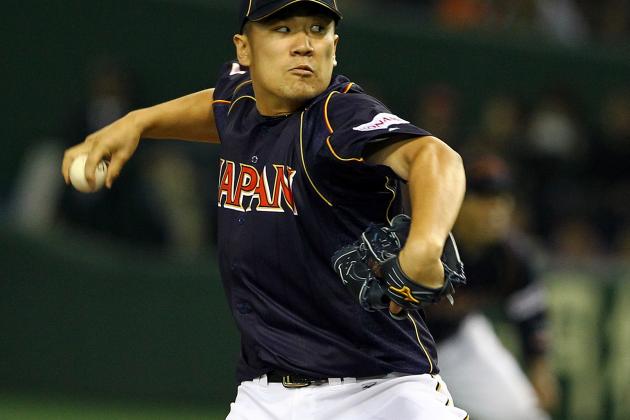 Koji Watanabe/Getty Images

I omitted Masahiro Tanaka from my initial free-agent pitcher rankings simply because there was no way for me to evaluate him or to gauge teams' interest in him at that point. I still can't speak to his performance as a player, but clearly he is a market-changer and, in some ways, perhaps this offseason's most important free agent at any position.
Who is in and who is not in on Tanaka remains unanswered. In fact, we probably won't know until he's posted.
Tanaka is the Diamondbacks' "top priority," Ken Rosenthal of Fox Sports recently tweeted. Rosenthal also reported last month that the Yankees are very interested in him. The Seattle Mariners may be in on Tanaka and the Dodgers are lukewarm on him, Bill Shaikin of the Los Angeles Times reported last month. The Texas Rangers are considering making the maximum posting bid of $20 million but are wary of other teams driving up the contract price, Jeff Wilson of the Fort Worth Star-Telegram tweeted this week.
Who else could get in on the action? The Boston Red Sox have a surplus of pitching, so I'm guessing they'll pass. The Angels might be interested, although their rotation is in much better shape after acquiring Hector Santiago and Tyler Skaggs from Arizona. Perhaps some of the rebuilding teams that have had big payrolls in the past—the Cubs, Houston Astros or New York Mets—will make a surprise run.
In any event, with the winter meetings in the rearview, there are still some big dominoes waiting to fall—and Tanaka's fate will determine how a lot of that plays out.