GIF: Was David Warner's Celebration Aimed Straight at Matt Prior?
December 15, 2013

Quinn Rooney/Getty Images
David Warner scored the fifth Test century of his career during the third Ashes Test between Australia and England at the WACA in Perth.
And as he celebrated, it looked suspiciously as if the show was all for England's Matt Prior.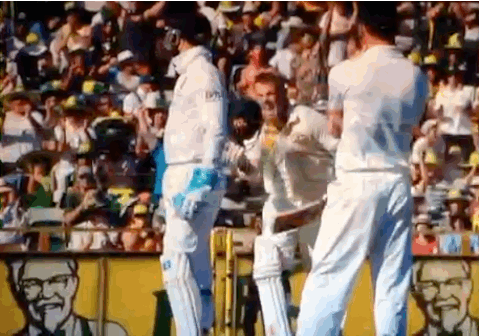 GIF
Warner charged down the pitch holding his batting helmet and roaring—and seemingly straight at Prior. It prompted English commentators Sir Ian Botham and David Lloyd to question whether Prior was actually the initial target of his celebration.
Ian Botham / David Lloyd had a go at David Warner for his celebration.. Really ??

— Dilip (@tifosiguy) December 15, 2013
Certainly afterwards Warner turned to the Australian dressing room and the crowd, who acknowledged what had been a fine innings, one that set up the hosts neatly to push for a victory that would see the urn return to Australia for the first time since 2006/7.
But as some pointed out on Twitter, revenge appears to be a big motivator of the Australian performance.
It seems like this #Ashes series is about the Aussies settling a grudge. So much passion to the point of anger. Warner's 100 celebration OTT

— Tom O'Malley (@tomomalley29) December 15, 2013
The pair had been seen exchanging words earlier in the innings during the television coverage, just one of several incidents between the two sets of players during a fractious series.
Of course, your view of Warner's celebration may just depend on what side you support. There were certainly Twitter users who enjoyed it:
Fantastic knock from Warner with a celebration to match...There is nothing better than sticking it up the Poms! #Ashes

— Jack Curnow (@J_Curn) December 15, 2013
Warner's century celebration is one of the best I have seen!

— Alagappan Vijaykumar (@IndianMourinho) December 15, 2013
The players were warned by match referee Jeff Crowe on the eve of the Adelaide Test over their on-field behaviour, and it remains to be seen whether Warner's conduct—particularly his exchange with Prior early in the innings—could be investigated further.