European welterweight champion Leonard Bundu stopped challenger Lee Purdy in the 12th round of a back-and-forth fight, to deny the Englishman's title challenge at the Excel Arena in London.
As per BBC Sport, Italy's Bundu knocked Purdy to the canvas in the final round with a powerful right-handed blow. The referee called the fight, and Bundu stretched his record to 32 fights unbeaten.
"Two of the judges had Bundu ahead while, remarkably, one had the fight even at the time of the stoppage," read the BBC report.
The 26-year-old Purdy landed a strong blow with his first punch of the night, startling the champion and making him rock on his feet. He continued to connect with body shots, but the BBC report tells of Bundu making his superior class tell.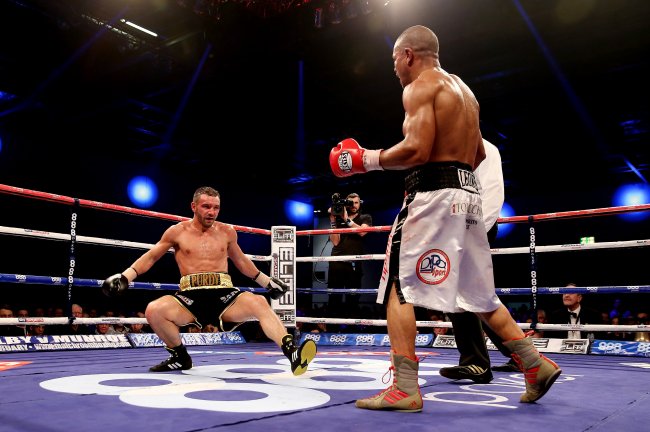 Scott Heavey/Getty Images
The 39-year-old Italian leaned on his experience and mixed up his tactics to constantly stay one step ahead of Purdy. Even when things looked to be slipping away from him, Bundu found a way to adjust his approach and take back the initiative.
"Bundu looked like he might be tiring in rounds six and seven but changed tactics in the eighth, moving around the ring and peppering Purdy with snappy combinations," read the BBC Sport report.
Sky Sports' Andy Norman, in his report, wrote of a "cracking fight" that eventually saw the brave Purdy outboxed by Bundu.
Said Bundu of his challenger, after emerging victorious:
He (Purdy) was a very tough, especially with those body shots. After a while I knew I shouldn't go near him, just like my coach told me. It was a good stoppage but he's a tough guy and will come again. He's younger and stronger than I was so I had to use my experience and outbox him.
Norman's account suggests Purdy grew frustrated as the fight drew on, as he attempted to land meaningful punches but was outthought and outfought by Bundu.
Eventually the champion found his opening. A right hook sent Purdy to the deck and ended his title challenge for the evening.