College Football Bowl Predictions: Picking All 35 Games Against the Spread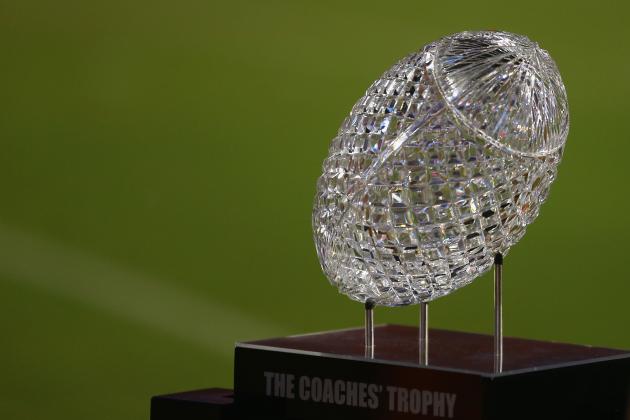 Streeter Lecka/Getty Images

The bowl season, as currently constructed, is 34 glorious exhibitions and one national championship. This will change slightly next year with the debut of semifinal matchups, but the exhibitions will remain intact.
You know who doesn't mind exhibition football in any capacity? Absolutely no one, hopefully. But degenerate gamblers especially don't mind having 35 more games to sink their teeth into.
The 2013 bowl slate has variety. While the early matchups won't have you fanning yourself on repeat, these are better games than people give them credit for. And even if you disagree, there are point spreads to make even the worst matchups interesting.
As for picking said games against the spread, let's celebrate the season accordingly.
Picks Against the Spread During the Regular Season: 134-120-2
Spreads courtesy of VegasInsider.com
Begin Slideshow

»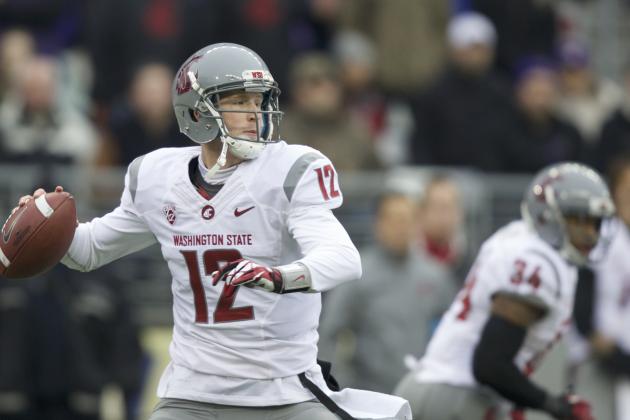 Stephen Brashear/Getty Images

Points. Do you like them? Regardless, you are getting them.
The bowl season kicks off with a fascinating matchup between two teams that outperformed expectations in 2013. Yes, I said fascinating, and don't let anyone tell you otherwise.
While the obvious lean will be toward the Pac-12 team, Colorado State was solid in the second half of the season. Washington State closed strong as well, covering in four of the past five games.
Neither of these teams will play much defense—the over/under is hovering just below 70—but the Rams have the more balanced offense. It will be the difference.
The Pick: Colorado State (+4)
Stephen Dunn/Getty Images

You wanted early bowl intrigue, and you got it here.
USC will be operating with yet another new coach, the last before Steve Sarkisian takes over sideline duties. While the Trojans struggled against UCLA in the finale, they also covered in four of the past six games.
Fresno State will provide a different kind of challenge to a solid USC defense, although the Bulldogs were not a great ATS team this season, despite its 11-1 record.
Look for the USC run game to dictate the tempo and the defensive line to cause havoc throughout.
The Pick: USC (-6)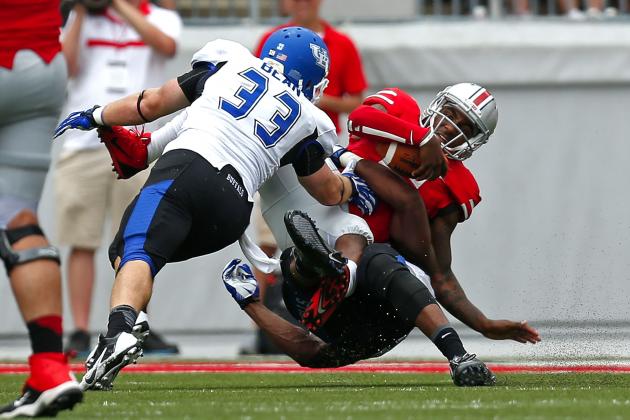 Kirk Irwin/Getty Images

The best-named bowl also has two evenly matched teams in 2013. Also, have you seen this bowl's mascot? It's both wonderful and horrifying.
Buffalo lost just two games after Sept. 14, and one came in the team's finale against surging Bowling Green. The Bulls finished an impressive 8-4 record against the spread in 2013 and won six consecutive games during the year.
Like Buffalo, San Diego State saw a brilliant stretch come undone in its final game against UNLV. Otherwise, it hung with (and beat) some very capable teams.
Just how good was the MAC this season? I believe we'll find out early on.
The Pick: Buffalo (-1)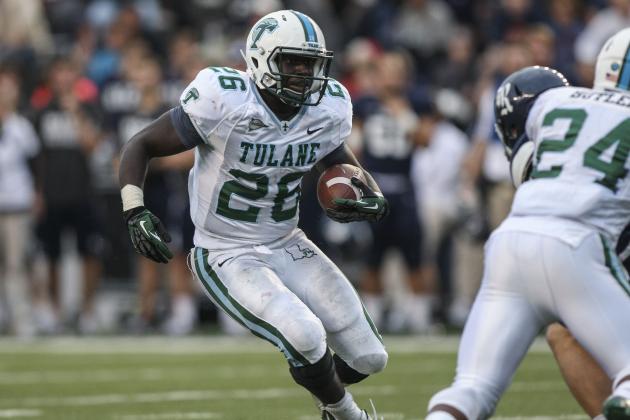 Troy Taormina-USA TODAY Sports

Although the overall record won't necessarily show it, Tulane was an absolute beast against the spread this season. The Green Wave was 9-3 against the number and lost just once with the spread after Sept. 21.
On the other side of the results spectrum, LA-Lafayette comes in having lost its last two games and didn't without cover after Oct. 22. The Ragin' Cajuns are also 1-4 in their last five games against Tulane.
Although Lafayette is a better offensive team, Tulane seems to be the better overall team for this matchup.
The Pick: Tulane (pick 'em)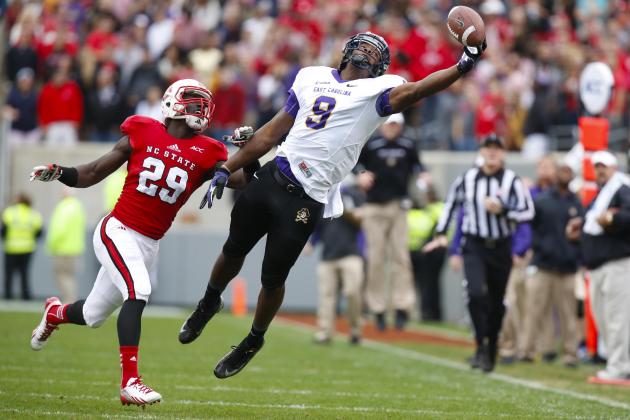 James Guillory-USA TODAY Sports

Not only does this bowl feature an "O" with two apostrophes around it, but it also has some amazing commercials.
Oh, and we also have a two-touchdown spread and a total in the lower 60s.
East Carolina quietly won nine games this seaosn, and it did so by averaging more than 40 points per game. Ohio, meanwhile, struggled near the end of the season, losing three out of its last give games. The 49-0 loss to Bowling Green certainly stands out, although the Falcons were a tough out at the end of the year
Because it's under two scores, I'm willing to lay the points. Watch this East Carolina offense go to work.
The Pick: East Carolina (-13.5)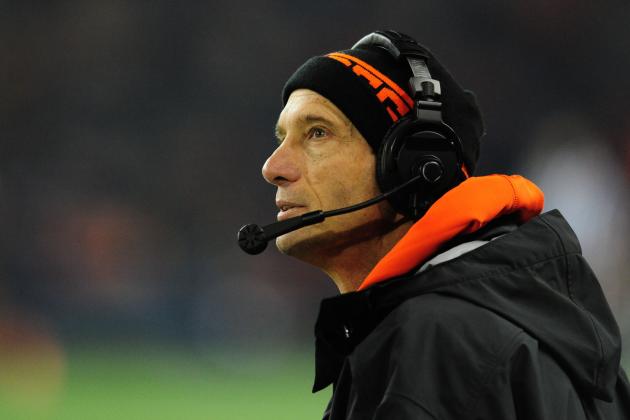 Steve Dykes/Getty Images

Of course you can bet on Christmas Eve. This game is here to help!
Boise State actually opened as a slight favorite in this game, although the money has been going away from the team that just lost its coach. The Broncos will operate with an interim coach after going 6-6 against the spread during the season.
Oregon State won six games in a row and then closed out the season by losing five consecutive matchups. As the competition improved, the results got worse.
One thing the Beavers can do, however, is pass the ball. And while Boise State still has offensive talent to stay competitive, the departure of the team's heart and soul is impossible to ignore.
The Pick: Oregon State (-2.5)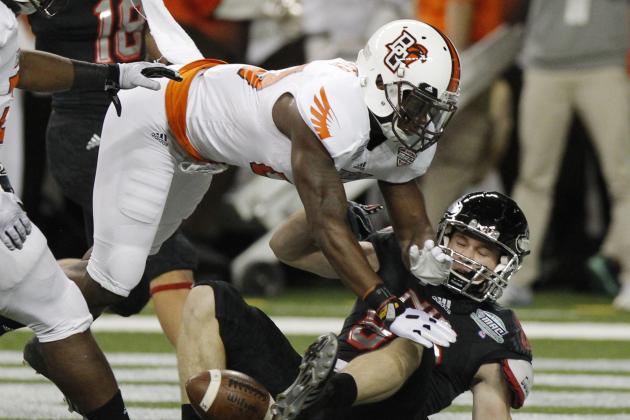 Duane Burleson/Getty Images

The last time we saw Bowling Green, it was dismantling Northern Illinois—the likely BCS buster at the time—and costing the MAC money in the process.
Ah, college football.
As a result, the Falcons enter as the favorite against Pitt in everyone's favorite pizza celebration.
Bowling Green covered the last five games and finished an impressive 10-3 record against the spread for the season.
Pitt hasn't had the same season, although this team is not without talent. Despite only covering four times this year, the Panthers have playmakers that can make this game interesting.
The Pick: Pitt (+5.5)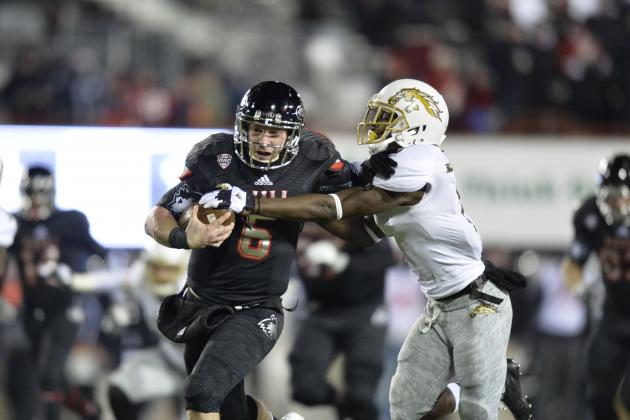 Brian Kersey/Getty Images

The official title of the bowl game was so long, it had to be shortened in the title. Somehow this feels incredibly important.
After covering five straight games, Northern Illinois lost its last two games against the spread and lost outright to Bowling Green in the MAC Championship.
Without quarterback Chuckie Keeton, Utah State has managed just fine. The Aggies covered in eight of 13 games and have a defense that should hold up well against Jordan Lynch in his final collegiate game.
Take the points. Well, points plus a lovely hook.
The Pick: Utah State (+1.5)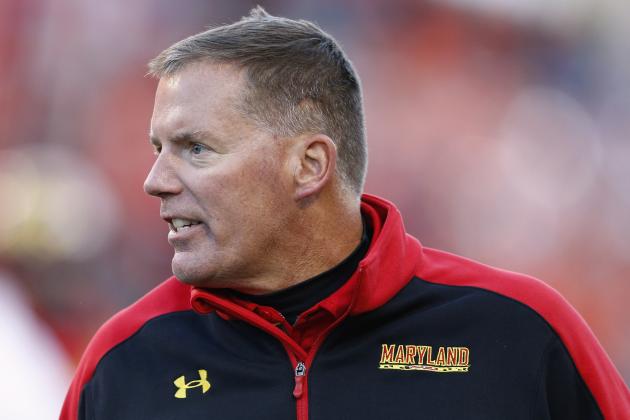 Joe Robbins/Getty Images

Maryland's season had no real rhythm to it. Blowout wins, ugly losses and an overall inconsistent second half. Yet, here it is with the possibility to end things on a high note against an offensive team that is rolling.
Marshall scored at least 45 points in six of its last seven games—covering the spread in four of those matchups—but it will be tested here.
Although Maryland has had its struggles and injuries, the Terrapins will provide a defensive hurdle that could cause the Thundering Herd problems.
Fear the turtle. Or at the very least, fear laying the points.
The Pick: Maryland (+2)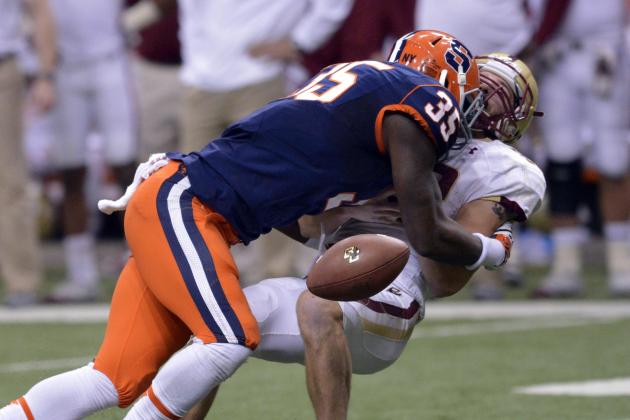 Mark Konezny-USA TODAY Sports

The Texas bowl features two fan bases that are No. 1 and No. 2 in the snow-shovel power rankings. This would be an excellent halftime show.
Minnesota is also near the top in the covering-the-spread rankings. The Gophers last lost against the spread was on Oct. 5, and they only lost against the spread just three times all year.
Syracuse wasn't Minnesota good, but the Orange's 7-4-1 record against the spread wasn't shabby. Minus that whole 56-3 loss to Florida State—and the Seminoles will do that to a lot of teams—Syracuse closed strong.
I believe that trend continues.
The Pick: Syracuse (+4.5)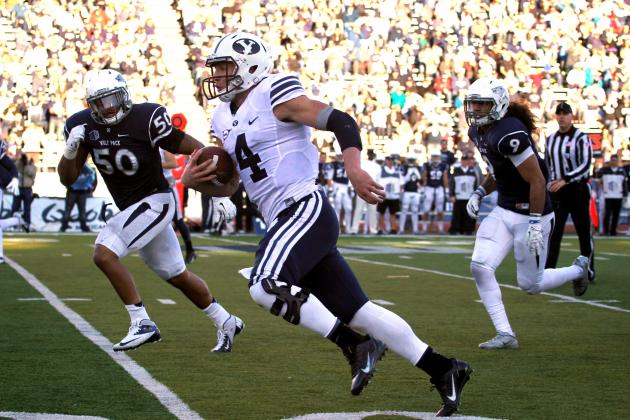 Lance Iversen/USA TODAY Sports

Maybe the bowl season's most underappreciated bowl, these two teams operate with similar styles. There will be tempo on offense, and both can play some defense as well.
Washington, of course, will be operating without its head coach. Steve Sarkisian is off to USC, which means the interim tag is in play.
BYU will look to seize momentum and hopefully throw an offense that is ripe with playmakers off its game.
Does this line feel a little light to anyone else? Perhaps it's light for a reason. Look for Bronco Mendenhall to have his team ready for yet another bowl and for BYU to cover this number.
The Pick: BYU (+3)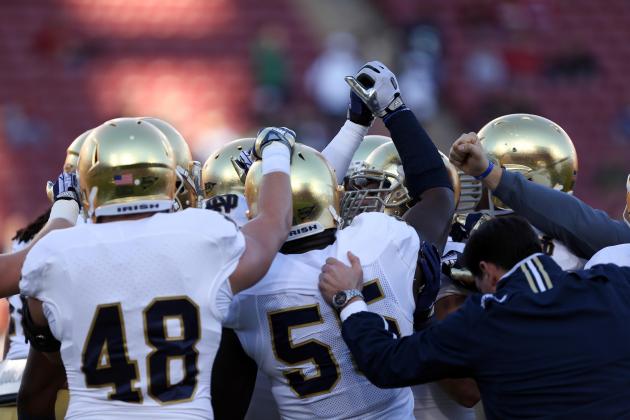 Kelley L Cox-USA TODAY Sports

There's a paying student athletes/Yankees joke to be made here, although I'll let you craft that yourself. Rutgers will have "home field" advantage playing in NYC, although we'll see if anyone on the East Coast is paying attention.
Notre Dame closed out the season by covering in five of its last seven games. While the season was up and down, the overall results were positive.
Rutgers did not experience the same late-season success. The Scarlet Knights covered only once after Oct. 10. Turnovers were a problem, although they weren't the only problem.
The line is large, and for good reason. Tommy Rees will go out with a bang, and you better take cover just in case.
The Pick: Notre Dame (-15.5)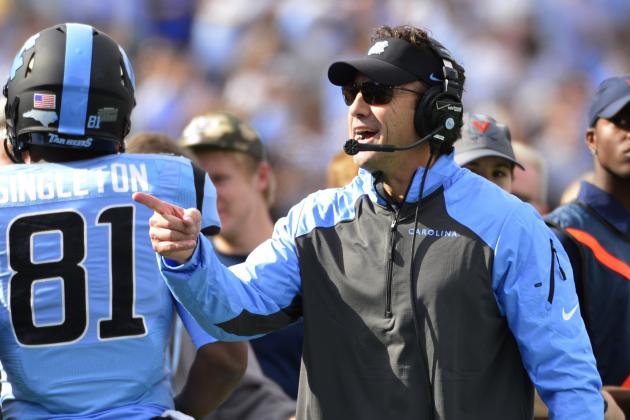 Bob Donnan-USA TODAY Sports

For North Carolina, 2013 was a tale of two seasons. The Tar Heels won just once in its first six games and then responded by winning five straight and covering in six straight. The season then came to a crashing halt against rival Duke.
The Bearcats also recovered nicely this year after an ugly loss to Illinois early on, winning seven of their last nine. For the season, Cincinnati finished 6-6 against the spread.
Who will win the Belk crown made out of the finest handmade Belk in all the land? Give me the offensive force, which will probably be too much here.
The Pick: North Carolina (-3)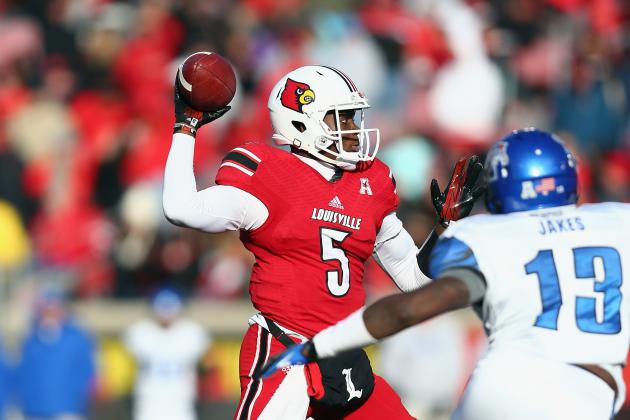 Andy Lyons/Getty Images

The hook on the other end of this point spread is perfectly placed, and it makes this game rather difficult to call. Adding to this, both teams have had their ups and downs.
Louisville finished just 5-7 against the spread, covering just once after Oct. 26. Dealing with large spreads throughout the year, the Cardinals simply couldn't separate in most games.
Miami, of course, played its way into the top 10. Then the Florida State game happened. Then other losses happened. The Hurricanes lost three straight during the year and six straight against the spread.
While Miami has enough offensive firepower to win this outright, give me Teddy Bridgewater. You take the points. I'll take him.
The Pick: Louisville (-3.5)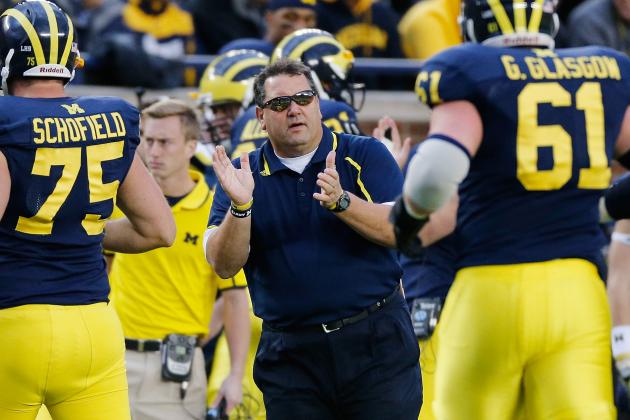 Gregory Shamus/Getty Images

Another bowl game, another intriguing hook tacked on the point spread.
The last time we saw Michigan, it was easily covering the 17-point spread against Ohio State. The Wolverines just narrowly missed the upset and looked like the team we expected to see all season.
Kansas State covered in six of its last eight games, and the Wildcats offense got moving. It also has a full month to prepare under coaching wizard Bill Snyder, which is enough for me to lay the points and not look back.
The Pick: Kansas State (-3.5)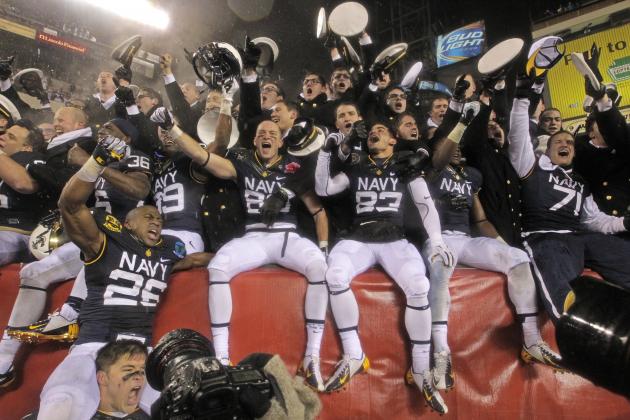 Hunter Martin/Getty Images

Last year's bowl experience for Navy was not enjoyable. Arizona State put up 62 points on the Midshipmen defense, and that's pretty much all you need to know.
This year, however, Navy was a beast against the spread, covering in nine of 13 games. The Midshipmen only lost once after Oct. 19, and that came against Notre Dame in a close game. Middle Tennessee State won its last five games, scoring at least 42 points in four of those matchups.
Will the extra time to prepare help the Blue Raiders against Navy's unique offensive attack? Perhaps, but it still won't be enough.
The Pick: Navy (-6.5)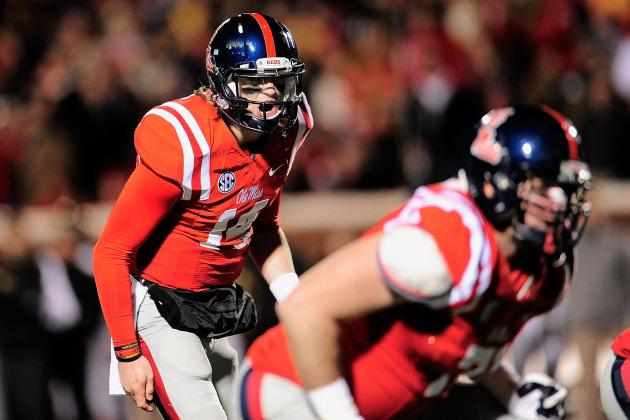 Stacy Revere/Getty Images

Georgia Tech's bowl history is not favorable. The Yellow Jackets have won just one bowl game in the past five years, and a handful of these performances were clunkers.
In 2013, Tech covered just five of 12 games and didn't cover once as an underdog. Ole Miss had its own Vegas struggles, losing three of the past four games against the number.
While the time to prepare for the Georgia Tech offense should help, Ole Miss could have its issues defensively. Unfortunately, Robert Nkemdiche can't play every position. Just imagine if he could, that would be unfair.
Because of that, I'm going with Georgia Tech. Don't believe me? Now you will.
The Pick: Georgia Tech (+3)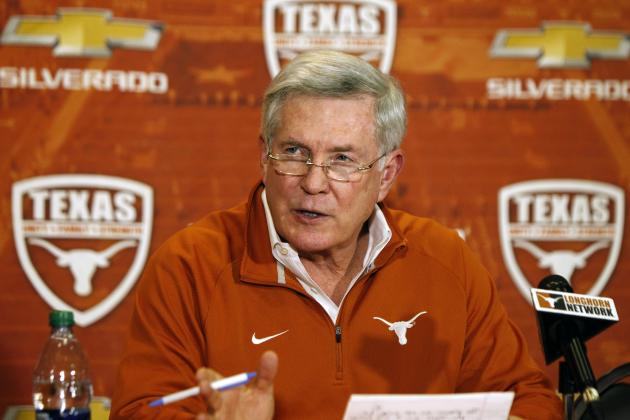 Erich Schlegel/Getty Images

One team is playing with the ultimate motivation, hoping to win one last game for the coach who won't be there next year. The other is already thinking about next season and the possibility of making the first College Football Playoff.
And yet, it's still difficult to take Texas (and the points) as improved as the team has been in a lot of areas.
After a blazing start, Oregon covered only once after Oct. 19. And though motivation (and overall play) is a concern, the difference in talent will likely serve as the difference.
I'll take the Neon Machine.
The Pick: Oregon (-14)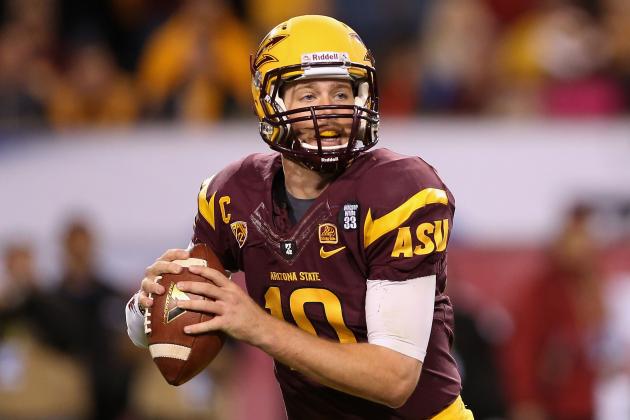 Christian Petersen/Getty Images

Despite its Pac-12 Championship clunker, two touchdowns might not be enough.
Although Arizona State covered only two times in its final five games, it has the defense to make the Texas Tech offense uncomfortable and the offense to blow this game wide open. After all, ASU made quick work of Navy using this same formula last bowl season.
After starting off 7-0, Texas Tech lost its last five games, giving up 38 points or more in each contest. That does not bode well here for Kliff Kingsbury and his Sharper Image headset.
The Pick: Arizona State (-14)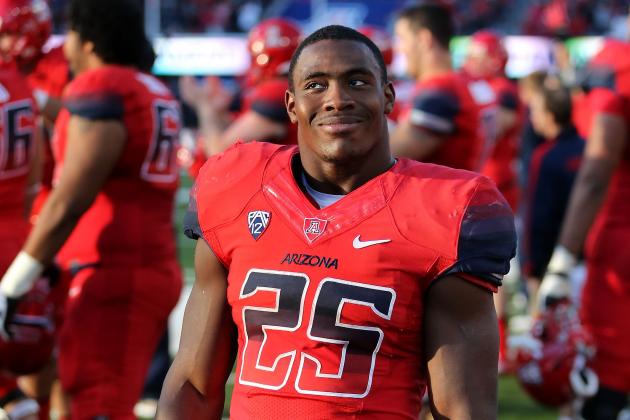 Christian Petersen/Getty Images

The running back bowl has the chance to be one of the sneaky good games of the bowl season. We'll set the over/under on total yards between Ka'Deem Carey and Andre Williams at A LOT and absolutely pound the over.
Neither team was particularly magical against the spread during the regular season, although both enjoyed high and low points.
And while Arizona might be the more talented team, Boston College has experience (and a running back) that should keep this close enough. I'll take the points.
The Pick: Boston College (+7)
Stephen Dunn/Getty Images

If you're going to back Virginia Tech—which I am in this instance—you're banking on seeing the good Logan Thomas and not the one who hands out interceptions like stocking stuffers.
Defensively, however, the Hokies have a team that can limit how successful this UCLA offense can be, and it will be pressed into situations it was able to avoid much of the season.
The fact that Va. Tech covered only once in its last five games is concerning, although the small-ish spread tells me this will likely be close. If the bad Logan Thomas shows up, all bets are off.
The Pick: Virginia Tech (+7)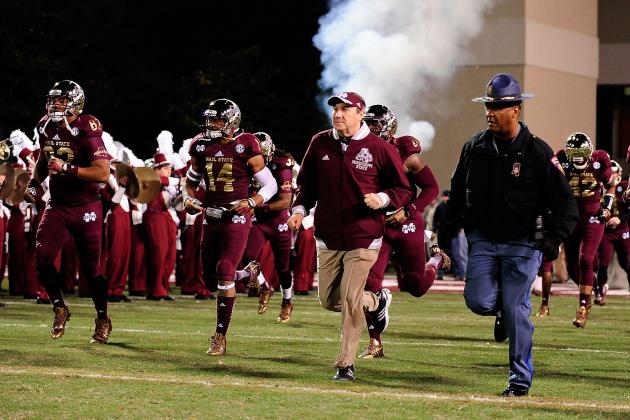 Stacy Revere/Getty Images

Win three, lose four, win three.
That's what the final 10 games looked like for Mississippi State against the spread, a strange up-and-down sandwich. However, it ended with a bang against rival Ole Miss in the Egg Bowl, and there is some sudden momentum because of it.
Rice had its own four-game winning streak against the spread, although it did so against slightly different competition. While the Bulldogs aren't exactly the SEC's finest, they're better than most realize.
The Pick: Mississippi State (-7)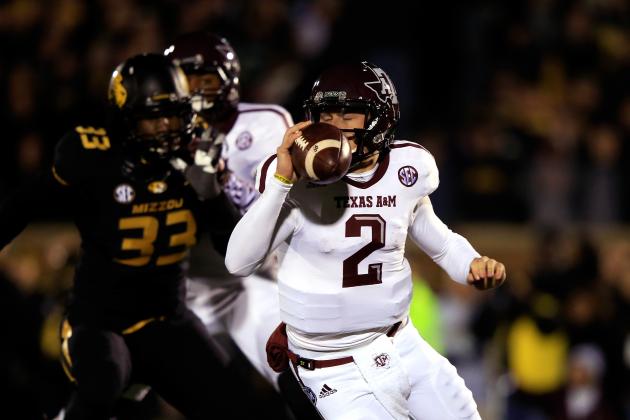 Jamie Squire/Getty Images

With an over/under of nearly 75, Vegas is envisioning points in bunches—and not just from one team.
The public will jump all over Texas A&M and Johnny Manziel, gladly laying the 12 points for the former Heisman-winner and his explosive offense. Keep in mind, however, that A&M has only covered the spread twice since Sept. 28.
On the other side, Duke has lost just once against the spread since Sept. 28, and that came against Florida State. The Blue Devils will score, and they will score enough here to keep it close.
I never thought I'd say this in a football realm, but there is solid value on Duke.
The Pick: Duke (+12)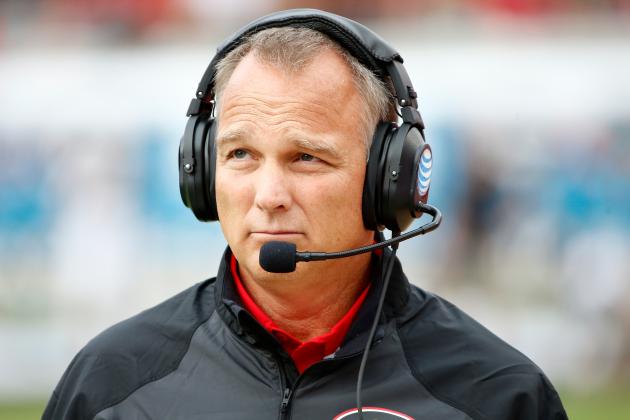 Sam Greenwood/Getty Images

I'll be honest, this is one of those "your guess is as good as mine" bowl games, and there's no shame in admitting it. This contest features two backup quarters, a rematch of last year's bowl, a team that may or may not fire its coach and two defenses that are satisfactory at best. And really, "satisfactory" doesn't really describe it.
After losing against the spread in six straight, Georgia covered in its final two games. Nebraska ended the season with a rough loss against Iowa and finished with an even 6-6 mark against the number.
Take the points? Given the unknown, that's where I'm heading.
The Pick: Nebraska (+9)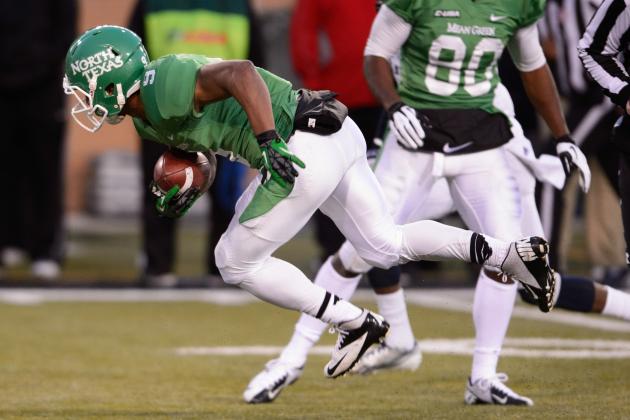 Jerome Miron-USA TODAY Sports

UNLV's turnaround is worth celebrating. After winning just two games in 2012, the Rebels won seven games and find themselves in bowl this year. The Rebels were also good to gamblers, covering in eight games during the regular season.
North Texas was just a little bit better at the window, covering in nine games, including six of the last seven.
How will this all translate to the bowl? While UNLV's season was remarkable, North Texas should dominate this game offensively and cover the number.
Sorry to play the role of Scrooge.
The Pick: North Texas (-6)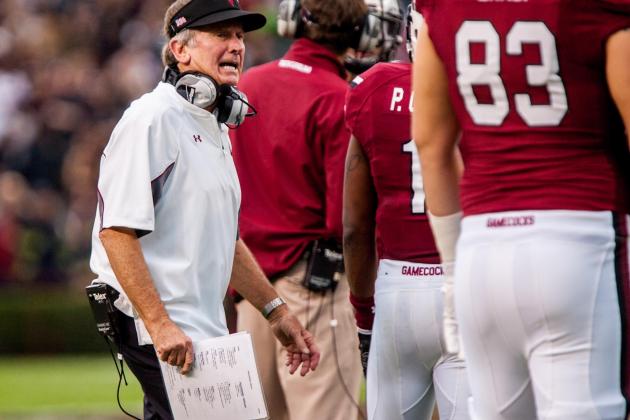 Jeff Blake-USA TODAY Sports

How excited am I about this matchup? Well, I'm so excited that I'm going to do the Steve Spurrier workout!
One of the most intriguing bowl games on the card comes with an intriguing point spread. Even though Wisconsin flushed its BCS bowl hopes down the drain with a loss to Penn State, it enters as a favorite against South Carolina.
While the loss is noteworthy, Wisconsin was perfect against the spread until the final two weeks. South Carolina, meanwhile, closed with a dominating win over Clemson and a 4-1 record against the spread down the stretch.
This is a doozy, although I'll be backing the Big Ten on New Year's Day. What could possibly go wrong?
The Pick: Wisconsin (-1)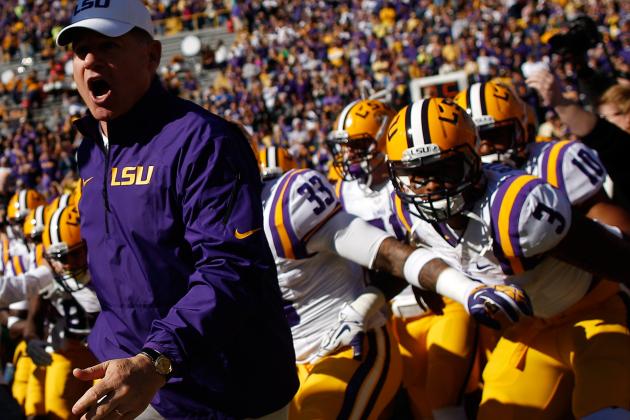 Chris Graythen/Getty Images

Zach Mettenberger is out, which means it'll be the Anthony Jennings show for LSU at quarterback. What does that mean? Although we got a taste against Arkansas—and the results were promising—we don't know much.
Iowa has been a very good bowl team under Kirk Ferentz, often times playing up to competition, despite often entering as an underdog. This year, Iowa finished with a 7-5 record against the spread.
LSU closed out with a 1-4 record against the spread in its final five games, although the Tigers are clearly the more talented team. However, Iowa will still have success running the ball and will keep this game close until the end.
The Pick: Iowa (+7.5)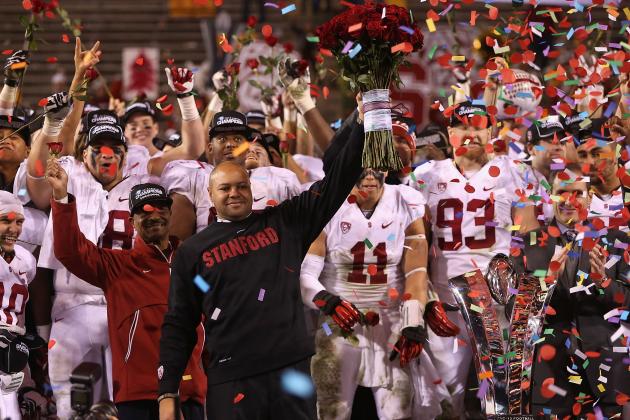 Christian Petersen/Getty Images

With a total sitting right around 43, Vegas believes this game will be exactly what you think it will be: hitting, more hitting, slightly more hitting and maybe a few touchdowns here or there. But mainly hitting.
Each team enters after an impressive win (and cover, of course) in their respective conference championship games. Now, it'll probably come down to the quarterback battle.
Kevin Hogan vs. Connor Cook: who ya got? As good as Sparty is—and as difficult of a game as this is to pick—give me the Cardinal and Hogan in what should be a lovely football game.
The Pick: Stanford (-4.5)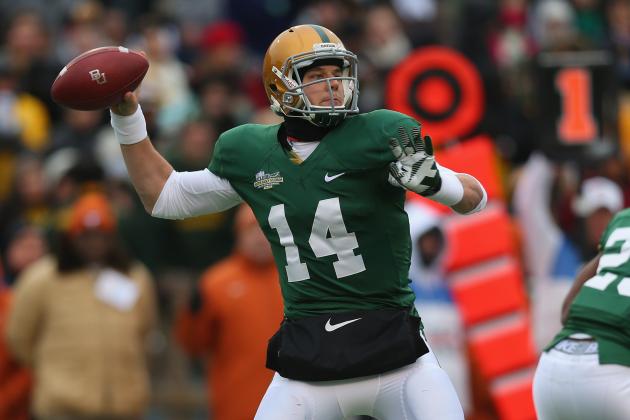 Ronald Martinez/Getty Images

Through much of the second half of the regular season, Central Florida looked bored. We're about to find out if the lackluster performances were a product of boredom or something more.
Baylor was not the same team after getting blown out by Oklahoma State, although the Bears still finished 9-3 against the spread while dealing with huge lines all year.
To me, this is too many points. I'm banking on Blake Bortles and Storm Johnson moving the ball and looking like the team that nearly upset South Carolina. I'm also banking on bordeom, which sounds like the name of a hipster band more than anything else.
That Pick: Central Florida (+16.5)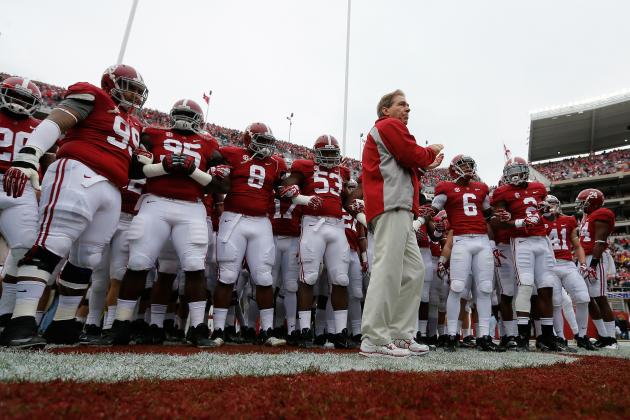 Kevin C. Cox/Getty Images

Does Alabama care about this game? Better yet, does it matter?
Those are the questions surrounding the Sugar Bowl, and Oklahoma will enter with more than a two-touchdown cushion. It will also enter with plenty of questions surrounding its starting quarterback, with Trevor Knight's status still somewhat up in the air.
Alabama will enter 7-5 against the spread, and the Tide clearly wants to send AJ McCarron off on a victory. While many will think back to the Utah BCS bowl, this is a different team with a different mindset. There's also so much talent.
Take the points if you're playing the "they won't care about this game" angle. I'll be over here not doing that.
The Pick: Alabama (-15.5)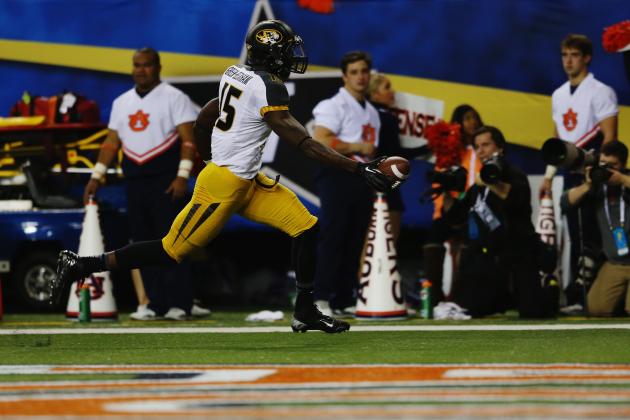 Mike Ehrmann/Getty Images

This line has moved around a bit, and it will likely move around a little more. Don't be surprised to see this end right around pick 'em, which would be a fitting line for such a fabulous matchup.
Missouri lost against the spread just twice all year, although the second loss was a rather emphatic one against Auburn in the SEC championship game.
Oklahoma State seemed destined for a BCS bowl, and then the Pokes lost to their rival as a 10-point favorite in the season finale. Before that, OK State had covered in six straight games.
Did Missouri simply get Gus Malzahn'd? I believe so, and it will recover nicely in an enormous game for the program.
The Pick: Missouri (-1)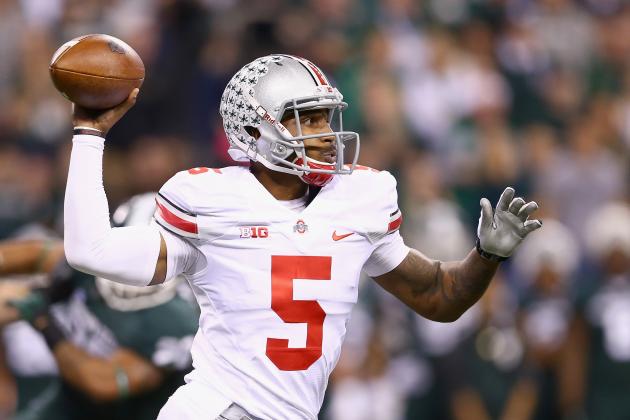 Andy Lyons/Getty Images

After some confusion over the opening number, Ohio State has settled as a cozy 2.5-point favorite over Clemson. And with an over/under around 70, expect points to be delivered in large amounts, as expected.
If this is a consolation prize for Ohio State—and, well, it is—it's not a bad one. After missing out on the bowl game last year, Urban Meyer will have his team ready for this game.
Clemson enters with a 6-6 mark against the spread. Offensively, the Tigers should be able to press the Ohio State secondary without many issues. Defensively, however, will they have to find an answer for Carlos Hyde.He's the difference here.
Lay the points. And if you lose, you know the drill. Grab the nearest pizza and eat it alone.
The Pick: Ohio State (-2.5)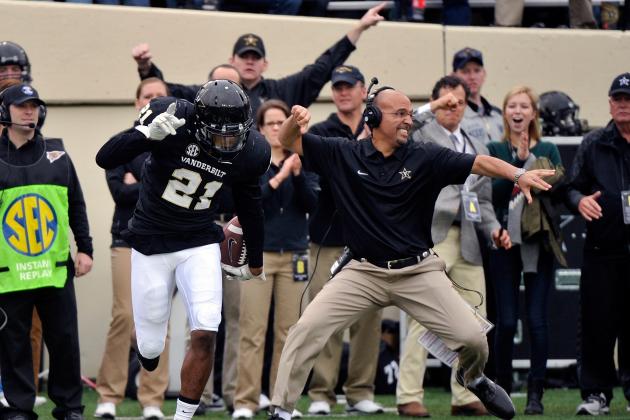 Frederick Breedon/Getty Images

As the "James Franklin to Texas!" rumors pick up some steam, the Commodores are bowling once again. After squeaking past Tennessee and Wake Forest, Vandy will take on a Houston team that was kind to Vegas backers in 2013.
The Cougars finished with an impressive 10-2 mark against the spread, even thought they lost four of their last five games. The competition improved, and while they weren't blown out, wins were tough to come by.
While these teams are very close in terms of talent, I will gladly take the points. Houston, despite it's rough finish, can play a bit.
The Pick: Houston (+2.5)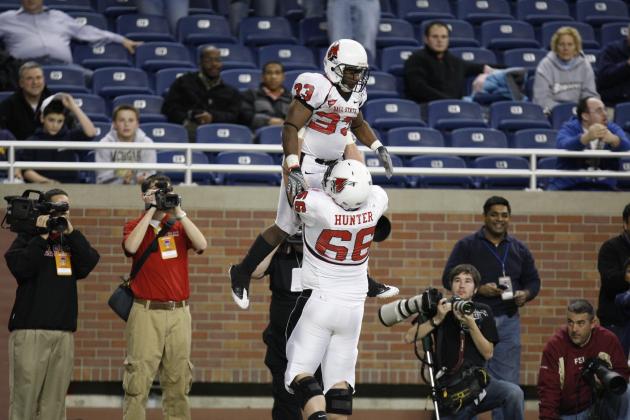 Gregory Shamus/Getty Images

The artist formerly known as the GoDaddy.com Bowl has lost its .com, although it hasn't lost its potential for football entertainment. With an over/under around 65, the scoreboard operator could be busy.
Ball State's loss to Northern Illinois wasn't the blowout it appears to be on paper, and the Cardinals lost just two games all season. The other came against North Texas, another bowl team favored by nearly a touchdown.
Arkansas State covered in four of its final five games, and an interim coach will lead this team in a bowl yet again. That's not the difference here, though. Ball State would be the play regardless.
The Pick: Ball State (-8)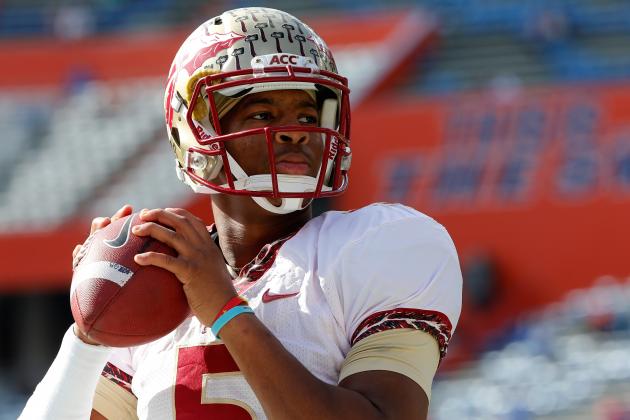 Sam Greenwood/Getty Images

I hope you were betting these teams all year. If so, you would have finished 22-4 against the spread and would have lost one game (combined) after Sept. 28. Not bad.
Think about this: Florida State was favored by four touchdowns or more eight times this season. In those games, the Seminoles were 7-1 against the spread. Was the competition weak? Oh, you bet. Should that scare you off the Seminoles? If that's the only thing you have, probably not.
The last time Auburn lost against the spread was Sept. 17. The Tigers then closed out the year by covering in 10 consecutive games. In that stretch, Auburn won four of five games as an underdog.
In the battle of Vegas superstars, give me the superstar that might—key word being "might"—be able to get a few defensive stops on a dominant running team.
It's a lot to lay against a quality team, but I will reluctantly do so.
The Pick: Florida State (-8.5)