Pau Gasol is embroiled in the midst of a strange and tumultuous season, one that has seen him mired in one of the worst slumps of his career. But it's not too late for him to rebound, upping his value both to the Los Angeles Lakers and any team seeking his services in a trade.
Heading into the team's 88-85 victory over Kemba Walker and the Charlotte Bobcats, Gasol was averaging only 14.4 points, 9.4 rebounds and 3.0 assists per contest, and he was mixing it up with a certain mustachioed head coach.
As reported by Bill Plaschke of the Los Angeles Times, Gasol actually claimed that his role in the offense was affecting his intensity:
The fact that I'm not getting the ball in the post affects directly my aggressiveness. When I'm not getting the ball where I want to, where I'm most effective, where I can bang guys and utilize my skill, that affects my aggressiveness and overall intensity.

Yikes.
Apparently, Gasol has been teaching classes on how to frustrate your teammates and organization during his off days, because his comments show that he's a true master in the field. And Mike D'Antoni took the bait, running with it in this quote that comes via the Los Angeles Daily News' Mark Medina:
It's also a nice excuse not to play hard. You don't have trouble getting up to the pay stub line. You know what you need to do to get your check. They don't want to do it that way. I understand that. That's when you have to accept it or not. But there's no reason not to play hard.
Effort aside, Gasol has been producing solid per-game numbers, but nothing like the special ones Lakers Nation has become accustomed to seeing him produce. That's especially true when you include his 42.3 percent shooting from the field, a mark that is—by far—the worst of his career.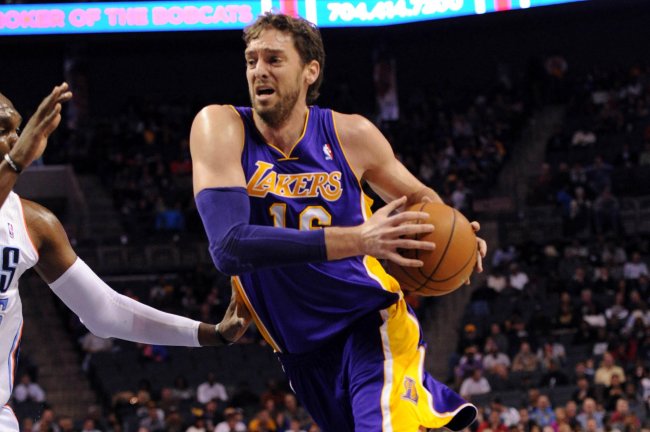 Sam Sharpe-USA TODAY Sports
Against the Bobcats, though, Gasol started to turn things around. And now we can no longer put the E-word aside, because for him to get off the season-long schneid, it's all about effort.
The same effort that he commented on a few days before coming up big down the stretch against the 'Cats.
The Spanish 7-footer recorded 15 points, seven rebounds and three assists against Charlotte, shooting only 6-of-18 from the field and coughing the ball up four times. You may be wondering how that can be considered a positive, but you can't look only at the results of the game when you're analyzing Gasol's performance.
This was the continuation of a turnaround—maybe not in terms of play, but definitely in terms of attitude.
The night before the Charlotte game, this time against the Oklahoma City Thunder, Gasol actually took the blame for his play instead of passing the buck. Sports Illustrated's Chris Mascaro revealed that he held himself accountable rather than blaming his lack of intensity on his role in the offense.
But, as anyone with parents probably knows, actions speak louder than words. Gasol needed to reinforce his message with a hustle-filled outing against the Bobcats, and that's exactly what happened.
Well, after he started 1-of-6 from the field, that's exactly what happened.
This was a painful game for Pau Gasol - clearly not his best - but he did deliver for Lakers once he got going

— Eric Pincus (@EricPincus) December 15, 2013
Pau Gasol has been great down the stretch of this game.

— Hardwood Paroxysm (@HPbasketball) December 15, 2013
During the second half, Gasol scored 11 points and added four rebounds, an assist and two blocks while shooting 4-of-8 from the field.
On top of that, he was aggressive over a sustained stretch of action for the first time in recent memory.
Gasol missed the shot, but at least he didn't hesitate.

— Caleb C (@Caleb_Cottrell) December 15, 2013
Pau is absolutely gassed but is still trying, Kobe still pushing him. Pau 16-footer improves him to 6 of 17 from the field. CHA 66, LAL 62.

— KEVIN DING (@KevinDing) December 15, 2013
Down the stretch, his defense was absolutely crucial for the Lake Show's effort, as he shut down Al Jefferson four times with the game on the line. He was blocking the opposing big man, and when he couldn't get his hands on the ball, he was still in the way and contesting shots.
Another strong defensive effort by @paugasol as the Cats dumped the ball into Jefferson. Gasol heading to the line for 2.

— Los Angeles Lakers (@Lakers) December 15, 2013
Fronting Jefferson before he got the ball and constantly battling for position, Gasol made the master of the left block work for everything, and it paid off. During the fourth quarter, Big Al was held scoreless on five attempts, which allowed the Lakers to win the quarter by seven points and the game by two.
Going into the game, NBA.com's SportVU data showed that Gasol was running only two miles per game. Throughout the NBA, 114 players are moving more than that on a nightly basis. As a reference point, Bradley Beal's 2.9 miles per game leads the league.
Against Charlotte, it sometimes seemed as though Gasol was running a mile on a single possession. He was that active during the second half, and it was exactly what L.A. needed to see from its big man.
Brock Williams-Smith/Getty Images
Even if Gasol never returns to the form he reached about three years ago, he's still capable of being a valuable player due to his versatility. Not many players can play solid defense, facilitate from the blocks and elbows and score in almost every way Mike D'Antoni can dream up. But Gasol can, at least when he's on his game.
Let's say the 7-footer does continue to build upon what he started in the second half and gets back on track. He begins hustling on a nightly basis, and the production slowly starts to creep up to pre-Dwight Howard levels.
Once that happens, he both has value to the Lakers and becomes an intriguing player on the trade market, something that is already starting to happen, according to Sean Deveney of the Sporting News. As B/R's Zach Buckley writes, "Frankly, there's an uncomfortable stillness when his name isn't running through the rumor mill at this point."
Will Pau Gasol get back on track?
Either situation is beneficial to the purple-and-gold-clad organization, especially as it tries to evaluate Gasol's future with the team. Whether the Lakers determine his worth before he hits free agency or get something in return for him, the effort is crucial to the future.
It's too soon to determine the end result. While I like pretending I have a crystal ball, it gets a little cloudy when developing a purple-and-gold tint. But it's not too soon to see a trend.
Gasol's words and actions both point in the positive direction. The results may not be there yet, but the effort is.