The card was officially billed as UFC on Fox 9, but it very well could have passed as "Team Alpha Male vs. Everybody." The Sacramento-based contingent had four representatives on Saturday night's card when the UFC returned to their hometown, with each being slated in a high-profile tilt.
While his teammates had important fights on Saturday night, there is no doubt the biggest bout for the team came on the shoulders of No. 1 flyweight contender Joseph Benavidez.
"Jobe" stepped in for his second attempt at the 125-pound strap when he met champion Demetrious Johnson in their highly anticipated rematch. "Mighty Mouse" edged out the New Mexico native in their first tilt at UFC 152 in September 2012, and Benavidez was looking to make good on his second attempt in front of lively Sacramento crowd at UFC on Fox 9.
Unfortunately for the New Mexico native, Johnson would have none of it. The reigning champion kept his flyweight title intact by pulling off a devastating knockout victory in the first round of the tilt.
Both fighters stepped in to throw a big shot, but it was Johnson who landed, and Benavidez crumbled to the canvas. With the win, Johnson picked up his third consecutive title defense and put a large gap between himself and the rest of the pack at 125-pounds.
The squad's leader Urijah Faber stepped in to trade leather with surging young upstart Michael McDonald in a co-main event that carried heavy title implications in the bantamweight division. The fighter who emerged victorious would most likely earn a title shot, where the loser would be bumped out of that picture for the immediate future.
Where there was talk of "old school" versus "new school" coming into the bout, Faber proved he's very much a part of the future wave of MMA as he put a drubbing on McDonald.
"The California Kid" had a solid opening round but turned it up in the second as he worked "Mayday" in brutal fashion en route to earning a submission finish via guillotine choke. The win is Faber's fourth consecutive victory and should put him on the doorstep of another title shot.
Another Team Alpha Male fighter who would be looking to further his championship ambitions at UFC on Fox 9 was Chad Mendes.
The perennial featherweight contender brought a four-fight winning streak, all coming by way of knockout, into his scrap with Nik Lentz. Where "Money" was the heavy favorite going into the fight, the scrappy American Top Team fighter got under his skin with trash-talk in the pre-fight buildup, and their tilt was dubbed "the people's main event" on the card.
While Mendes had the table set to earn another shot at the featherweight strap, things may not have worked out in his favor even though he earned the unanimous-decision victory over Lentz.
The former title challenger got out to a hot start in the first by dropping "The Carny" but seemed to gas-out in the process. He reverted back to his wrestle-heavy style in the final two rounds, and while he earned the victory, his stock could have very well taken a hit in a heated 145-pound title picture.
In addition to the "Team Alpha Male Exhibition," there was plenty of action to be had at the Sleep Train Arena. With no fight on the card coming north of the 170-pound weight class, the lighter-weight fighters took advantage of the opportunity to showcase their skills as high-paced tilts were hitting the Octagon left and right. Of course, what would a UFC event be without a few curious occurrences mixed in?
Let's take a look at the good, bad and strange from UFC on Fox 9.
The Good
In an era of dominant champions, Johnson often gets overlooked. While he doesn't carry the name value as some of his peers, the level of performance he's been displaying inside the Octagon is certainly on par with the rest of the title holders.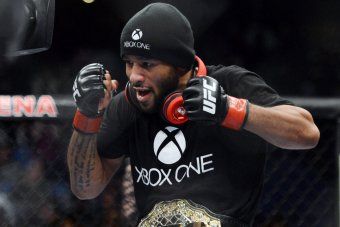 Kyle Terada-USA TODAY Sports
"Mighty Mouse" had two successful title defenses heading into his rematch with Benavidez, and it only took him half-a-round to pick up his third as he knocked out the Team Alpha Male fighter midway through the opening round. While Johnson isn't heralded for his power, he dropped a perfectly timed right hand that put Benavidez on his back staring up at the lights in the Sleep Train Arena.
While his victory over Benavidez was undoubtedly his most impressive win to date, it also showed the flyweight champion is still evolving as a fighter. Three years ago, he was a talented wrestler with great speed, now he is one of the most complete mixed martial artists in the world. His leveling of Benavidez also proved there is a large gap between him and the next best fighter in the 125-pound collective.
Staying with remarkable performances, how impressive is Faber? The Team Alpha Male leader continues to prove he's one of top bantamweight fighters on the planet, putting another huge feather in his cap by steamrolling Michael McDonald at UFC on Fox 9.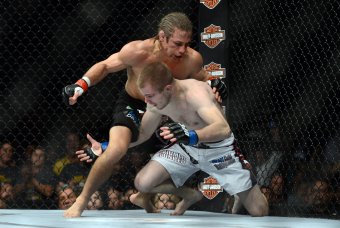 Kyle Terada-USA TODAY Sports
"The California Kid" had been on an impressive run since losing to Renan Barao at UFC 149 in 2012 as he had picked up three consecutive victories, all coming as the result of solid showings.
That level of success would typically be enough to earn another championship opportunity, but with the bantamweight title picture in disarray between champion Dominick Cruz's layoff due to injury and interim champion Renan Barao waiting to unify the titles, Faber's the choice to keep things rolling.
Coming into his fight on Saturday night with McDonald, there was plenty at stake, and in typical Faber style, he showed up under the bright lights.
In what was arguably his best performance to date, the 34-year-old put a beating on the 22-year-old former title challenger. After winning the opening round, Faber turned up the heat on McDonald in the second, and the Modesto-based fighter broke under the pressure. The former WEC featherweight champion hurt McDonald with strikes before locking a fight-ending guillotine.
With the victory Faber now makes a case for title contention that is difficult to argue. He will have to wait for Cruz and Barao to settle their business at UFC 169 in February, but his next outing should come with championship gold on the line.
*** Joe Lauzon needed a win in a big way, and he got it at the expense of Mac Danzig. The Ultimate Fighter alums locked up to kick off the Fox portion of the card, and it was all "J-Lau" once the cage door closed in Sacramento.
Coming into the bout, the Massachusetts native had dropped three of his last four showings, and the victory over Danzig brought an end to what had been a tough run in 2013 for the avid fight-night bonus winner.
*** While I will address the decision in the next category, both Danny Castillo and Edson Barboza deserve props for putting on a fantastic fight. "Last Call" took the momentum in the first round as he dropped and nearly finished the Brazilian striker in the opening frame. Barboza regained his footing and bounced back to take the second and third rounds in exciting fashion.
The Renzo Gracie-trained fighter ultimately won the unanimous decision, but the outcome is certainly questionable with only one of the three cageside judges scoring the first round a 10-8 in Castillo's favor. That said, it was a fantastic scrap and both fighters showed out in Sacramento.
*** Bobby Green kept his hot streak alive by defeating Pat Healy in a grueling three-round affair on the preliminary portion of the card.
The 27-year-old Californian outlasted the gritty veteran to earn the unanimous-decision victory and moves to a perfect 3-0 in the UFC since coming over from Strikeforce. The bout was Green's second in just north of a month and defeating Healy will move him up a couple rungs on the lightweight ladder.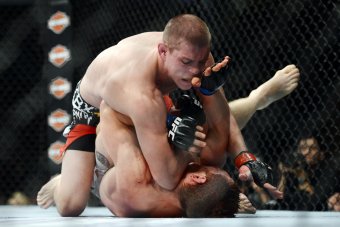 Kyle Terada-USA TODAY Sports
*** Taking his first fight in the UFC on short notice against one of the flyweight division's top-ranked fighters was apparently of little concern to Zach Makovsky.
The former Bellator champion squared-off with Scott Jorgensen on the preliminary portion of the card and worked an effective game plan to earn the unanimous-decision victory. The win was his third consecutive overall. Defeating a fighter of Jorgensen's status will certainly guarantee his next opponent comes from higher up the 125-pound ladder.
*** Another fighter who capitalized on a short-notice opportunity was Ryan LaFlare. The 30-year-old New Yorker just defeated Santiago Ponzinibbio at Fight Night 32 on Nov. 9. He then turned around and picked up a unanimous-decision victory over Court McGee on Saturday night. It was a gritty battle, but LaFlare outworked the TUF alum to pick up the win in Sacramento.
*** Their first meeting may have ended in controversial fashion, but Abel Trujillo left zero doubt on the table in his rematch with Roger Bowling on Saturday night.
The Blackzilian's-trained fighter absolutely trucked the Cincinnati native as he delivered a brutal beating which forced referee John McCarthy to step in and end the onslaught the second round. His performance at UFC on Fox 9 was easily Trujillo's most impressive showing out of his four bouts under the UFC banner.
The Bad
While Benavidez is undoubtedly one of the best flyweight fighters on the planet, his loss to Demetrious Johnson was certainly a devastating blow for the No. 1 contender. It was just north of a year since their first championship go-around in which Benavidez was edged out, and then on Saturday night, he suffered his second loss to Johnson in 15 months.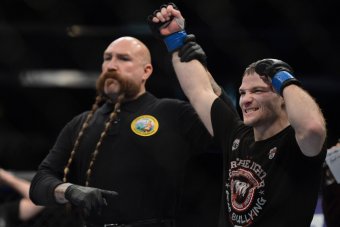 Kyle Terada-USA TODAY Sports
Where Benavidez was defeated via split decision in their first bout at UFC 152 in 2012, on Saturday night, he was at the receiving end of a violent knockout to the reigning champion. While Benavidez will undoubtedly rebound from the loss, two failed title shots in such a short amount of time will certainly serve to keep him out of the title picture in the flyweight division for some time.
No fighter on the card for UFC on Fox 9 needed a victory more than Danzig. The former Season 6 TUF winner had dropped three of his four most recent showings and had his back firmly placed up against the wall going into his bout with Lauzon. The lightweight scrap kicked off the Fox portion of the card, and after some early success from Danzig, the bout was all Lauzon.
The Bridgewater native used his grappling to take dominant positions when the fight hit the canvas, and from there, he proceeded to punish the 33-year-old with a brutal barrage of elbows. By the end of the second round, Danzig's face was crimson, and "J-Lau" cruised to the unanimous-decision victory.
With the loss, Danzig has now been defeated in back-to-back outings and suffered setbacks in four of his last five. While the Ohio native has been with the organization since 2007 and has competed inside the Octagon on 13 occasions, he will be forced to take a long, hard look at his career following his performance on Saturday night.
While there is no doubt Danzig still has plenty of fight left in him, the lightweight division is a shark tank, and he very well may have run out of room with the loss to Lauzon.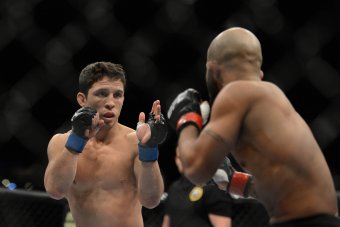 Kyle Terada-USA TODAY Sports
Another fighter in desperate need of a win at UFC on Fox 9 was Jorgensen, and he was hoping a drop down to flyweight would help him get things back on track.
Where "Young Guns" had once been a staple in the upper tier of the bantamweight division, a rough patch where he lost three of four outings pushed him off the 135-pound title radar for the foreseeable future. That said, by dropping down into the 125-pound fold, Jorgensen automatically became a top-ranked fighter by entering the division.
Coming into Saturday night, the Idaho-based fighter needed to get off to a big start in his flyweight run, and that just didn't happen. The veteran was outworked by promotional newcomer Zach Makovsky in a bout the 30-year-old took on short notice.
Where Jorgensen seemed to have the edge in the early goings, an uppercut from "Fun Size" stopped the former WEC title challenger in his tracks and seemed to tip the balance for the next two rounds.
With Makovsky taking the unanimous-decision victory, Jorgensen has now been defeated in back-to-back outings and has found himself in the loss column in four of his last five outings. Where the loss on Saturday night likely won't cost him his job, it will reshuffle him to the back of the deck in a growing 125-pound collective.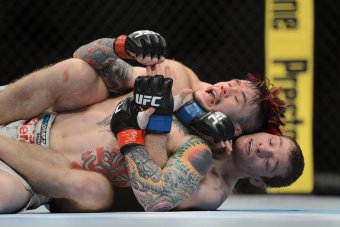 Kyle Terada-USA TODAY Sports
*** While Pat Healy appeared to be on his way to making 2013 a year to remember, things have taken a drastic turn over his most recent outings. "Bam Bam" scored a huge win over former contender Jim Miller in his return to the UFC back in April only to have it overturned to a no-contest as the result of a failed post-fight drug test.
Healy has lost both of his bouts since and has gone from being on the verge of breaking through to the upper tier at 155 to heading to the back of the line after Saturday night.
*** It wasn't all too long ago that Roger Bowling had a solid buzz surrounding him. The Ohio native was crumbling the opposition with his big power and appeared to be on the verge of bigger things. Unfortunately for Bowling, things have gone drastically downhill as of late.
After his one-sided drubbing at the hands of Abel Trujillo at UFC on Fox 9, the 31-year-old is now 0-3 with one no-contest in his last four outings—two of which came as the result of brutal knockouts. His current slump and a poor performance on Saturday night will make it difficult for Bowling to keep his roster spot with the UFC.
*** Every time I write this column, I stress there is no point complaining about judging in MMA, but that doesn't stop me from writing about it.
Edson Barboza defeated Danny Castillo via unanimous decision (29-28, 29-28, 28-28) in a bout that very well should have been a draw based on the opening round. The often-discussed and hardly ever used correctly 10-8 round was only scored by one judge in the opening frame in a round that certainly deserved that score.
Castillo dropped Barboza and had him in danger for the final few minutes of the round and nearly finished the Brazilian. The 27-year-old went on to win the last two rounds in 10-9 fashion which should have resulted in a draw.
The Strange
It typically takes a loss for a fighter to lose their place in a title hunt, but Mendes may have very well lost his spot at the front of the line in the featherweight race with his performance on Saturday night. In his lead up to UFC on Fox 9, "Money" had been obliterating the competition as he knocked out four consecutive opponents in brutal fashion.
Kyle Terada-USA TODAY Sports
He appeared to be well on his way to earning his fifth consecutive stoppage as he stunned Lentz in the opening frame, but the proverbial wheels started to come off as the fight went on.
A noticeably gassed Mendes struggled to strike with Lentz and reverted back to his early days of takedowns and top control. Where the Team Alpha Male staple has made a career out of pounding out the opposition from top position, he wasn't active when he had Lentz on the mat.
While his fighting was still effective enough to get the victory, it will be difficult to clearly say Mendes is the top contender in a crowded featherweight upper tier. Resurgent veteran Cub Swanson has been steamrolling the competition as of late and has also won five consecutive bouts.
Fighter fashion is a thing that varies on an individual basis, but Cody McKenzie took a hard left into the failure department for his choice of apparel in his fight with Sam Stout.
Where we've seen fighters in the past shuck the heavily clad sponsor shorts in favor of the simple route, the TUF alum took things to a new level of strange by donning a pair of white athletic shorts—complete with pockets—for his tilt with "Hands of Stone."
To make matters worse, in addition to a sharpie scrawled "907" insignia on his left leg, McKenzie also rocked a price tag in the opening round of the bout. It's one thing to wear a goofy pair of shorts, but it's another to forget to take the tag off said goofy pair of shorts when you are fighting on national television.
The Alaskan ultimately came out on the losing end of a unanimous decision in the fight which makes him unsuccessful in four his his last six outings.
Following the bout, Kevin Iole got an explanation of the shorts situation from California State Athletic Commission's Andy Foster, and it appears McKenzie forget his fight shorts at the hotel and was forced to run across the street and buy a new pair.
Tip for fighters- please remember to remove the price tag from your shorts. pic.twitter.com/9MUwqbld8U

— Corey Adams (@corey_adams) December 14, 2013
All fashion jokes aside, McKenzie is certainly facing a difficult position in light of his loss to the Canadian veteran. He dabbled in featherweight waters for a stint, going 1-1 before returning to lightweight to face Stout at UFC on Fox 9. With both divisions becoming increasingly more competitive, roster spots are difficult to come by, and McKenzie could very well be holding on to his by a thread.
Another element of strange that needs to be noted is how many high-profile bouts the card at UFC on Fox 9 yet still produced an exciting slate of tilts. The event was originally scheduled to be headlined with a lightweight title bout between Anthony Pettis and Josh Thomson before "Showtime" was forced to withdraw due to a knee injury.
In addition to 155-pound title action, the card also lost what was potentially the most anticipated matchup on the bill when the guaranteed violence between Carlos Condit and Matt Brown was scratched due to "The Immortal" suffering herniated discs and being forced to step out of the fight.
Losing fights of that caliber certainly could have steam out of the event, but the bouts on the card certainly delivered the goods on Saturday night.
On a final note, where so much has been made of the "Bang Effect" and the impact Duane Ludwig has had on Team Alpha Male, the squad went 2-2 on the night.
Urijah Faber and Chad Mendes found victory—albeit in much different fashion—while Danny Castillo and Joseph Benavidez ended up in the loss column. With Benavidez failing to claim a UFC title and Mendes having a lackluster showing, it will still be a while before one of the best collectives in MMA shake their stigma.
Duane Finley is a Featured Columnist for Bleacher Report.