Osasuna vs. Real Madrid: Live Player Ratings for Los Blancos
Use your ← → (arrow) keys to browse more stories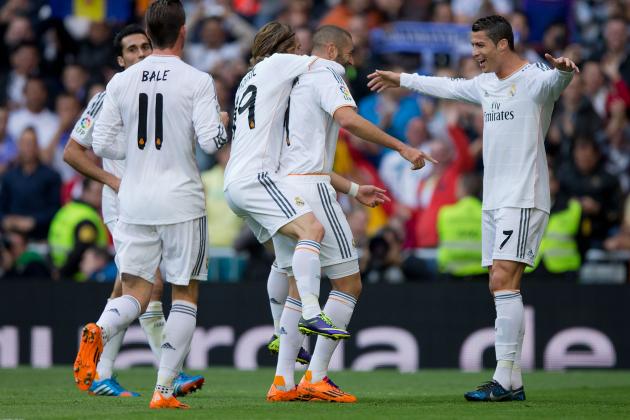 Gonzalo Arroyo Moreno/Getty Images

Real Madrid took on Osasuna in La Liga, needing to keep pace with Atletico Madrid and Barcelona at the top of the table.
Here's how Los Blancos fared at halftime and at full-time, with a short comment on each player at both intervals.
Real Madrid Player Ratings

| | | |
| --- | --- | --- |
| Player | Halftime Rating | Full-time Rating |
| Lopez | 7 | 7.5 |
| Carvajal | 6 | 5.5 |
| Pepe | 5.5 | 7 |
| Sergio Ramos | 4 | 4 |
| Marcelo | 6 | 6 |
| Xabi Alonso | 6 | 6 |
| Modric | 6.5 | 6.5 |
| Isco | 7 | 6.5 |
| Bale | 6.5 | 6 |
| Ronaldo | 8 | 7 |
| Benzema | 6 | 5 |
| Di Maria | N/A | 6.5 |
| Nacho | N/A | 6 |
| Jese | N/A | N/A |
B/R UK
First Half:

Diego Lopez: The two goals weren't really his fault and he pulled off some excellent saves in between.
Dani Carvajal: Not involved all that much, but let Osasuna get a bit too much space on the right.
Pepe: Booked for an elbow to the face and his performance wasn't convincing enough to make up for that.
Sergio Ramos: Sent off for two yellow cards, although the second was questionable. The first, though, was inexcusable, as there was no reason to get in the face of the assistant referee.
Marcelo: Osasuna's best attacks came down his flank but he was very lively in attack, as usual.
Xabi Alonso: Relatively silent, as he usually is. However, not doing anything wrong was equivalent to doing something right in this game.
Luka Modric: Should have had a penalty but was very active in attack.
Isco: His finish on the first goal was fantastic, and he supported Gareth Bale and Cristiano Ronaldo very well.
Gareth Bale: Did not receive many touches on the right side but whipped in a few good crosses and was not found wanting in any particular area.
Cristiano Ronaldo: Was Real Madrid's most active and threatening attacking outlet on his return, giving the right side of Osasuna's defense a good scare every time he touches the ball. He required no reacclimatization period.
Karim Benzema: Merely played a supporting role as Osasuna pressed to go forward and Ronaldo and Isco ate up much of the possession in the final third.
Full-time:
Diego Lopez: Was excellent when called into action. He definitely saved the points for Madrid, though he surely did not expect to have to do so.
Dani Carvajal: Was almost responsible for Osasuna nicking a third after letting the ball slip to an open attacker. He was not at his best but was not abysmal.
Pepe: Redeemed himself with a well-headed equalizer to prevent total disaster.
Sergio Ramos: Did not see second half action as he was rather harshly given his marching orders before halftime.
Marcelo: He was frequently called into action during the second half as Osasuna repeatedly attacked down his flank, and could have done better to shut them down.
Xabi Alonso: Relatively anonymous and should have done much better to increase the pace at which Madrid attacked.
Luka Modric: Substituted relatively early in the second half for a more attacking player but, while more positive than Alonso, was at fault in the same areas.
Isco: He, too, did not last the entire match and burned much brighter in the first half than the second. When he did have the ball, he looked threatening, though always in support of Cristiano Ronaldo.
Gareth Bale: Oddly did not play for more than about 10 minutes in the second half and made way for Angel di Maria. He might have picked up a knock; otherwise Carlo Ancelotti's decision is difficult to understand.
Cristiano Ronaldo: The Portuguese was a potent threat in the first half, but was oddly absent for long stretches of the second, when Real needed his brilliance the most. His performance was disappointing in the end.
Karim Benzema: His role went from that of a supporter to Ronaldo and Bale in the first half to spectator in the second. This is why he has so many detractors.
Angel di Maria: Added much-needed positivity and directness off the bench and zipped some promising crosses into the box. A good cameo for the Argentine.
Nacho Fernandez: Did not have much of an impact after replacing Luka Modric, despite the fact that his introduction was obviously meant to spur the attack.
Jese: Participated for 10 minutes, and that is all.