10 Best Fantasy Basketball Buy-Low Candidates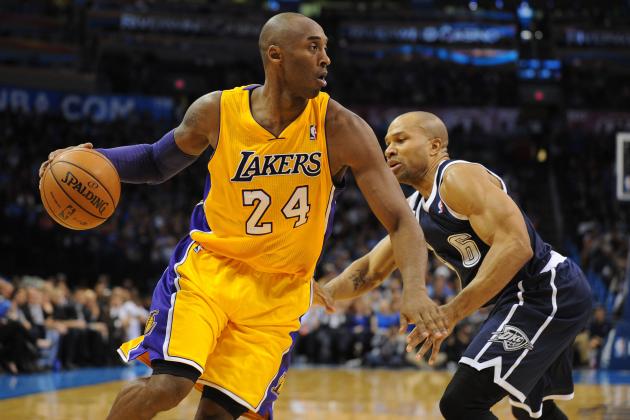 Mark D. Smith-USA TODAY Sports

Fantasy basketball is all about being a step ahead of your fellow owners.
In this case, we're talking about having the awareness to capitalize on the displeasure with players who still have plenty to offer despite underwhelming starts.
So while your friends and co-workers may be panicking because Kobe Bryant isn't filling up the stat sheet and Greivis Vasquez is out of a starting job, it's time to play it cool and test the trade waters before those names are sought after by every owner in your league.
All statistics accurate as of Sunday, Dec. 15.
Begin Slideshow

»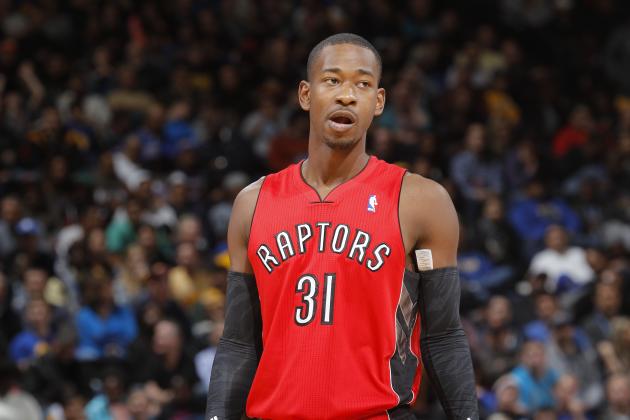 Rocky Widner/Getty Images

The time to buy on Terrence Ross is now, because he's going to be a hot commodity in a few weeks.
With Rudy Gay out of the picture, Ross has stepped into the starting small forward role in Toronto. He promptly flashed his upside during the Raptors' eight-point win over the Philadelphia 76ers on Friday.
In 34 minutes, Ross scored 24 points (10-of-16 shooting, 4-of-7 from three) and grabbed five rebounds. He added a steal and a block to his final line.
And now that he's set to earn starting minutes consistently, Ross has a real chance to shine.
"Consistency is what he's fighting for; he's a talented young man but he's fighting for consistency. He's been consistent the last couple of games," head coach Dwane Casey said, according to Doug Smith of the Toronto Star.
Friday night also marked the first time Ross scored over 20 points all season long, surely a sign of things to come now that Gay resides in Sacramento.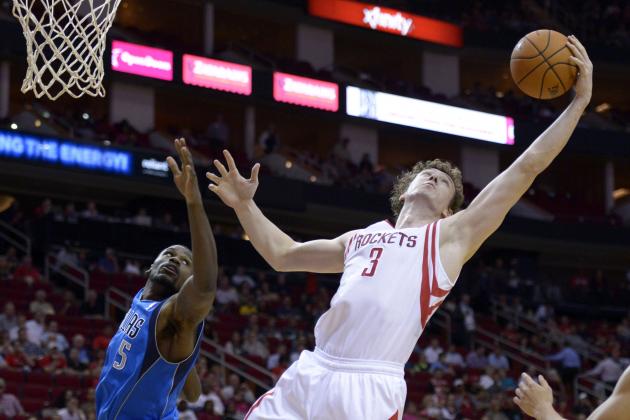 Thomas Campbell-USA TODAY Sports

Arguably the sneakiest buy-low candidate at this juncture is Houston Rockets center Omer Asik, who's been one of the hottest names on the trade block throughout the early stages of the season.
According to Yahoo Sports' Adrian Wojnarowski, if Asik is dealt, it will be between Dec. 15 and Dec. 19:
Last week, the Rockets gave other teams interested in acquiring Asik a window between Dec. 15-Dec. 19 to make a deal. Both dates serve of importance: Dec. 15 marks the first day that free agents who signed new contracts in the offseason are eligible to be traded, while Dec. 19 is the last day for any player acquired this season who will still be eligible to be traded before the February 20 trade deadline.
With Asik presumably on the move in the coming week, owners should look to make a play for the under-appreciated center who averaged a double-double with 10.1 points (54.1 percent shooting) and 11.7 rebounds last season. He also blocked just over a shot per game during the 2012-13 campaign, an added bonus for interested parties.
It's been a long wait for owners who decided to draft and stash the Rockets' big man, so those interested in his services would be wise to capitalize on that impatience before he's dealt.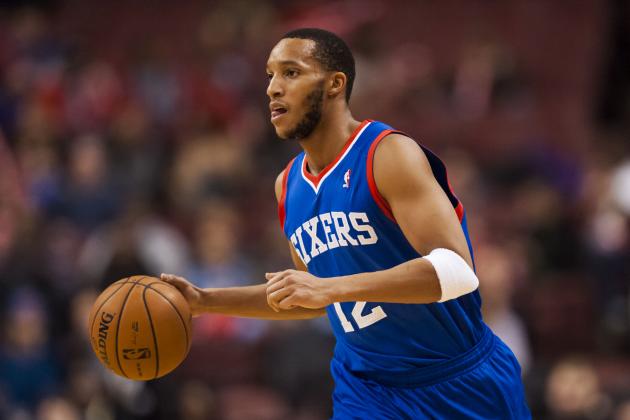 Howard Smith-USA TODAY Sports

Evan Turner had a productive month of November, averaging 21.1 points on 46.1 percent shooting while pulling down 7.3 rebounds in 16 games.
Unfortunately for owners of the Philadelphia 76ers' enigmatic forward, Turner has failed to carry that consistency over to December. His scoring average has dipped by five points in conjunction with a drop in his field-goal percentage (40.2 percent).
Turner has put forth particularly underwhelming performances in three of his last five outings, scoring six points against the Denver Nuggets, 13 against the Minnesota Timberwolves and a season-low three points on Saturday in a matchup with the Portland Trail Blazers.
With Tony Wroten more of a score-first point guard, Turner's stock has dropped in the absence of noted distributor Michael Carter-Williams.
However, with Carter-Williams presumably returning before 2014, Turner could be worth a look.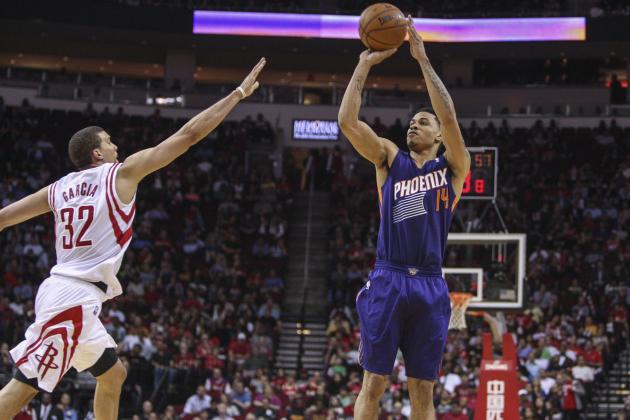 Troy Taormina-USA TODAY Sports

After a scorching hot start to the season, Gerald Green has cooled down considerably.
The Phoenix swingman entered Sunday night shooting 36.4 percent over the last seven days while averaging a meager 6.5 points in that time.
Since Dec. 3, Green has scored in double figures three times and did so barely, notching 10 points on all three occasions (Dec. 6 against Toronto, Dec. 13 against Sacramento and Sunday against Golden State).
However, as Green showed us over the first month of the season, he can be a dynamite scoring option, particularly from deep. During the month of November, Green hit 39.5 percent of his threes and scored 15.1 points per game.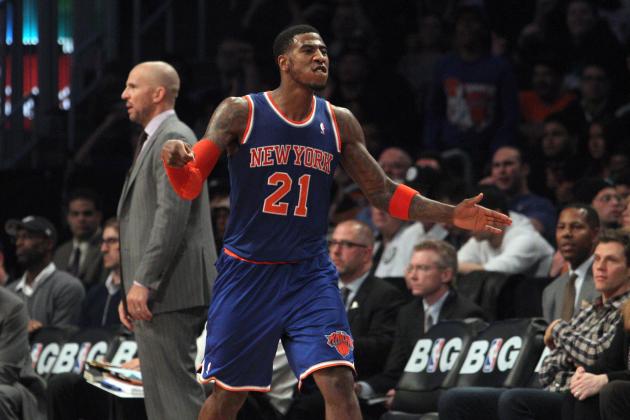 Brad Penner-USA TODAY Sports

Head coach Mike Woodson's usage of Iman Shumpert continues to perplex the basketball universe, but I'm of the optimistic view that he'll eventually earn the big minutes he deserves.
To this point in the season, Shumpert's managed 28.1 minutes per game, up six from last season when he returned from ACL surgery. However, that number is nearly identical to the 28.9 minutes he saw as a rookie.
For a team in need of perimeter playmakers, that's unacceptable.
And while Shump has never been a consistent double-figure scorer, he's got the tools to be a reliable contributor if the Knicks can harness some of the offensive success they had last season, when Shumpert shot 40.2 percent from three.
Shumpert's explosiveness was on display when he poured in 17 points and drilled five threes in a 30-point rout of the Brooklyn Nets earlier this month, and that potential could be realized on a nightly basis if the Knicks offense turns a corner over the next few weeks.
Also consider that New York's premier defensive stopper is averaging a team-best 1.3 steals and a personal-best 4.4 rebounds.
Coming at a presumably low price to owners, Shumpert is a solid buy-low option with upside now that J.R. Smith is in Mike Woodson's doghouse, according to Frank Isola of the New York Daily News.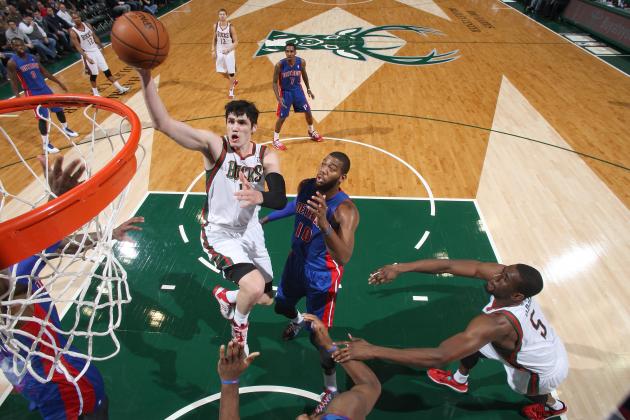 Gary Dineen/Getty Images

Ersan Ilyasova hasn't done anything to cure the Milwaukee Bucks' offensive woes this season, averaging 8.1 points per game on 39.6 percent shooting.
And despite scoring a grand total of two points in 19 minutes in his return to the starting lineup, it's hard to ignore the upside here.
We saw Ilyasova get off to a similarly putrid start last season. He averaged 11.2 points on 44.4 percent shooting prior to the All-Star break before busting out to the tune of 17.2 points on 48.7 percent shooting and 44.9 percent shooting from three over his final 24 games.
So while Ilyasova may be crushing his current owners' hearts, an opportunity has presented itself for astute buyers to make a play for the hot-and-cold forward.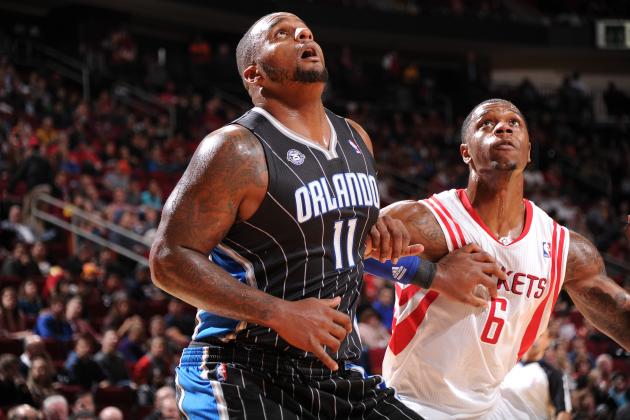 Bill Baptist/Getty Images

Tobias Harris' return to the Orlando Magic's rotation will disappoint owners who had been riding Glen Davis' hot hand.
So if one of those owners exists in your league, perhaps you should take advantage.
Since re-entering the Magic rotation Nov. 23, Davis has been one of Orlando's steadier offensive weapons, averaging 13.1 points (45.6 percent shooting) 6.5 rebounds and 1.4 steals in a shade over 31 minutes a night.
However, in Harris' first game back, Davis managed just 23 minutes against the Cleveland Cavaliers, totaling six points and four boards in the loss, which many owners will take as a sign of things to come. He even played through a separated shoulder on Sunday night, per Josh Robbins of the Orlando Sentinel.
With those figures in mind, it shouldn't come as a major shock that Davis is reportedly unhappy with his current allotment of minutes, according to the Orlando Sentinel's Brian Schmitz.
And although Davis is unlikely to see more than 30 minutes a game on a consistent basis now that Harris is back in the fold, it seems like he always finds a way to fill up the stat sheet thanks to some crafty performances.
Jesse D. Garrabrant/Getty Images

Considering the Chicago Bulls are 3-7 over their last 10 games and have only topped 100 points four times this season, owners may quickly be souring on the key cogs in Tom Thibodeau's system.
With Derrick Rose sidelined, the centerpiece of the Bulls' offense has become Luol Deng, although he's just now making his way back from an Achilles injury that sidelined him for four games.
Combine concerns over Deng's health with the Bulls' anemic offense, and he's the sort of all-around fantasy stud whom fantasy owners would be wise to target in the coming days.
Prospective buyers should also consider the Bulls' upcoming schedule, which has them set to square off against only three opponents with winning records (Houston Rockets, Oklahoma City Thunder and Dallas Mavericks) through the end of the month.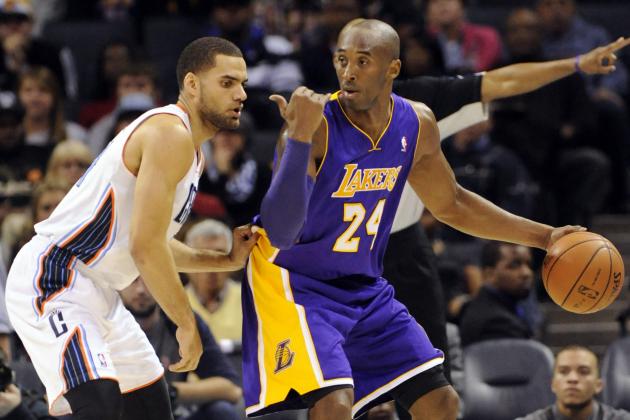 Sam Sharpe-USA TODAY Sports

If you've got an impatient Kobe Bryant owner in your league, go shoot him an offer immediately.
While Bryant has gotten off to a sluggish start in his return from a devastating Achilles injury, he's shown signs of the Kobe of old, particularly in Saturday night's 21-point, eight-assist outing against the Charlotte Bobcats, according to B/R's Kevin Ding:
But the quiet little breakthrough was Bryant's pull-up jumper in the third quarter. Stopping suddenly and shooting smoothly has been one of his most elusive fundamentals to redevelop.

It was that moment, that rhythm jumper, which felt like Kobe. That was when all those wearing purple and gold in the Time Warner Cable Arena in Charlotte were thinking "yes, I know that guy."
Through four games, Bryant is averaging 13.5 points on 43.9 percent shooting and 20 percent from three, as well as career-highs of seven assists and 6.3 turnovers. He's also added a steal a night to his line thus far, which is an extra bonus for owners who choose to target Bryant on the trade market.
Expect those averages to progress and regress to the mean a bit. Bryant's scoring numbers figure to tick up once the Lakers have a true point guard back in the lineup, while his assist and turnover numbers will decrease a bit by the same logic.
If you're an owner who's willing to be patient as Kobe readjusts over the next few weeks, go out and snag him while he's still relatively cheap.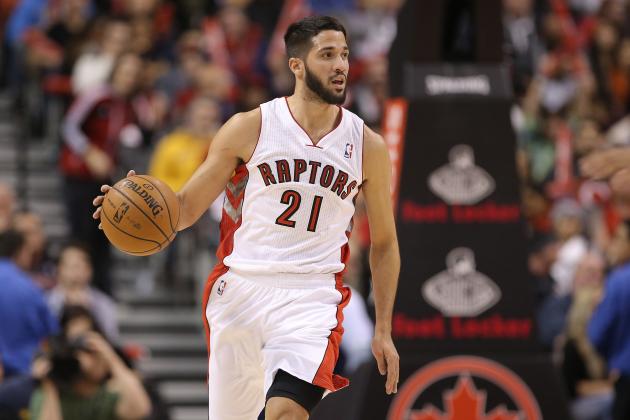 Tom Szczerbowski-USA TODAY Sport

As rumors continue to circulate regarding a potential trade of Toronto Raptors point guard Kyle Lowry, newly acquired Greivis Vasquez is becoming an increasingly attractive buy-low target.
And while Vasquez should by no means come at a high cost to owners looking to deal for the high-upside point guard, prospective buyers must understand that his value is ultimately contingent upon Lowry being dealt.
Ultimately, the 2012-13 total assist leader could wind up being a steal for savvy owners, as he now finds himself in a favorable situation, according to the National Post's Eric Koreen:
"I was watching [the Raptors' game against the Lakers on Sunday] at home. The first eight plays were pick-and-rolls," Vasquez said. "I was like, Yes, this is heaven for me. It's going to be fun. It's going to be fun."
Vasquez earned the title of pick-and-roll savant last season playing with Anthony Davis and Ryan Anderson in New Orleans. He may find himself among the league's top distributors again now that he's flanked by weapons like DeMar DeRozan, Terrence Ross, Jonas Valanciunas and Amir Johnson.