There's a plethora of budding rivalries in the NBA, but one that is well established is that which exists between the Miami Heat and the Cleveland Cavaliers. The environment is much more hostile in Cleveland, but Saturday night's game in Miami still has the NBA world talking.
The Heat have already played the Cavs this season, in a 95-84 victory on the road. LeBron James had 28 points, eight rebounds and eight assists with Dwyane Wade's 22 points as support. Michael Beasley added 17 points and nine rebounds off the bench, joining the aforementioned duo as the only players to score in double figures.
Heat have already ruled Michael Beasley (hamstring) out for Saturday's home game against the Cavaliers.

— Ira Winderman (@IraHeatBeat) December 13, 2013
Miami will be without Beasley due to a hamstring injury and will need others to step up. He's been averaging 14 points and six rebounds through the month of December, becoming a key cog in the Heat engine.
Cleveland didn't get much from Kyrie Irving in the last matchup with Miami as his 6-of-19 shooting resulted in just 16 points. Dion Waiters picked up the slack with 24 points off the bench, shooting 50 percent from the field and from three-point range.
The Cavaliers shot just 34.9 percent as a team with Miami's tough defense on full display.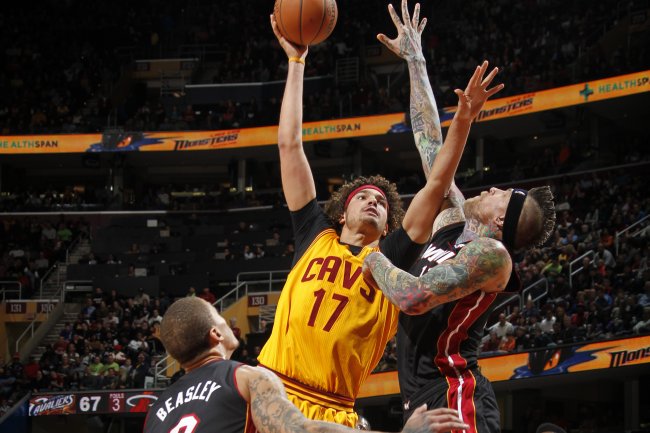 Gregory Shamus/Getty Images
Cleveland has gone 5-2 since the loss to the Heat, defeating the likes of the Los Angeles Clippers and the Chicago Bulls. Miami is just 4-3 since but will look to bounce back after a loss to the Indiana Pacers on Dec. 10.
The Heat allowed 50.7 percent shooting against the Pacers but will need to settle the team defense in time for Saturday's game. The Cavaliers aren't a high-scoring team, ranking No. 24 in the NBA with 93.9 points per game.
On one hand, Miami's job defensively is much easier given Cleveland's offensive shortcomings. Despite this, the Heat can't come into the game with a relaxed attitude. The team needs to be focused and get a cohesive and coherent contribution as a group.
As said before, the Heat will have their home crowd behind them. Charles Barkley, renowned for his honest and opinionated statements, has suggested it's time for LeBron to return home to Cleveland.
Who will win the Heat/Cavaliers matchup?
In an interview with Rachel Nicols on CNN's unguarded, Barkley remarked, "Number one, I don't think they are great fans in Miami. I thought they were great fans in Cleveland." He went on to note how "those were the same fans who were leaving when they thought they had lost to the Spurs."
Chris Bosh felt the same way, expressing his feelings before Game 7 of last year's NBA Finals. It's not an imminent discussion for either side, but it's still a noteworthy piece of information going forward into Saturday night's game.
Charles Barkley ripping on Miami Heat fans. Says LeBron should return to Cleveland because of awful MIA fans. Cleveland thanks you, Charles.

— Billy Jelenic (@treyjay12) December 14, 2013
It would be shocking (and certainly unlikely) for LeBron to make his decision based on how loud the fans are cheering. He's focused on adding another championship ring to his trophy case, and Miami puts him in the best position to do that.
The Heat's fans should likely cheer loudly regardless, despite the lesser competition in the Cavaliers. Miami hasn't played at home since a loss to the Detroit Pistons on Dec. 3, so there's no doubt the fanbase is ready to welcome the team home with open arms.
It would give the Heat a boost as their play has been mediocre the past few games. James and co. need to get back to playing championship basketball, as a team, and shift away from the poor defensive trends beginning to show.
After 3 days of rest, HEAT basketball is finally back tomorrow! It's the MIAMI HEAT vs the Cleveland Cavaliers! LET'S GO HEAT!!!

— Melvyn Manalo (@elheatfan010306) December 14, 2013
Miami is notorious for playing with less focus until it counts, but that, too, can become a trend, one that isn't readily fixed—and it may be too late.