WWE Worst of the Week: Triple H, CM Punk and More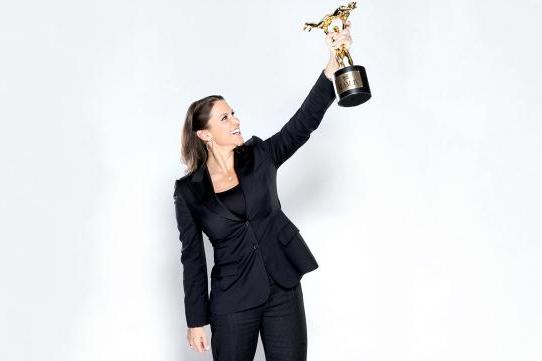 photo via wwe.com

And the Slammy for toughest man or woman alive goes to...*opens envelope* every person who was able to sit through the Slammys without passing out from the sheer stupidity of it!
Congratulations, we've won!
Wow, what a night last Sunday was. Yes, it was awesome to hear the Seattle crowd boo The Bellas out of the building, but the image of Stephanie McMahon winning any award will haunt me for the rest of my life.
Besides WWE hosting the worst award show in human history (at least until next year's Slammys), this week left us with a lot of questions, such as: Who in creative feels two handicapped matches at a pay-per-view is a good idea? Who keeps putting Natalya on commentary? And how exactly did Xavier Woods move up in the WWE Power Rankings when he lost in a 30-second match?
These are troubling questions indeed. While you may not find all the answers here, it's time to dive in and look at the most embarrassing, confusing and lamest things in WWE this week.
Time to celebrate the worst of the week!
Begin Slideshow

»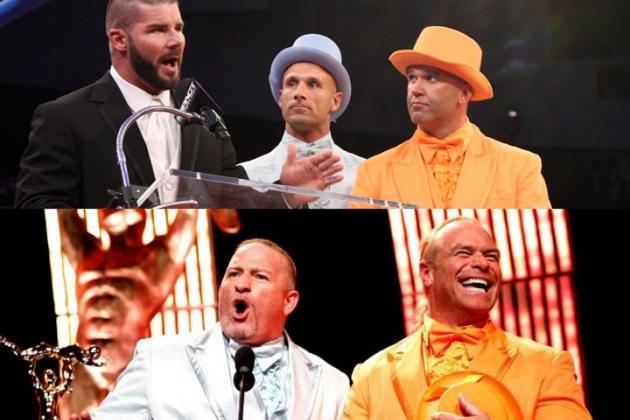 photos via impactwrestling.com and wwe.com

Dressing up as Harry and Lloyd from Dumb and Dumber? Eh, mildly amusing at best.
Dressing up as Harry and Lloyd from Dumb and Dumber two months after a rival wrestling company did it? I got two words for ya! "Not funny."
"Oh, you didn't know? Your butt (stupid WWE PG programming) better call somebodyyyyyyyyyyy!"
Obviously, someone didn't. Or someone didn't care.
OK, let's say that Billy Gunn and The Road Dogg don't watch TNA (after all, most people don't, even though both of them were employed by the company for a few years; not to mention that they're agents, so they should be watching what else is going on in the wrestling world). Couldn't someone backstage have talked to them?
Shouldn't somebody have said: "Dudes, TNA just did this two months ago. You know, that's the promotion that has a match named after its owner and can't afford to keep its champion under contract? You might want to rethink this dated joke."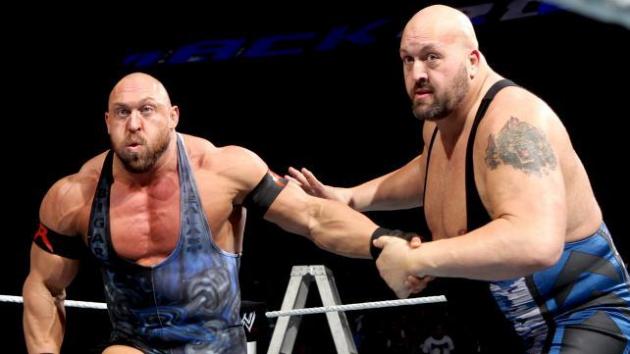 photo via wwe.com

OK, so this has been some time in the making, but it really wasn't that long ago that Ryback was a pay-per-view main-eventer!
In fact, it was on June 16 that he took on John Cena at Payback, and he lasted 24 minutes. His wrestling skills have now deteriorated to the point where he can't last two minutes against The Big Show. He was thoroughly beaten by Show faster than Zack Ryder would have been.
Let's say WWE has lost faith in Ryback (which appears to be the case). At least it could get something out of his fall from the top! The company isn't even trying. We're just supposed to forget that Ryback ever mattered.
After the match, Michael Cole and JBL didn't even take a single second to say how impressive it was that Ryback was beaten in 90 seconds! To me, this is insane. At least build up Big Show and not just act like this burial was a foregone conclusion.
And if Ryback can be beaten so easily, why is he in the tag match at TLC? The Real Americans defeated the tag-team champions in non-title matches on a couple of occasions, so that makes sense—but Curtis Axel and Ryback get a shot? Where is the logic in that? The Bushwhackers probably have a better claim to that match than RybAxel.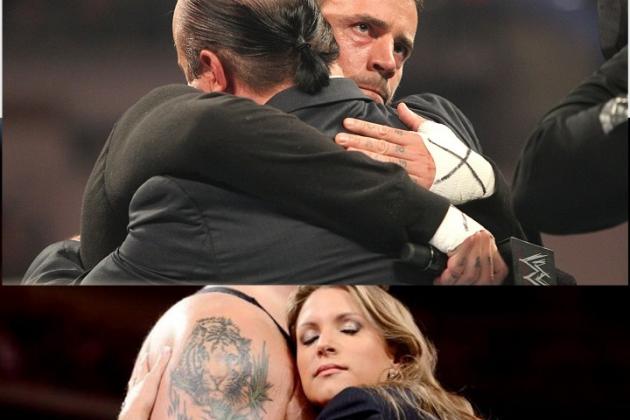 photos via wwe.com

Call me old-fashioned, but where I come from, hugging your female boss on the job while in your underpants would get you fired!
After Raw on Monday, the fans in the arena got a special surprise. After having to sit through the Slammys, it was the least that WWE could do. But not since the infamous curtain call has WWE killed kayfabe so decisively in front of one of its own audiences.
The incident began when an impromptu Spinaroonie contest broke out, and a line of jokesters joined in on the fun. Among the participants were CM Punk and Stephanie McMahon. Yep, she broke out a Spinaroonie of her own. How precious! Since Steph was such a good sport, Punk gave her a hug.
See, it's all for fun! Everyone is having a good time and doesn't actually dislike each other.
Why bother buying the upcoming pay-per-view when everyone is really just a bunch of pals whose sole purpose is to entertain us? Now, WWE took this video off YouTube before, but why? The company can ruin the reality it has created in front of thousands of people but not millions?
Sure, this wasn't on TV, but you'd still think Punk and Steph would have known better. Apparently not.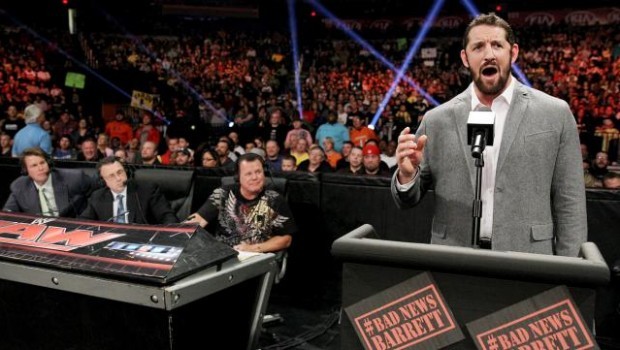 photo via wwe.com

Since I didn't do a Worst of the Week article last week, I feel it's time to chime in on Wade Barrett and his new gimmick.
In the immortal words of The Critic, "It stinks!"
Let's not forget that during The Nexus storyline, Wade Barrett main-evented a couple of pay-per-views. By all accounts, he should still be a top guy. He has a good look, he's solid in the ring and he's pretty good on the mic. For some reason, WWE feels otherwise, as he's mainly been a high-class jobber since The Nexus ended.
Fans keep waiting for him to get another legitimate chance, but it never happens.
After he returned from injury last summer, he got some cool vignettes hyping him as an underground fight-club guy. It didn't really matter; he soon resorted to his jobbing ways. Now, he's a...comedy guy? I'm not sure what it is. He doesn't really tell jokes, and everything he says isn't funny—it's just lazy and obvious.
I have some bad news for Wade Barrett, actually: This gimmick sucks, and it will never get over!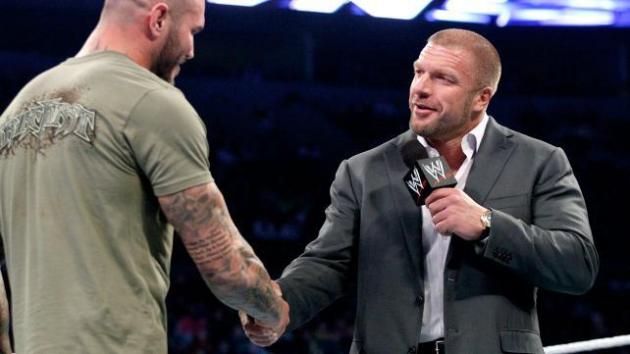 photo via wwe.com

The final go-home hype for TLC was Randy Orton, the WWE champion, apologizing to HHH, a man who isn't even in the match.
Does that make any sense?
If you're Triple H, one of the real-life higher-ups in WWE, and this was pitched to you as an idea, wouldn't you say, "Why, WWE creative team member, I'm not in that match on Sunday, so that makes absolutely no sense to feature me so much. I think a much better idea would be for John Cena and Randy Orton to have one final encounter to hype their historic match. That would benefit the present and future of the company far more than me belittling the champion again."
Nah, because if you did then you wouldn't be on TV hogging the spotlight for absolutely no reason for the 10,000th time!
What happened to the psychotic, ruthless killer that Orton used to be? Why is he offering up "humble apologies" for getting pushed into Stephanie McMahon, who was so injured that she was able to compete in a Spinaroonie contest just minutes later?
The build toward the title unification has been a disaster. The build toward TLC in general has been awful. The blame should start at the top, for the people who involve themselves when they're not needed.
Maybe it's time to stop fighting and just accept things. Let's just get this over with and give Stephanie McMahon and Triple H the WWE and World Heavyweight Title and watch them defeat the entire roster in a handicap match. Then they can all dance on the air for our entertainment.
Time to kick out.
Well, that's all for this week. Agree? Disagree? Perhaps you loved The Slammys and I'm out to lunch. Sound off below and thanks for reading!
And for those who are interested, check out a new podcast I'm a part of: Wrestling With Friends. It's just a couple of pals talking wrestling, and drinking some hot chocolate. We discuss current events, and go through some of the worst moments in wrestling history. Join in on the fun as we iron out the kinks!