The Alamodome in San Antonio has hosted a variety of marquee sporting events in its history, and the battle between Adrien Broner and Marcos Maidana will be added to that list on Dec. 14.
Broner, who is the WBA welterweight champion, sports a perfect 27-0 record (22 KO) and is something of a lightning round in the boxing world. He is one of the rising stars in the sport and will be entering the ring for the first time since beating Paulie Malignaggi.
Maidana (34-3, 31 KO) will challenge Broner with his physicality and solid punching, but it is far from the only intriguing matchup on Saturday's card. Let's dig into the notable undercard showdowns that will take place before the Broner and Maidana showdown.
Keith Thurman vs. Jesus Soto Karass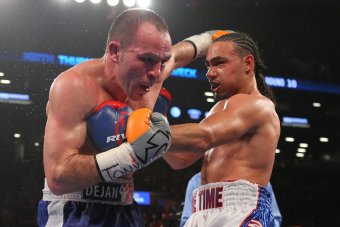 Ed Mulholland-USA TODAY Sports
Much like Broner, Keith Thurman enters his fight with an undefeated record (21-0, 19 KO). He will look to defend his interim belt against the dangerous Jesus Soto Karass (28-8-3, 18 KO).
It may be an undercard showdown, but Golden Boy Promotions chief executive Richard Schaefer recently indicated to ESPN.com that it is a must-see event.
"On paper, this is a fight of the year candidate."
That is high praise for an undercard bout. Keep in mind that Thurman is the favorite and will win this match if he boxes up to his full potential, but Karass scored two consecutive upsets against Selcuk Aydin and Andre Berto. He is an aggressive puncher and will challenge Thurman on a physical level.
Leo Santa Cruz vs. Cesar Seda
Nothing to see here, just another match in the Alamodome and another undefeated competitor.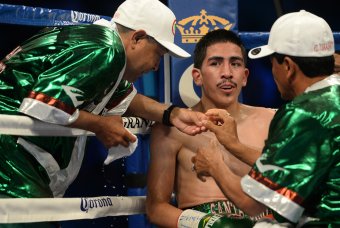 Jayne Kamin-Oncea-USA TODAY Spor
Leo Santa Cruz (25-0-1, 15 KO) will take on a formidable challenger in Cesar Seda (25-1, 17 KO). Santa Cruz is rapidly becoming a popular name among boxing fans and should have support from many in the crowd on Saturday.
The key for Seda will be establishing some type of rhythm early with his jabs. His long reach could give heavy-favorite Santa Cruz some issues if he gets some initial punches in and establishes momentum.
However, Santa Cruz is simply too good of a boxer at this point for Seda to take out. Look for a close victory as Santa Cruz continues his winning ways.
Beibut Shumenov vs. Tamas Kovacs
Light heavyweight Beibut Shumenov (13-1, 8 KO) will have to do something nobody has done yet if he wants to defend his belt—beat Tamas Kovacs (23-0, 14 KO).
Kovacs' undefeated mark is impressive, but he has yet to face someone of Shumenov's stature. In his first fight stateside, Kovacs will look to land some early power punches and take control of the fight from the outset.
Unfortunately for Kovacs, Shumenov is incredibly quick in the ring and will outlast Kovacs' efforts. Shumenov's footwork and jabs will be too much for Kovacs to handle. Don't be surprised if this fight isn't as close as some of the others on the Dec. 14 card.