College Football Uniform Watch for 2013-2014 Bowl Season
Use your ← → (arrow) keys to browse more stories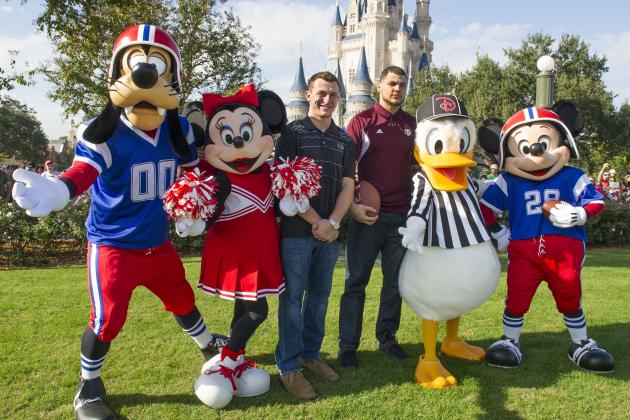 Handout/Getty Images

It's bowl season, which means there is just one last chance for college football teams to debut new threads before the end of the year.
As teams pull out their final uniform and helmet choices, we'll be on the lookout.
Check out the latest bowl uniform and bowl helmet updates below.
Cincy's Mean Belk Bowl Helmets
The Cincinnati athletic department Twitter account released two shots of a mean-looking helmet the Bearcats will wear in the Belk Bowl against North Carolina.
The shiny red lid features faint red cat eyes on the back.
Another shot of the #Bearcats @belkbowl helmet. What do you think? pic.twitter.com/hCh2vq1Zmx

— Cincinnati Bearcats (@GoBEARCATS) December 12, 2013
Shot of the back of the #Bearcats @belkbowl helmets showing the subtle cat eyes pic.twitter.com/jTePKUZwyF

— Cincinnati Bearcats (@GoBEARCATS) December 12, 2013
UC will take on UNC in Charlotte on Dec. 28 at 3:20 p.m. EST on ESPN.
Minnesota's Matte White Lids
Announced on Twitter, Minnesota will don some very sharp matte white helmets during its Texas Bowl appearance.
White helmets #Gophers will wear at @TexasBowl pic.twitter.com/pp4UVbmKYv

— Gopher Football (@GopherFootball) December 9, 2013
Back of new white helmet. Stripe has a brick pattern as well. pic.twitter.com/cwuSN82Hdp

— Gopher Football (@GopherFootball) December 9, 2013
On a matte white background, the helmet has a bold maroon stripe down the middle, numbers on one side and the "M" logo on the opposite side. The stripe features a brick pattern, and the motto "brick by brick" is displayed along the back.
The Gophers will take on Syracuse in Houston on Dec. 27 at 6 p.m. EST on ESPN.
Maryland Going White Ops for Military Bowl
Maryland has worn these uniforms before, but Daniel Martin of CSN Baltimore reports that the Terrapins will bring out their "White Ops" threads for the Military Bowl.
#Terps will wear "White Ops" uniforms for Military Bowl vs. Marshall. Pictured here: pic.twitter.com/kQMZWwoANv

— Daniel Martin (@DMartinCSN) December 12, 2013
UMD will meet Marshall in Annapolis, Md., at 2:30 p.m. EST on Dec. 27. The game will be televised on ESPN.
Fresno State Throwbacks
Jason Oliveria of KFSN-TV in Fresno reported that Fresno State will sport throwbacks from 1992 in the Royal Purple Las Vegas Bowl.
Fresno State to rock '92 Freedom Bowl retro uniforms for this year's Las Vegas Bowl pic.twitter.com/CFz9Pe25kK

— Jason Oliveira (@JasonOliveiraTV) December 13, 2013
Fresno director of development Jennifer Jory also confirmed that the Bulldogs would be going back in time with their uniforms, looking to draw magic from their 1992 Freedom Bowl win over USC.
The Dogs' athletic department tweeted out images from the Freedom Bowl, but it hasn't provided any shots of the new uniforms.
Fresno State wearing Bulldogs script logo helmets & white uniforms for @LasVegasBowl! #92freedombowl #BeatUSCAgain pic.twitter.com/YcYLlVNaNW

— Jennifer Jory (@JennyJory) December 13, 2013
#GoDogs #BeatUSCAgain #rplvb #92freedombowl #tbt @TDESPN #BulldogBornBulldogBred pic.twitter.com/ziHbD5eF6I

— FresnoState Bulldogs (@FSAthletics) December 13, 2013
Fresno will take on USC on Dec. 21 at 3:30 p.m. EST on ABC.
Mizzou Uniforms? You Decide
Missouri is staging a contest to decide its Cotton Bowl uniforms.
Hey #Mizzou fans! You get to choose what uniforms @MizzouFootball will wear for the @ATTCottonBowl this year: http://t.co/SBDMebIRpj

— Mizzou (@Mizzou) December 12, 2013
More information can be found here.
Note: This article will be updated as more uniforms are released.