Why Tata's Defensive Choices Almost Cost Barcelona the Match
Use your ← → (arrow) keys to browse more stories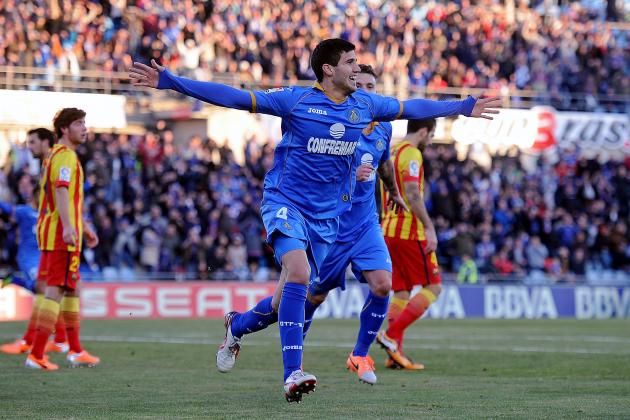 Denis Doyle/Getty Images
Getafe will be kicking themselves that they allowed a two-goal lead to slip.
Cometh the hour, cometh the man, they say.
Barcelona's support and Tata Martino will be thanking their lucky stars for a virtuoso performance by Pedro Rodriguez after tonight's game against Getafe at the Coliseum Alfonso Perez.
A match that, on paper, looked like another routine victory appeared to be anything but after the opening quarter hour.
Defensively, Barca were a nightmare, and the decision to leave in-form Marc Bartra out of the starting line-up was not only a baffling one, but one that looked like it would cost them the points.
At the beginning of this festive period, the central defensive unit of Gerard Pique and Javier Mascherano—which is patently getting worse the longer they are paired together—were giving out presents at every given opportunity.
A clearly unfit Dani Alves at right-back seemed to be another ricket by the manager.
Getafe, sensing their opportunity from the outset, really took the game to Barca in the early stages, and it was no surprise when Escudeiro skinned a floundering Alves with ease and rifled past Pinto after 10 minutes.
Within four minutes, the hosts had doubled their lead.
Despite the squad suffering from nervousness to the high ball into the box for years, not one Blaugrana manager has found a formula to combat Barca's biggest weakness.
So it was again on 14 minutes when a routine corner was powered home by an unmarked Lisandro, both Pique and Mascherano like statues looking quizzically at each other, arms outstretched.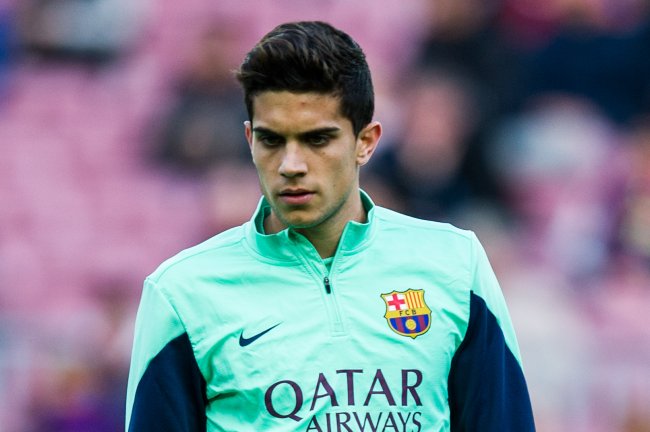 David Ramos/Getty Images
At least with Bartra in the side, Barca have looked a little more comfortable and commanding when the high balls have been arrowed in. The early part of this game surely showed Martino just how desperate Barca are for another centre-back in the Carles Puyol mould.
The January window can't come soon enough for most supporters.
The entire away side were disjointed each time they edged forward, and Alves in particular looked leggy. His usual lung-bursting forward runs were non-existent at this point, and when put under pressure, he struggled.
At the half-hour mark, the visitors were still to register a shot on target. Enter Pedro Rodriguez.
Barca's riposte began on 35 minutes, but Pedro's first had more than a touch of luck about it. Getafe had stopped playing, believing (correctly) that the ball had gone out for a throw-in. Barca played to the whistle and an exquisite through ball from Cesc Fabregas split the defence for Pedro to loft the ball over the advancing keeper.
Within eight minutes, the Canary Islander had turned the match on its head. No manger nor any wise men in sight, but this was a god-like intervention.
Cutting in from the left on 41 minutes, he unleashed a bullet of a shot into the top corner to draw Barca level. Just two two minutes later, a mistake in the Getafe defence saw Pedro slam home his, and Barca's, third. In so doing, he drew level on 14 goals for the season with Lionel Messi.
Martino's celebration on the touchline told us everything. Fist pumping, face contorted, Tata knew he had got out of jail.
Yet it needn't have been that way. Rotation is all very well, but if your best players are playing at the top of their game, then surely you keep them in. Don't you?
The second half began in similar fashion, with Getafe bossing the opening exchanges. Ciprian should've levelled for the home side on 49 when the labouring Pique once again allowed a cross into the box, Mascherano also unable to deal with the loose ball.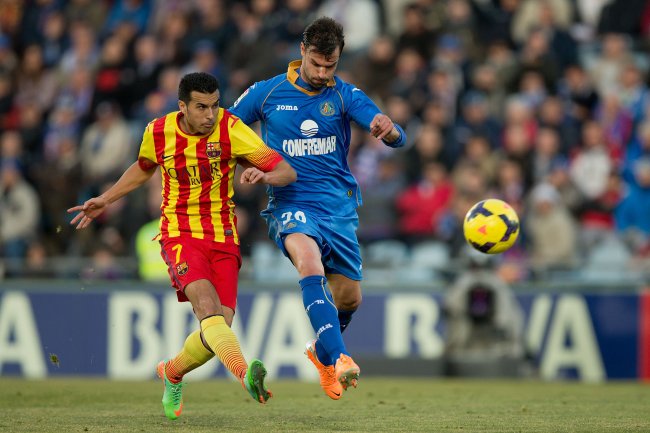 Gonzalo Arroyo Moreno/Getty Images
As the half progressed, Barca finally began to find their rhythm. Fabregas was once again to the fore, his incisive workmanship opening up the home defence time and again. The visitors were in the ascendancy but without really troubling the opposition goal.
Castro was a whisker away at the other end, more comedy from Laurel and......Pique and Mascherano...clearly showing Martino that Barca were not home and dry yet. Despite this, Bartra remained firmly rooted to the subs bench.
Highlights La Liga Getafe 2 - 5 Barcelona FC http://t.co/Fyav7nMjzE [bola]

— wazza (@fansRooney_ID) December 22, 2013
The game was finally taken away from the home side by Sergio Busquets. A superb counter and pinpoint pass to Pedro saw the man of the match flight a beautiful and inviting ball in for Fabregas to volley into the roof of the net.
The two would combine again a few minutes later, Rodriguez drawing a foul from Borja Fernandes and Cesc calmly slotting home the penalty.
The final 10 minutes were manna from heaven for Barca, training ground keep-ball. A flurry of yellow cards for the home side was evidence of a growing frustration that the game had slipped from their grasp.
Busquets' unnecessary but canny yellow card—meaning he misses the Elche game but is free for Atletico Madrid—gives Mascherano the chance to deputise in his more natural defensive midfield position.
If Bartra is not restored after that, then he should pack his bags, Dick Whittington style, and meander off into the sunset.
Goodwill to all men is only seasonal, Tata.