Losing potential assets to make a run at players like Toronto Raptors guard, Kyle Lowry makes no sense for the Los Angeles Lakers.
While he could certainly help the team—especially amidst its current injury woes in the backcourt—he doesn't make the Lakers a legitimate championship team.
Lowry is said to be available. Per Frank Isola of the New York Daily News, the New York Knicks and Raptors had agreed to a deal in principle, but Knicks head man James Dolan later nixed the deal.
Judging by the healthy package (Metta World Peace, Raymond Felton, Iman Shumpert and a 2018 first round draft pick) the Knicks were prepared to send to Toronto, acquiring Lowry is going to be expensive.

Mitch Kupchak knows that and refuses to allow the team to make knee-jerk deals that don't bring the organization any closer to its ultimate goal, another NBA championship. Per Dave McMenamin of ESPN.com, Kupchak said:
I think for the time being we're going to roll with what we've got. To find a player that doesn't belong to somebody right now that can come in and play in front of Kobe [Bryant], in front of Xavier [Henry], in front of Jodie [Meeks], it's unlikely. It's a good time to perhaps look at a player, but I don't think there's somebody that we're going to bring in and we're going to start or is going to play big minutes.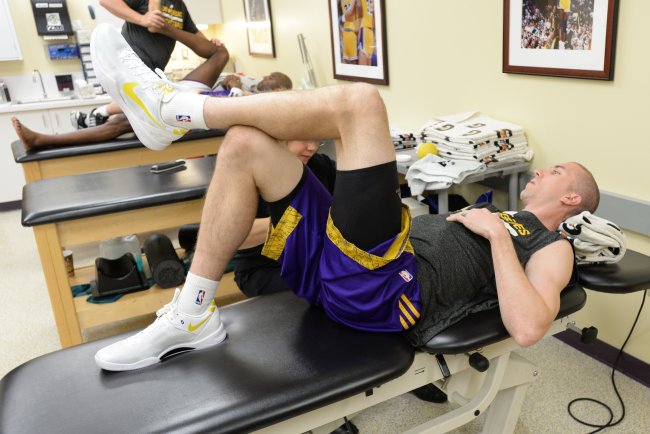 Andrew D. Bernstein/Getty Images
Per McMenamin, point guard Steve Blake is set to miss six weeks with a torn ulnar collateral ligament in his right elbow.
Jordan Farmar is out about three weeks with a torn hamstring and Steve Nash has battled ankle, back and nerve injuries all season. That leaves the team with no healthy point guards.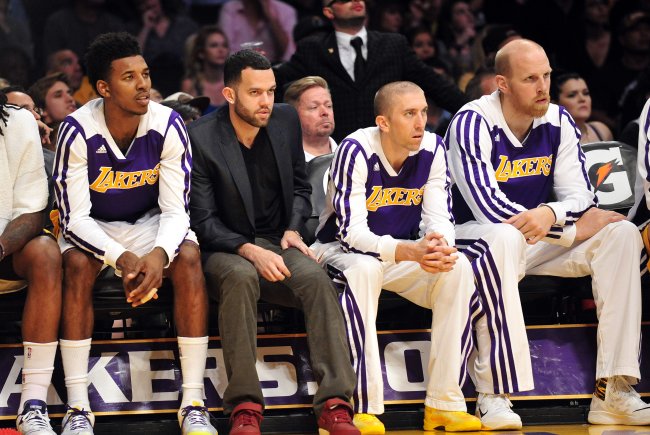 Gary A. Vasquez-USA TODAY Sports
Per Adi Joseph of USA Today, Bryant is set to man the point until one of the team's injured guards gets healthy. Perhaps someone is signed for the veteran's minimum just to give Bryant a blow, but this is the smartest approach.
Excitement and hype was high for Bryant's return to the lineup, but the Los Angeles Lakers are not a right-now team. Aside from agreeing to pay The Mamba a head-scratching amount of dough over the next two seasons, the Lakers have positioned themselves as a team of the future.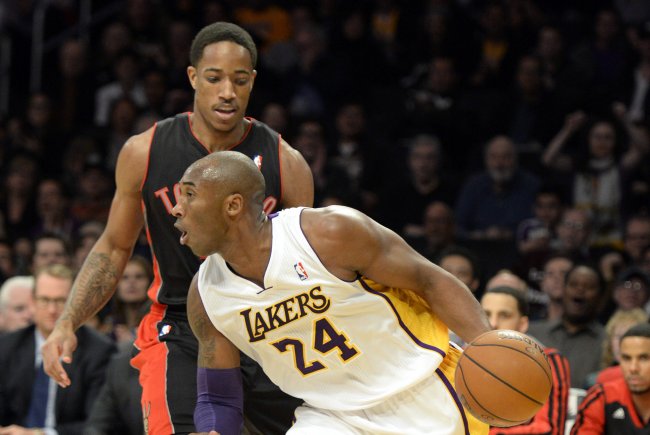 Richard Mackson-USA TODAY Sports
Perhaps that future could be as soon as next season—if L.A. can procure a few top-notch free agents to pair with Bryant to make a run in the 2014-15 season; but in any case, conventional wisdom suggests the Lakers won't make much noise this season.
At the moment, L.A. is 10-11 and two games behind the Golden State Warriors for the eighth playoff spot in the Western Conference. It is very early, but with injuries in the backcourt and a general lack of depth, the Lakers will be fortunate to make the playoffs.
Trying to make a deal for Lowry would possibly get the Lakers into the seventh or eighth seed, but it would still be headed for another first-round exit. That's not the goal and would ultimately hurt the team's draft position next season.
The 2014-15 campaign figures to be a year the Lakers can make a legitimate run at something more substantial. With a presumably healthy Bryant, one or two high-price free agents and a first-round pick that could be in the lottery, the Lakers could be good next season.
Losing assets or committing to salaries that disturb that future would be unwise.
Follow me for news and musings on hoops.