Twenty Trades That Defined Boston Sports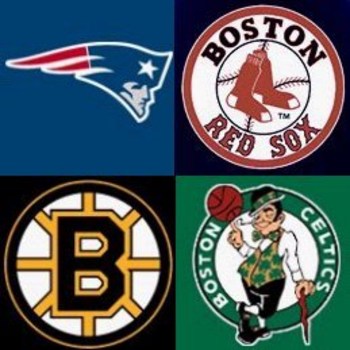 Before the 21st century, Boston sports teams went 16 years without witnessing a championship of any kind.
The Boston Bruins haven't won a Stanley Cup in 37 years
The New England Patriots had never won a championship before 2002.
Of course, who can forget the Boston Red Sox going 86 years without winning a title
One Boston sports team that did from the 1960s until the mid-1980s were the Boston Celtics. But, even their run dried up for 22 years.
Today, we are going to examine 20 trades that shaped and defined Boston sports.
The good, the bad and the ugly trades that impacted Boston Sports lore.
20. New England Patriots Trade the 16th Pick of the 1985 Draft to San Francisco for the 49ers 28th, 56th and 84th Overall Picks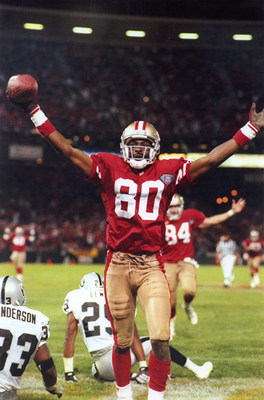 A little unknown trade in Boston sports.
New England was sitting pretty at pick 16 in the 2005 NFL draft. Then they supposedly got a deal they could not refuse.
A first, second and fourth rounder for their 16th pick by San Francisco.
The Pats gave away the option to draft some wide receiver from Mississippi Valley St, Jerry Rice.
Instead of trying to create their own dynasty, it was the 49er's who swooped in, teamed up Rice with Joe Montana and won three super Bowls.
Rice only was a 13 time Pro Bowler, 12 time All Pro and an NFL Hall of Famer.
He holds the career record for most receptions, yards and touchdowns for a wide receiver along with countless other records.
Jerry Rice became the greatest wide receiver in NFL history.
Question is, would he had that type of career under Steve Grogan and Tony Eason?
The Patriots? They got Trevor Matich. Yay!
19. Boston Bruins Trade Joe Thornton to San Jose for Marco Sturm, Keith Primeau and Brad Stuart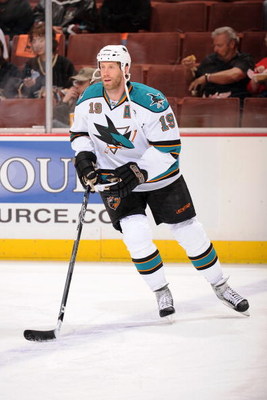 In one of the most lopsided trades in Bruin history, Boston packaged star player, Joe Thornton for 50 cents on the dollar in 2006.
Mike O'Connell, realizing that the Bruins cannot win with what they got, decided it was time to package Boston's face of the franchise and attempt to rebuild.
All Thornton did that season was guide San Jose to the playoffs, win the Hart and Art Ross trophy.
Thornton was also scored 90 plus points in three of his four seasons at San Jose.
Primeau and Stuart were eventually sent packing and Sturm has been a solid forward for the B's.
This trade was the eventual demise of Mike O'Connell. His Boston Bruins never made it back to the playoffs after the Thornton trade until the 2007-08 season, under Peter Chiarelli.
18. Cincinnati Trades Corey Dillon to New England for 2004 2nd Round Pick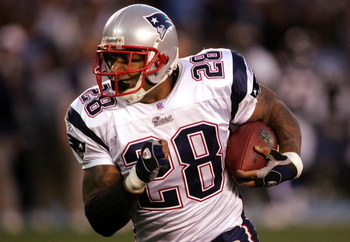 The New England Patriots were coming off their second championship in three years, as they defeated the Carolina Panthers 32-29 in the 2004 Super Bowl.
New England was already a high octane offense but were led in the backfield by aging Antwain Smith.
Smith was plagued by injuries for two years and Belichick would hold him out of the offense during the first half of the each season. Reason for this was to sustain strength for the long run in the playoffs.
Belichick knew he needed an upgrade at running back. Cincinnati was dealing with the beleaguered Corey Dillon. Dillon was a notorious trouble maker with the Bengals.
Cincinnati decided it was time to rid themselves of the troubled running back and sent him packing to New England.
Dillon was on the understanding, if he wanted to win a championship, he needed to keep his mouth shut and do his job, the 'Patroit Way'.
How did Dillon do? Well, he only set career and franchise records during the 2004-05 season by rushing for 1,635 yards and 12 touchdowns.
New England locked up the Super Bowl in 2005 and was dubbed the term, 'dynasty', a term not heard in Boston since the Celtics of the 1960's
17. Boston Red Sox Trade Sparky Lyle to New York Yankees for Danny Cater and Mario Guerrero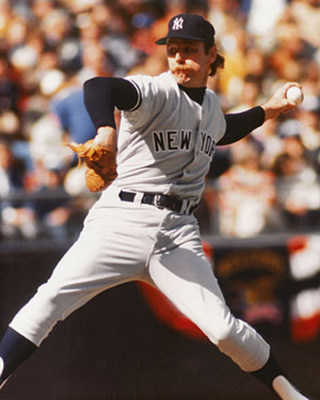 Sparky Lyle was the ace out of the bullpen for the Boston Red Sox from 1967-1971. But Red Sox GM, Dick O'Connell, needed a solid hitting corner infielder.
Cater was averaging 10 home runs and .290 batting average with the New York Yankees.
But, Cater flopped in Boston hitting under .250 two of the three seasons in Boston and eventually lost his job to Cecil Cooper.
Lyle, on the other hand, became the stalwart to the Yankees bullpen. As the premier closer, he helped guide the Yankees to three straight playoff appearances from 1976-1978 and won two World Series during that time frame.
To pile on, Lyle won the 1977 Cy Young Award.
Lyle finished with 238 saves, 99 wins and a 2.88 ERA.
Boston, meanwhile, struggled with their bullpen and could have used Lyle's help during the 1975 World Series. The Red Sox leaned on Dick Drago to close out games and that was a complete adventure.
16. Oakland Raiders Trade Randy Moss to New England for a 2007 4th Round Pick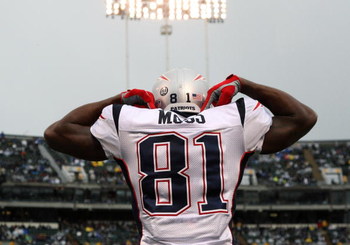 New England had come off a heartbreaking AFC Championship Game loss at Indianapolis. It was evident that their offense was far inferior to the Colts.
Before Day Two of the 2007 NFL draft, Bill Belichick again went for another careworn star in wide receiver, Randy Moss.
Like Corey Dillon, Moss was told to stop his antics and agree to play the 'Patriot Way'. He was a falling star in Oakland.
Moss ended his first season with 1,493 yards receiving and a new NFL record 23 touchdown catches.
Moss helped lead the Patriots to an 18-0 record, first NFL team to go 16-0 in the regular season, before a crushing loss to the New York Giants at the 2008 Super Bowl.
Moss also caught over 1,000 yards this past season and 11 touchdowns with Matt Cassell at quarterback.
15. Colorado Avalanche Trades Brian Rolston, Sammy Pahlsson, Martin Grenier and a 1st Round Pick To Boston for Ray Bourque and Dave Andrychuk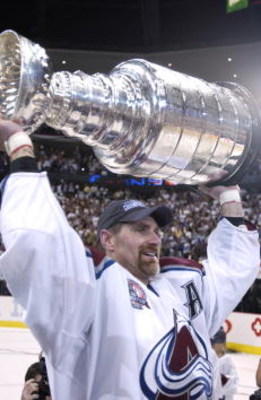 The Boston Bruins were floundering in last place of the Northeast Division in 2000.
Ray Bourque, Bruin legend, wanted to taste victory from the Stanley Cup. Twice he had gone to the Stanley Cup finals and twice the Bruins were swept by the Edmonton Oilers.
Bourque was winding down a Hall of Fame career with the Bruins.
The Avalanche were in dire need of a blue-liner and help on the power play.
With that, the Harry Sinden sent the future Hall of Famer to Colorado in hopes for a Cup. 20 years with the Bruins.
Bourque didn't win the Cup in 2000. But the following year, the Avalanche beat the New Jersey Devils and finally Bourque won his Stanley Cup.
In a bizarre move, Boston mayor, Tom Menino, had 'Ray Bourque Day' at City Hall Plaza. Bourque brought the cup to the event. At the time, it was the only trophy Boston had seen since 1986.
14. Boston Celtics sends the No. 5 Pick in the 2008 Draft, Wally Sczcerbiak and Delonte West to Boston for Ray Allen and the #35 Pick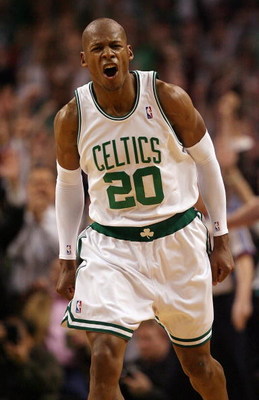 This was 'do or die' for Danny Ainge.
The Boston Celtics were coming off a 24-58 record during the 2007-08 season.
Paul Pierce was injured during a good stretch, where the Celts lost 18 straight.
Pierce had complained about having the 'star help'.
Ainge had done nothing as GM of the Celts. He knew this was it for him. So he made a change.
The Celts GM sent the #5 pick, plus two expiring contracts to Seattle for the shooting guard in Ray Allen and the #35 pick in the 2007 draft.
Ainge had originally gone after Kevin Garnett but failed in his attempt as Garnett vetoed the trade. So Ainge, turned his attention to Ray Allen.
Allen was an All Star in 2008 and became an NBA Champion in the same year.
Oh yea, that #35 pick? That turned out to be Glen Davis
But Allen was just Part One of the final piece to the Celtics, which turned out to be...
13. Boston Celtics sends Ryan Gomes, Al Jefferson, Gerald Green, Sebastian Telfair, Theo Ratliff and a 2009 1st Round Pick to Minnesota for Kevin Garnett
"Maaa, Top of the Wooooooooorllllllllllllllllld!!!!"
Kevin Garnett's exclamation after winning the 2008 NBA Title.
This was the final piece to Danny Ainge's championship puzzle.
After one failed attempt, Ainge was finally able to deal rising prospect Al Jefferson, with role players Gomes, Telfair and Green plus the expiring contract of Theo Ratliff and a 1st round pick for Garnett.
All Garnett did in one year with the Celtics was become an All Star, 1st Team All NBA, the Defensive Player of the Year and help guide the Celtics to their first World Championship in 22 years.
His presence was felt on the court. The Celts failed to repeat as Garnett was out of the playoffs due to a knee injury.
12. Boston Bruins Trade Barry Pederson to Vancouver for Cam Neely and a 1st Round Draft Pick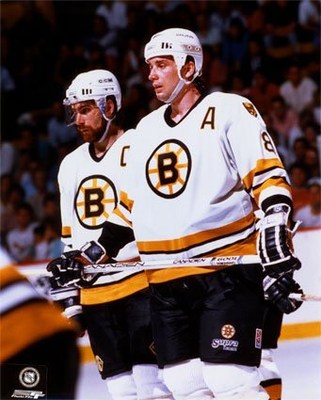 As much as Harry Sinden failed to bring home a Stanley Cup for the Boston Bruins as General Manager, he was great at making trades to help build a winner.
The Boston Bruins lacked a big, bruising, young forward to help them win. The B's could score but lacked in strength.
Sinden sent three time 30 goal scorer Barry Pederson for young prospect Cam Neely and a 1st round draft pick.
Neely became an intimidating force for the Bruins. He could score 40 goals and spend 150 minutes in the 'sin bin', mostly from fighting.
He was a Gordie Howe-type player.
Neely took the Bruins to four Eastern Conference championships and two Stanley Cup finals. Unfortunately, Neely did not win a Cup.
He was a five time All-Star, three time 50 goal scorer, the winner of the Bill Masterson trophy and Hall of Famer.
Pederson spent the rest of his career missing Rick Middleton setting him up and out with injuries. The Canucks never got to see what Pederson can do.
Oh by the way, that first round pick? Glen Wesley. Not bad.
11. Boston Celtics Trade Rick Robey and Draft Picks to Phoenix for Dennis Johnson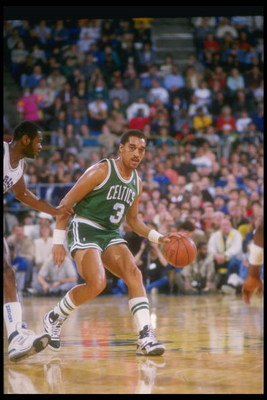 The Boston Celtics spent 1982 and 1983 struggling against their rival the Philadelphia 76ers. They were unable to get by the Sixer's in the Conference Finals in each of those seasons.
Mainly, the Celtics did not have an answer for Andrew Toney, a big physical guard.
Red Auerbach went to the well again, pulling out another gem of a trade.
Sending hacking forward, Rick Robey to Phoenix, the Celtics got what they needed, a physical, tall guard in Dennis Johnson.
DJ was able to lead the C's past the Sixer's and to four NBA finals and two championships, 1984 and 1986.
10. Houston Astros Trade Larry Anderson to Boston for Jeff Bagwell
Jeff Bagwell for Larry Anderson. Yes Sox fans, you can puke in your mouth now.
Bagwell was a rising prospect in the Red Sox organization and it was thought that third base was a position in Boston's farm system that was overstocked.
First off, Bagwell was supposedly blocked by Wade Boggs. He also had to contend with other prospects like Scott Cooper and Tim Naehring.
What Gorman didn't think of was, could he play first base?
With that, Gorman sent Bagwell to Houston as the Sox needed a relief pitcher for the stretch run of the 1990 season and possible playoff run.
Anderson pitched 22 innings in the regular season for the Sox with a 1.23 ERA. In the playoffs, he pitched in three innings with a 6.00 ERA.
Bagwell on the other-hand, was the 1991 N.L. Rookie of the Year, 1994 MVP, four time All-Star, Gold Glove winner (at first base) and three time Silver Slugger Award winner.
He hit 449 home runs, drove in 1,529 RBI and batted .297 lifetime.
Whoops.
9. Boston Celtics send Gerald Henderson to Seattle for a 1986 1st Round Pick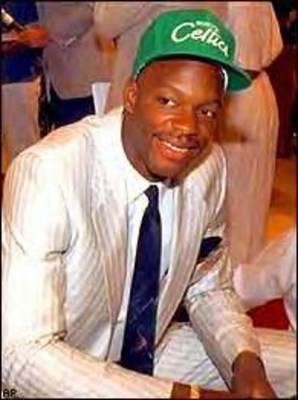 With the acquisition of Dennis Johnson, Celtic's GM, Jan Volk, felt he had a chip to trade in Gerald Henderson.
Knowing he did not need help right away in 1984, he traded Henderson to Seattle for their first round pick in 1986.
Seattle absolutely crumbled during the 1985-86 season. The Celtics won the NBA title that same year and ended up with the second pick in the 1986 draft.
Red Auerbach coveted six foot eight, power forward Len Bias.
Bias was supposed to be the next biggest NBA player and he was going to the defending champion Boston Celtics.
This was a coup for Auerbach and Volk, especially with Cleveland expected to take North Carolina center Brad Daugherty.
The Celts took Bias with the second pick. 48 hours later Bias was dead of a cocaine overdose.
Boston went into a slide. Larry Bird had back and foot problems that ended his career after the 1992 season.
Kevin McHale suffered foot issues that sidelined him.
The Celtics ageds quickly and for 22 years, Boston never won a title.
It was the curse of Len Bias.
8. Boston Red Sox Trade Heathcliff Slocumb to Seattle for Derek Lowe and Jason Varitek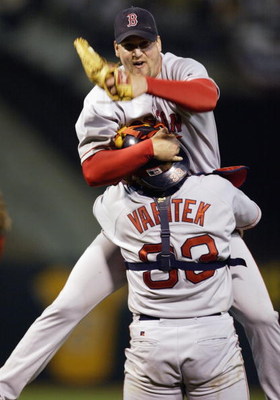 The Boston Red Sox were going through a transition year in 1997. Boston was wallowing toward the bottom of the A.L. East and Dan Duquette needed to get young, quick.
He sent unstable closer Heathcliff Slocumb to Seattle for two prospects, Derek Lowe and Jason Varitek.
The thought behind Derek Lowe was that he could be a valuable reliever and Varitek would be a back up catcher to Scott Hatteburg.
How things were misconstrued.
Derek Lowe became a two time All Star, one as closer and the other as a starter.
Jason Varitek became the heart and soul of the Boston Red Sox. He was named captain of the Sox after the 2004 season and has been a three time All Star for the Sox. He also won the Gold Glove and Silver Slugger award in 2005.
Both Lowe and Varitek helped the Sox end their 86 year drought and win the World Series in 2004.
Lowe became the first pitcher ever to be the deciding victor at the end of a series for the ALDS, ALCS and World Series in 2004.
Varitek has won two world championships with the Sox and remains captain today.
7. Boston Red Sox Trade Jorge De La Rosa, Casey Fossum, Brandon Lyon and Michael Goss to Arizona for Curt Schilling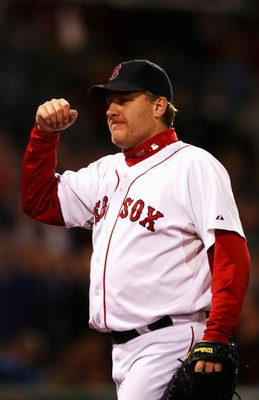 The Boston Red Sox were coming off the worst playoff loss in the history fo the team.
Worse than Bucky Dent. Worse that Bill Buckner.
After Tim Wakefield had given up a home run to New York Yankee, Aaron Boone in Game 7 of the 2003 ALCS, Theo Epstein knew his team needed to make a move.
It became evidently clear that Boston needed another ace in their staff outside of Pedro Martinez.
During Thanksgiving of 2003, Epstein and his entourage, ponied up to dinner with the Schillings and were able to negotiate a deal to Boston.
Curt Schilling became a vital part of the Boston Red Sox. He won 20 games in 2004 and helped guide the Sox to the 2004 World Series title.
His defining moment was the 'Blood Sock Game' during Game 6 fo the ALCS.
Schilling also helped the Sox win thew 2007 World Series.
Nobody the Sox traded panned out for Arizona. Pure robbery.
6. New England Patriots Trade Drew Bledsoe to Buffalo for a 2003 1st Round Pick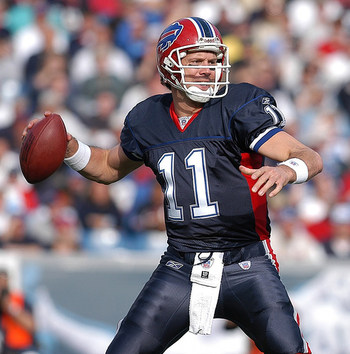 Drew Bledsoe was the face of the New England Patriot franchise for nearly 10 years.
But, after Tom Brady guided to the Pats to their first Super Bowl vistory ever, Bledsoe was done in New England.
Drew Bledsoe was injured in the third game of the 2001-02 season after Marvin Jones caved in Bledsoe's chest with a tackle.
Up and comer Tom Brady took over the helm and guided the Pats to a AFC East championship.
Brady went on to win the Super Bowl but the question remained, who does Belichick keep? Bledsoe or Brady?
Belichick saw what most football fans saw, an aging quarterback, who forces a lot of throws and makes terrible decisions at crucial times during a game.
Bledsoe was gone to Buffalo. Brady had the job.
All Brady did was go to four AFC Championship games, 3 Super Bowls and win tow of those after the 2002 Super Bowl win.
Oh yea, add an MVP to that list.
Bledsoe floundered with the Bills and then the Cowboys.
5. Boston Bruins Trade Pit Martin, Jack Norris, and Gilles Marotte to Chicago for Phil Esposito, Ken Hodge and Fred Stanfield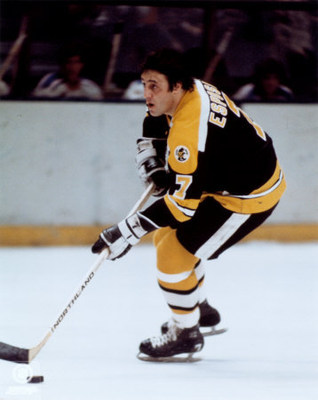 Putting this trade down almost makes me feel guilty.
Like I'm greedy.
Well, Chicago was good enough to hand over Espo, Hodge and Stanfield.
Pit Martin was the prize for the Blackhawks and scored 20+ goals in seven of the eight seasons with Chicago.
Gilles Marotte was supposed to be a prospect but he busted in the NHL.
Jack Norris played 10 games in net for Chicago.
Ken Hodge scored 20+ goals fopr the Bruins in eight of his nine seasons, including two 40 goal seasons and a 50 goal season. He was a three time All Star.
Fred Stanfield scored over 20 goals in all six seasons with the Bruins.
Espo,though, turned out to be a stud. He was a seven time All Star, five time Art Ross trophy award winner, two time Hart Trophy award winner, two time Lester B. Pearson award winner and eventual NHL Hall of Famer.
Most importantly, Espo, Hodge and Stanfield brought home two Stanley Cups to Boston.
4. Boston Celtics Trade the No. 1 and No. 13 Pick in the 1980 NBA Draft Pick to Golden State for Robert Parish and the No. 3 Pick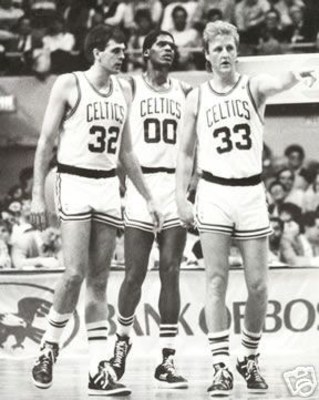 The Celtics were looking to get faster on the break out and did not see that the overall No. 1 selection in the 1980 draft would provide that help.
The consensus No. 1 was Purdue center, Joe Barry Carroll.
Red Auerbach went dealing. He sent the No. 1 and No. 13 pick to Golden State for the No. 3 and Robert Parish.
The No. 3 turned out to be Kevin McHale. And so formed the 'Big Three', Larry Bird, McHale and Robert Parish.
With the Celtics, Parish was a nine time All Star.
McHale was a seven time All-Star, two-time Sixth Man award winner, three time All Defensive NBA and a Hall of Famer.
More importantly, McHale and Parish, with Bird, won three NBA titles.
'Joe Barely Cares', as he was nicknamed in Golden State, was an All Star once.
The 13th pick was Ricky Brown from Mississippi St. Who? He played five seasons in the NBA and finished his career overseas.
Greatest Deal in NBA history? Close...
3. In a Four Way Trade, Boston Sends Nomar Garciaparra and Matt Murton to Chicago and Receives Orlando Cabrera from Montreal and Doug Mientkiewicz from Minnesota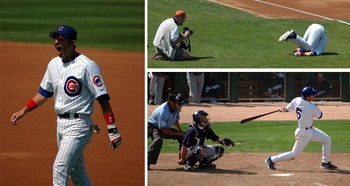 Let's face it, this deal ends in the top three because of the significance of the trade.
It wasn't a matter of who but what. What this deal did for the Boston Red Sox.
Boston was five outs away from going to the World Series in 2003. Then the Red Sox took playoff collapsing to a whole new level.
With the same team intact and the addition of Curt Schilling, Boston went out in 2004 and played .500 ball.
Nomar was a Boston icon. But, Garciaparra was milking a wrist injury because he was not getting the contract extension he hoped. He was detrimental to the Sox especially his glove.
Theo Epstein knew that for this team to win, they needed defense, especially at the shortstop position.
So he put his career on the line and sent Garciaparra and in return shored up shortstop with Orlando Cabrera and late inning help with first baseman, Doug Mientkiewicz.
The Red Sox went 22-3 after the trade, set the wheels in motion and got hot going into the playoffs.
Boston pulled off the greatest comeback in baseball history against the New York Yankees and swept the St. Louis Cardinals to win their first championship in 86 years.
The reason for the 86 year drought......
2. New York Yankees Send $125,000 Plus other cash considerations to Boston for Babe Ruth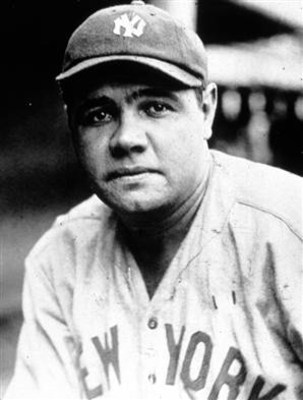 During the early 20th century, the Boston Red Sox were the most dominant team in baseball. They had players like Cy Young, Duffy Lewis, Tris Speaker, Harry Hooper and a young Babe Ruth.
The Sox had won five world championships.
But Babe Ruth was the Manny Ramirez/Barry Bonds of his generation. He was a partier, drinker and a clubhouse distraction.
Ruth knew his talent. He was the best hitter and best pitcher in baseball and demanded a pay raise and a contract of $20,000, double what he was making.
Boston owner, Harry Frazee, said no and Ruth abandoned the team on numerous occasions in 1919.
Frazee had to send Ruth on his way. He had two options, one, to send Ruth the the Chicago White Sox for $60,000 and 'Shoeless' Joe Jackson or to the New York Yankees for $125,000 plus other considerations.
The Yankees were a moribund team. Ruth was the answer for the struggling franchise.
The deal was made to New York. Frazee thought money was the only answer to a player of Ruth's caliber. Players would not be able to repay the Sox loss.
Ruth went on to guide the Yankees to seven world championships, two All Star appearances, the 1923 MVP and a Hall of Famer.
For his career, he hit an astounding .342, 714 home runs and 2,217 RBI. He was the greatest hitter for decades. Ruth ended up as one of the top five players of all time.
For the Sox, it was 86 years of misery. 'The Curse of the Bambino' was formed.
Let's face it, this was not about needing cash to fund Frazee's play, "No, No Nanette'. This was about a trouble-making star, who, wanted more money and created trouble. Sure, he deserved it and Frazee was wrong.
But is this different now?
1. Boston Celtics Trade Ed MacCauley and the Draft rights to Cliff Hagan to the St. Louis Hawks for the No. 2 Pick in the 1956 Draft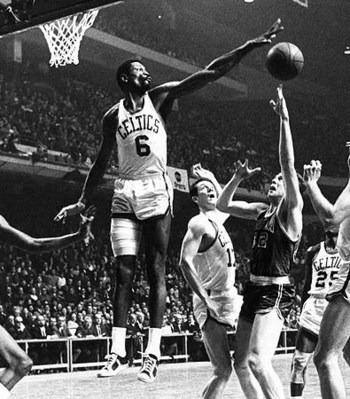 The Boston Celtics were a young franchise trying to become relevant in the league.
Red Auerbach was also an up and coming coach trying to put the franchise on the map.
He had already drafted point guard Bob Cousy in 1955 and had star forward Ed MacCauley. But the Celtics needed a tall, defensive player who could dominate the boards.
Auerbach went to St. Louis, with the hopes of obtaining the No. 2 pick of the draft. Red knew that the Rochester Royals coveted Sihugo Green out of Duquesne.
Red wanted a tall, lanky center from San Francisco named Bill Russell.
Auerbach sent All-Star forward Ed MacCauley and Cliff Hagan for the No. 2 pick, which turned out to be Russell.
Russell became one of the most dominant centers in the game.
What Red got from Russell was, 12 All-Star appearances, five MVPs, three First Team All-NBA and became a Hall of Famer.
Russell delivered 11 NBA titles. He was the centerpiece to one of the greatest dynasties in all of sports.
Boston won eight straight titles. Russell was a player/coach for the Celts and guided them to two of his 11 championships.
Sihugo Green? He played nine seasons in the NBA, mostly as a role player.
Keep Reading