We are one game into the Week 15 schedule, and any preconceived notion about where each team fits into NFL hierarchy has been thrown into question.
The Week 15 edition of Thursday Night Football saw the playoff-hungry San Diego Chargers make the trip to Denver to take on the Broncos, the team that sat on top or darn near it in most rankings. San Diego pulled off a 27-20 upset to firmly place itself in serious playoff contention with two games remaining:
ICYMI: Chargers shock Broncos with 27-20 win. Our recap: http://t.co/IdLuwh5v69 pic.twitter.com/d6V9PjT9Am

— San Diego Chargers (@chargers) December 13, 2013
But what about the impact on rankings overall? Denver will obviously fall, but how far? How far of a jump can a .500 Chargers team truly make? And how does the NFL stack up, not just by record, but by recent performances? Read on to find out.
Week 15 NFL Power Rankings

| | |
| --- | --- |
| Rank | Team |
| 1 | Seattle Seahawks (11-2) |
| 2 | New Orleans Saints (10-3) |
| 3 | New England Patriots (10-3) |
| 4 | Denver Broncos (11-3) |
| 5 | Carolina Panthers (9-4) |
| 6 | San Francisco 49ers (9-4) |
| 7 | Cincinnati Bengals (9-4) |
| 8 | San Diego Chargers (7-7) |
| 9 | Kansas City Chiefs (10-3) |
| 10 | Philadelphia Eagles (8-5) |
| 11 | Arizona Cardinals (8-5) |
| 12 | Baltimore Ravens (7-6) |
| 13 | Chicago Bears (7-6) |
| 14 | Dallas Cowboys (7-6) |
| 15 | Detroit Lions (7-6) |
| 16 | Indianapolis Colts (8-5) |
| 17 | Miami Dolphins (7-6) |
| 18 | St. Louis Rams (5-8) |
| 19 | Tennessee Titans (5-8) |
| 20 | Green Bay Packers (6-6-1) |
| 21 | Pittsburgh Steelers (5-8) |
| 22 | New York Jets (6-7) |
| 23 | Tampa Bay Buccaneers (4-9) |
| 24 | Cleveland Browns (4-9) |
| 25 | New York Giants (5-8) |
| 26 | Jacksonville Jaguars (4-9) |
| 27 | Minnesota Vikings (3-9-1) |
| 28 | Buffalo Bills (4-9) |
| 29 | Atlanta Falcons (3-10) |
| 30 | Oakland Raiders (4-9) |
| 31 | Washington Redskins (3-10) |
| 32 | Houston Texans (2-11) |
-
4. Denver Broncos (11-3)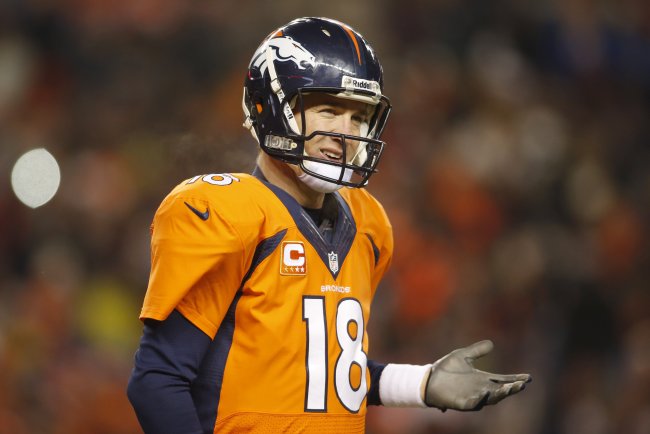 Chris Humphreys-USA TODAY Sports
Something is off in Denver. That much was apparent by the team's putrid showing on Thursday, which was marred by six penalties and a defense that allowed the Chargers to hold the football more than 38 minutes.
Talk about a blueprint to shut down Peyton Manning.
After the game, defensive tackle Terrance Knighton provided an alarming perspective, via Joan Niesen of the Denver Post: "I don't know what was going on. I just feel like we were a little too lax out there, and they played with more intensity than us."
Ouch.
For a team in the hunt for the No. 1 postseason berth in the AFC and home-field advantage throughout the playoffs, the Broncos did not look the part Thursday. Manning and the offense were 2-of-9 on third downs, and the defense allowed 337 total yards and a 50 percent conversion ratio on third downs.
Denver closes the season against the 2-11 Houston Texans and 4-9 Oakland Raiders, but another lackadaisical effort will mean a plummet of epic proportions in the rankings.
8. San Diego Chargers (7-7)
It is a good thing power rankings do not strictly adhere to records, because, otherwise, it would be hard to justify such a jump for San Diego.
But any time a team takes down the No. 1 seed in the conference and gains a massive leg up in the playoff hunt, it is cause for a significant leap.
Linebacker Donald Butler was apt in his description of what may be a season-defining win:
. @chargers LB Donald Butler on last night's win: "We dominated."

— NFL on ESPN (@ESPNNFL) December 13, 2013
Short, succinct and effective.
But head coach Mike McCoy said it best, and he also helped to illustrate what makes San Diego so dangerous the rest of the way, as captured by Ricky Henne of the team's official site:
An outstanding team performance. A lot of big plays at critical moments of the game. The interception at the end of the game – outstanding! The number of three-and-outs by the defense. Give John Pagano a lot of credit for the defensive game plan he put in on a short week and the players for going out and executing it. They had a belief in what we were doing
Remember, this is the same San Diego team that upset the Kansas City Chiefs on the road in Week 12 before losing by seven to the playoff-bound Cincinnati Bengals. Two consecutive wins later, including the stellar effort in Denver, it is hard to argue the Chargers should sit outside of the top 10.
Much conversation will be had, but a game against Oakland and a rematch with 10-3 Kansas City close the season and will do the talking.
11. Arizona Cardinals (8-5)

If San Diego is the hottest commodity in the world of power rankings, the Arizona Cardinals are not far behind. Winners of five of their last six, the Cardinals are a legitimate threat in the playoff hunt in the NFC.
Will Arizona make the playoffs?
Arizona touts a top-10 defense that allows an average of 19.8 points per game—only six teams allow fewer. The offense has scored 27 or more points in the aforementioned five victories, with a high of 40.
For a team that started off the season losing two out of three, including the opener to the St. Louis Rams (now 5-8), the Cardinals have experienced a meteoric rise up the rankings with three games to go.
Time will tell if they are for real, both in the rankings and postseason sense. A matchup with the 5-8 Tennessee Titans in Week 15 reeks of a trap game on the road. The Cardinals then finish the year against the 11-2 Seattle Seahawks and 9-4 San Francisco 49ers.
The path to the postseason for Arizona is paved with tests worthy of a contender.